Last Updated on 6 months by Komolafe Bamidele
In this article, we discussed all the necessary step-by-step guides to creating unlimited fake Facebook accounts using disposable email addresses. 
Creating a new second social media account is easy… 
You may want to create one of these accounts if you're testing how your brand looks on a different profile or if you're preparing for marketing campaigns.
 For whatever reason,  you might need a fake or second Facebook account – here is a guide to get started. 
What is Disposable Temporary Email?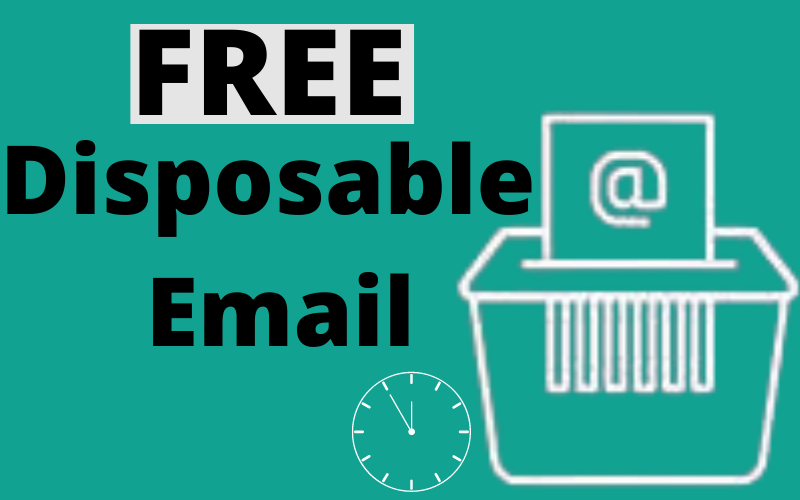 A temporary, or disposable email is a unique, one-time-use address that you can use to receive emails or verify stuff online.
The Disposable temporary email address is just that; a short-term time email address you can use for whatever purpose.
 Temp mail can be used for testing free trials sites, or for signing up for stuff in case you don't want such websites to spam your mail
Disposable Temporary Email is majorly used for online registration and whenever signing up for any untrusted website
They're disposable because they expire after a certain period. However, not all disposable emails are created equal.
Some services make it hard for you to recover your emails after expiration and some services don't keep track of how many times someone has used an address.
They usually offer users 10 minutes of email that will be discarded if you have activated the link sent to the email generated (sometimes called an activation key). 
Can you Create a Disposable or Allies Email Address with Gmail? 
One advantage of Gmail is that it allows users to set up a disposable email address also known as Allies for free.
The best way you can create email aliases in Gmail is just by adding special characters like dots, commas, etc inside your original Gmail address. 
Disposable emails are useful for creating temporary accounts on websites where you want to keep your real identity hidden.
An example could be when you are looking at buying something online that requires a lot of financial information from you before they will allow sales or exchanges.
How Does a Disposable Temp Email Work?
A disposable temp email address allows users to create a 10 minutes email address for the purpose of various online verification.
They are used mainly for online verification purposes and it's used as a second email to fight spamming mailing.
 A disposable email address can help you in various ways. 
The main purpose of these temporary emails is to make it difficult for spammers, marketers, and cyber criminals (online email extractors) to keep spamming your mailbox with unconsolidated or promotional emails 
 The concept behind these emails is to protect your online privacy: It allows users to generate an unlimited number of anonymous email addresses at no cost, 
Without registration, each with a password that expires in 10 minutes or 24 hours depends on a temporary email generator platform. 
How To Get Disposable Emails?
Temp mail is a free temporary email service that allows the user to receive an email at a random temporary address
So to get an unlimited free disposable email you just have to check several online mail generators. 
But personally probably use this tempemailgen.com it's my favourite tool that creates those premium email addresses at just zero cost. 
Can you use Disposable Temp Mail to Sign up for Facebook?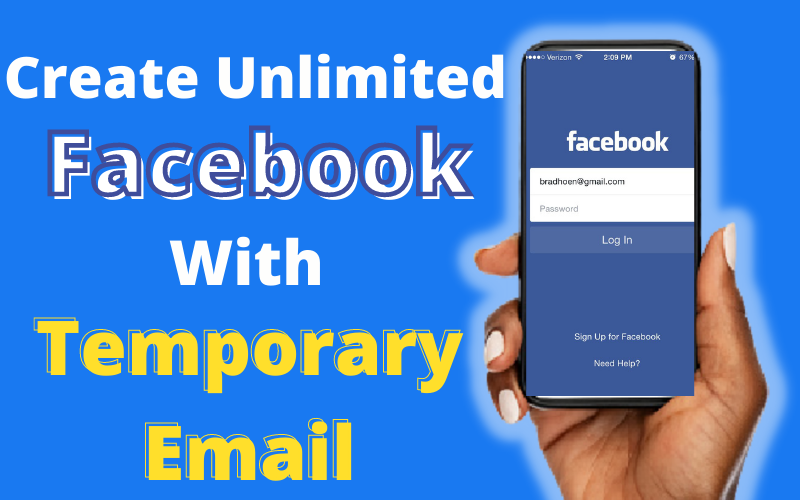 Of course, you can use Disposable temp mail to sign up for Facebook. You simply sign up using a temporary or Disposable e-mail address.
The question of whether it is possible to register on Facebook using only a temp mail was already discussed in our previous post about how to register on Facebook without an email.
In short, it is possible and safe.
However, we strongly recommend that if you plan to create a throwaway or fake unlimited account – do not use free services like yahoo, Gmail etc., because they are not private and your data may be exposed at any time.
Use a reliable service like Temp Mail Gen For Facebook which allows creating FB accounts without disclosing your real identity!
How to Create Unlimited fake or Throwaway Facebook Accounts (Using Temporary Email Addresses)
Facebook is a social network, you can create an account using an email address.
Facebook allows only one email address to be used per account but if you want to create multiple accounts then you can use Temp Mail Gen, a fast method to get temporary emails to create fake Facebook accounts. 
Using temp mail for Facebook accounts is a fast and simple way to create unlimited fake or throwaway accounts on Facebook. 
First of all, go to Facebook.com and click on create a new account.
Now fill in your details like name, DOB, passwords etc.
The main part of the trick is here….
Open tempemailgen.com in a New Tab.
(You can use any other disposable email service also but we recommend this one)
Then copy the displayed Email Address on The homepage. You can click on the change tab to get a new email.
Now come back to the Facebook tab and enter the fake email address in the email box which we created earlier (e.g [email protected]) and Click on Continue
Now Facebook will send a verification code to your fake email address.
Open the Fake Email Tab and click on Refresh there you will find mail from facebook click on it and open the email
(also note that the verification code May not be required in some cases).
Copy your confirmation code and enter it on Facebook to verify your Facebook account.
It will not ask for any mobile confirmation
That's it, Bravo! You have successfully created a fake Facebook account. And now you can use it anywhere
Now if you wanna create a new fake FB account then do follow the above steps again with a new fake email address and enjoy unlimited fake FB accounts.
Is Disposable Email Safe & Legal?
If you're wondering whether or not it's safe and legal to use a disposable email address, here are some things you should know.
Disposable email is completely safe and legal, no registration is required, your data are not stored or your online privacy is highly protected. 
Just as a precaution, always remember never to use your real personal information in an online space.
Disposable emails are usually anonymous, which means they won't be linked back to your real identity.
However, that doesn't mean there isn't a chance for them to be traced back as long as there is an IP connection between you and other sites.
This means all emails are unsafe in some way if your target decides to go through all of their spam folders.
It also means that you should never send sensitive information over these accounts.
The bottom line: It's up to you how much risk you want to take when using a disposable email address. But remember, it is just that—disposable!
You can always get another one later on down the road if something goes wrong.
Just make sure not to reuse any of your old ones!
Best 3 Temp Mail for Facebook 2022
Temp Mail generator service is the best way to get an unlimited number of anonymous email addresses for your online registration.
Most temp mail will delete itself after a certain period, usually, 10minuteemail and you can use it as many times as you want.
It's simple, quick, and mostly free! There are tons of temporary mail services online.
Some of them take up to 15 minutes just to get your temporary mail but TempEmailGen only takes around 10 seconds! With that being said,
#1. Temp Email Gen
Tons of thousands of temporary email users featured on steemhunt and product hunt, use it every day.
And this has been proven by big tech companies that it spam-free emails, which makes it so special when compared to other disposable email services?
Make sure you don't delete old email accounts with Tempmailgen unlike you may have done with 10-minute email services or throwaway email accounts.
As a result, you can retrieve your temporary emails at any time. That's not all! Tempmailgen allows you to reply to or forward your temporary emails to your inbox.
In addition, Tempmailgen allows you to make an unlimited number of temp email addresses from different domain names.
#2. One-Off Email
Here's one of the latest throwaway email providers that provide emails that work on many different websites and social platforms like Facebook, Twitter, Instagram, Snapchat, and Tumblr.
Moreover, the services offered by this fake temp mail generator website are a little bit different from other platforms.
They have free access and emails will be available for up to 57 minutes.
Currently, there is only one email extension, but over time the app might be updated.
Nevertheless, it is not limiting its users to one email but you can generate a new one with the change option on the home screen, and just below that option, you will see any messages you receive.
Another interesting feature is the notification sound, which helps you know when a new message has been received.
And if you want the motivational popup, you can enable the option and a new message will show on your screen.
Isn't the Temp Mail website cool? It would be awesome if you tried it.
#3.FakeMailGenerator
This website is great to create a disposable email address with extensions such as @teleworm.us (I like to use this one to remember my fake temporary email).
On the website, there is an option to use a custom username to establish an email, for example, [email protected], making it very easy to keep track of the Fake Temporary Email you created on the site.
If you want to receive verification emails, you can use Fakemailgenerator to receive them on their website.
That way, if you set up your Fakemailgenerator fake Temp Mail and make a note of the URL on your browser, the next time you want to use the email you'll be able to open the page on the website, which will list any messages you have.
Conclusion
There is nothing wrong with choosing temp mail for FB in 2022 and beyond. Your friends and family will have no idea that you are not creating any accounts with a personal email.
No one will be able to tell.
Many job seekers and consultants make use of these services when they need a new identity or account on their resume, so they can appear more professional in interviews.
Stay safe in your online endeavours and avoid suspicion or unnecessary attention by using Temp Mail To Create Fake Facebook Accounts! And also register on other web services.
It's fast, easy, reliable and cheap!