Last Updated on 8 months by Komolafe Bamidele
Do you think it is possible to get your money back from PayPal if you are scammed? Several scams cases take place on PayPal.
A lot of scammers make use of PayPal to receive funds from their victims because it is anonymous. You can't track, or trace them because you have little or no information about them and their PayPal email address.
So, is it safer to use a PayPal account to receive payment than using a bank account or other means of payment?
I'm very sure you want to know if it's possible and how you can get your money back from a scammer that you send funds into his or her PayPal account using your PayPal payment processor.
I'm happy to tell you that it is possible and easy to request a refund whenever a scammer wants to or has already ripped you off of your funds on PayPal.
This informative article is for those who want to receive their PayPal funds back from a scammer or anyone.
Make sure you read this article to the end, you will be able to get your money back from Paypal if you got scammed.
What Happens When Someone Returns Your Money On PayPal
If you demand a refund after buying any product or service either online or offline using PayPal as your means of payment for the service or product.
Then your funds will be reversed back to your PayPal account using your PayPal email. It does not require any step, method, or action from you.
The company or individual will send the money back into your PayPal account using the normal method of sending funds from one PayPal account to another.
Using your PayPal email, then PayPal will place the funds on hold immediately after you requested the cashback. Immediately, you will receive a notification from PayPal that fund has been sent to your PayPal account.
Now after receiving your refund you can withdraw it from your PayPal account to your local bank account in any country.
For those who are eligible to withdraw from your PayPal account to their bank account, because PayPal resists some users in certain locations from withdrawing their PayPal funds into their local bank account.
Aside from that, you can use the funds to purchase other goods or services using your PayPal account.
How Long Do Refunds From PayPal Take?
PayPal refund will reflect in your PayPal account within 3 to 5 business days, in some cases, it may be more than 5 business days.
In some cases, it may not be up to 3 business days when you bought the goods or services using your bank account or PayPal balance.
But if you purchase an item or service using your credit card or debit card your refund may take up to 30 days before it shows in your account. Before continuing this article, if you are from the country that PayPal has been blacklisted, you need to read this guide on how create a PayPal account that can send and receive funds in unsupported Countries.
How Do I Issue A Refund On PayPal Without Money?
To issue a refund on your PayPal account you need to follow this simple instruction to be able to do it successfully.
Log in to your PayPal account on your mobile browser or mobile application.
Now you need to locate and click on Activity.
Now click on the Payment that you want to request a refund.
Then you need to click on Refund This Payment.
Now you need to enter the refund details and click Issue Refund. Now you have issued a refund on your PayPal payment successfully.
Can A Paypal Payment Be Cancelled?
PayPal allows all users to cancel the payment whenever they want to. If you want to cancel your payment on PayPal then you need to follow this simple instruction to be able to do it successfully.
Log into your PayPal account using your mobile browser or PayPal mobile application.
Now click on proceed to Account Overview.
Then click on Summary, then locate the Pending Payment.
Now you are going to check if the payment status carries the word "Completed", then you can't cancel the payment because the transaction has been gone through.
But if the transaction has not been Claimed or Accepted, you will be able to see "Unclaimed" or "Hasn't Accepted Yet," then you can cancel a payment by clicking on Cancel.
Can Money Chargeback Make Paypal Freezes Or Limits Accounts?
No, money chargeback cannot make PayPal freeze or limit your account, if a buyer requests a chargeback from their credit card issuer for a chargeback,
Then the credit card issuer will contact PayPal then submit all the necessary and required documents to inform people about the transaction.
Then PayPal will put the funds on hold on the seller's PayPal account, and both buyer and seller will be notified through email for more information about the transaction before they resolve the chargeback.
Why Paypal Freezes Or Limits Accounts And How To Prevent?
There are many reasons why PayPal limits or freezes some users' accounts. Although, PayPal does not give the major reason why they usually freeze or limit their user's accounts. But these are a few reasons why PayPal limits or suspended accounts.
If you received a huge amount of money into your PayPal account which is above the average or usual amount that your PayPal account usually receives. PayPal can freeze your account if anyone files a complaint about your business or reports your PayPal account.
If you violate PayPal rules and regulations your account may be limited or frozen, the policy violation is the major reason why PayPal froze millions of users' PayPal accounts.
Some PayPal users violate PayPal policies unknowingly because they did not take their time to read PayPal's terms and conditions, PayPal's policies, and other related content.
So most keep violating PayPal rules and regulations because they did not know what Dos and don't on the popular online payment platform.
That is why it is very important to read PayPal policies rules and other related content before you use their service so that your PayPal account won't be frozen or permanently unlimited anytime soon.
How Long To Resolve PayPal Account Limited And Withdraw Money From Limited Account?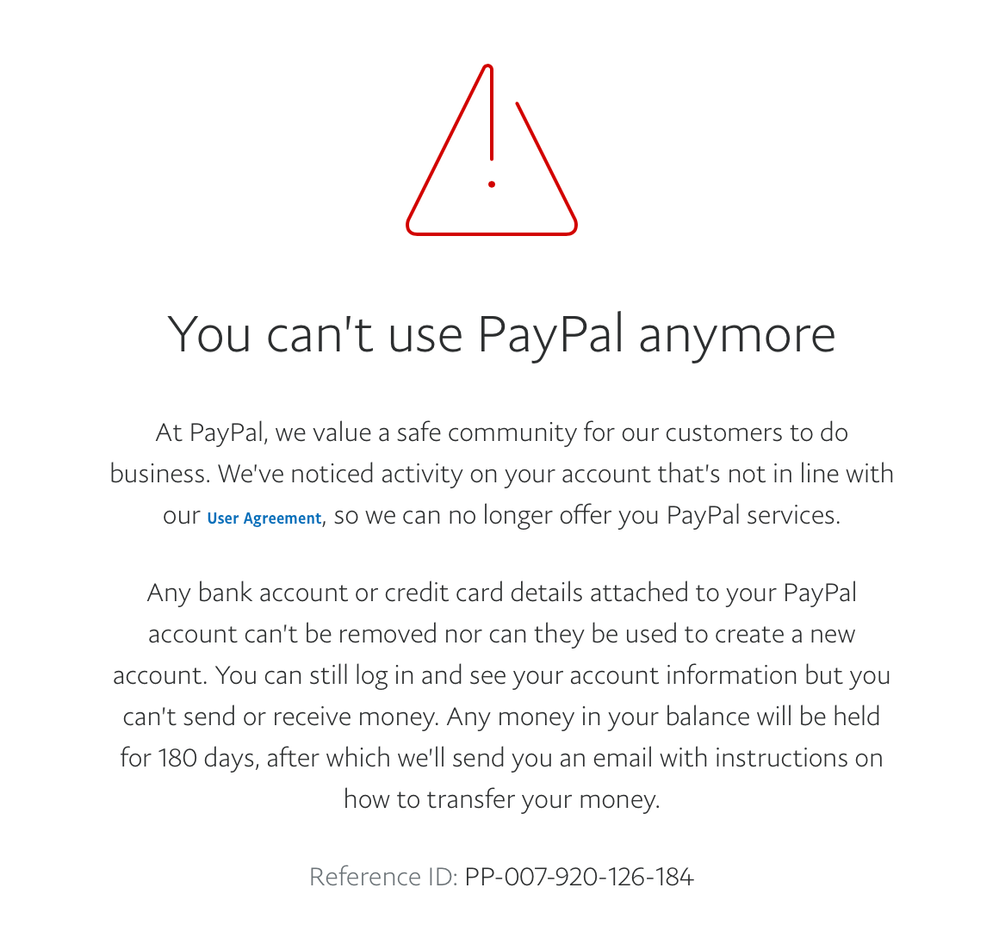 PayPal allows users to withdraw their funds from their permanently or temporarily limited PayPal account after submitting the required documents and having waited for 180 days prior to the temporary or limited account notification period.
After 180 days and submitting the necessary or required document, you will be able to send and receive funds with your PayPal account if it is temporarily limited. but you won't be able to use your PayPal account again after it has been permanently limited.
You might want to have full control of your online subscription till the end using PayPal this is tutorial on how to create virtual credit cards that work on PayPal to buy stuff online.
How To Check PayPal Account Limit And Restore Permanently Limited Account?
You can check your PayPal notification for any message that confirms your account permanently or temporarily limited. PayPal will also send you an email message regarding your account ban.
You can't restore a PayPal account that has been permanently limited, but when it comes to a temporary limited PayPal account after you have submitted the required documents and 180 days have been completed.
Then you will have complete access to your PayPal account now you can receive and send funds.
If you want to withdraw your PayPal funds from a completely or permanently limited PayPal account, then you can make use of the available Limited PayPal withdrawal services Online.
You can only withdraw your PayPal funds if your permanently limited PayPal account is over 180 days.
You can't withdraw from your permanently limited PayPal account using limited PayPal withdrawal service if the PayPal account has not reached 180 days starting the day you receive the permanently limited notification.
Working PayPal Limitation Removal Hack
A lot of PayPal users are not satisfied with PayPal service because their PayPal account is limited to a certain amount.
If you want to bypass PayPal limitation then you need to follow this simple instruction.
Don't put a huge amount of money in a newly verified PayPal account.
Don't remove or add credit cards frequently.
Don't withdraw your phone immediately after receiving it, especially if it is a large amount of money.
Always keep at least 10% of your funds in your PayPal account, don't withdraw all your PayPal funds.
Lastly don't leave money received into your PayPal account for a very long time before making use of the fund
Conclusion
PayPal is one of the best and most used online payment platforms in the world, it comes with amazing benefits that make it simple and easy to use for everyone regardless of your age or location.
One of the benefits that come with PayPal is the features that allow buyers to request refunds or cashback from sellers which is very simple and easy to do if you understand how to do it perfectly.
If you are not satisfied with a product or service, then you can request a refund or cashback if you use PayPal as your means of payment within a few minutes or hours of making the payment.
It is very important to request for cashback or refund immediately so that the fund won't be claimed because as soon as the fund is claimed you won't be able to request for cashback or refund.
There is popular say "Prevention is better than cure " why don't you secure your PayPal account from scammers