Last Updated on 6 months by Komolafe Bamidele
As the name implies, Buy Now, Pay Later apps, which can be abbreviated to BNPL apps, are simply apps that enable you to make purchases today and pay whenever you have the money, probably within a few weeks or months.
Perhaps you can quickly meet your needs when using Buy Now, Pay Later apps because of the available features you can access directly from the app.
Meanwhile, the numerous companies that offer Buy Now Pay Later apps makes their apps simple to use…
Even to the point of removing the fees that users are meant to pay while using their apps.
The good news is that you can use these apps to purchase in different stores.
In this guide, we will detail all you need to know about Buy Now Pay Later Apps. Also, we will give you an overview of the top best Buy Now Pay Later Apps.
How do Buy Now Pay Later Apps Works?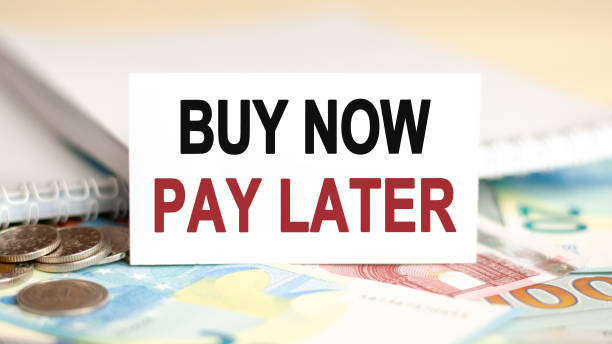 Although many apps are categorized as Buy now, pay later apps, they have different program protocols that each app follows.
For instance, each app has its terms and conditions that govern every activity in the app.
However, below are the general principles that control most of these Buy now, pay later apps:
You can purchase a product at a retailer shop, opt for Buy now, and pay during checkout.
When your order gets approved, you can make a small payment of about 25% of your purchased products.
You can later pay the remaining balance through your Buy now, deliver later app.
As regards the payment, you can pay through several means such as bank transfer, debit card, etc.
Moreover, users should know that buy now, pay later apps usually delay payments, so if you intend to make quick payments, you will go for credit cards.
Whereas, when using a credit card to make payments, you will be limited based on the monthly limitations placed on the card.
This is one of the advantages of Buy now, pay later apps over other payment options.
Also, when using Buy now, pay later apps, no interest fee is attached to your due payment.
Perhaps, there is a fixed repayment schedule, probably weeks or months.
Buy now, pay later apps will tell you the exact amount you will need to pay each time you intend to make a payment using their platform.
Unfortunately, users should be aware that not all purchases will be eligible for Buy now, pay later financing.
Also, there is quite a limit to what you can purchase with these buy now, pay later apps.
Since 2020, the popularity of Buy now, pay later apps has grown and has become one of the known ways of making smaller purchases when buying things online through e-commerce platforms.
Why do Websites or Stores Allow you to Buy Now and Pay Later?
Today there are lots of reasons why many websites allow you to buy now and pay later.
Let's consider some of these reasons below:
#1. It helps them to increase sales
Generally, in the world today, so many people want to make purchases, but at that moment, they are financially unable to pay for the products they desire to purchase.
Perhaps website owners (especially e-commerce) can convert their visitors into customers using Buy now and pay later payments.
#2. It makes business owners stay competitive
In the business world, many of your competitors have been accepting installment payments;
 because of this, many websites tend to give their customers a long-term installment payment by allowing them to use Buy now and pay later apps while checking out.
Research shows that before 2025, buy now, pay later payments might increase to over $600 billion in transaction volume worldwide.
#3. It helps in attracting new customers
When you allow your customers to buy now and pay later, it will attract people who are not just new to the store but also people who need the products but don't have the cash at hand to make instant payments.
Even when their payment lingers, it will still not attract fees to their initial amount.
This is quite an advantage of using Buy now and paying later costs over credit cards.
#4. It gives customers an affordable financing solution
Allowing your customers to buy now and pay later will enable them to manage their finances and provide them with long-term financial growth.
Also, it provides trust between you and your customers as a business owner.
Making it possible for the customers to pay with Buy now and pay later apps allows them to see any amount as a payable amount because they don't need to pay everything at once.
Furthermore, its lower fees make it possible and encourage when users' visitors to make long-term payments for the products they purchased.
#5. Websites that allow buy now and pay later will build trust between store owners and their customers
If e-commerce store owners have lots of campaign that drives traffic to their website, but in the end, only a few will purchase your products.
In this scenario, what most of them do to increase sales is to enable "buy now and pay later" payment in their store.
With this method, visitors will have the opportunity to purchase their desired products and gradually pay up later within some weeks or months.
This will not just build trust alone, but it will also increase the sales rate and generate more revenue for store owners in turn.
Also, your visitors will keep coming back because they trust such stores.
What Stuff are Allowed to Buy Now, Pay Later Apps & Don't do a Credit Check?
As regards the pieces of stuff that you can purchase in these buy now pay later apps,
as long as the platform you want to purchase your products or services from supports accepts now pay later payment, you can buy anything of your choice without a credit check.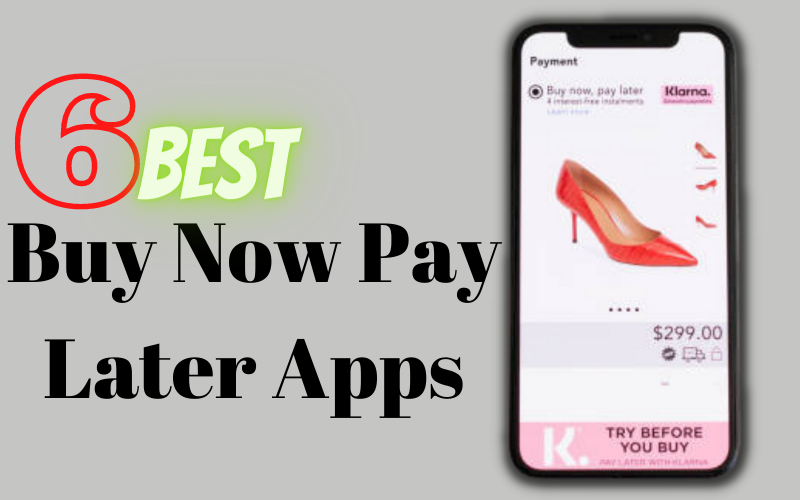 So what you can buy with Buy now pay later apps is quite unmetered as long as the e-commerce store, website, or platform supports buy now pay later payment.
7 Best 'Buy Now, Pay Later with No Credit Check
#1. Klarna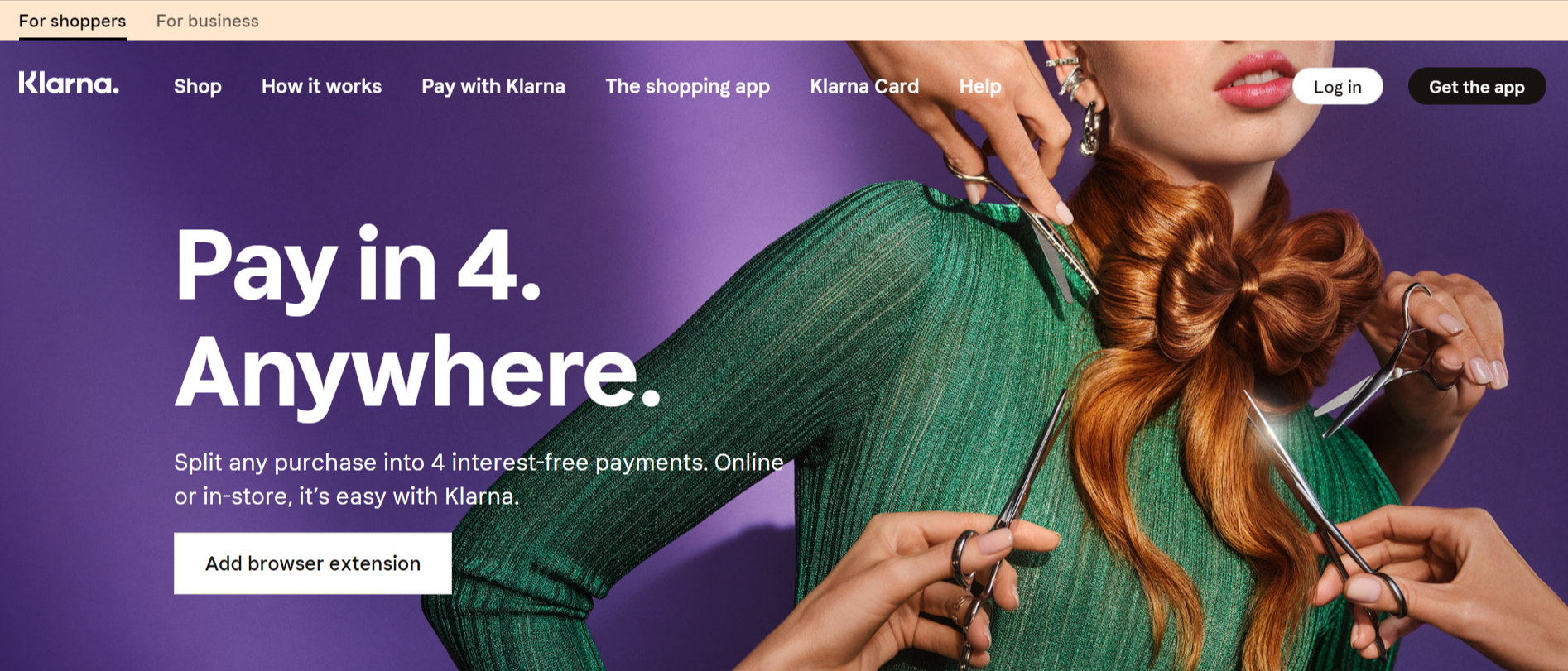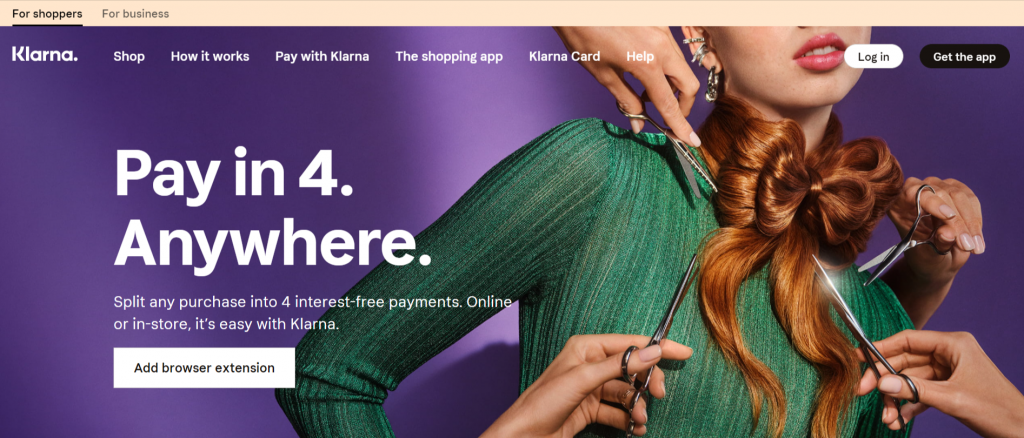 Klarna is quite an outstanding buy now pay later app that allows its users to make payments in four installments, probably in 30 days or up to 36 months.
This fantastic platform allows its users to use soft credit checks, which will in no way affect their credit.
In addition, Klarna has partnered with popular retailers, including Sephora, GameStop, etc.
Features/Benefits of Klarna
They allow their users to make payments in four installments – in 30 days, or up to 36 months
Users can make about 25% of their total order during checkout
You will only be charged $7 if you are ten days late in your payments
How do you get approved for Klarna
For you to get approved by Klarna, you need to apply through the website first, and once approved, your purchase will get spread out over four equal payments. 
This can be in the percentage of 25. The fantastic thing is that it is interest-free.
The dark side of Klarna Buy Now Pay Later apps
Klarna charges a returned payment fee of up to $27
They charge $35 for late or bounced payments
Also, their APR is 19.99%, and this can increase your balance over time
#2. Zip Pay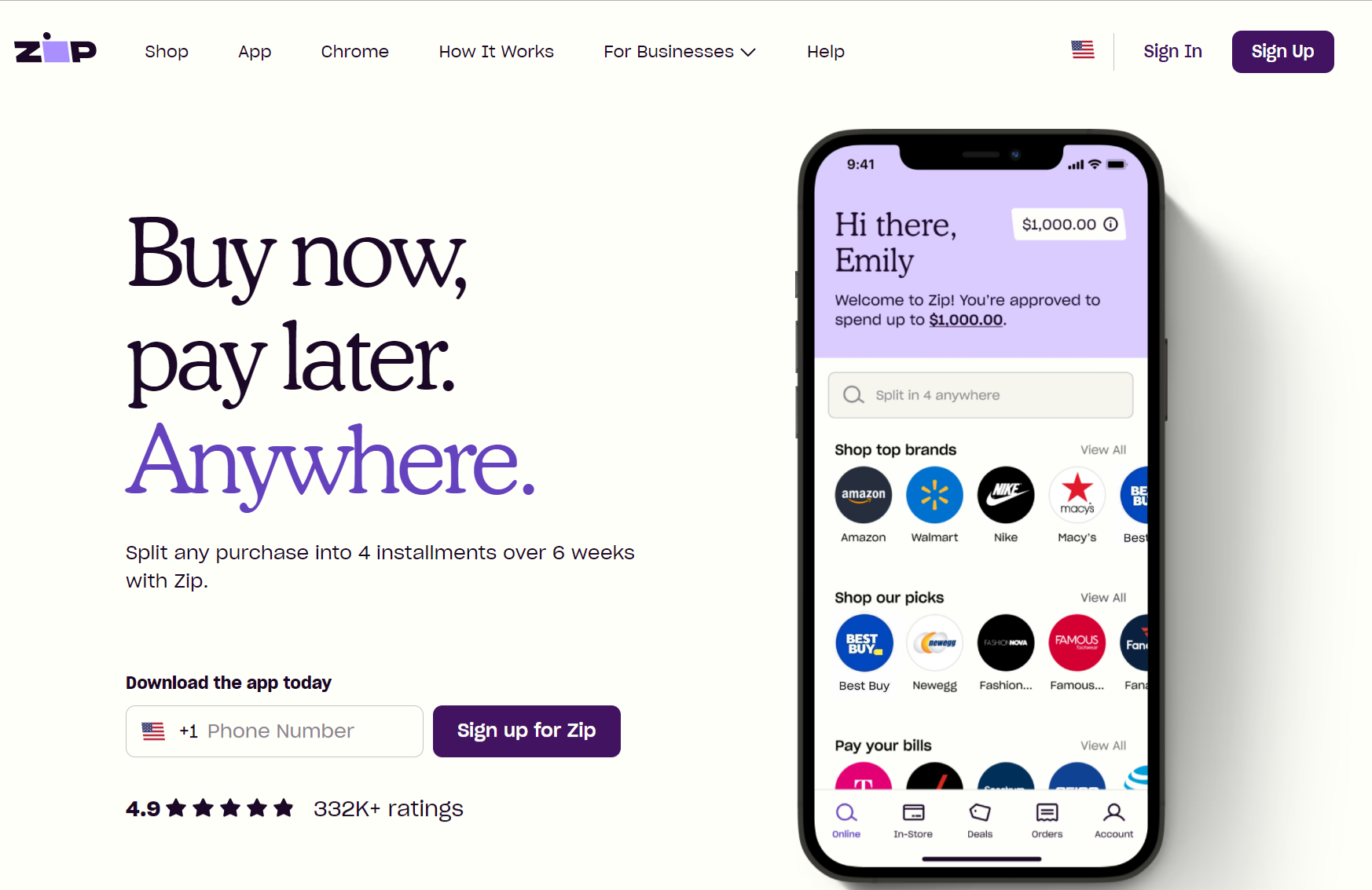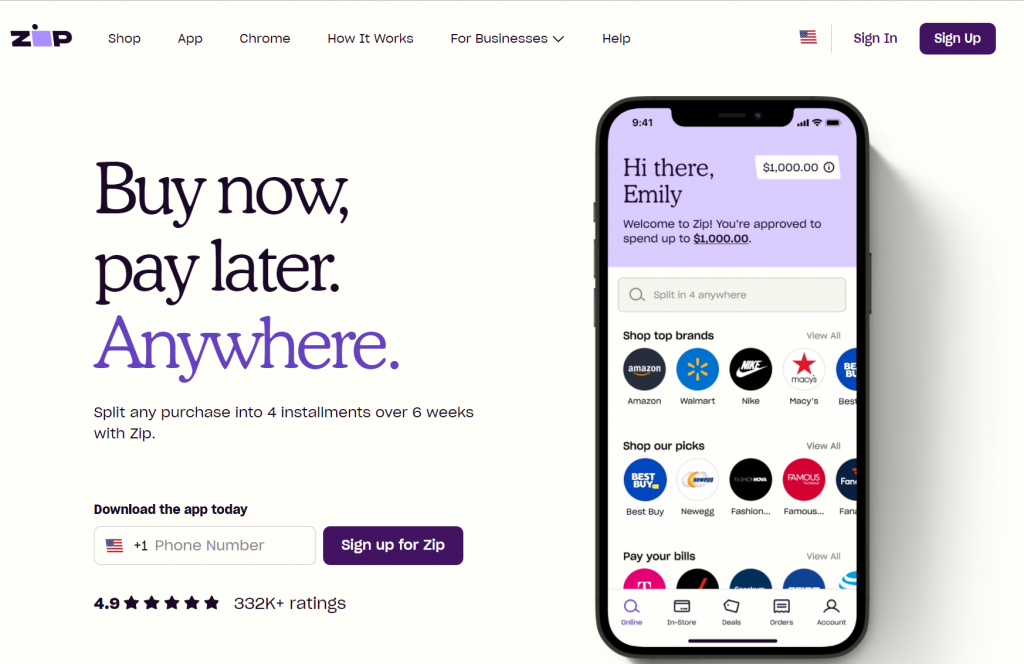 Zip is an installment stage that permits you to shop now and pay later in four sans interest portions.
So you can purchase an item today, spend a little time in a store, and complete installments for it in about a month and a half without burning through every last dollar.
Zip is accessible at over 20,000 web-based stores, including Amazon, Walmart, Best Buy, Target, eBay, and StockX.
In this manner, it makes it simple to plan your buys.
Features/Benefits of Zip
Zip doesn't charge interest rates
One fantastic thing about Zip is that it never runs hard credit checks
They allow their users to avoid credit card shopping and gradually improve your credit scores
How do you get approved for Zip
Moreover, you must originate from America before applying for Zip. Perhaps, they almost accept everyone who intends to use their services based on buy now pay later.
The dark side of Zip Buy Now Pay Later apps
They only serve Americans
Users will pay $7 in late fees if they delay the payment by a week
If you wait for your income for more than seven days, the late fee goes up to $14
#3. Clearpay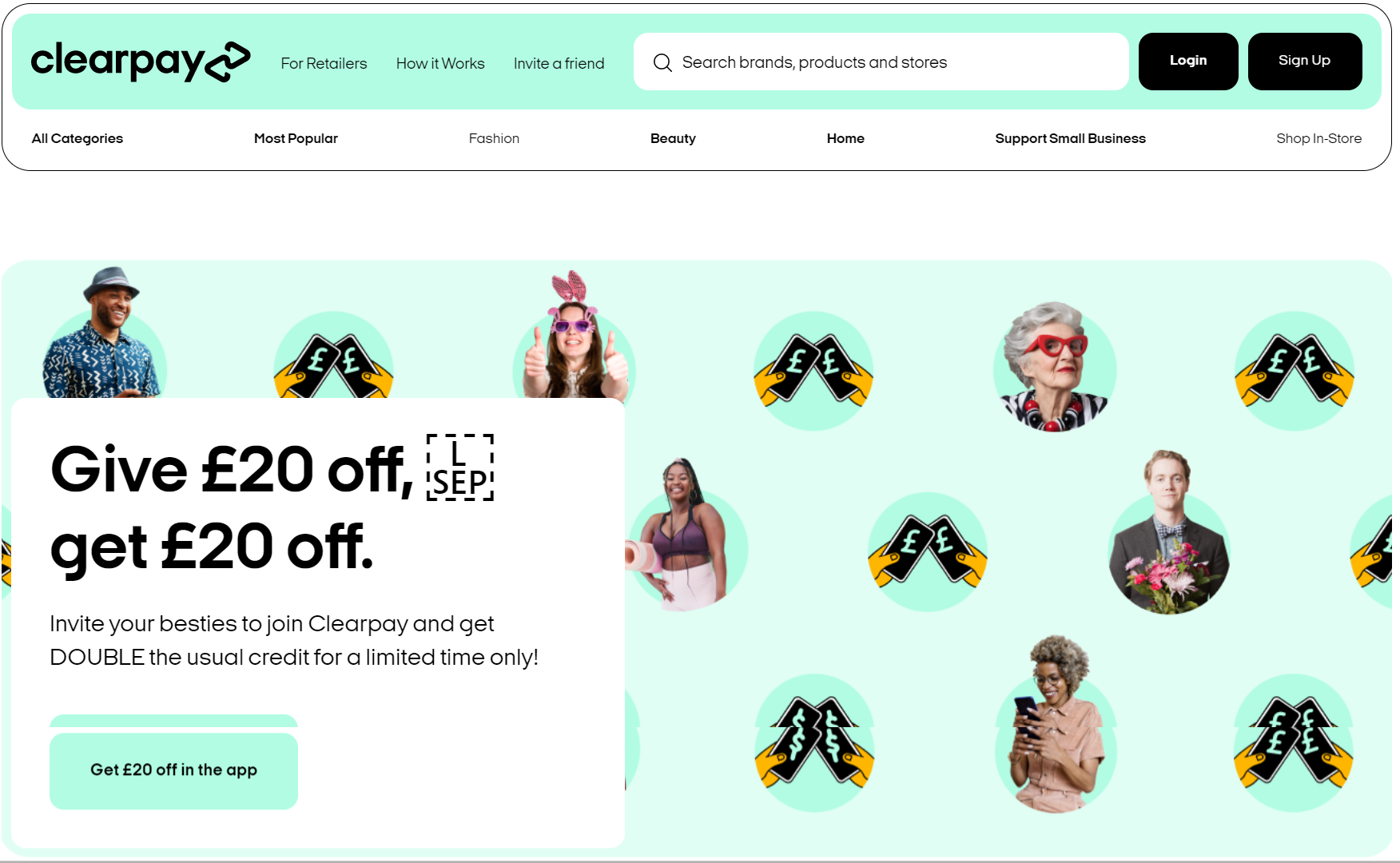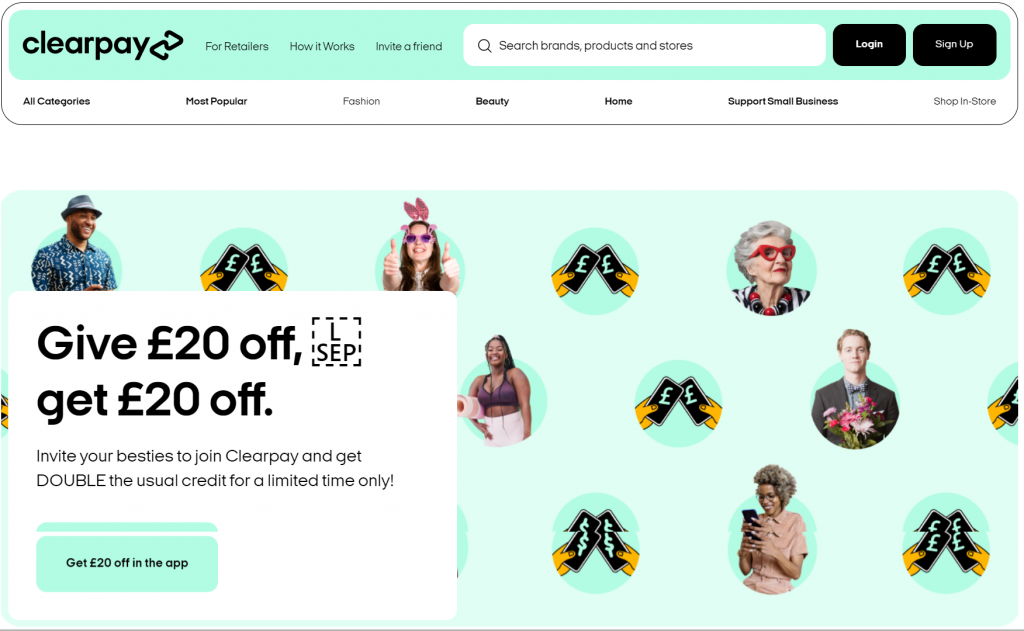 Clearpay is another buy now pay later platform that allows users to split their online shopping into four installments.
They partner with popular retailers, allowing online shoppers to purchase their favorite goods and pay later.
Meanwhile, customers can shop in their various stores and select Clearpay as their payment method during checkout.
Features/Benefits of Clearpay
Clearpay is entirely free as long as you make your payments on time
Clearpay doesn't charge additional interest on your total amount during checkout
They offer one type of payment plan, which will be split into four equal amounts
How do you get approved for Clearpay
To get approved by Clearpay, you must be 18 years old and shop with a retailer that offers Clearpay.
Once approved, you can use this platform as your payment method during your checkout.
The dark side of Clearpay Buy Now Pay Later apps
Easy to use and only one way to pay
Payments are taken automatically – moreover, users don't need to worry about scheduling them
Clearpay customer reviews are pretty excellent.
#4. Affirm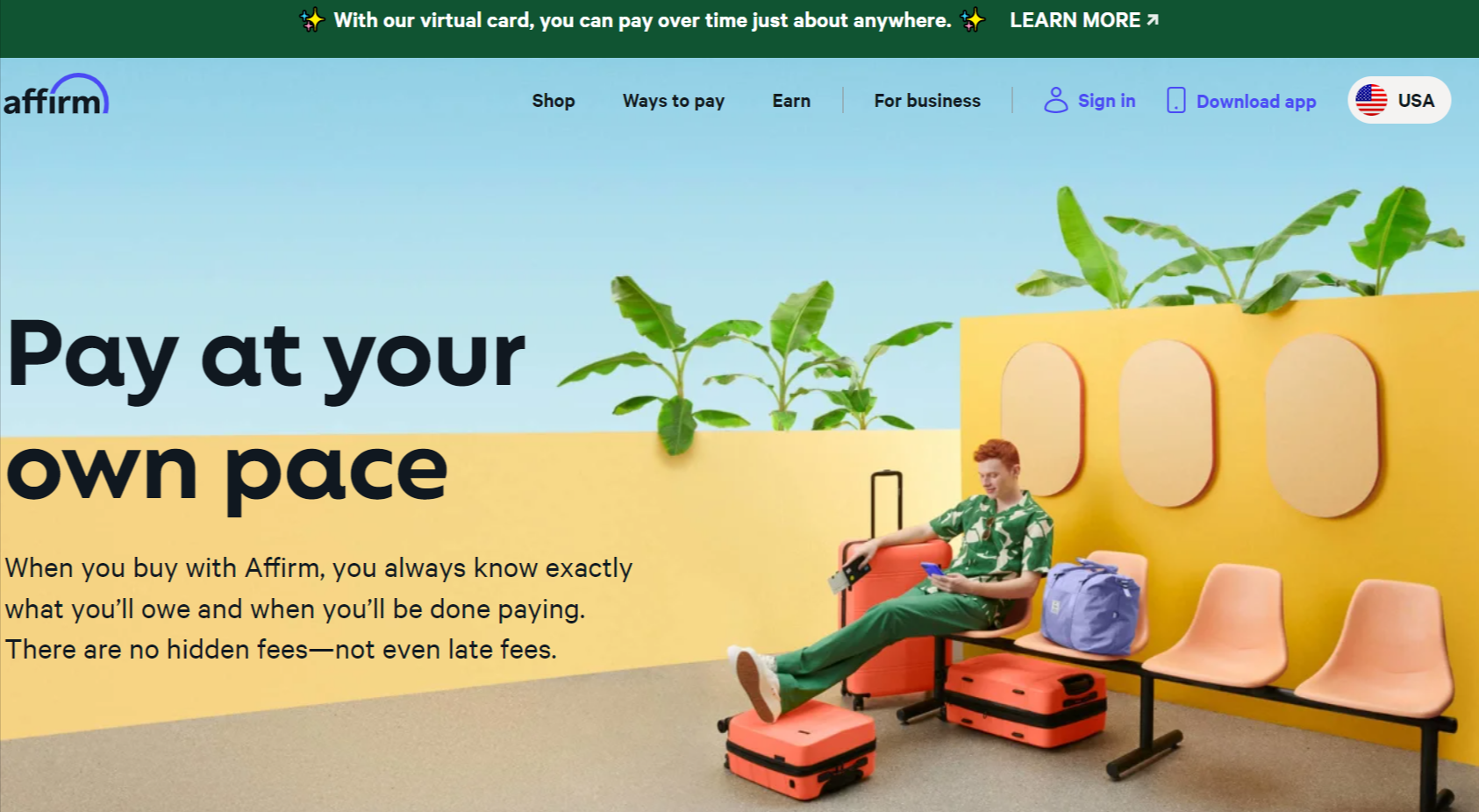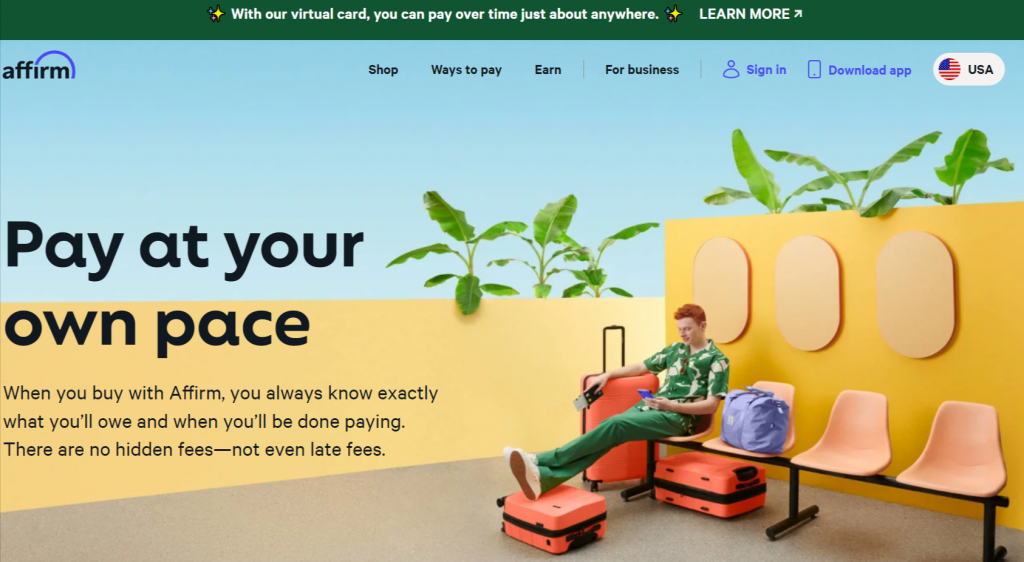 Affirm is quite an outstanding publicly-traded fintech firm that offers buy now pay later deals to their customers.
 Some of their big tickets include electronics, travel, etc. Affirm launched in 2012 by Max Levchin and its headquarters is in San Francisco, California.
Features/Benefits of Affirm
Their payment option allows you to pay in four interest-free installments every two weeks.
Users can schedule monthly payments with no hidden or late payment fees
Their APR ranges from 0-30%.
How do you get approved for Affirm
To get approved for Affirm, you need to apply from their website and select it as your payment method at checkout when making purchases in online stores.
They show their application if they are approved in real-time.
Moreover, you will need to enter your basic information and confirm your loan when you get approved.
The dark side of Affirm Buy Now Pay Later apps
Their monthly payments have a minute interest charge
#5. Sezzle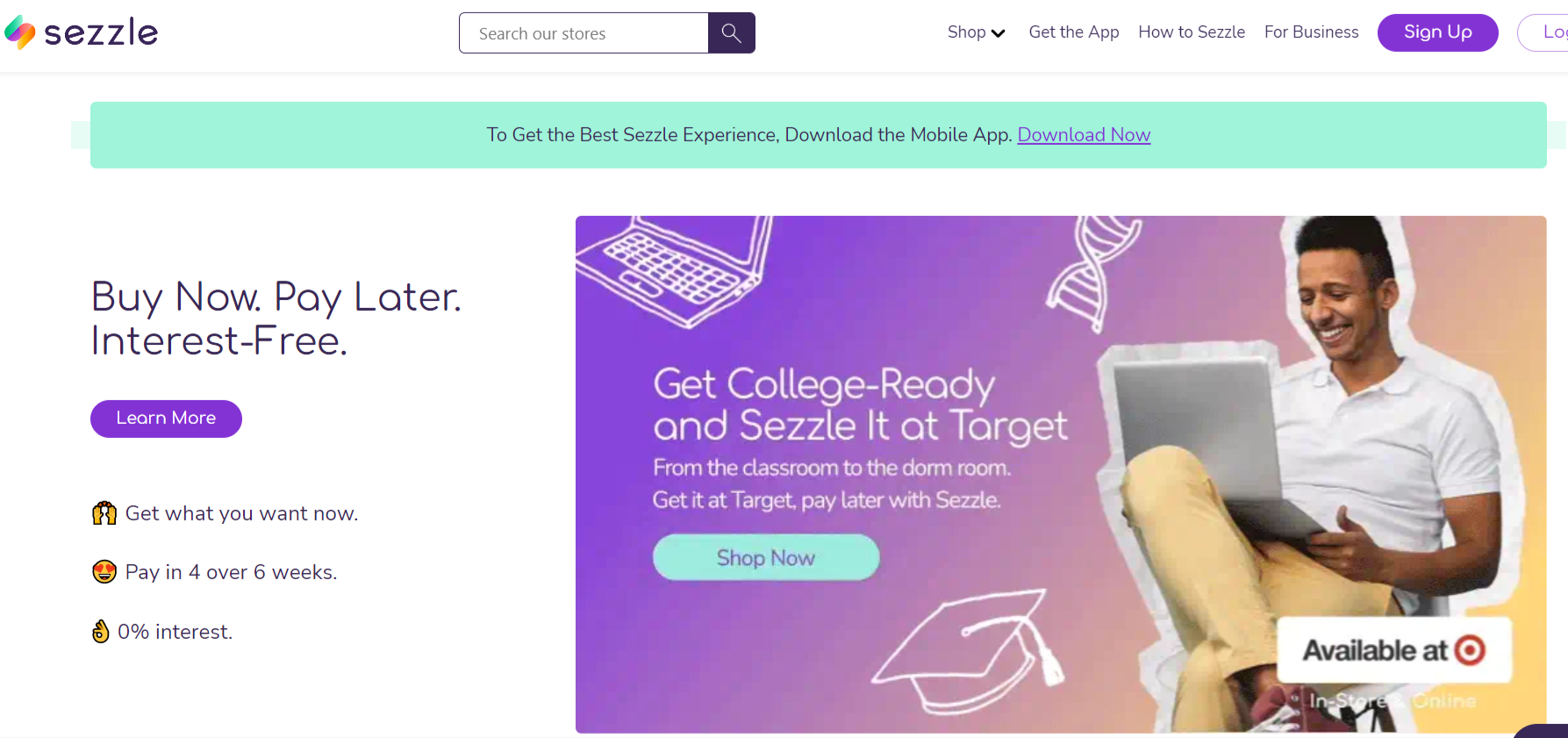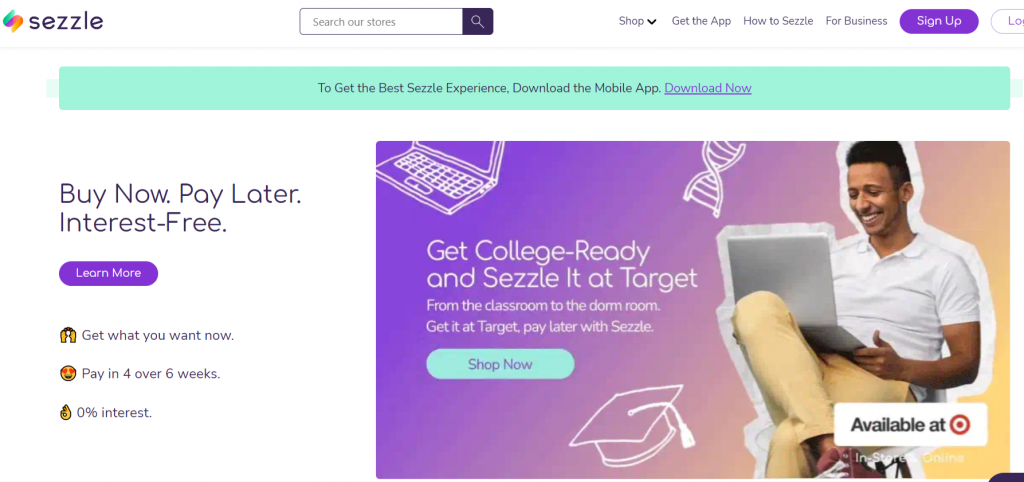 Sezzle is a Minneapolis-based financial service that allows users to buy now and pay later when they have their finances.
Sezzle allows you to spread your purchase over four interest-free installments you will need to clear within six weeks.
Features/Benefits of Sezzle
They help you to determine your spending limit
Sezzle allows their users to get a decent limit with bad credit
Users' first payment rescheduling is entirely free
They enable users to avoid debt and interest fees
How do you get approved for Sezzle
To get approved for Sezzle, you must apply online from their website.
Once approved, you will have access to use them in over 47,000 stores at the checkout stage.
The dark side of Sezzle Buy Now Pay Later apps
It doesn't support all banks; so the possibility of your card being declined is relatively high
Users will pay a $10 late fee for each defaulted transaction, with a two-day grace period
Your first deposit must be over 25% of the total value
#6. PayBright


PayBright is a leading portion installment supplier in Canada. They offer installment plans where clients can separate the expense of an enormous buy into every other week or regularly scheduled payments.
PayBright Canada is accessible to more than 7,000 taking part shippers available and on the web.
A few retailers that utilize PayBright incorporate Apple, Wayfair, Samsung, and Endy.
Features/Benefits of PayBright
PayBright users can pay in 4 bi-weekly payments for purchases under $1,000
They offer equal monthly payments which last from 3 up to 60 months
PayBright interest rates range from 0% to 29.95% APR.
How do you get approved for PayBright
To get approved for PayBright, you must be 18+ and reside in Canada,
have a credit payment history, have a Canadian Visa or Mastercard credit or debit card, and have a Canadian phone number to receive SMS.
Also, you need to meet the minimum cart size required to use PayBright at checkout.
The dark side of PayBright Buy Now Pay Later apps
Users can pay monthly processing fees ranging from $1 to $4 depending on how many months they take to pay off their purchase
Because their hard credit check on the monthly payment plans may affect your credit score
Conclusion
We elucidated all you should know about buy now pay later apps and covered in detail the best widely used buy now pay later apps that give their users amazing installment plans and low fees even on late payment.
If you have any questions or concerns about your favourite BNPL apps we haven't mentioned please drop them in the comments below.