Last Updated on 6 months by Komolafe Bamidele
How are you looking for a legit way to earn some gift cards and vouchers from Amazon without paying for them?
If that is you, you are in the right place as I plan on showing you up to 25 ways you can utilize and earn Amazon gift cards free in return.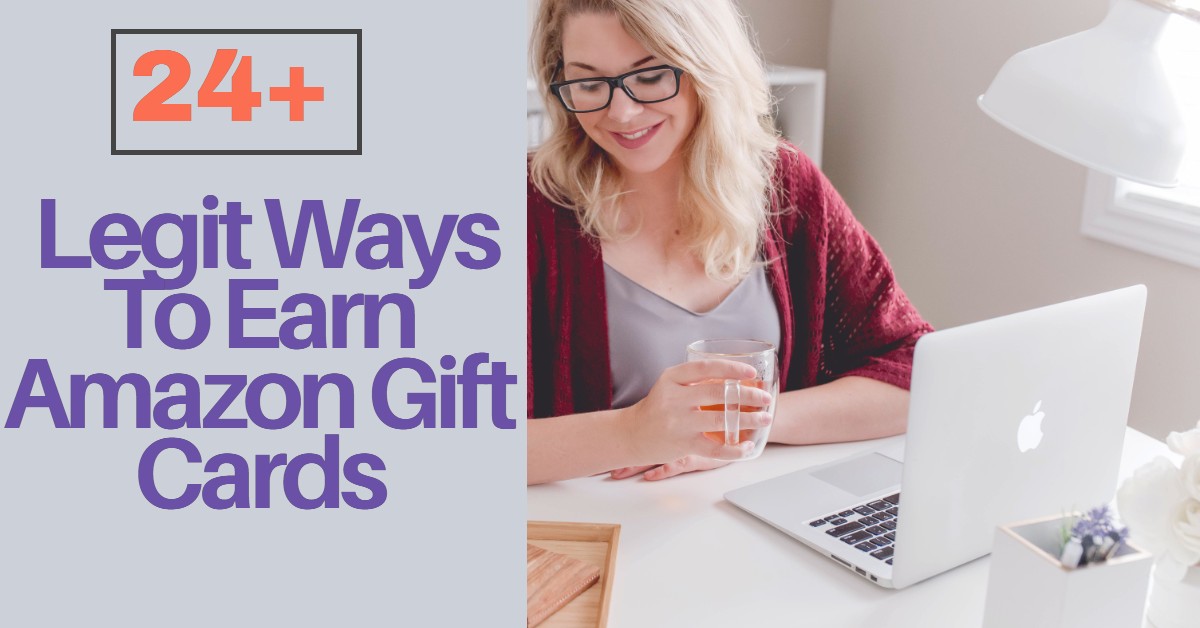 This will help you get the gift cards and purchase products on Amazon which would mean you purchased these products for free.
On the other hands, if you are in need of cash, you can equally get these gift cards for free and sell them to people who want to make purchases at a cheaper rate.
Don't worry, there are full-blown companies that are readily available to buy your gift cards, so selling them won't be a problem at all.
Does Any Of Your Techniques Of Getting a Gift Card Amazon?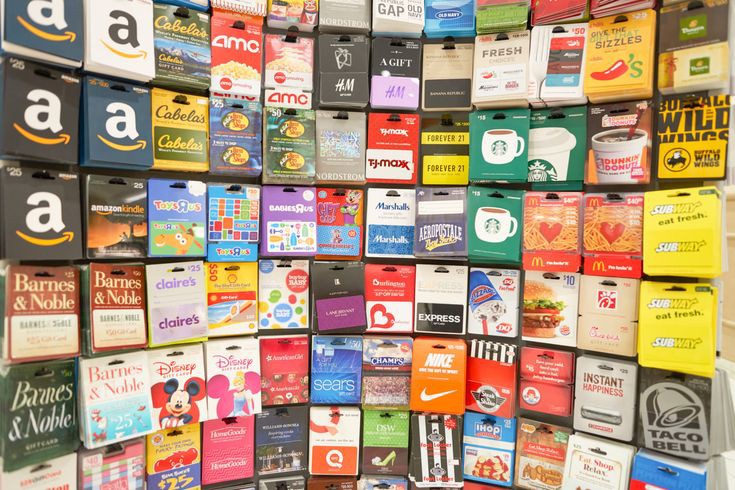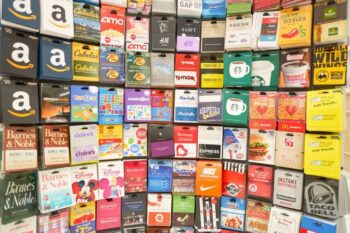 No, all the methods I am introducing to you are legit and legal. There is absolutely no fear of going against the law.
Disclaimer: this is not a get rich quick scheme and it is not a magic button to wealth as time and commitment are needed to succeed.
I would also advise you to pick as many of the options below and earn Amazon gift cards from all of them at the same time in order to earn something meaningful at the end of the day.
So without wasting any more time, let us get started.
1. Earn Amazon Gift Cards on Swagbucks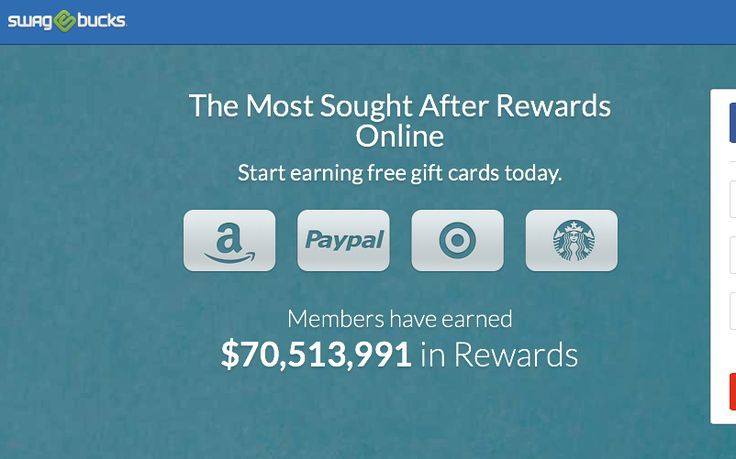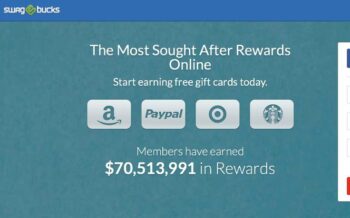 Swagbucks is a website that rewards you for carrying out minimal tasks online. Such tasks include completing surveys and even using their custom search engine.
By frequently carrying out these tasks, you earn points which could be redeemed (withdrawn) in the form of Amazon gift cards.
So in your free time, you can just surf the Swagbucks website and complete some tasks, trust me when I say it is like someone paying you for having fun or doing the things you should do.
Sign up for Swagbucks now and you will automatically earn a five dollars $5 welcome bonus.
2. Shop Online with Inbox Dollars and Earn Gift Cards.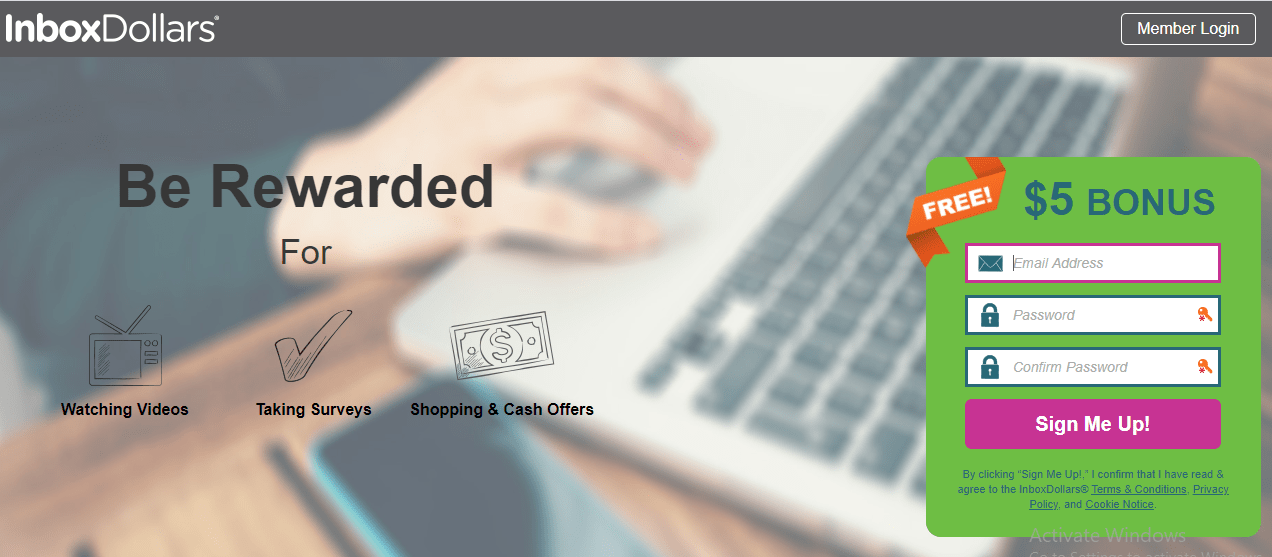 Just similar to Swagbucks, inbox dollar is a website that pays you for carrying out micro-tasks on their website such as surveys.
They are also in partnership with some e-commerce websites to offer you cashback on your purchases that meet the requirements.
So instead of wasting your time on websites that won't reward you, why not stay with inbox dollars and get rewarded for your time and effort.
3. Have Fun and Earn Gift Cards on Toluna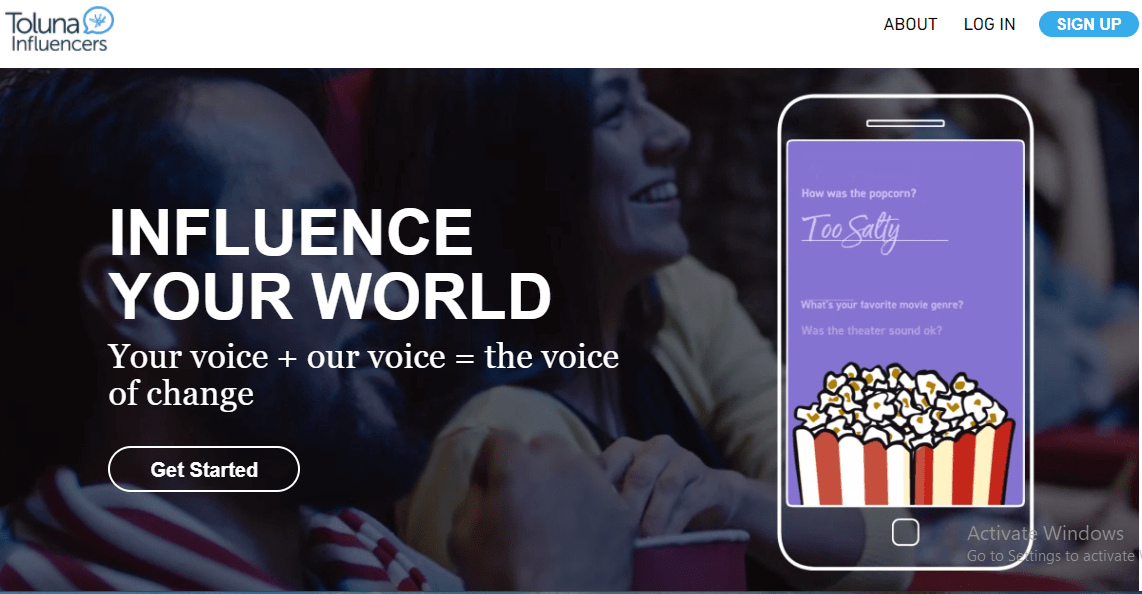 A community of over a million users allows you to earn points which can be redeemed in various forms, Amazon gift cards inclusive.
One advantage of toluna over other participation and reward platforms like the ones I listed above is that it has more of a product testing task, so if you easily get bored answering surveys, you can consider joining toluna.
Toluna also has a lot of games and competition for members of their community. At the end of each, mega points are rewarded to awesome performances.
I can't say enough, just go check out their website and all they have to offer.
4. Amazon Trade-In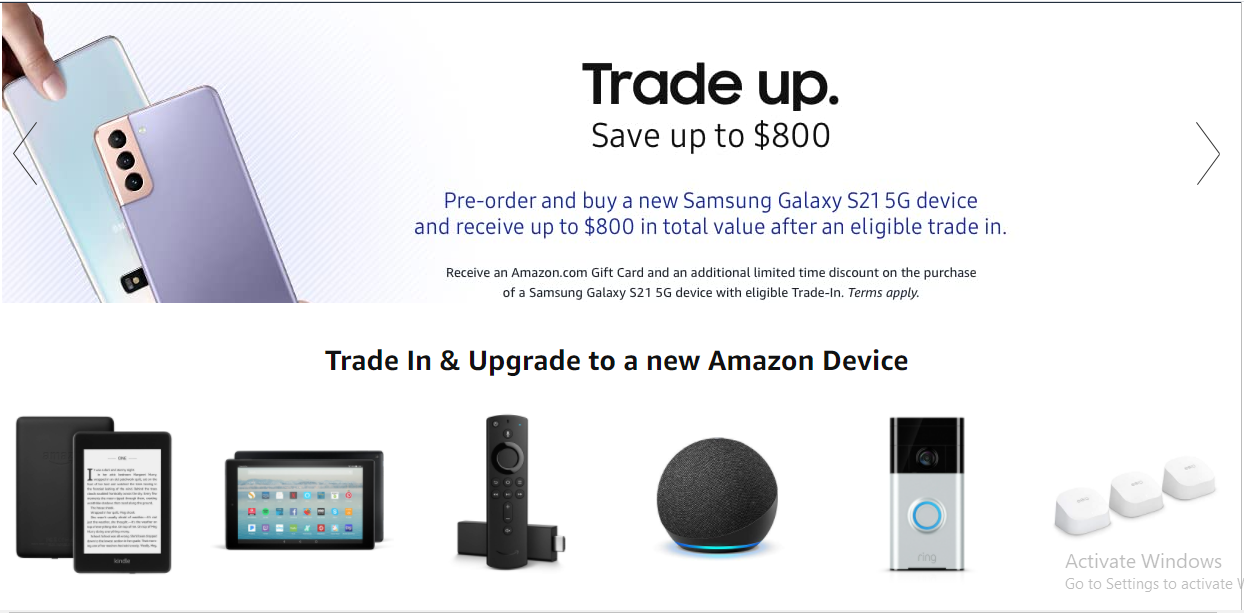 It amazes me when I tell people about Amazon trade-in only to notice that they have never heard of the platform.
Do you know what Amazon trades in is?
Amazon trade-in is a program operated by the largest e-commerce giant in the world, Amazon that allows you to sell your used and unwanted products to them without any hassle.
And the most fascinating thing about it is that, even if you are not an Amazon customer, they can still buy from you at one of the best and unbeatable rates in the market.
Products that have a good exchange rate with Amazon trade-in include:
Gaming platforms and video games

Kindle E-readers

Books

Wireless devices

Tablets

Smartwatches

DVDs

Music
So how do you get paid? Via Amazon gift cards.
This doesn't sound like free, after all, I am giving something in exchange.
Well, how free the gift card is to you depends on the usefulness of the products you are giving in exchange for the gift cards.
Related Posts
So why not gather those stuff you plan on disposing of next week and hand them over to Amazon for a gift card.
Sounds cool right?
5. Shopping On Amazon and Earn Gift Cards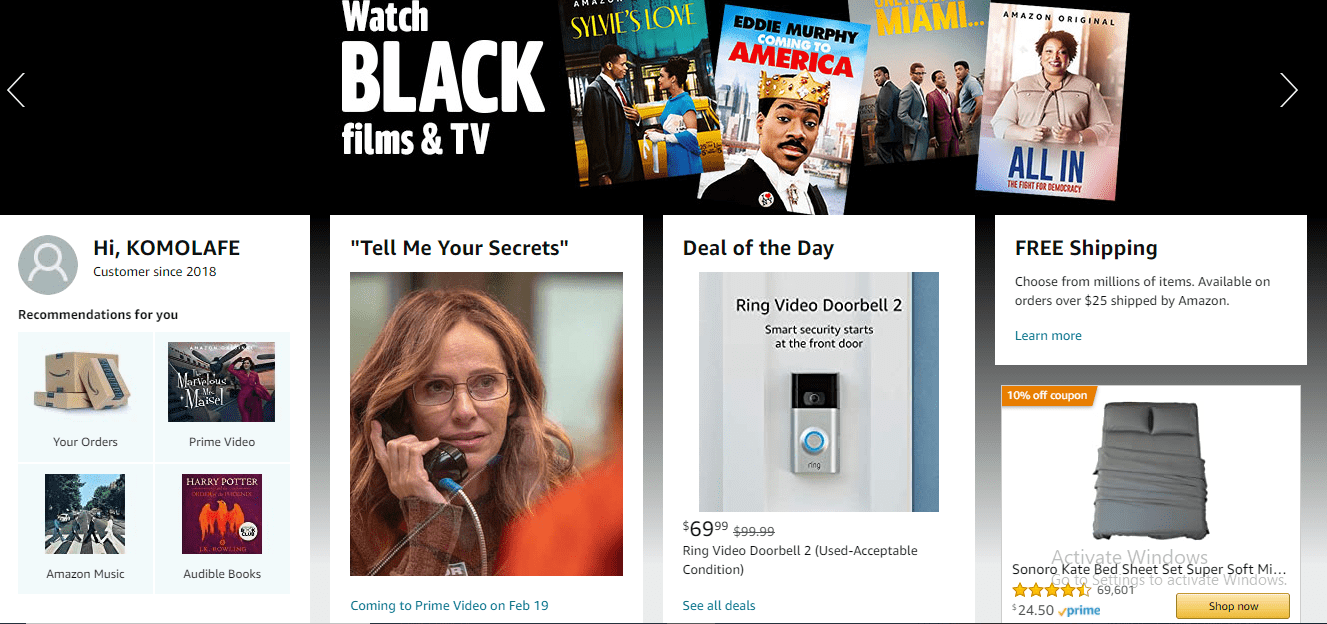 Isn't this obvious, Amazon is surely going to reward loyal customers at one time or the order with gift cards.
So by remaining loyal, you may never know when you're lucky.
Sometimes you may receive a coupon code while at other times; you can equally get a gift card.
According to records, you stand a higher chance of getting a gift card when you may purchases from the following categories frequently:
Also, don't forget to check out Amazon Prime.
6. Amazon Mechanical Turk

Amazon is an online marketplace and although artificial intelligence has developed to the level that they can do a lot of things, there are still some things they are not capable of doing.
That is what Amazon mechanical Turk is here to fix. They allow you to work for certain hours to help them do what their robots cannot do and then pay you per hour or per task completed.
The beauty of working on Amazon mechanical Turk is that "YOU CAN WORK FROM THE COMFORT OF YOUR BEDROOM AS ALL YOU NEED IS A COMPUTER" and a stable internet connection.
In the end, you are paid using Amazon gift cards. If you ask me, this is one of the best ways to earn Amazon gift cards and easily redeem it.
7. Shop at a DROP Store & Earn Amazon Gift Cards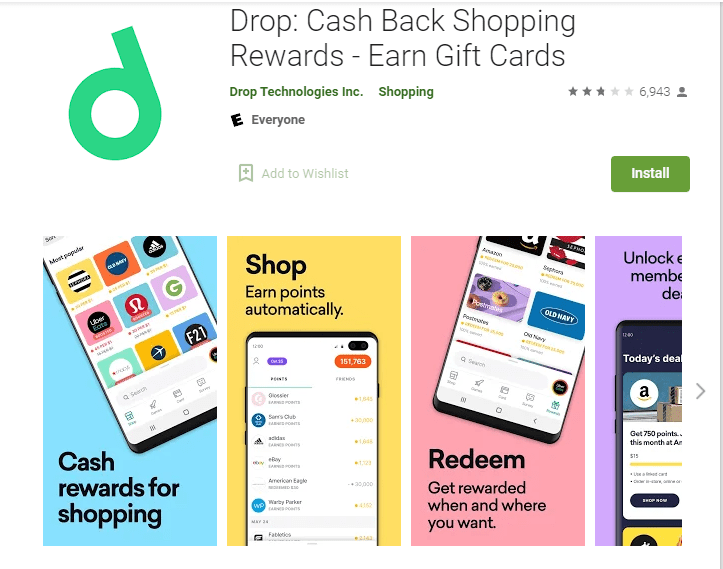 By simply downloading the drop app from any app store and linking your credit or debit card to it, whenever you buy anything from any drop store you earn points which are redeemed in the form of gift cards.
Furthermore, the drop app is free to download on all platforms (android and IOS) and registration is also free.
Once you download the app and register, you can conveniently link all your cards to it for the ease of shopping.
8. IBotta Earn Cash back Gift Cards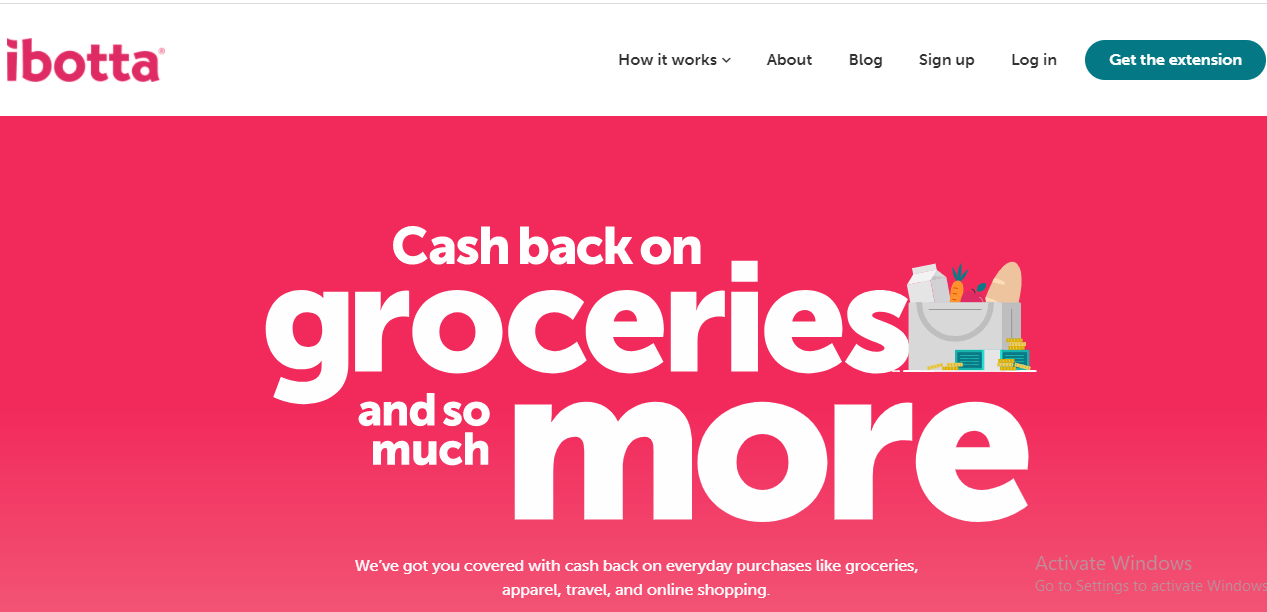 If you are in charge of shopping for groceries in your family and you do so without using ibotta, you are actually missing out big time.
Ibotta is one of the leading cashback companies on the planet and their rates are difficult to compete with.
Ibotta also has a lot of partners, so you qualify so cashback on a majority of offers and sales when you shop at the following:
Grocery stores

Convenience stores

Restaurants

Pharmacies

Shop online via your mobile phone at many major retailers
It is as easy as sending them a receipt whenever you make purchases from a local store. 
Now you may want to ask how it works.
There are three major ways you can earn from ibotta and they are:
In-app purchase: This is when you make purchases directly from the ibotta app. They have an algorithm that selects the best offers with cashback for users and if you make a purchase, you automatically earn a cashback which can be redeemed in a lot of forms, Amazon gift card inclusive.

Physical stores: To earn cash backs when you shop from any physical store in partnership with ibotta or their associate products, all you need is to send a picture of the receipt and your cashback account will be credited with twenty-four (24) hours.
Most of the most famous continental stores you shop in are most likely going to be a partner of ibotta.
Example of popular stores that have an existing partnership with ibotta include:
Walmart

Target

Walgreens

Best Buy

Gap
Also, as an added bonus, you get a bonus of $10 when you claim and activate your first offer.
If you ask me, earning an additional $10 for free is a big deal that should not be missed.
9. Download the ShopKick app & Earn Amazon Gift Cards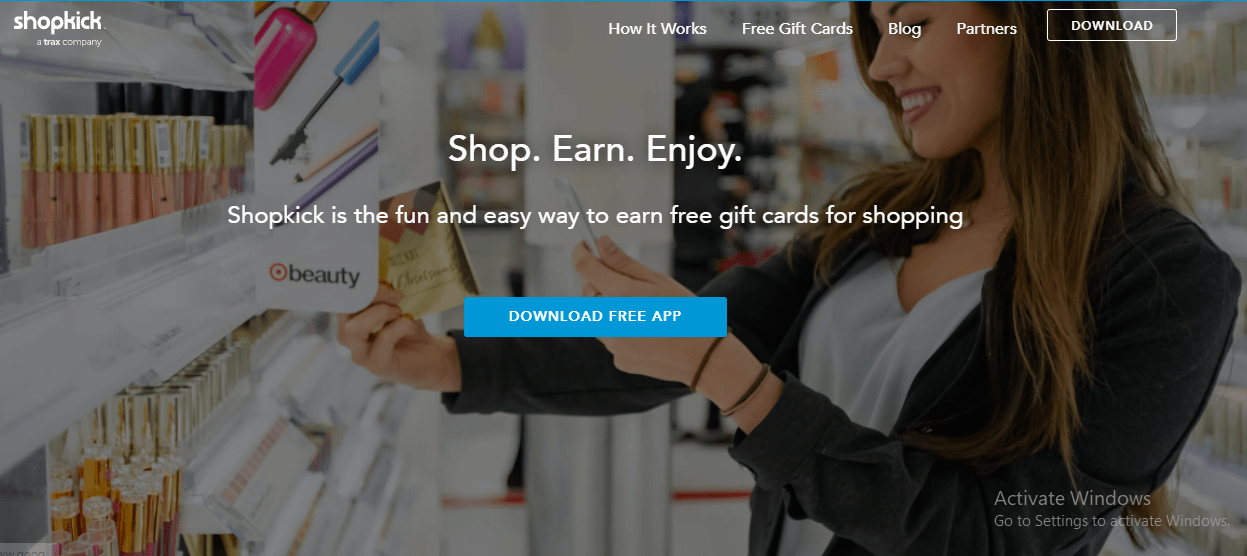 The shopkick app will allow you to earn points that can be redeemed in the form of Amazon gift cards.
The app is available for both android and IOS platforms.
You have three ways of earning using the skopkick mobile app and they are:
Walking into a store and recording barcodes

Visit a variety of online stores and record prices.

Watch Videos
Which of these above sound like a giveaway to you?
You also earn high points for making purchases among many other things. 
One great thing that makes Shopkick different from other competitors is the fact that you are not required or forced to make a purchase before you can request a withdrawal.
So I personally use it and I can tell you how to get started easily.
All you need to do is download the Shopkick app from the google or apple play store and then launch the app.
You will then be prompted to allow location services and once that is done, you can start visiting as many stores and scanning barcodes. Accumulate these points and they would sum up to a good reward at the end of the day.
10. Receipt hog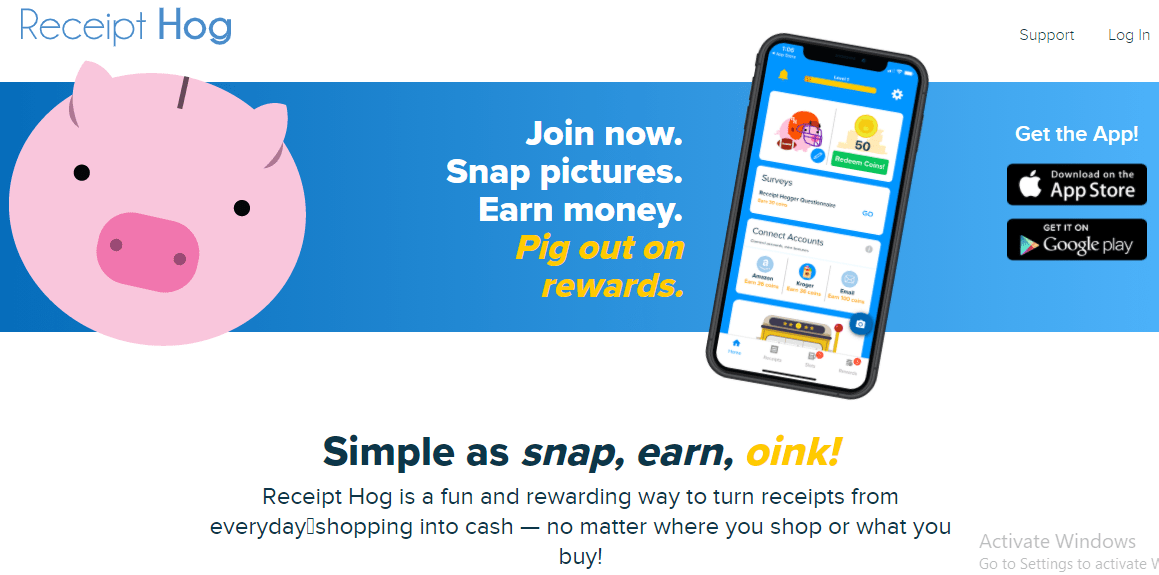 This is also a service that allows you to earn their virtual pin by purchasing things via their in-app store.
Isn't that cool?
You can also choose to participate in surveys as well as getting into competitions.
Once you amount of coins get to the threshold, you can redeem them in the form of an Amazon gift card with ease.
11. RecycleBANK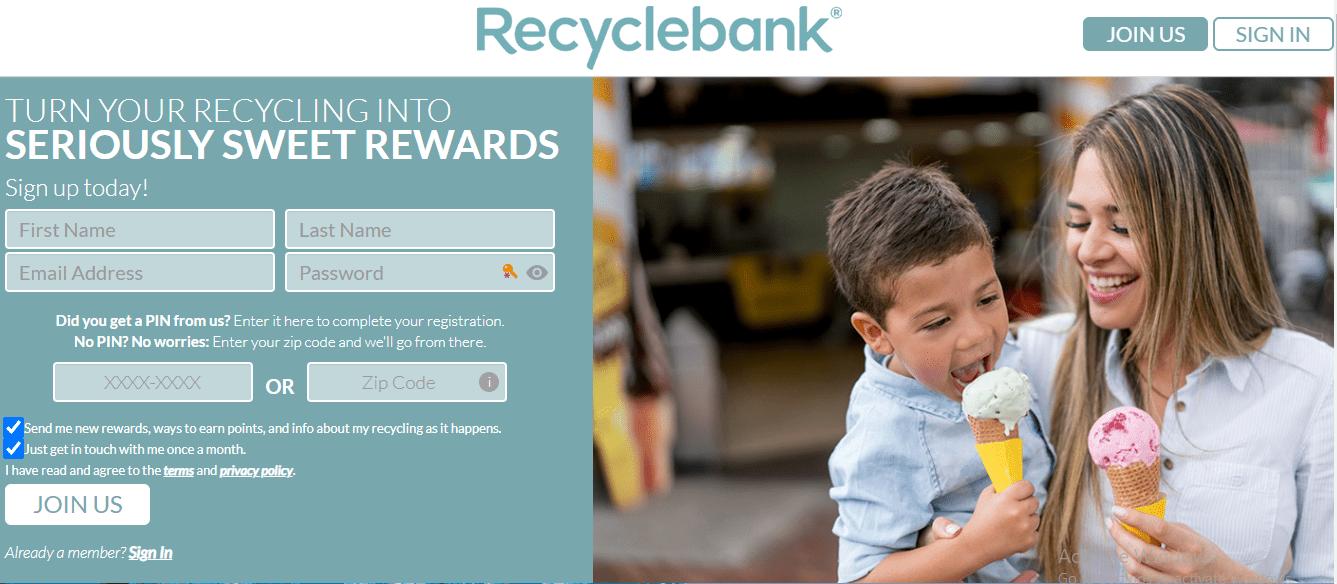 For the first time, some set of people are actually going to reward you for reading articles online on how to take care of your natural environment.
The company partners with a lot of your local recycling companies and offer you an option to claim your points in the form of an Amazon gift card.
12. Harris Poll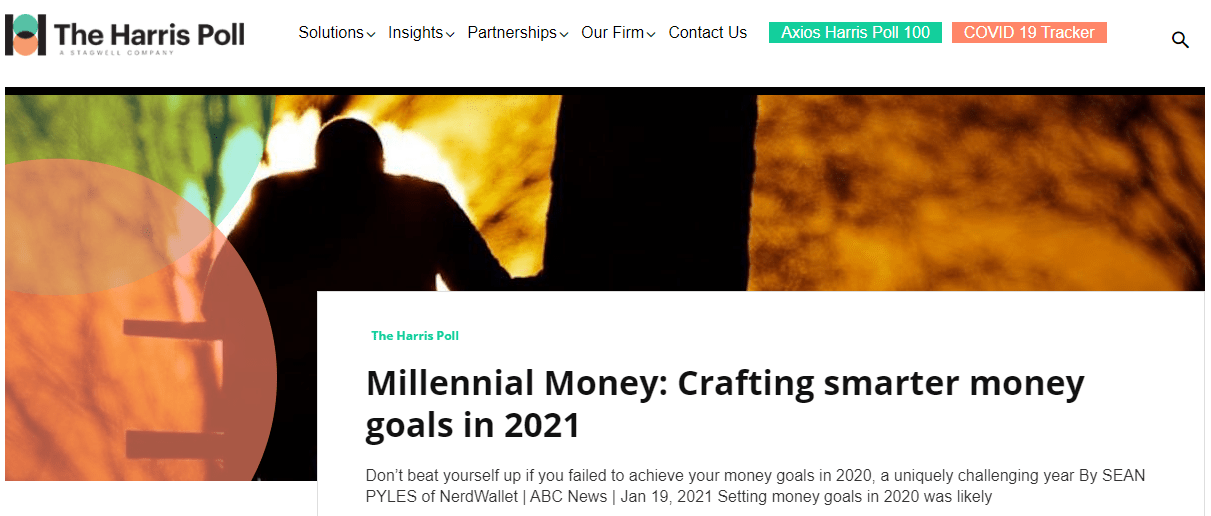 Finally, we have come to the top offers of the list and we have Harris polls which is one of the oldest and reputable research companies in the world. They are usually specialized in asking for your opinion on cases related to consumer habits and current events in surveys.
The excitement does not just end at rewarding surveys.
Harris poll also hosts a lot of cash price lotteries which include their biweekly lottery and their quarterly and annual sweepstakes.
If you aren't a participant till date, this is definitely an opportunity you will not want to miss.
Harris polls have no age limit so if you are a teen, you can equally participate.
13 Mobee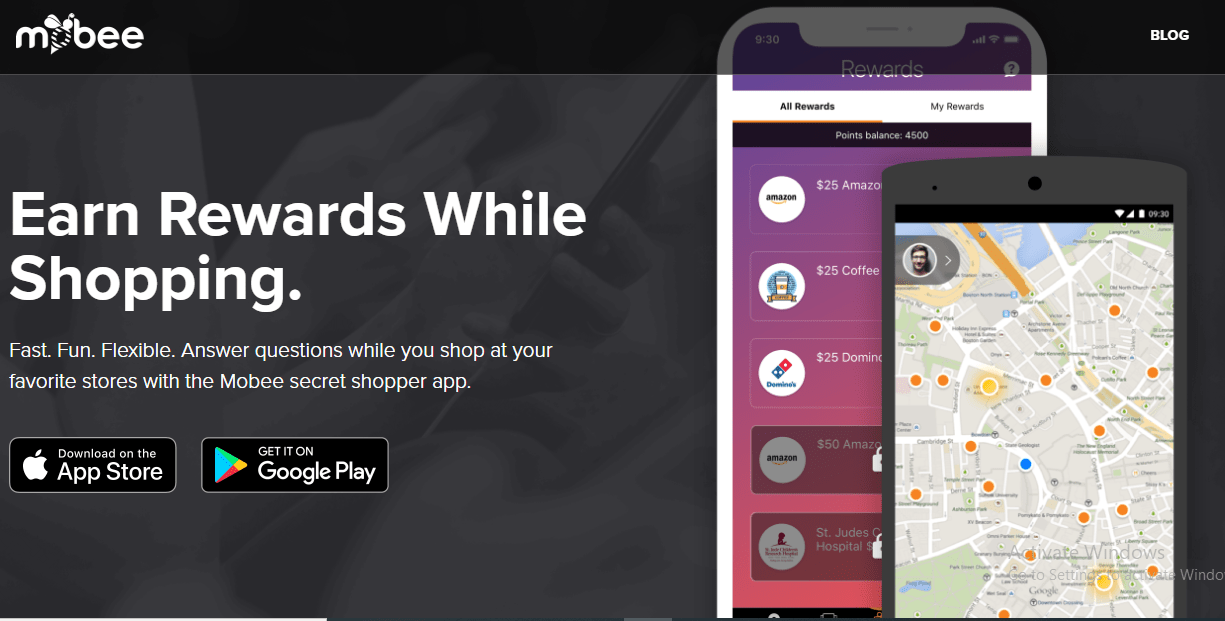 Do you ever want to go on missions? If yes, mobee is for you, mobee gives you the opportunity to get paid for giving your personal experience of a store trip.
What am I trying to say?
The moment you download the mobee mobile app from the app store or google play store, you will be required to register. Please take note that registering more than one account per person is strictly not allowed and if the system detects it, you may be blocked from the system.
Once you have successfully registered, you will be given missions to go shopping to a particular shop in your locality and then give your honest feedback by answering about ten questions that will be served to you on the app.
The app is restricted to some locations across the globe and if you do not see it to download on any app store, it strictly means that it is not allowed in your location.
14. List your products on Listia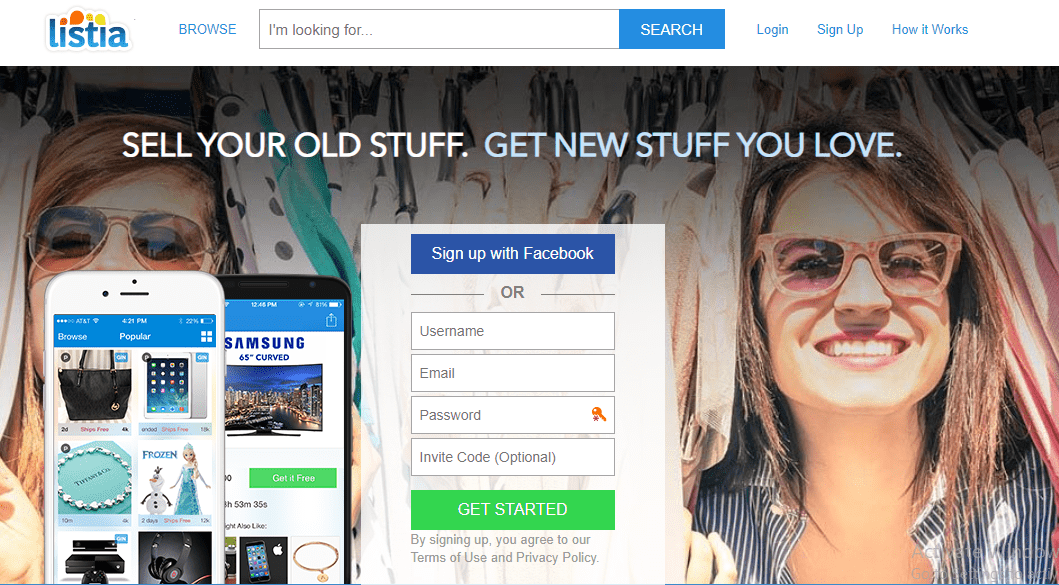 Lista is quite different compared to the rest because it offers a quite unique way of earning points which can be redeemed to gift cards (Amazon gift cards inclusive).
As the name implies, listia allows you to list your products for sale on their platform and at the same time, you earn points.
You can also earn points by interacting with your need found friends on the listia platform.
So surprise, listia offers free points for new users, all you need to do is link your social media accounts, for each account you link you earn a point.
They also give out points for referring others, so if you are referred to as an influencer amongst your friends, you can really cash out by referring all of them to the listia platform.
As you can see I didn't tell a lie, listia is really unique.
15. Get up to 15% Cash backs with Honey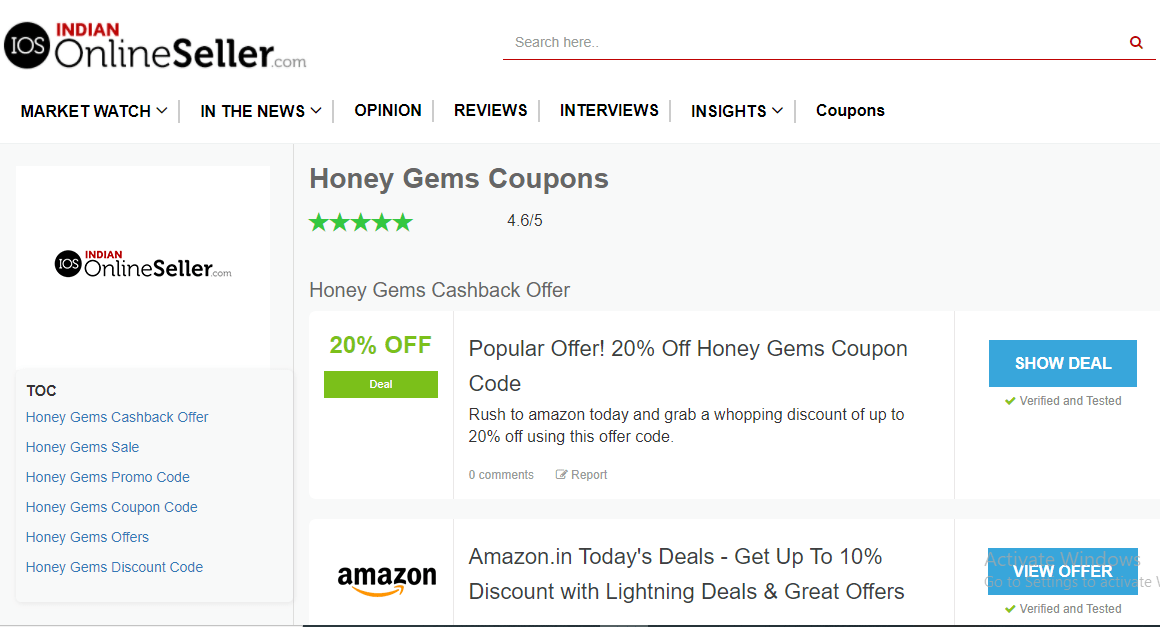 Again I am really serious, honey gives you up to 15% cashback on all your online purchases on their store and other stores.
I have to be honest, this is actually a rate that they boost off and users review shows that it is not a lie.
They have various packages of which I will keenly advise you go for the honey gold package.
Honey is so wow.
Do you know that honey automatically searches for the most recent and beneficial coupon and promo codes and automatically adds it to your checkout at any online store supported by their platform?
Meaning you can maximize your savings.
It is just like having someone playing the role of your coupon and discount code manager.
The more purchases you make, the more money you save and the more points you earn which would be converted to gift cards at the end of the day.
With honey, you are also offered to withdraw your points via PayPal funds.
16. TopcashBack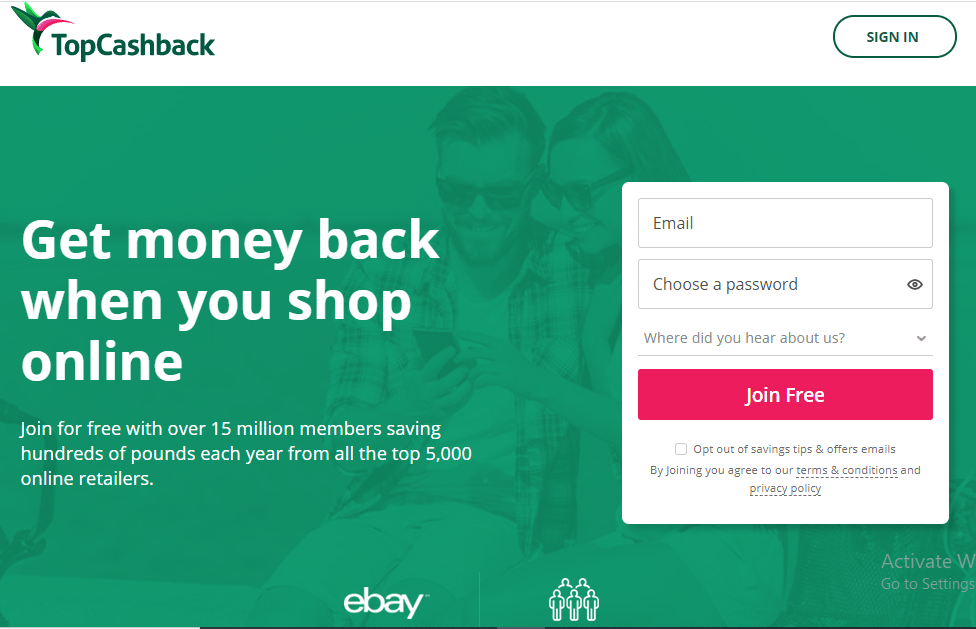 Topcashback is mostly known as the most generous cashback platform available on the web.
They offer up to 40% cashback on over 3000 stores in their program
Isn't that cool, definitely, you can never be beyond their reach?
They have a lot of fun things you can do and earn points.
Also, you automatically earn a 3% bonus on all withdrawals when you choose to withdraw via Amazon gift cards.
That means if you want to withdraw 100 dollars from topcashback, you automatically get a $3 bonus which means you get $103.
What is the withdrawal threshold you may ask, the answer can be considered as good news as topcashback allows you to withdraw as low as $1 using Amazon credits.
17. Bananatics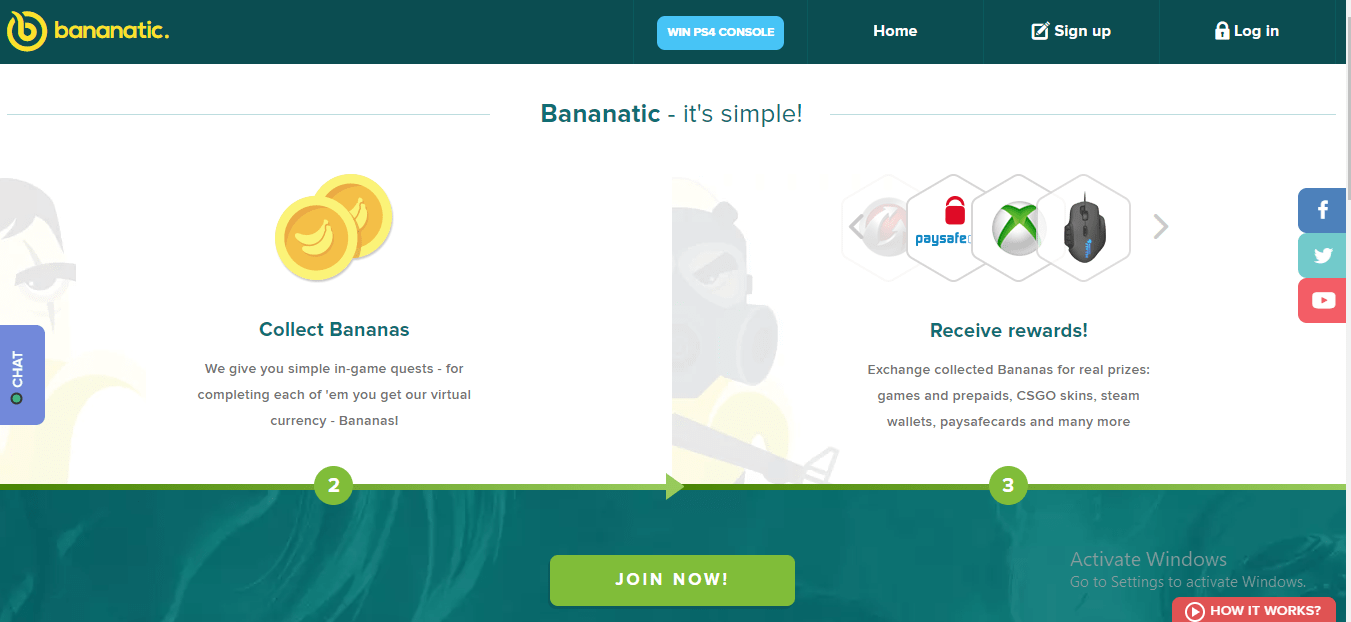 Sounds like a banana, lol.
If you are like me that downloads every new app and game I see on google play store just to check them out, then you can earn doing so by registering on the bananatics platform.
You help them a test run and review games and earn points for that which can be redeemed in the form of game credits for the games you test or taking out in the form of gift cards.
It doesn't just end there, you can also shop and download games and earn as you play them.
I guess you must have heard of the fact that you can play games and earn at the same time?
If No, then now you know and if Yes, welcome, Bananatics makes that extremely possible for you.
18. Switch to Microsoft and earn Gift cards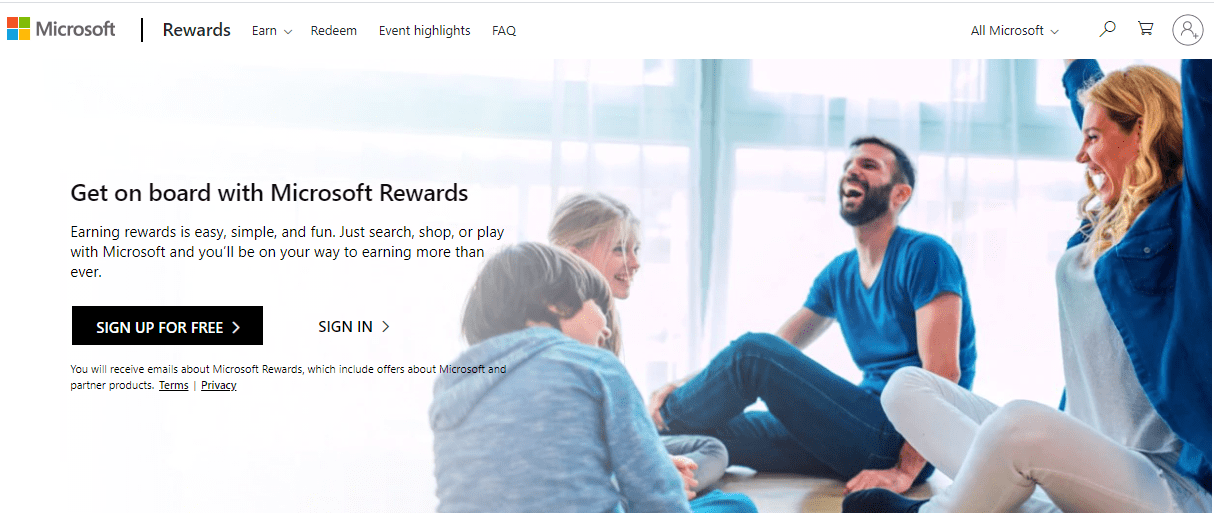 Are you surprised that Microsoft and Amazon have something together? Don't be perplexed, I am not talking about Microsoft as a company software, I am talking about Bing search engine which is managed by the Microsoft company.
Once you make Bing your default search engine across all your devices and you would automatically be earning 5 points for each search you make on bing.
Isn't that cool..
It doesn't just stop at making searches on the search engine, you can also get rewards by participating in surveys and competitions, all you need to do to be granted access to these offers is to download and activate the Microsoft reward browser extension on whatever browser you are using (chrome preferably).
19. APPNANA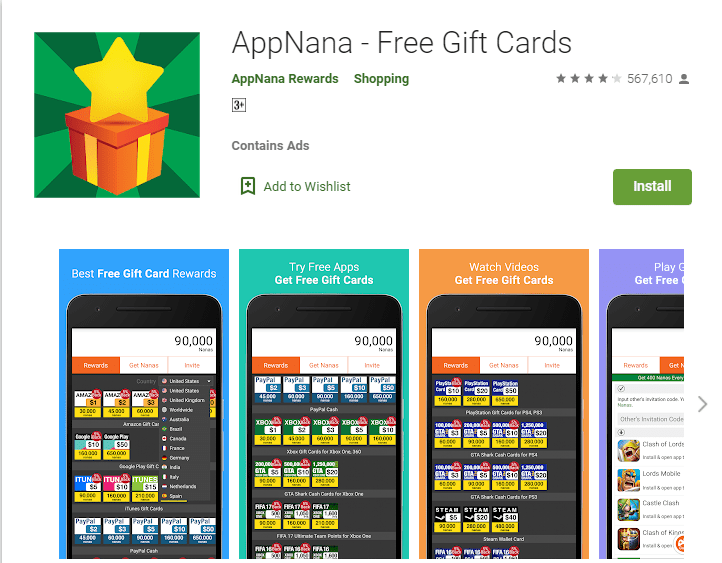 Here again, is another app that allows you to earn by testing and reviewing other apps.
They pay you for simply downloading and further for testing apps.
The good thing about using an appnana is that you only need a minimum earning of $1 before you can either download a paid game with it or withdraw it in the form of an Amazon gift card.
They also run a referral program, so you can also get rewarded by referring your friends and family.
20. Spend your spare time and get paid with instaGC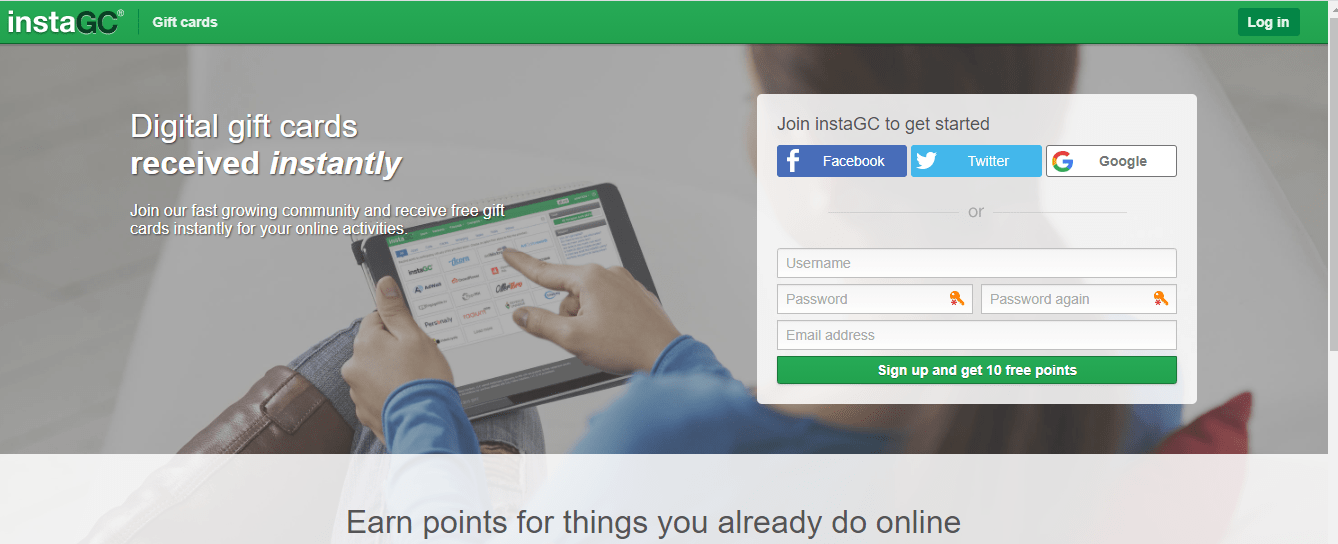 Making money with instaGC is extremely easy as they offer you close to an unlimited range of options to properly utilize your spare time and earn.
With instaGC, you can earn points from a variety of options such As surveys, videos, games and opening emails!
However, there are some other things that mainly differentiates instaGC from the other platforms I have mentioned that makes it possible to get Amazon gift Cards without buying them.
INSTAGC allows you to even get rewarded for listening to music. Coupled with the fact that you can withdraw as low as $1 in the form of a ready to use Amazon gift card.
21. Life Points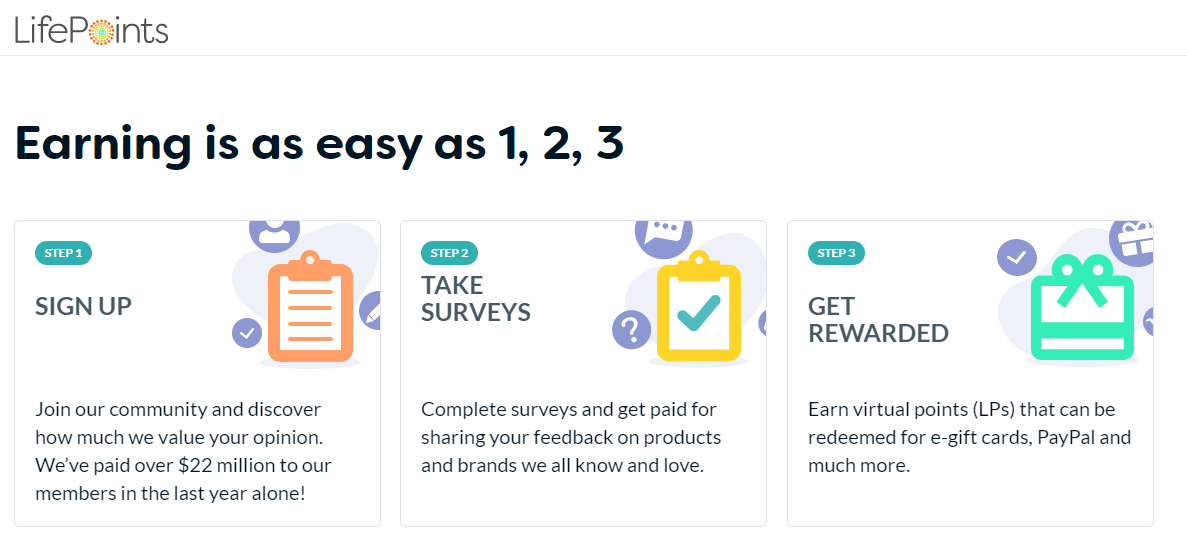 This ought to be my number one in the list but never mind
Life point is a well-known company that has proven its credibility over the years with over five million members.
Also, it is one of the very few survey platforms that is not restricted to the United States in any way as they encourage users from all parts of the world to become members.
Their surveys spread across a wide category range and you can also get chosen to help test out some products and give your honest feedback.
22. IPSOS I SAY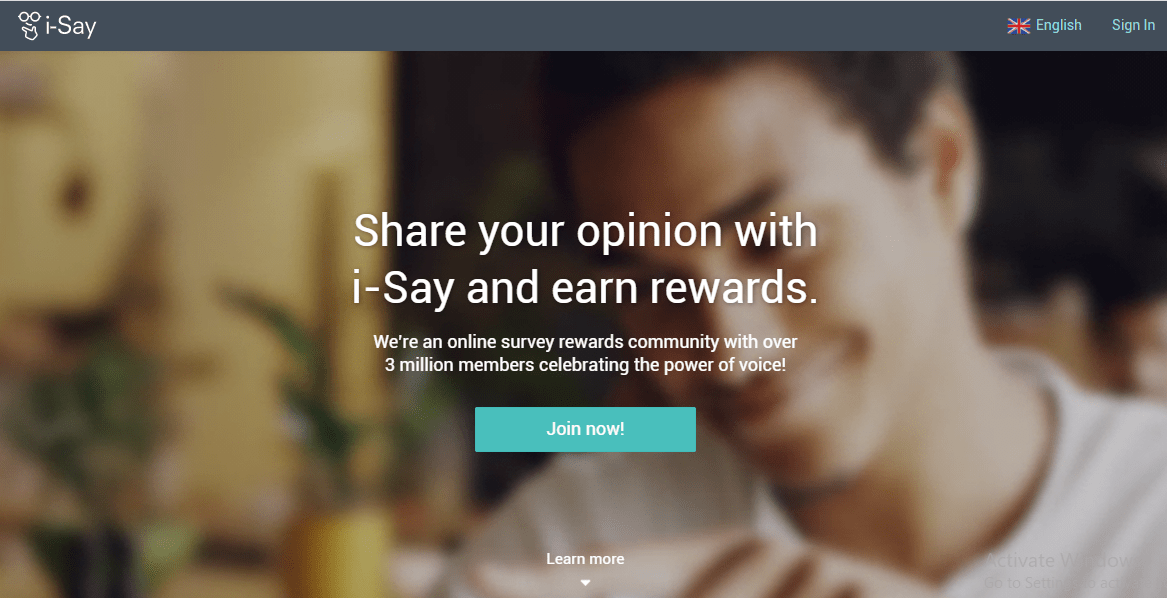 Ipsos I-Say is another platform that pays you to answer surveys and it will also pay you to test products.
As a loyalty bonus, you earn a year-end bonus for all surveys you take. With this extra bonuses, it's extremely possible if you put in the work to earn up to 600 extra points and you can withdraw these points in the form of an Amazon gift card.
Also, besides being an earning member of Ipsos alone, you also enter Ipsos free contests. That's right, earn a free entry each time you earn points.
For example, you can win extra cash or a free vacation from a contest.
23. IRAZOO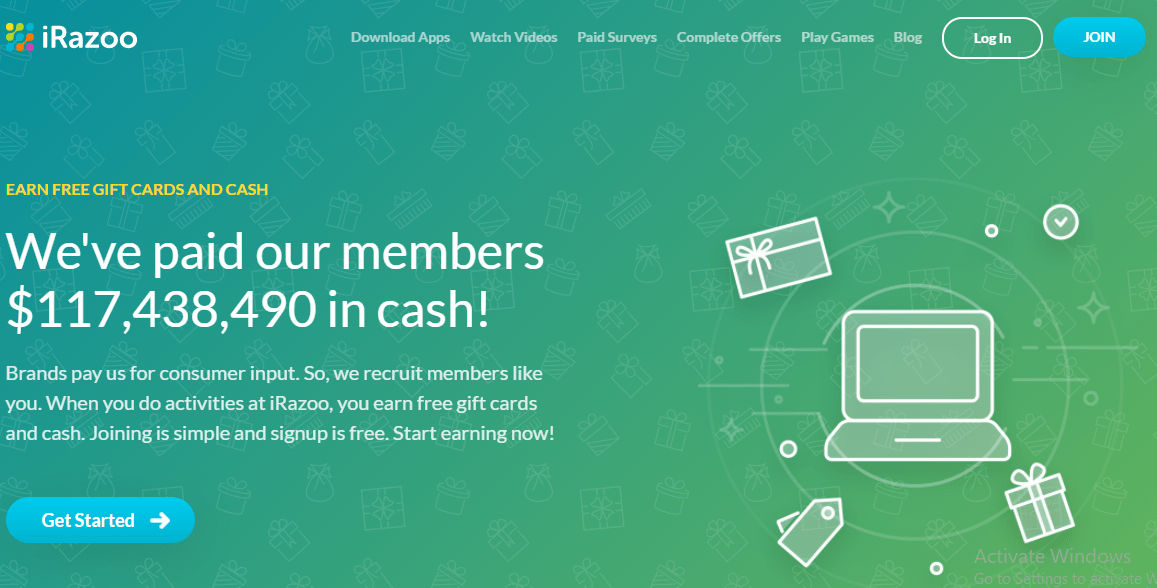 Similar to other sites I have listed earlier on this list, IRAZOO rewards you for completing online tasks such as surveys, games, videos, and shopping.
All these are all ways to earn money on irazoo. You can also collect points for entering promo codes from supported platforms, completing daily goals and objectives as well as using the iRazoo search engine and reading its blog and emails.
Once your accumulated point is up to 3,000 points, you will have the option of redeeming them for free Amazon gift cards or PayPal.
As a welcome bonus, you get 100 points free for signing up.
24 Use Rakuten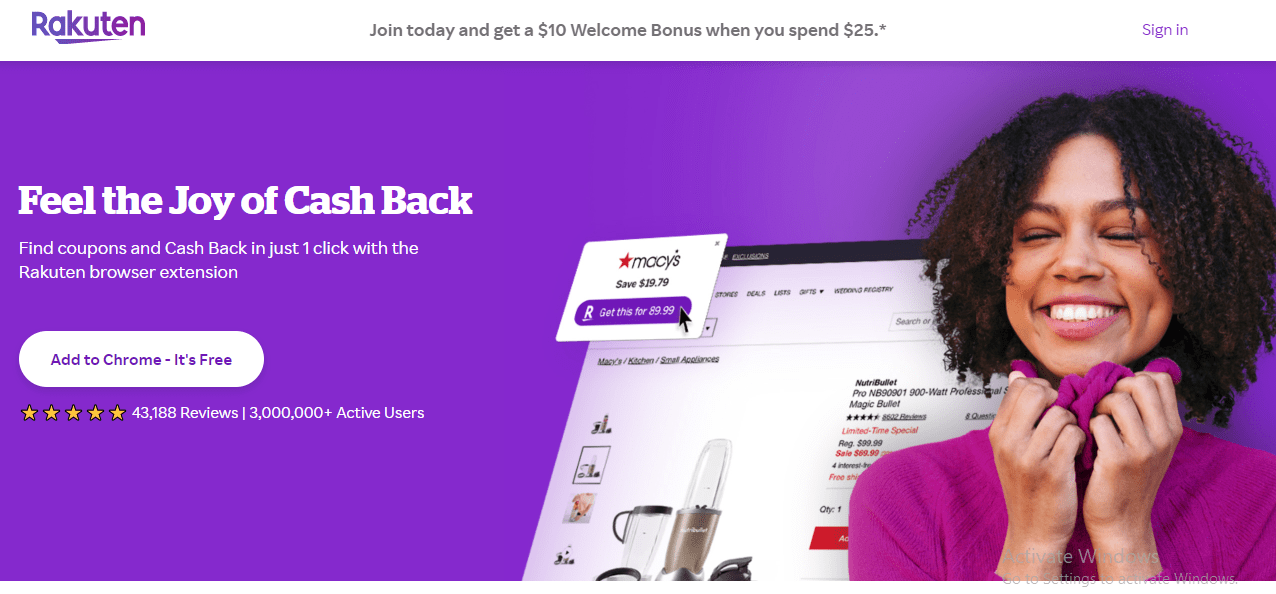 Rakuten is an established online shopping portal that pays up to 40% cashback on your purchases.
 You visit the Rakuten site first, look for the retailer you're getting to buy from, choose any coupons you would like to use, and click on "shop now".
 If you create a sale, the posted cash-back offers are going to be deposited into your Rakuten account.
To make it easier to urge the cash-back offers, install the Rakuten browser extension. Whenever you're shopping on a site that gives cash back through Rakuten, you'll receive a pop-up reminding you to activate the deal before you inspect.
Click the reminder and continue shopping as normal.
Cash payouts occur quarterly via a sign up the mail or a deposit to your PayPal account.
you'll use the cash to shop for Amazon gift cards or buy Amazon gift cards through the Rakuten portal and earn cashback on your purchase.
For more details on the way to get cashback with this app, visit our Rakuten review.
Can You Use An Amazon Gift Card To Buy a Gift Card
Definitely YES, all you have to do is locate the closest gift card broker close to you and you will have the option of selling your gift cards or exchanging them with other types of gift cards.
Searching the internet for some good brokers will be the next way to go.
Wrapping Up Ways To Amazon Gift Cards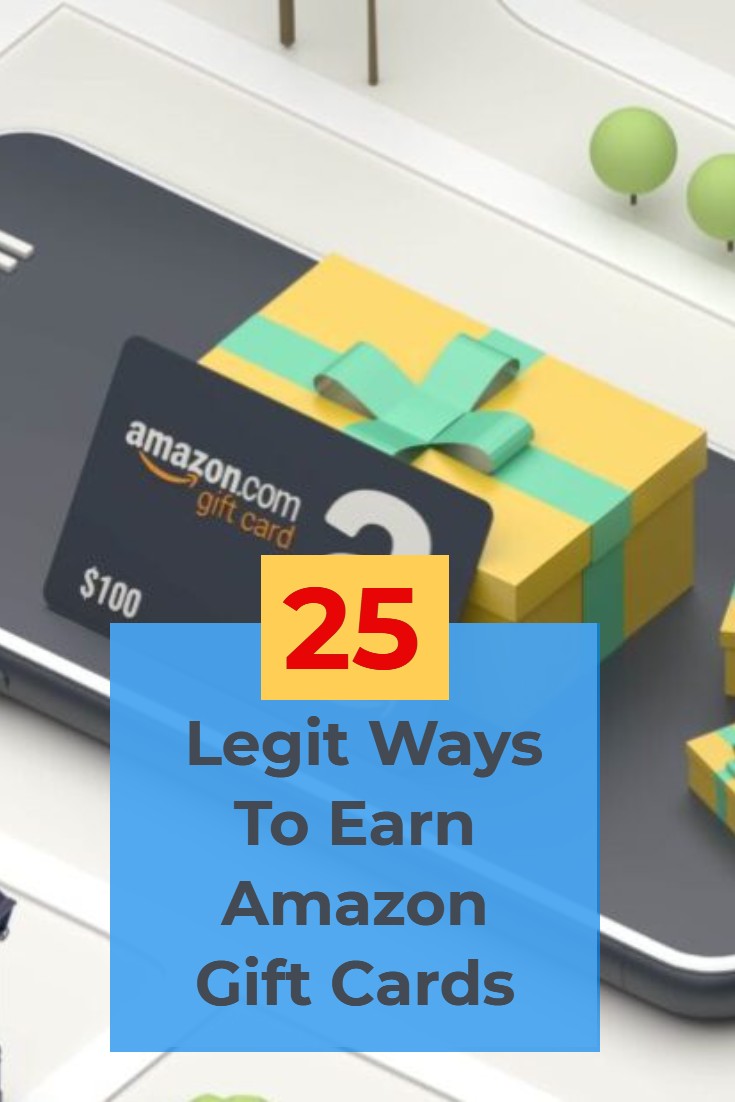 Getting Amazon gift cards for free was never been as easy as it is today. You can virtually print them by working online.
As I advised earlier, it will be best you pick at least three of these programs available in your country and invest your time in them.
They won't fetch you a hell lot of money but I guess a decent side income would be satisfactory enough.