Last Updated on 6 months by Komolafe Bamidele
No doubt, two top tools dominate the SEO world. SEMrush and Ahrefs are the best SEO marketing tools in recent times. Often time, many tend to undermine the power of using these tools for web traffic and their marketing goals.
Nevertheless, many people tend to look for the best Ahrefs alternatives; in this article review, we shall be looking at various areas relating to SEMrush as the best Ahrefs alternatives.
We shall unveil the totality of SEMrush so you know the right SEO tool to use.
Before we go further, it is imperative to understand that this article review, we shall put SEMrush and Ahrefs against each other to help you find the right and ideal SEO tools that suit your needs.
We shall focus on the following features;
Keyword research
Backlink analysis
Technical SEO Audit
Position Tracking
Pricing Plans and more.
The above parameters shall form the bases of comparison. Now let's get to the basic reason why we are here.
SEMrush Overview
SEMrush was launched by small IT and SEO experts in 2008. It came due to numerous research, experiments, and progress. SEMrush has evolved and has become one of the top leading digital marketing toolkits around the world. With numerous success in keywords research to link building, and more.
SEMrush is all-encompassing and offers multi-purpose features for your SEO needs. SEMrush aids your site to rank on the Google search engine.
SEMrush begins as a small experiment which has become the #1 SEO tool for a marketing agency to get insightful data on various industry.
Ahrefs Overview
Ahrefs primarily designed for backlink purposes, but has evolved, to become all in one SEO analysis tool that can audit your site like keyword research, content marketing, and more.
Ahrefs has developed over the years and is one of the best SEO tools to look at for.
What are SEMrush and Ahrefs?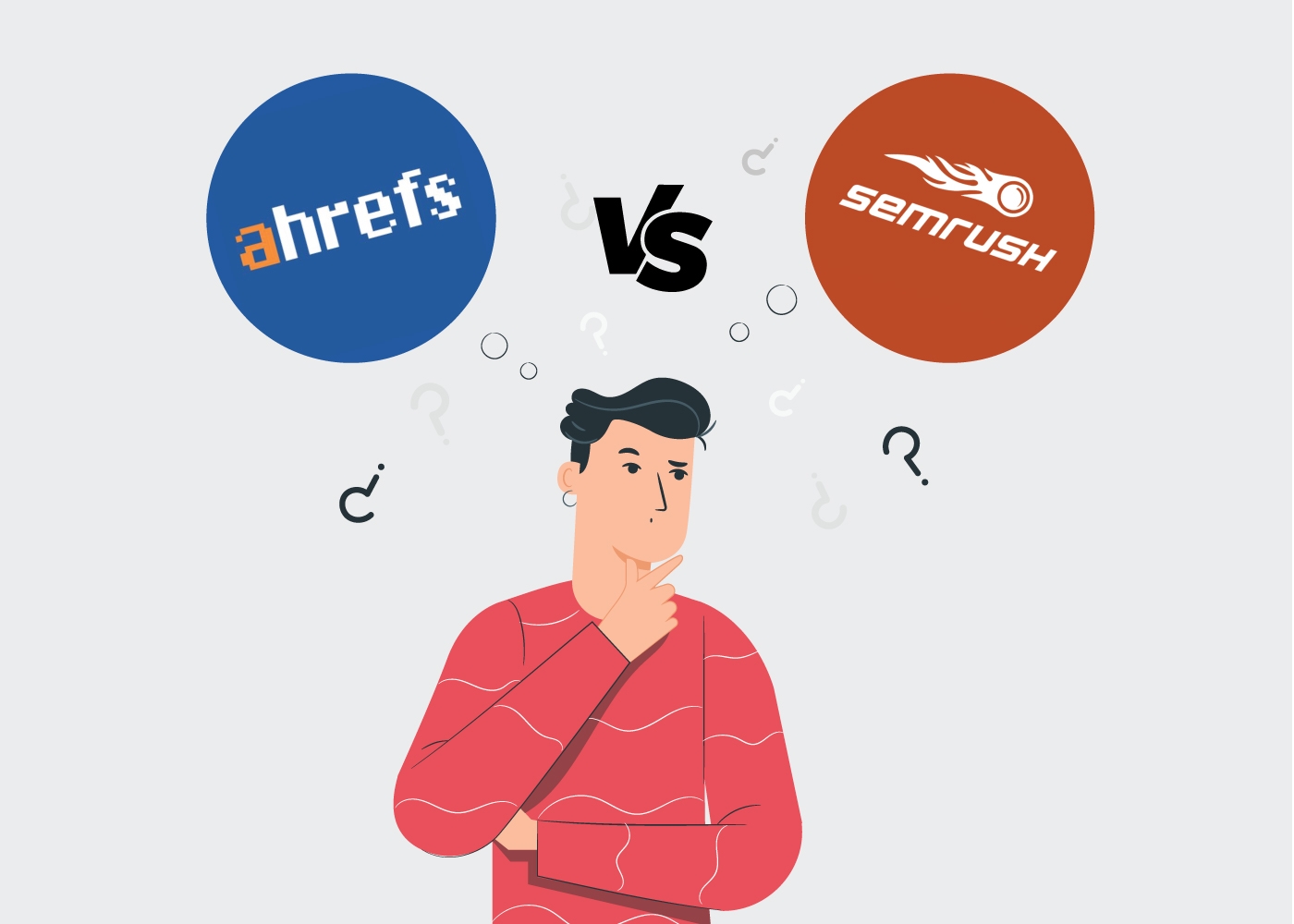 Both SEMrush and Ahrefs optimize your site for search engines. They make sure your website is visible to your target audience. They carry out these tasks in numerous ways.
The most significant thing they do is to give you information that you can use to;
Identify new opportunities for building links from different sites to your website
Also, help to create fresh content that may attract organic traffic to your web page
They also make your website user friendly, by making sure your website performs better and faster in search engine results.
SEMrush and Ahrefs provide you with keyword suggestions based on your search word. Both SEO tools also inform you how such words will rank or perform.
Both the SEMrush and Ahrefs also help to perform an SEO audit on your site to ascertain if there is any technical concern.
The above are some of the basic features that resonate with both SEO tools.
1.   SEMrush Vs Ahrefs; Keyword Research
Keyword research is one of the most significant aspects of SEO. It enables you to get a versatile understanding of your audience and their search habit.
Once you nail the keyword research of your SEO strategy, you are of getting quality traffic. Both SEMrush and Ahrefs have unique keyword research features, though SEMrush tends to supersede the Ahrefs features.
The reason is that SEMrush has been the major pioneer of keywords research whereas, Ahrefs has made important strides with keywords Explorer.
Keyword research features entail four basic things;
Looking for the keywords already ranking
Ascertaining the difficulty in ranking the keyword
Establishing the number of people searching for particular keywords
Receiving information, suggestions from others.
The two SEO tools make it possible and easier to find out the listed information. Continue reading to find out the best Ahrefs alternatives.
SEMrush
This SEO tool is primarily known for its keyword research features. Apart from the robust keyword research toolkit it offers, SEMrush, have the reputation for providing the most accurate data for search results which is a vital metric for PPC campaigns and SEO.
You get a glimpse of SEMrush keyword research once you type in the keyword in the search box which gives you a quick summary of all the main keyword metrics for a particular keyword.
You get to know the keyword difficulty, monthly search volume, top-ranking pages, history, ad copy, and more.
SEMrush Toolkit Offers Two Keyword Research Capabilities;
Topic Research
Keyword Magic Tool
Let's explain the above, starting with the Topic Research tool;
Topic Research
This tool allows you to generate several content ideas regarding your topic. Also offers the list of subtopics like questions, headlines, related searches, and more.
To use this tool, start by navigating to Topic Research from the SEMrush dashboard, then type in the keywords or topics into the search box.
Then enter the "Get content ideas" button to get the list of related subtopics.
You get to the content ideas of your main keywords by default. You also see the most popular searched trending subtopics over the past 2 months marked with a fire icon.
You can as well turn on the toggle to view "Trending topic first" or you select the topic cards by difficulty, topic efficiency, or volume.
The topic cards allow you to know more about the top headlines, questions, and other related searches regarding your main topic.
Keyword Magic Tool
The next keyword research SEMrush toolkit is the Keyword Magic Tool. This SEMrush toolkit has over 18.9 billion keywords and support over 118 databases.
This tool has the opportunity to search for the right keywords related to your niche. Further, help to optimize the keywords for effective ranking.
To use this Ahrefs Alternatives tool, enter your SEMrush dashboard and follow this sequence-
Keyword Analytics> Keyword Magic Tool
Then, enter your seed keywords and press "Search". From your seed word you get a variety of keywords that you can use in your content or page to help your site rank higher in the Search engine, and further improve your website overall relevance.
You can also use Phrase Match, Broad Match, or Exact match to get specific results tailored to your niche.
You also have the advantage to remove keywords that are not related to your campaign. On the left side of your search results page, you can remove keywords groups.
This helps you to narrow your search to get the most appropriate result related to your niche. SEMrush Keyword Magic tool offers several keyword data that enable you to create SEO-friendly content that can rank higher in SERP.
Whereas,
Ahrefs
Ahrefs offer users the Keywords Explorer tool for keyword research. This tool allows you to generate numerous numbers of keywords suggestions for your main topic.
You also, get to know the keyword metrics like CPC, search volume, keyword difficulty, and more. You can also get information regarding subtopics like newly discovered keywords, similar keywords, and questions.
Here is how Ahrefs keywords Explorer works-
Go to the Keyword Explorer tab from the dashboard, then type your keyword (s) on the search box, select your target location, and click the search icon.
Once you hit the search button, you will see different keyword options for your seed keywords, plus search volume for each keyword.
Ahrefs review click metrics within a month, search volume for target keywords. You use the "View all" button to see the list of all clicks metric.
Which tool are best Ahrefs Alternatives for Keyword Research?
If you compare these SEO tools on keyword research features, SEMrush will be the best Ahrefs alternatives for all your keywords research.
This does not imply Ahrefs isn't good for keyword research, but SEMrush is far better. SEMrush also tops Ahrefs based on the search volume accuracy of data.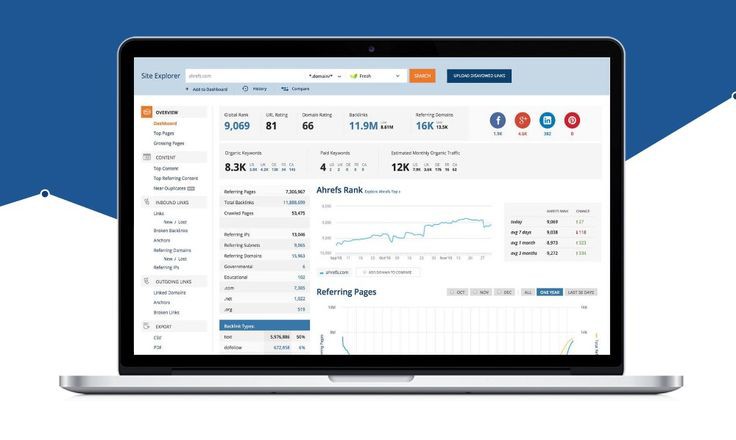 From the data aspect, Ahrefs only shows Keyword difficulty, search volume, CPC, for your parent keywords, whereas SEMrush goes beyond by showing you other important keyword metrics like trending topics, SERP features, competitive density, and more.
SEMrush has over 20 billion keyword databases, the largest in the industry which double the size of Ahrefs database of about 10.2 billion keywords.
2.   SEMrush Vs Ahrefs; Backlink Analysis
Do you know link building is one of the best and most rewarding aspects of SEO practice, though it can be challenging? Backlink analysis helps you stay ahead of your competitions and make you stay on track.
Some years back, Ahrefs used to be the best tool for backlink analysis features. When comparing Ahrefs vs SEMrush 2020; SEMrush top Ahrefs.
This is not farfetched, because, SEMrush Ahrefs Alternatives has made a series of upgrades and improvements to their backlink analysis over the years by involving a newly-expanded link index.
SEMrush
The Backlink Analytics used to be the weakest link in the SEMrush toolkit. Since 2019, there has been a great improvement that has made this tool to be the most outstanding link building SEMrush SEO toolkit with over 6.7 trillion backlinks.
The quality of backlink data is superb. It provides users with significant data in your backlink profile with your competitor's backlink profiles.
How to Analyze Your Backlinks with SEMrush-
Enter your domain in the search box and click on "Backlinks" and enter. Once you click enter, you get t see the overview of all backlinks in your profile like the number of backlinks, referring domains, and more.
You can click on the number of backlinks to get an accurate report of the total number of referring domains and backlinks report.
You also have the privilege to view other metrics like the type of backlink (image, or Text), top anchors, link attributes (follow, nofollow), and more.
You also get vital insights into your competitor's link building strategies and web page by typing the domain name of your competitor in the search box.
Backlink Audit tool
Another outstanding tool in the SEMrush toolkit link building suit is the Backlink Audit tool. The tool ensures a thorough and deep audit is carried out on your website. It further identifies harmful backlinks and helps to avoid Google penalties.
You get an email notification when there is a suspicious link on your page. The tool also, helps you create a disavow file that you can submit to Google Search Console.
SEMrush backlink link building is extremely easy to get. You will need to perform a site audit on your competition's site- you a further select checkbox to know the faulty URL.
Both the Ahrefs and the SEMrush provide site owners with the opportunity to spot broken outbound links. Significantly, a site audit must be carried out in the SEMrush platform to identify broken external links, whereas, you only need to enter the domain into Ahrefs Site Explorer.
Ahrefs
Undoubtedly, many Ahrefs users spent a long time on the Ahrefs Site Explorer tool. The explorer gives detailed information regarding a comprehensive analysis of your website and your competitor's profile.
Go to the Ahrefs dashboard and enter the domain you want to analyze to versatile site backlink profile. The two main metrics here are the backlinks and referring domains.
You can easily click on the number referring domains to get an insight of the site linking domain. The referring domains report is very vital- it displays all the sites linking to your domain and the number of times.
You can easily dofollow to know the authoritative sites that are linked to your domain. The Ahrefs Site Explorer does not only analyze your website backlink profile, but also the link profile of specific URLs.
Which tool is best Ahrefs Alternatives for Backlink Analysis
Both the SEO tools are good for backlink analysis. SEMrush has a large link index whereas Ahrefs allows you to obtain information in a clearer form.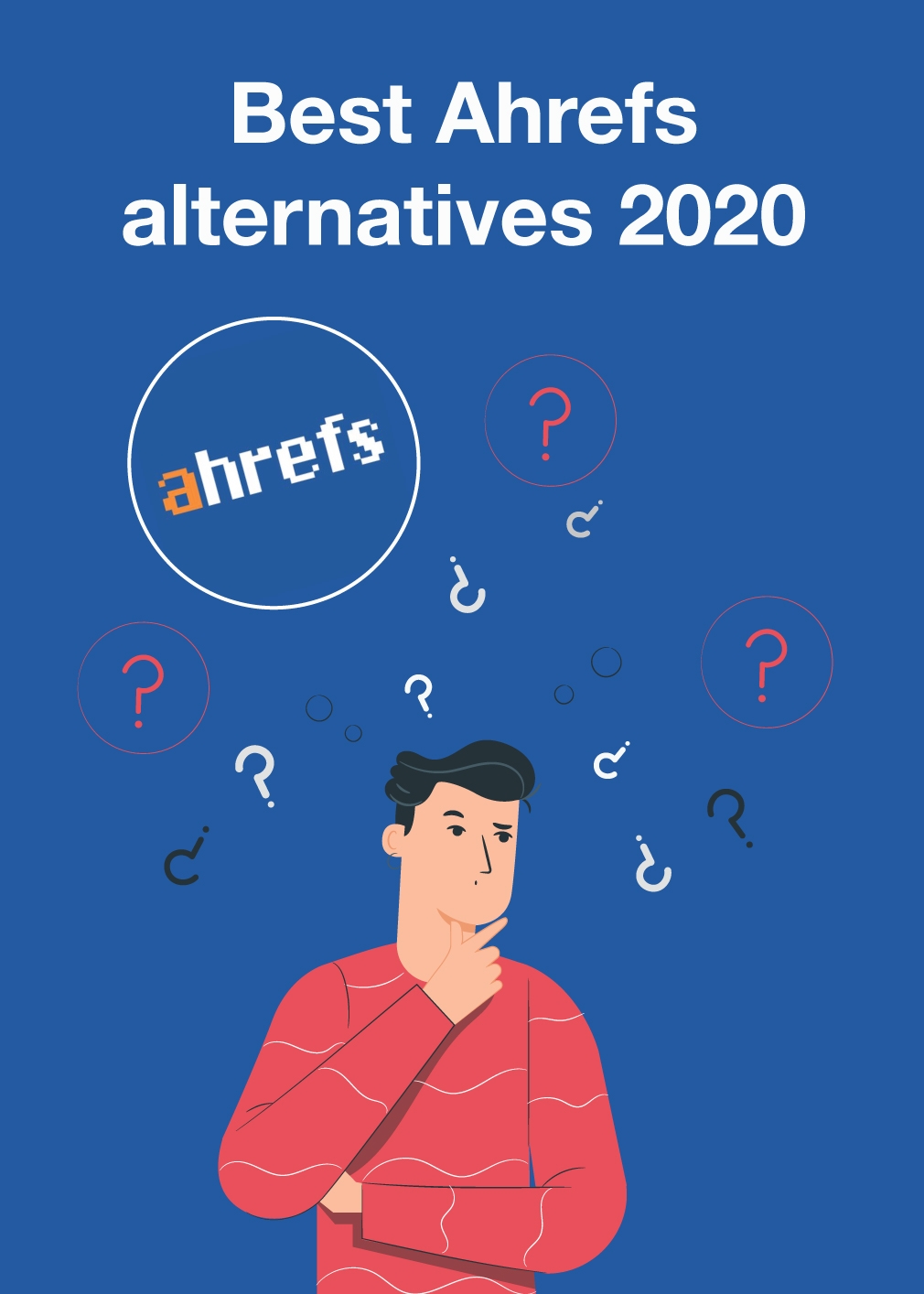 Though backlink has always been SEMrush weaker features for time past but has become one of its strongest features due to improvement and innovations. 
3.   SEMrush vs Ahrefs- Technical SEO Audit
Technical SEO involves the whole process of optimizing the indexing, crawling, and offering your site to attain higher rankings.
Though, this aspect of SEO is often neglected and replaced by keyword research and link building, but very vital.
Your site technical SEO health can be affected by site speed, XML sitemap, site structure, and more.
It is imperative to conduct a technical SEO audit on regular bases to ascertain any technical SEO issues that may arise.  Now let's look at the two SEO tools that perform better technical SEO audits.
SEMrush
The site Audit tool is one of the most popularly used tools within the SEMrush toolkit. It enables you to engage in a thorough or complete SEO audit of your site.
It opens various on-site issues that your site is facing and provides means in solving them. Once these issues are fixed, your site rank better and faster.
SEMrush the perfect Ahrefs Alternatives site audit has over 130 checks regarding SEO issues like title tags, Meta descriptions, h1 tags, and more.
It also identifies complex issues like page source code, sitemap, and so on.
You can run the SEMrush site audit, begin a new project, and select a "Set up" button from the Site Audit block in the project interface. Now enter the information and click "start site audit".
Within some minutes you get an overview of your site wellbeing. You get to know the total health score of your website based on the number of errors found with the number of performed checks.
Most severe issues are called Errors, whereas, issues of medium severity are known as "Warnings", Notices are less severe than warnings.
Ahrefs
This SEO tool is also peculiar in its operations. Though the Ahrefs Site Audit is a new feature but very versatile in auditing your website pages.
It also, analyze your site for SEO issues. It provides an overview of your site SEO health score by presenting some key data, charts, and other SEO issues. 
The Ahrefs site audit tool does not only detect your SEO site issues but also provide solutions to fix any issues that may tend to affect your site.
The best way to use Ahrefs for site audit- Site audit > New project > Enter your domain > Continue; that is the sequence you should follow.
Once you follow the sequence above, you wait for some hours for Ahrefs to crawl your site for some possible technical SEO issues.
No matter the size of your website, Ahrefs takes some hours to come up with an overall report. This is one of the backdrops of using Ahrefs for a technical SEO audit.
Which tool is Best Ahrefs Alternatives for Technical SEO Audit
To avoid waiting for several hours to get a full report of your site technical SEO audit report utilizes SEMrush instead of Ahrefs.
Despite Ahrefs does a good job, but the delays in bringing out the overall report are overwhelming and tiring. You agree with us, everyone needs a fast and seamless result. 
Ahrefs takes some time to scan and generate an audit report on your site. Ahrefs often gives fairly accurate errors affecting your website SEO.
The SEMrush is the right Site audit tool to go for; it is very easy to use, very fast in generating an audit report and offers a more accurate report than the Ahrefs audit tool.
4.   SEMrush vs Ahrefs; Position Tracking
Here you can measure the impact and the effectiveness of all your SEO work. You achieve this goal by tracking the positions in SERP of all your keywords. It helps you track the visibility of your site in search results.
Here, you can know what is working and what isn't. You also have the opportunity to track your competitor's ranking in SERP. The good news- is that SEMrush and Ahrefs provide position tracking features more reliably and efficiently.
SEMrush Position Tracking Tool
With the SEMrush position tracking tool, you are sure of tracking your keywords. The SEMrush position tracking tool is one of the best in the industry.
It gives you a clearer picture of site visibility in SERP by providing you with both mobile and local rankings.
You can add all the keywords that choose to rank in and also, track your positions. To track keywords, follow this sequence; Project > Position Tracking > Set up.
Make sure you add your location, add competitors' domain, list of keywords, and select your device choice either mobile, desktop, or tablet.
With the SEMrush best Ahrefs Alternatives position tracking report you get to know three major metrics for a particular keyword. The main three metrics are Positions, Visibility, and Estimated Traffic.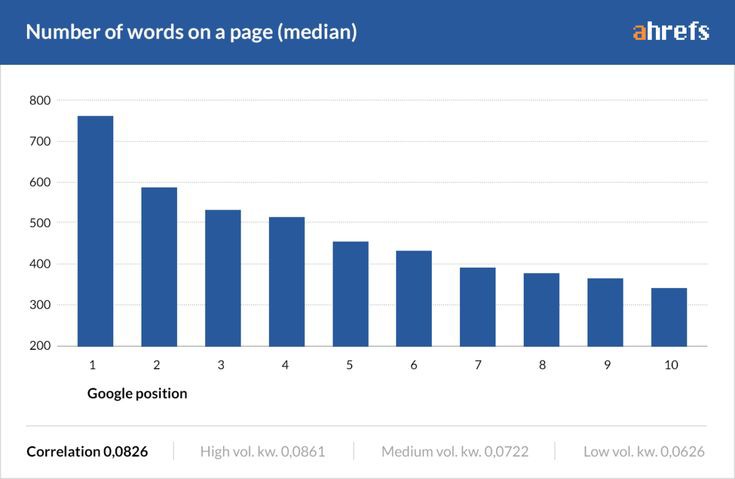 With SEMrush position tracking, you also see the best performing keywords with better rankings and keywords with a negative impact with lower rankings.
Ahrefs Rank Tracker Feature
Here is another Ahrefs unique feature that helps you keep track of your target keywords in a different country in mobile and desktop views.
It allows you to see the progress in your given keywords over some time through history charts. You can add new keywords to Ahrefs by adding a new project.
You also, have the privilege, to add competitors to compare your organic search rankings. This helps you to monitor your competitor's visibility and the performance of your keywords in SERPs.
Which is the best Ahrefs Alternatives for Position Tracking Features
Both SEO tools are extremely good when it comes to position tracking features. The tools are amazingly useful in helping site owners track their search performance.
Both the SEMrush and Ahrefs SEO tools offer in-depth and accurate tracking features for your site.
5.   SEMrush Vs Ahrefs- Pricing Plans
There is no significant difference between pricing plans. The basic plans of both SEO tools are similar (SEMrush $99.95/mon and $99/Mon for Ahrefs).
Though Ahrefs has many restrictions on the basic plan than SEMrush. For instance, you can download over 3000 analytic reports within 24 hours, whereas, Ahrefs only allow 25 keywords explorer reports within a day.
Let's go deep into both pricing features;
SEMrush Pricing Plans
The image below shows the 2020 SEMrush pricing plans–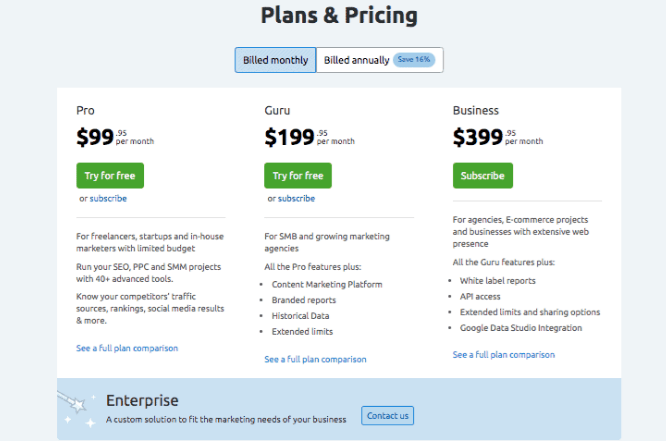 Ahrefs Pricing Plans
Below is Ahrefs Pricing Plans for 2020;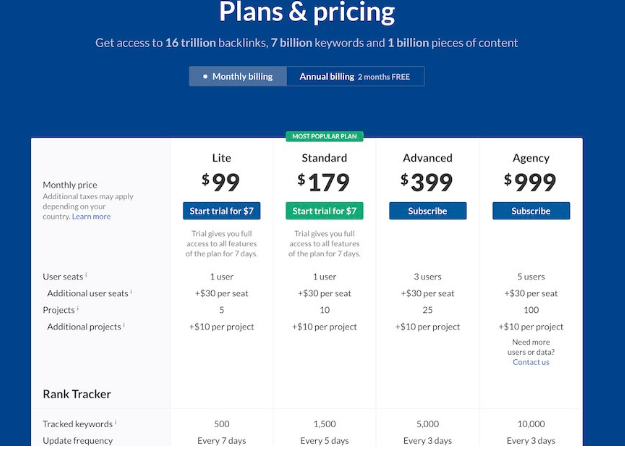 Why Choose SEMrush as the best Ahrefs Alternatives?
With the above parameters; it is evident that both SEO tools are incredibly useful for your business marketing needs. Nevertheless, most businesses, individuals opt-in for SEMrush than Ahrefs tool.
The reason is that the SEMrush SEO tool offers more versatile features than Ahrefs. Without further addle, you can easily look at the above features or you can take a look at some basic benefits why you should use SEMrush as the best Ahrefs or MOZ competitor analysis tool alternative below;
Advertising Toolkit
SEMrush Content Marketing Platform
Content Audit
SEO Content Template and SEO Writing Assistant
Topic Research
Accurate Data
Easy to Use
Advertising Toolkit
One of the numerous advantages of SEMrush over Ahrefs is that you get access to three tools with multiple features; Advertising toolkit (PPC keyword Tool, CPC Map), Social Media Toolkit (social media planner, social media poster), and competitor research toolkit that includes add-ons, traffic Analytics and Market Explorer.
You don't only have the SEMrush SEO toolkit when you make a subscription to SEMrush pricing plans, you also gain access to several features.
SEMrush Content Marketing Platform
Here is another reason why you should see SEMrush as the best alternative SEO tool over Ahrefs and MOZ competitor analysis tool.
It offers a multiple content marketing platform for subscribers. SEMrush ensures you make the best and most of your marketing strategy.
Content Audit
SEMrush SEO tool also helps subscribers to audits their site performance and identify site errors. If there is any need for site content improvement, your content audit tool will tell you.
SEO Content Template and SEO Writing Assistant
SEMrush tool also offers users a unique template on how to create top quality and SEO friendly content.
With the help of the SEO writing assistant, you can check your blog posts if it aligns with SEO best practices.
Topic Research
SEMrush tool helps site owners to analyze their competitor's content and offer ideas to rank higher than your competitions.
Accurate Data
SEMrush provides more accurate data than Ahrefs. If you want to cover issues relating to not just SE, but PPC too, then use SEMrush instead of MOZ or Ahrefs.
Easy to Use
The SEMrush toolkit is seamless to use. You don't have to pass through a rigorous process before you can have access to all its numerous features.
Even a novice or a less tech-savvy individual can easily make use of this awesome SEO tool without hassle.
The above are some of the reasons why SEMrush is seen as the best alternative over other 2020 SEO tools.
Bottom Line; SEMrush Vs Ahrefs
On the final note, the choice to choose between SEMrush and Ahrefs SEO tool is strictly yours. It balls down to your SEO needs, your requirement, and more.
If keyword research, content marketing, Technical SEO, site audit are your top priority now, you can go for SEMrush.
However, no matter your SEO or marketing needs, using SEMrush as the best Ahrefs alternatives is the ideal thing to do.