Last Updated on 6 months by Komolafe Bamidele
Want to boost engagement and gain more leads with your signup forms? Then go for a spin to win opt-ins on your Woocommerce or Shopify store.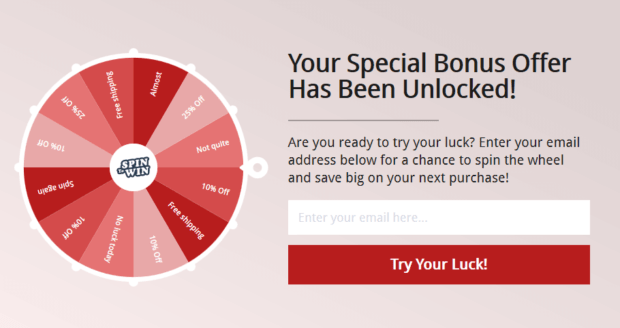 Setting up a spin to win opt-in on your store is really easy once you have the right tools. In this piece, we are going to take you through how to set up a spin to win opt-in on Woocommerce or Shopify using OptinMonster.

What is Spin To Win Opt-in?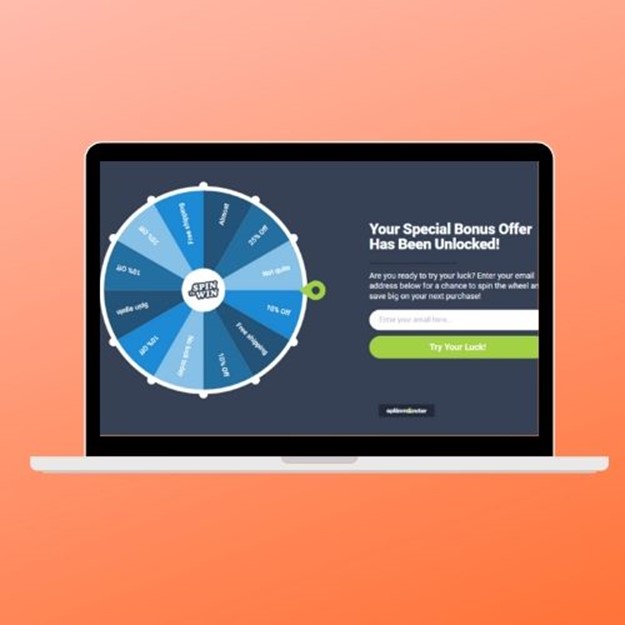 Just like the wheel of fortune in any casino, the spin-to-wheel opt-in is a wheel that customers would have to spin to win special prizes.
This is a gamified type of form that should let them have fun, stay on your site longer, and of course, purchase a product.
Spin-to-win opt-ins is very effective because they give the user the power to choose their own prize. When they spin the wheel, they get a chance to win coupons and discounts, unlock special offers, or access free ebooks.

Winning a prize on the wheel would give users a sense of achievement and it is also exciting to spin a wheel and make win.
Do Spin-to-Win Opt-ins Really Work?
Spin to Win Opt-in is one of the best ways to boost engagement without having to spend extra. It is known to boost conversion rates by as much as 30% or more depending on the store type.
Many leading companies all over the world have seen great success with this type of signup form.
For example, Verizon Wireless was able to increase their browsing time by 30% by using gamified tools like points and badges.
Other companies like Volkswagen China were able to garner more than 33 million hits and 120,000 ideas from their crowdsourcing project and Ford Motors boosted their Facebook page likes up to 600% and increased sales to more than $8 million when they implemented gamified content.
How to Setup Spin to Win to Boost Engagement in WooCommerce and Shopify
OptinMonster allows you to create an easy Spin to Win Wheel signup form on your WordPress site, WooCommerce store, or Shopify store.
The marketing service is considered one of the lead generation software in the industry. With OptinMonster, you can grow your site at all levels, boost conversion, and increase sales.
Step 1: Install and Activate OptinMonster on your WordPress site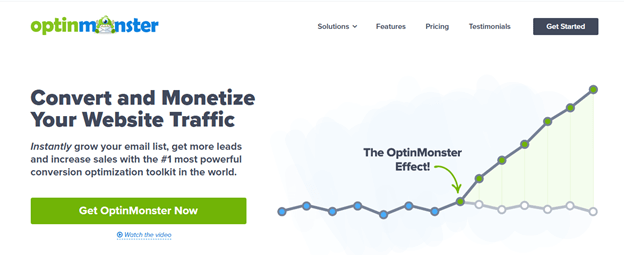 First and foremost, you would have to install and activate OptinMonster on your WordPress site. Before you can do this, you would have to sign up for an OptinMonster account and subscribe to a plan.

OptinMonster has 4 subscription plans but since you're looking to create a coupon wheel, you would have to subscribe to their growth plan.
This is the most expensive plan offered by the service, however, it does give you access to a bunch of features that you will need to grow your site.
Once you've signed up and subscribed to a plan, you can then go ahead to install and activate the plugin on your site.
Step 2: Create a Spin to Win Wheel Campaign
After you've signed up, you will have to create a campaign. To do so, click on your Campaign Dashboard and then on Create New Campaign.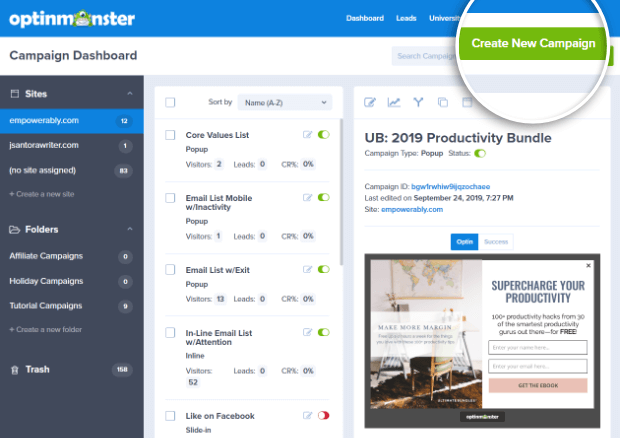 On the next page, you will be asked to select your campaign. In this case, we will be using Fullscreen.


Next, you will have to choose your template. You will find several pre-built templates here, but since you're going for the Spin to Win Wheel opt-in, you should pick a coupon wheel template.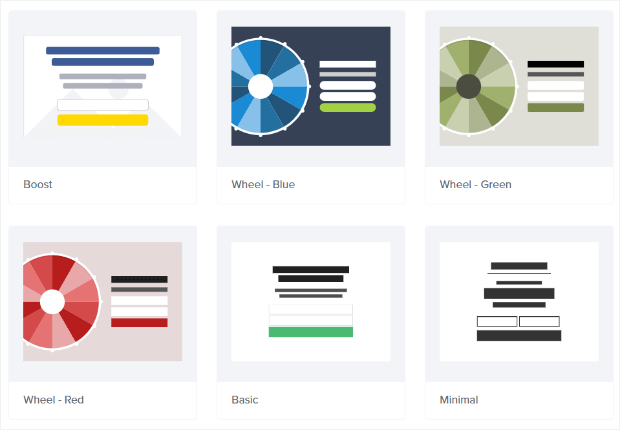 There are three coupon wheel templates here, each with a specific colour. However, they all feature the same setup. Not to worry, each template can be customized to suit a specific website. All you have to do is click on the colour you want to get started.
Once you've made a choice, you will be asked to give a name to the discount wheel campaign. After that, click Start
Building to start customizing your template.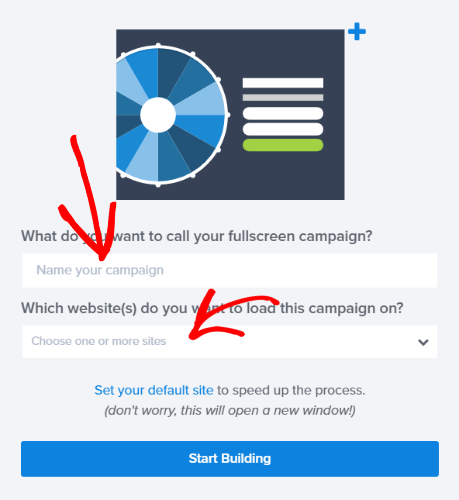 Step 3: Customize Your Template
On OptinMonster's campaign builder interface, you can design your campaign the way you want. Here, you can use editing tools to change campaign text, design, fonts, images, colours, and more.
To edit any part of the template, click on the element in the live preview on the right side of the window.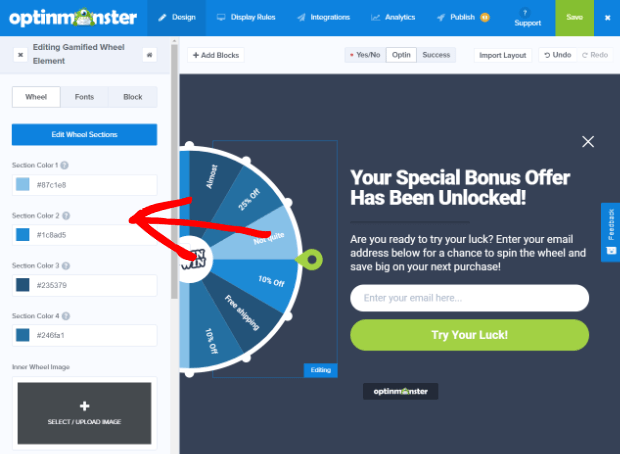 An editing page will be brought on the left side of the window. You can use the tools to make adjustments as you wish.
You can also customize the discounts on the wheel selections. Here, you can decide which selection has the chance of winning and add your coupon codes.
Step 4: Set Your Display Rules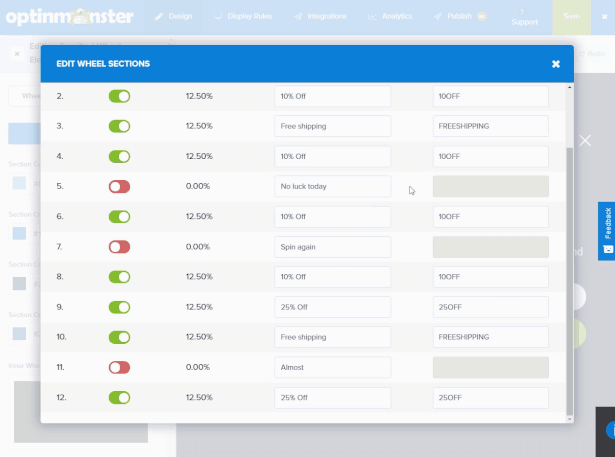 Now that you've designed your campaign wheel, to your taste you can go ahead to set the time you want the campaign to be displayed on your site.
Click on the "Display Rules" tab to set the display rules for your campaign.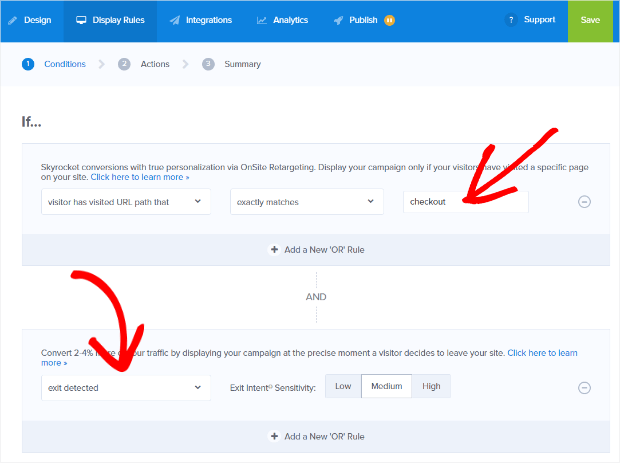 On this page, you would want to replace "Checkout" with your own checkout page slug. Next, you will have to check the Exit-intent section.
The way this works is that it will display the coupon wheel campaign when the buyer (the person visiting your site) makes it to the checkout page but doesn't complete the purchase.
When the buyer makes a move to exit the site, your coupon wheel campaign would take over the entire screen and display your discount options.
Step 5: Integrate The Spin Wheel Campaign into Your Website
Once the campaign is set up on your site, you will need to integrate an email marketing service provider to collect the email addresses entered into the subscription box.
An effective service provider you can try is Constant Contact. To integrate Constant Contact into your campaign, click on the Integrations tab and then, on Add New Integration.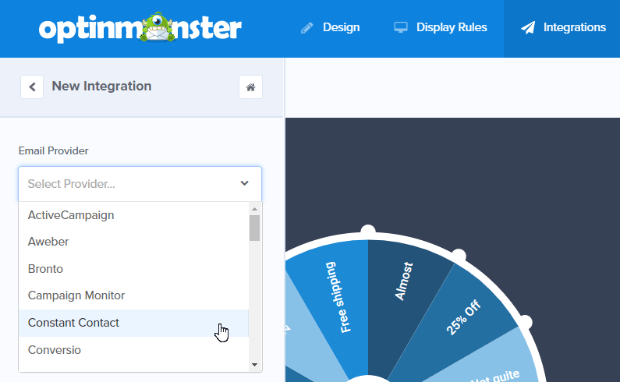 You will find a dropdown menu with several email service providers listed on it. If you're not going to use Constant Contact, you can always go with the available options.
When you click on Constant Contact, you will be asked to Connect to Constant Contact (if you've connected your Constant Contact account to your OptinMonster account) or Register with Constant Contact (if this is your first time).

Once you've logged into your Constant Contact account, click on Allow.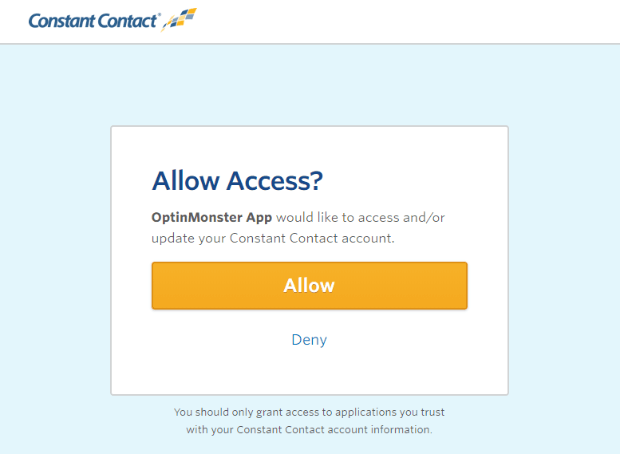 After that, you will be asked to add an Account Label and click on Connect to Constant Contact.

Lastly, choose an Email Provider List to add your new subscribers to. Click on Save to move on to the next step.
Step 6: Connect Analytics
OptinMonster lets you track your campaign with analytics built-in. To use this feature you would have to connect to Google Analytics.
In the Analytics tab and under the Non-Active Connections, you will find Google Analytics. Click on the Connect button.

If you are already logged into your Google Analytics account, you will find it in the dropdown. If not, then click on Add a New Google Connection.

Next, you will have to generate an Authentication Code button.


On the next window, click on Allow to connect OptinMonster to your Google Account.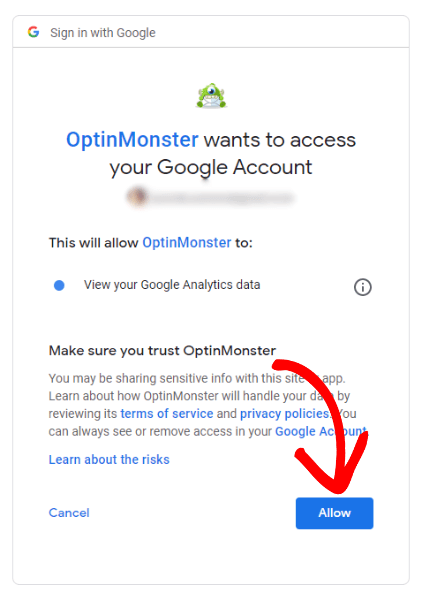 An authentication code will be displayed. Copy that code into your notepad before moving on.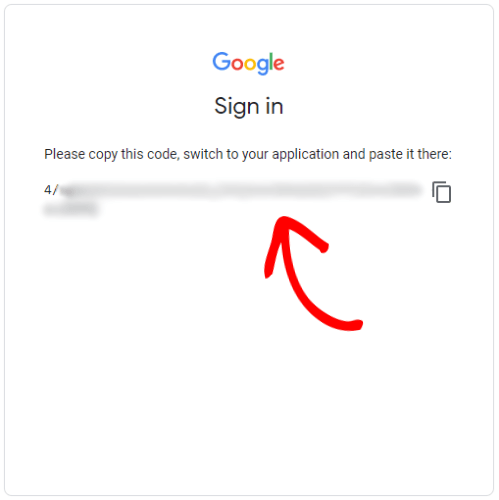 You will have to return to the campaign builder to paste the code into the Google Authentication Code field. Type in your preferred name for the integration into the Account Label field and click on Next.

Click on Website Profile. To get the most accurate data, you should choose All Web Site Data for the property you are going to connect.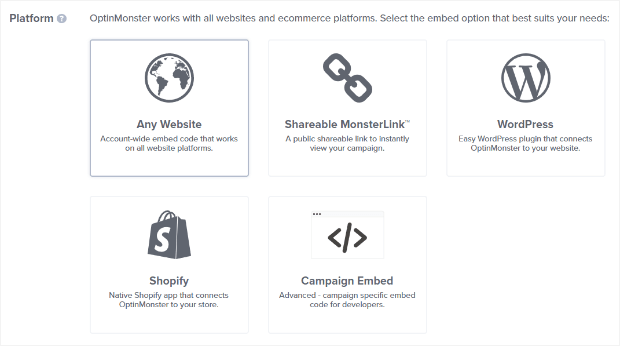 Step 7: Publish Your Campaign
With all that done, your campaign is set and ready to be published.
There are several ways to publishing to your Spin to Win campaign on your site. You can either choose any website platform option to get an embedded code or the WordPress option to get a plugin that connects OptinMonster to your site.
You can also click on Shopify if you Sign up for a free trial and enjoy 3 months of Shopify for $1/month
Once you've selected your options, you can then click on the Publish Tab. Here, you will find the Status of your campaign, toggle it to live to publish your campaign, and then click on Save.

With that, you have successfully created a Spin to Win wheel campaign for your site. If you want to edit your campaign, you can always go back to your OptinMonster dashboard.
Click on Campaigns to display your list of campaigns, then click on the campaign you want to edit.
If you want to see a live preview of your campaign, you would have to visit your website in an incognito window.
Take note of your display rules when you visit your site on the incognito browser window as the signup form will only be displayed if the conditions you set up are met.
Closing the Curtains
If you want your Spin to Win wheel campaign to work for you, you would have to introduce incentives that are worth your visitors' attention.
Everyone loves discounts and coupons so they would go a long way to give you the boost that you need.