Last Updated on 3 months by Komolafe Bamidele
So you've heard of this awesome app called Tailwind Tribes App that could help you grow your Pinterest and Instagram traffic without you doing much work.
"This post contains affiliate links, meaning that if you choose to click through and make a purchase, I will receive a small commission at no cost to you."
And you're probably wondering how it works and if the app is just what you need to boost your social media following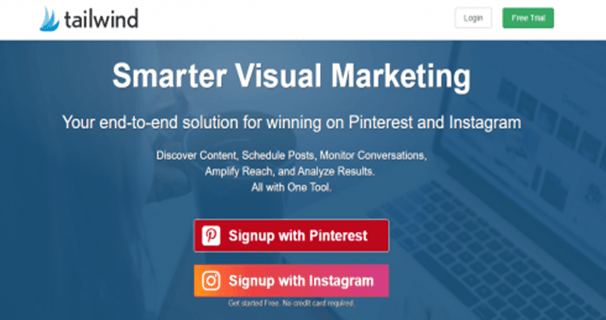 Well, Tailwind is a super app with a lot of features like content sharing, resharing and the Tailwind tribes app.
In this article, I'm going to tell you everything you need to know about the Tailwinds app and also, share some tips on how to grow your blog traffic with the app.
What is Tailwind?

Tailwind is a social media scheduling and marketing app for Pinterest and Instagram. It is best for bloggers and business owners who want to get more out of their social media account and drive more targeted users to their blogs.
With the Tailwind app, you can easily schedule posts on Instagram and Pinterest and grow your customer base.
Tailwind For Pinterest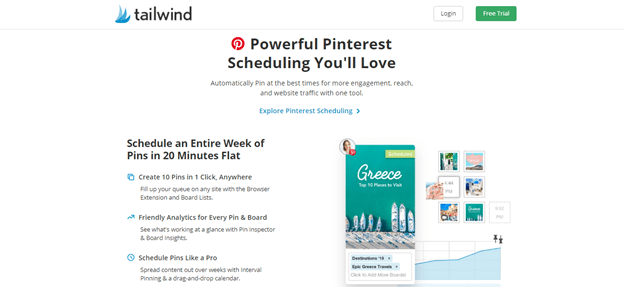 If you're wondering how easy it would be to setup your Pinterest posting for the week with Tailwind, then think of creating 10 Pins with just a single click, because that's what Tailwind allows you to do.
The app allows you to schedule pins like a pro while offering you an analytics and reporting dashboard for you to track your pins, followers, and determine the growth of your fan base.
Tailwind Tribes App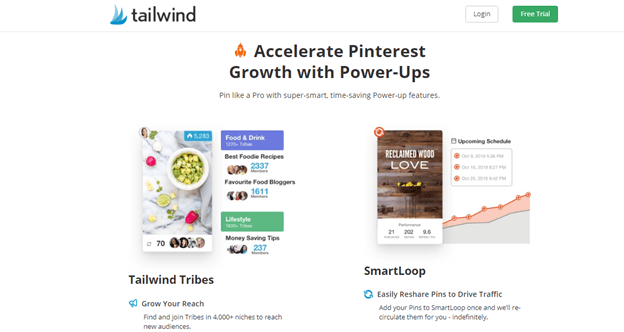 Tailwind Tribes is a Pinterest feature that allows users of the Tailwind app to get more exposure. While there are more than 4,000 Tailwind tribe groups, you will only get access to 5 tribes per account.
Luckily, the abundance of niches in the tribes means that you can easily find the ones that relate to your niche and start sharing on them to get targeted users.
As part of a Tailwind Tribe group, you get to meet and create relationships with other Tailwind users. These users will share your content allowing you to reach more people than you ever could on your own.
Tailwind SmartLoop

If you're posting evergreen content on your blog, then you're definitely used to the struggle of posting and reposting content on your social media pages. Well, Tailwind understands this and that's why it introduced the Tailwind SmartLoop feature.
This feature allows you to share and reshare not only evergreen content but also seasonal content on your profile. All you need to do is add the relevant pins to SmartLoop and Tailwind will take care of the rest.
While Tailwind will help you re-circulate all pins added to SmartLoop indefinitely, you should know that it comes with a limit. You can only add about 250 posts to the SmartLoop so ensure that every post you add is worth it.
Tailwind Tribes App Pricing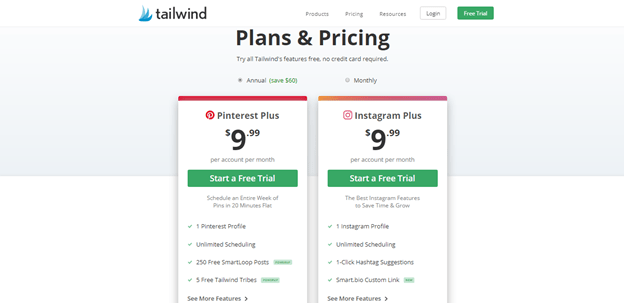 Tailwind offers two pricing plans – one for Pinterest and the other for Instagram. Both pricing plans come at the same cost though they offer different features.
With the Pinterest pricing plan, you get to add 1 Pinterest profile to your Tailwind account. You also get to add 250 Free SmartLoop Posts, and 5 Free Tailwind Tribes.
With the Instagram pricing plan, you get unlimited scheduling, 1-click hashtag suggestions, smart.bio custom link, and many other amazing features.
Before subscribing to any pricing plan, note that Tailwind offers it in two forms. This means you can be billed annually or monthly. If you choose to pay annually, you will end up saving $60.
Tailwind Free Trial


Tailwind offers a free trial version for users who want to try out the app before subscribing to a pricing plan.
On the free trial version, you can schedule up to 30 posts on Instagram and 100 pins on Pinterest.
Start Tailwind Free Trial Now!
How To Use Tailwind Tribes App

To use Tailwind, you will have to create an account and choose a pricing plan. Or you can simply start out with the free trial.
To use Tailwind on your website, you will have to upload your content. To do this, you will have to use either the Tailwind web browser extension or through the standard social sharing button to schedule your pins.
The best thing about Tailwind is that you can schedule your pins to as many boards as you want. If you were to do that manually, you would have to add one pin to a board a step at a time which would be time-consuming.
Also scheduling your pins through the Tailwind app is extremely easy due to the Tailwind Smart Scheduler. With the scheduler, you can specify exactly when (days and times) you want your pins to be published.
RELATED; Blog2social Vs Revive Old Posts Plugin; Auto Publish WordPress Posts On Social Media
To get the best results, you should focus on publishing your pins when people are most active on Pinterest.
Analytics and Reporting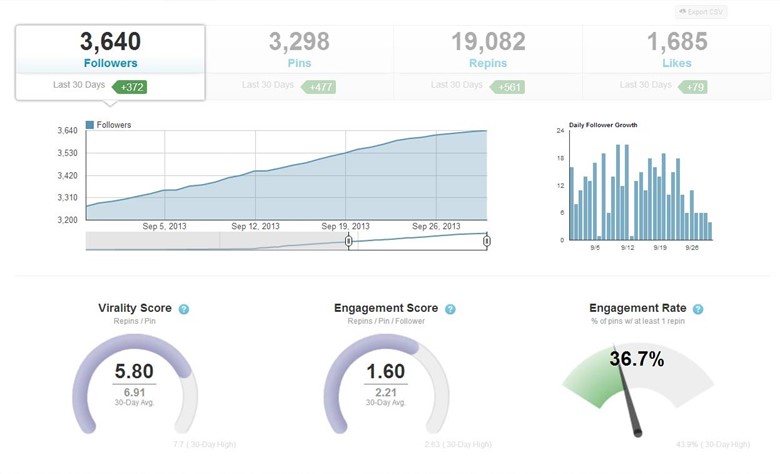 Tailwind offers you a dedicated dashboard where you can view the performance of your pins and decide on the best content that is getting you more viewers.
On your analytics dashboard, you can track trends from your profile, board, and individual pin.
Profile Performance

This feature allows you to check the performance of your Pinterest profile. Here you can see the total number of followers, pin, repins, and comments, you've had in a week. You can also check your engagement levels to determine which pins are performing best.
Board Insights

On this dashboard, you can check either your individual, group or private board for pin, followers, and repins or comments. You can also check the engagement levels of each board.
Pin Performance

With this feature, you can determine which pins are performing best. You can search for these pins by category, board, or your website.
You can also check out other stats on your insight tab. On your analytics dashboard, you can find your organic report which shows the performance of your latest pins.
Another useful feature is the Word Cloud. This feature identifies common keywords and topics in your content and could help you optimize your pins and boards better.
Additionally, you can check your referral traffic report to know how many visits, visitors, and pageviews you get in a day. You will also find a daily estimate of your revenue with this report.