Last Updated on 6 months by Komolafe Bamidele
Many people have been asking – can you use PayPal on Amazon?
However, in this digital age of online shopping, PayPal is one of the most widely used payment methods.
Also, Amazon is quite a popular online store that sells to everyone regardless of country.
Moreover, be fully aware that you cannot use PayPal to make a direct purchase on Amazon.
So you might conclude that it is impossible to use PayPal as your payment option while making payments on Amazon.
Before the end of this guide, we will show you how you can use PayPal to make purchases on Amazon through different methods.
Perhaps, to use PayPal, you can transfer your PayPal balance to your local bank and use the fund to make purchases in any place that pleases you or even to the point of withdrawing it as actual cash at hand.
Moreover, if you intend to use PayPal in making purchases on Amazon, some processes are involved, which we will elucidate in this guide.
Can you Directly Use PayPal to Buy Stuff on Amazon?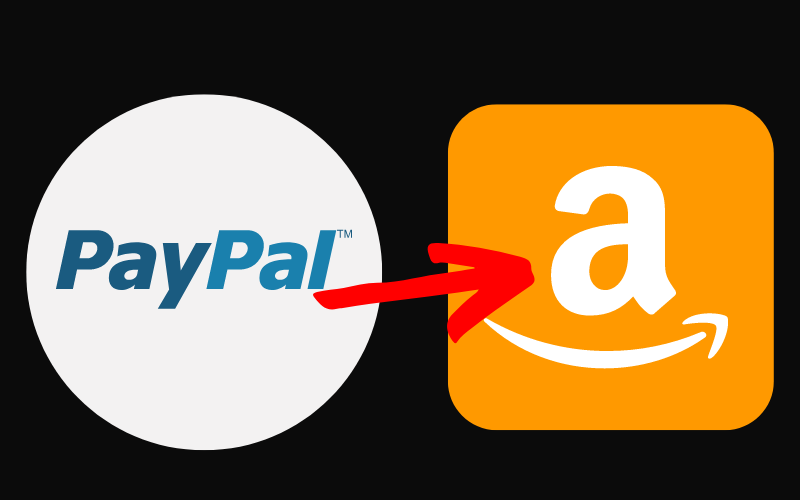 By default, Amazon does not permit its users to use PayPal directly as their payment method when making purchases on their platform.
Moreover, any user who intends to use PayPal to check out for orders will use the PayPal Cash Card or PayPal Key, which are available on the Amazon platform as a payment method.
Perhaps, users can also use PayPal to buy an Amazon gift card. Then with the gift cards, they can easily purchase right inside the Amazon platform.
This is how the whole method works using PayPal directly to make purchases on Amazon.
Why You Can't Use PayPal on Amazon?
There are a couple of reasons why Amazon does not allow users to make purchases with their PayPal accounts directly.
Moreover, there are two main reasons why Amazon decides not to work with PayPal regarding making purchases with it.
First and foremost is because PayPal is a part of eBay, which today is one of the biggest competitors of Amazon. 
So as business gurus, they intend not to promote their competitor's services by restricting their customers from making purchases with PayPal.
From early 2000 until 2015, PayPal and eBay have been operating together as a linked service.
Moreover, even after PayPal split into separate services, their partnership is quite strong.
Besides this, the second reason that Amazon prevents its customers from using PayPal is that PayPal is a direct competitor to Amazon's payment method, which is popularly known as Amazon Pay.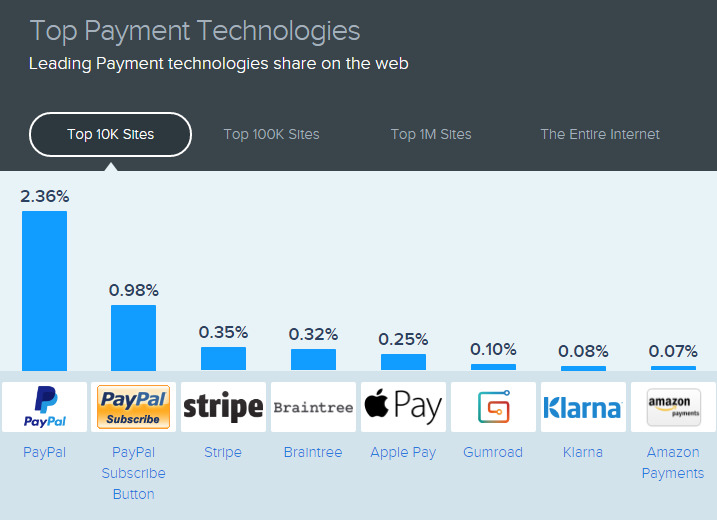 Since both services can effectively be used and integrated into eCommerce stores to make purchases online,
Amazon intends to promote their service instead of another company's services because they still generate income when people transact with their payment service (Amazon Pay).
Because of the popularity of Amazon pay, many third-party retailers out there fully accept Amazon Pay as one of their payment methods.
So from this, you can see that Amazon Pay is not just meant for making purchases within the Amazon platform alone, 
but also for other eCommerce Store services as one of the approved payment methods.
Which Payment Options Does Amazon Have?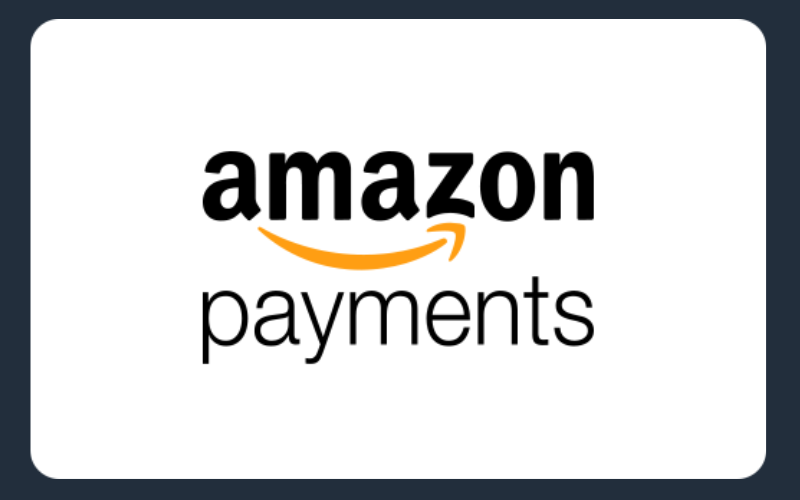 There are lots of Accepted Payment Methods on the Amazon platform.
Moreover, Amazon.com accepts various payment options, including credit and debit cards.
Below are the payment methods available for use:
Visa (including the Amazon Rewards Visa Signature Card)
Amazon Store Card
Amazon Secured Card
MasterCard/EuroCard
Discover Network
American Express
Diner's Club (U.S. billing addresses only)
JCB
NYCE
STAR
China UnionPay (credit card only)
Visa, MasterCard, or American Express prepaid credit or gift cards
You can add a new instalment card or change your current instalment subtleties without putting in a request in your Amazon Wallet.
Also, you can even make use of Amazon Gift Cards to pay for your order when making purchases on Amazon.
Facts You Need to Know About Amazon Payment
You can get part instalment between one of the acknowledged credit or check cards and an Amazon.com Gift Card;
however, you can't get part instalment among various cards.
We acknowledge Flexible Spending Accounts (FSA) and Health Savings Accounts (HSA) (the U.S. charging addresses just) for the acquisition of FSA or HSA qualified things.
SNAP EBT cards are acknowledged as instalment strategies for substantial cards from participating states.
For more data, visit https://www.amazon.com/SNAP. Unfortunately, EBT Cash benefits are not accessible as a payment method.
Ways to Buy Things on Amazon with PayPal
Below are the recommended ways to buy things on Amazon with PayPal:
#1 Use PayPal Cash Card to Buy Things on Amazon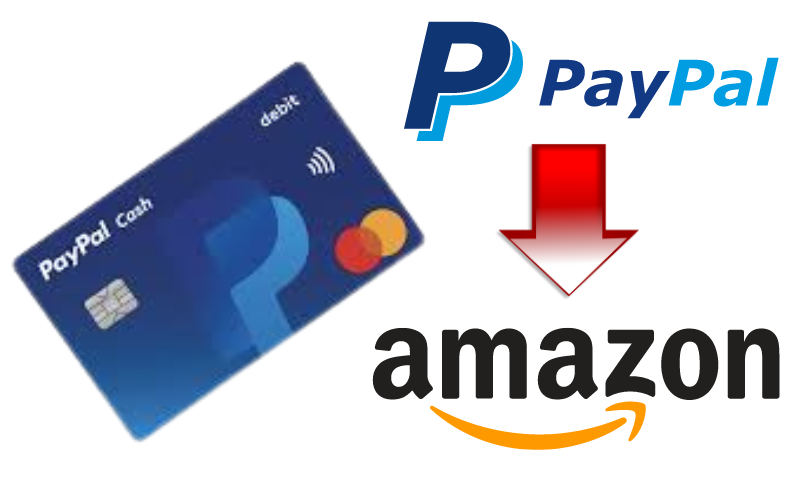 PayPal Cash Card is one of the ways you can utilize it when using PayPal to make payments on Amazon.
PayPal Cash Card is simply a card that allows users to extract funds from their PayPal account.
Perhaps, you can use this PayPal Cash Card both in physical stores and online stores, and it is being recognized everywhere Mastercard payments are identified, for instance, on Amazon.
Moreover, since this PayPal Cash Card is a debit card and not a credit card, users need to have some balance on their PayPal account before they can use the PayPal Cash Card.
If you intend to use this method, consider that PayPal charges fees for adding money to your account.
#2 Use PayPal Key to Buy Things on Amazon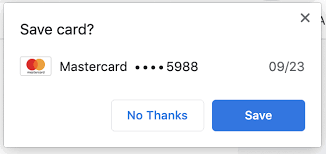 PayPal Key is simply a virtual card that allows users to access their PayPal account when making payments to online vendors that accept Mastercard.
Moreover, this PayPal Key is quite similar to PayPal Cash Card. The difference is that the PayPal Key does not have any physical card.
Instead, it only has the card number, expiration date, and security code.
On the other hand, PayPal Key is just a virtual card that allows users to use their PayPal balance directly with online merchants that do not accept PayPal payment methods now.
#3 Buy Things on Amazon with Amazon Gift Card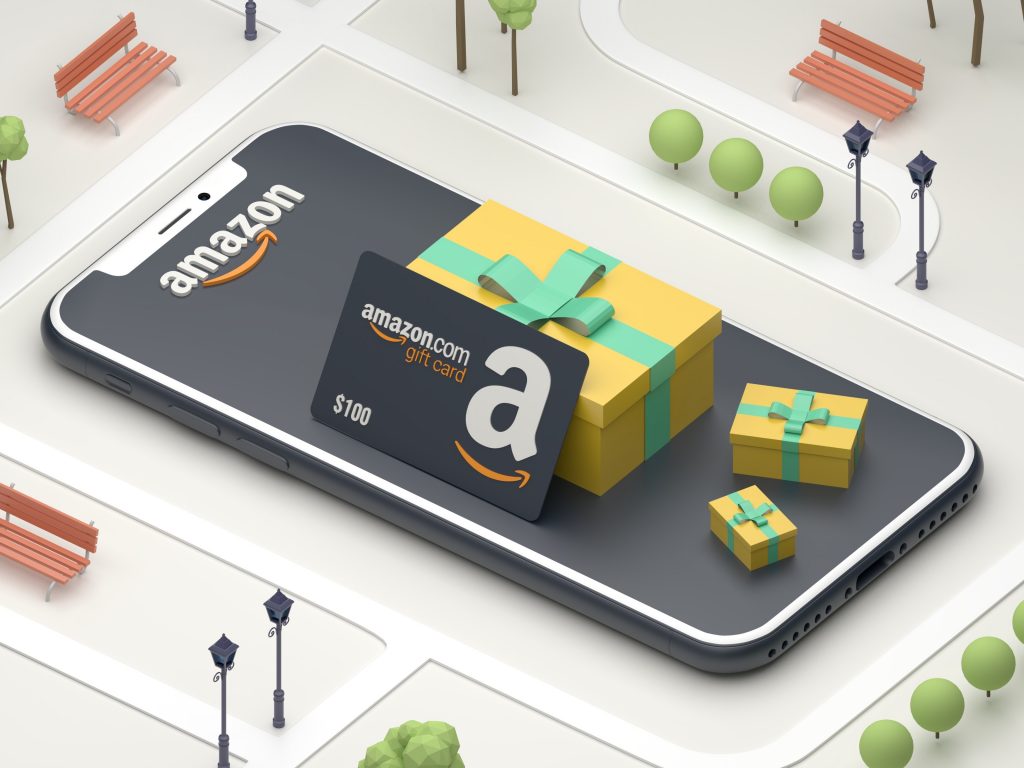 Today Amazon Gift Card is quite popular and has been one of the easiest ways to use PayPal when buying things from Amazon.
Hereunder, you can purchase an Amazon Gift Card directly from your PayPal account.
There are many platforms where you can buy Amazon Gift Cards right from the comfort of your room.
 For instance, you can buy an Amazon Gift Card from a platform like eGifter.com just by using your PayPal balance, and upon successful purchase, you can then use your Amazon Gift Card to make payments on Amazon.
Meanwhile, we recommend verifying the site where you buy your gift card because many fake platforms claim to be original on the internet today.
How to Buy or Pay with PayPal on Amazon
This section will show you the methods you should apply if you intend to purchase or make a payment using PayPal on Amazon.
Perhaps, this is quite a trick, but we have tested it in several places, and it worked perfectly.
So we decided to share this knowledge with you today. Below are the steps you should follow if you intend to purchase or make a payment using PayPal on Amazon.
Step #1: Go to Dundle
From your browser, go to https://dundle.com. From the homepage, click on the tab labelled "Gift Cards." This tab is located at the website's top menu, below the website logo.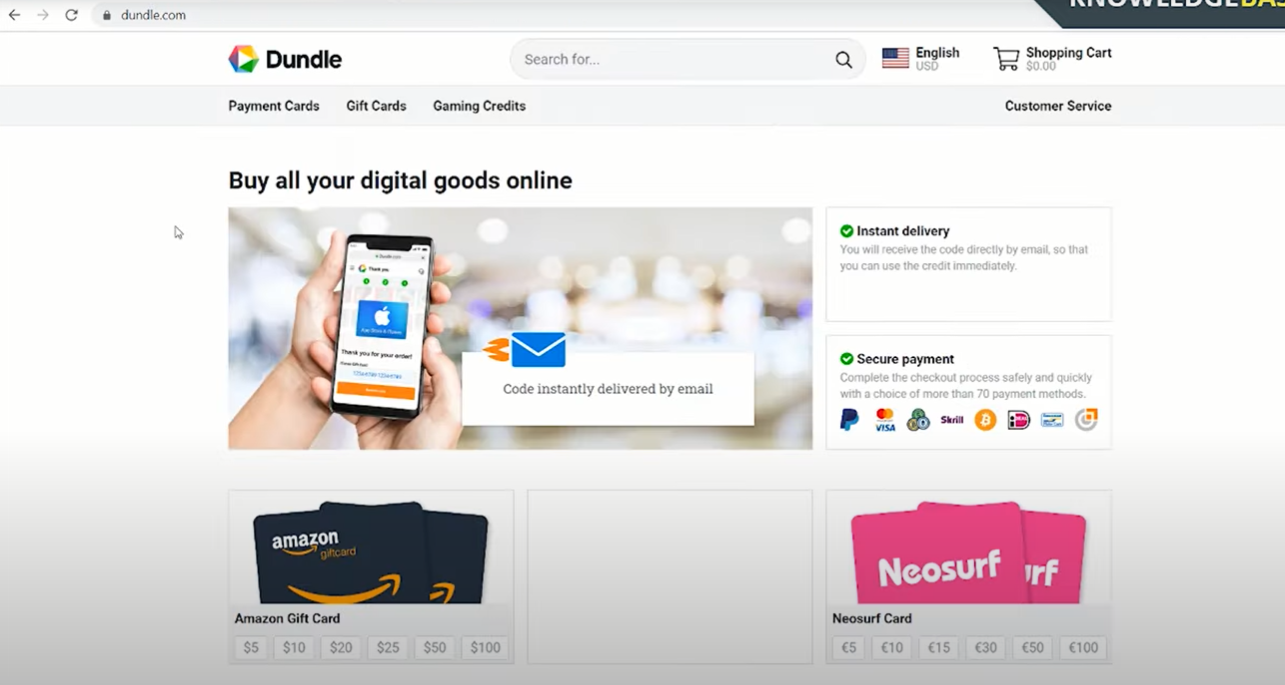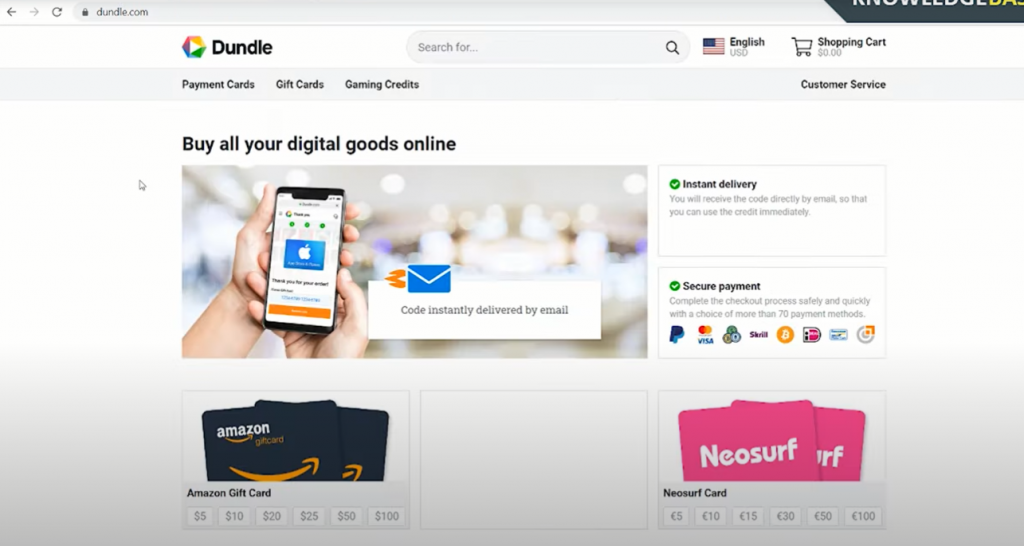 Step #2: Go to Amazon
When you hover on the tab labelled "Gift Cards," click on "Amazon." Now what you did is that you filtered the gift card you needed to be only Amazon gift cards.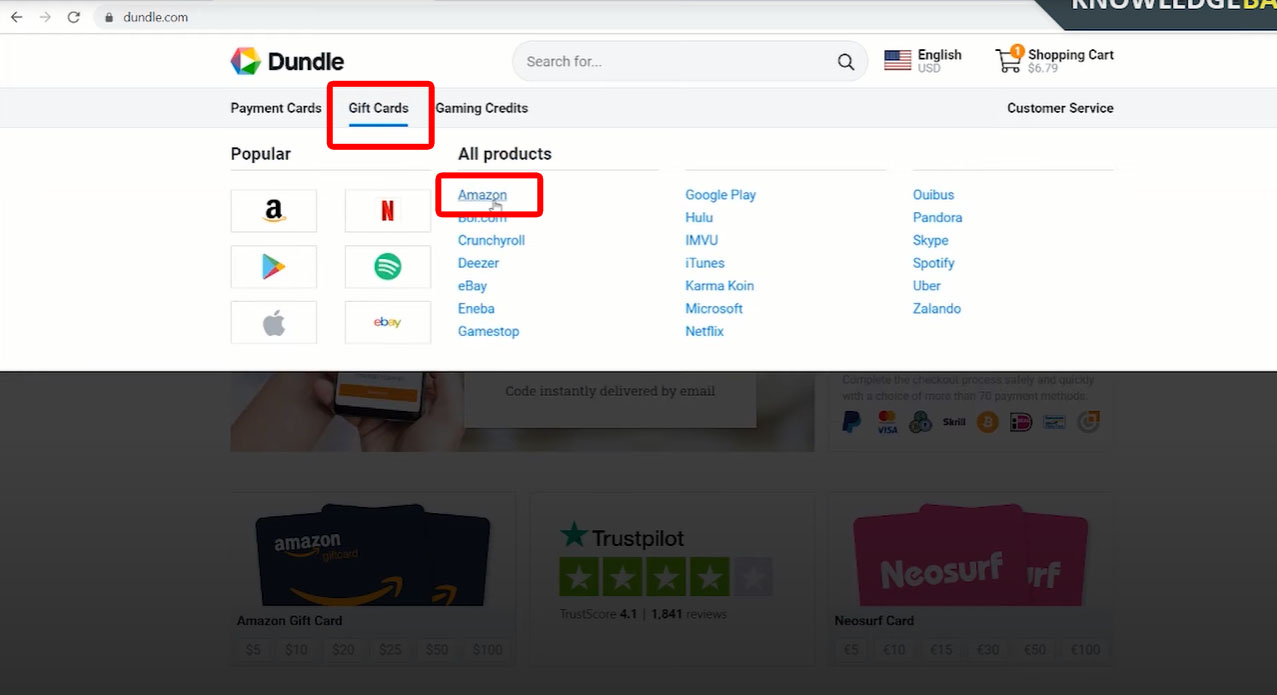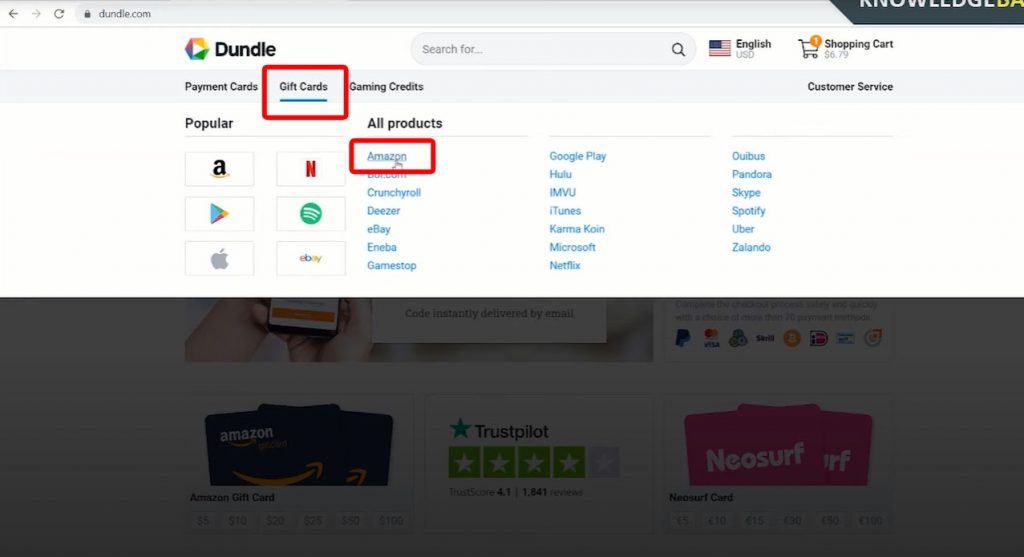 Step #3: Select your desired language
From the dropdown menu labelled "Select different country," select the country you want to buy the gift card for.
When you have changed your country, you can see the Amazon gift card price in your country's currency equivalent.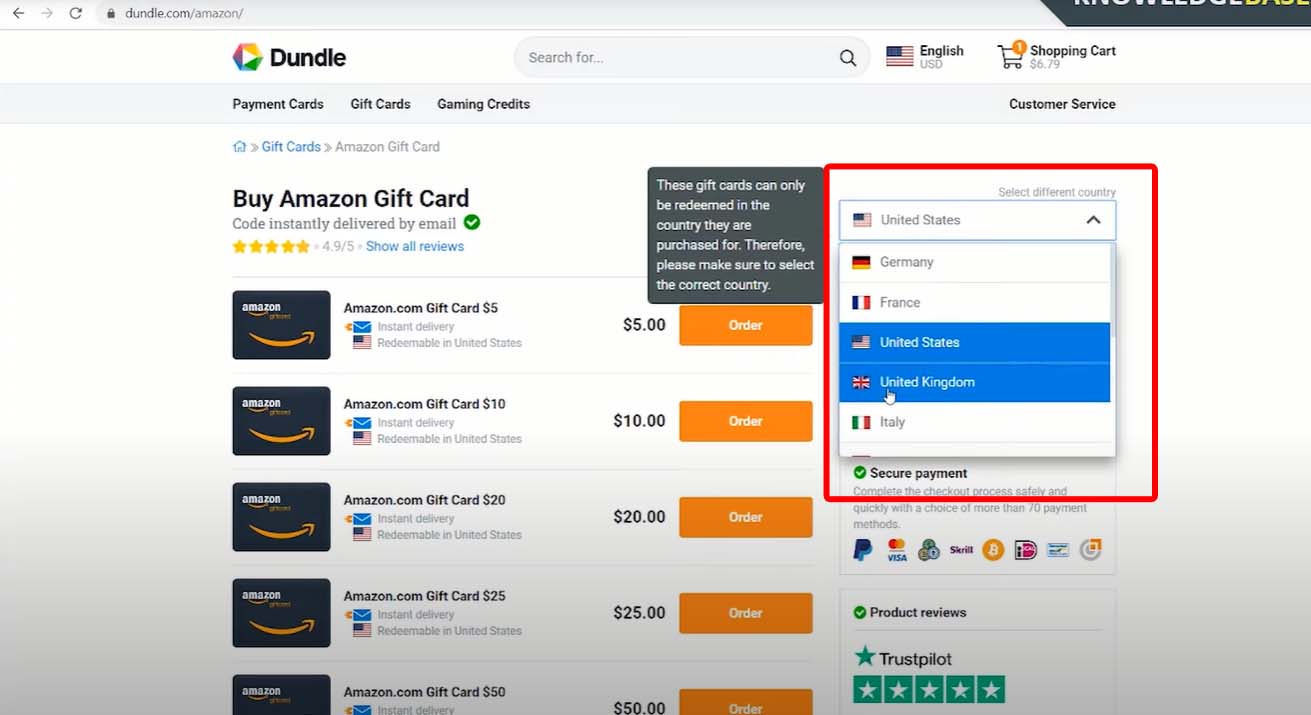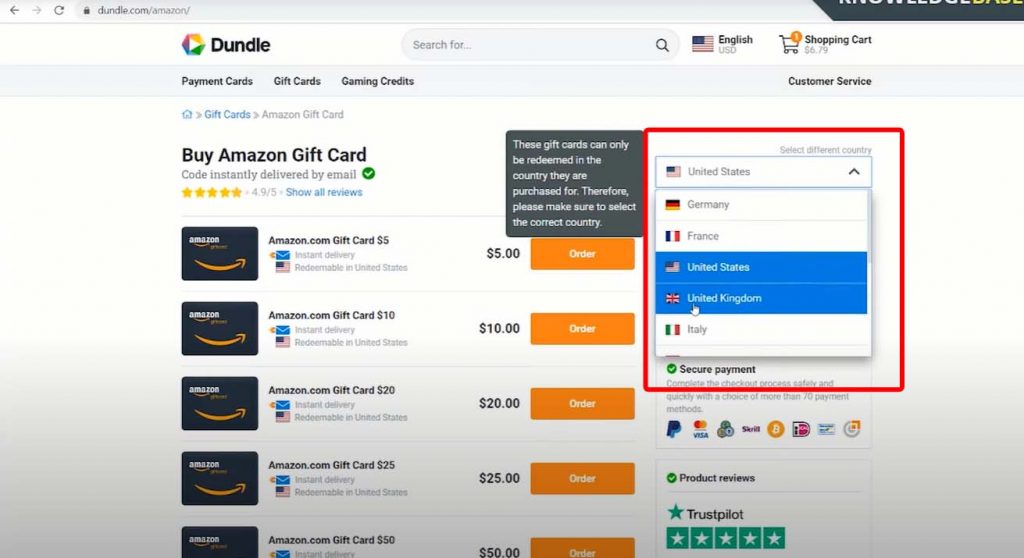 Step #4: Click on the "order"
When you have selected the country where you want to use the Amazon gift card, the next thing is to click on "Order" to add your chosen gift card to your cart.
Moreover, on the Amazon gift card page, you will see different Amazon gift cards with their specific amounts.
For instance, you will see a gift card of $5, $10, $20, $25, $50, etc.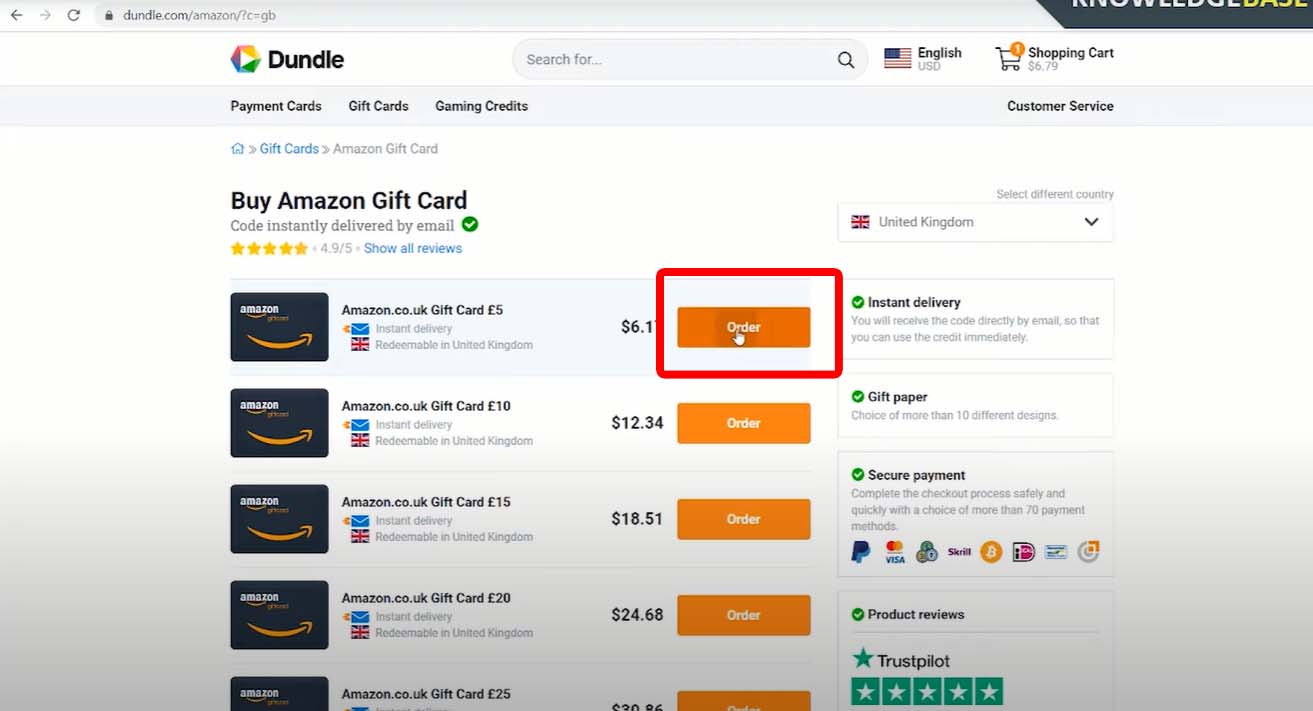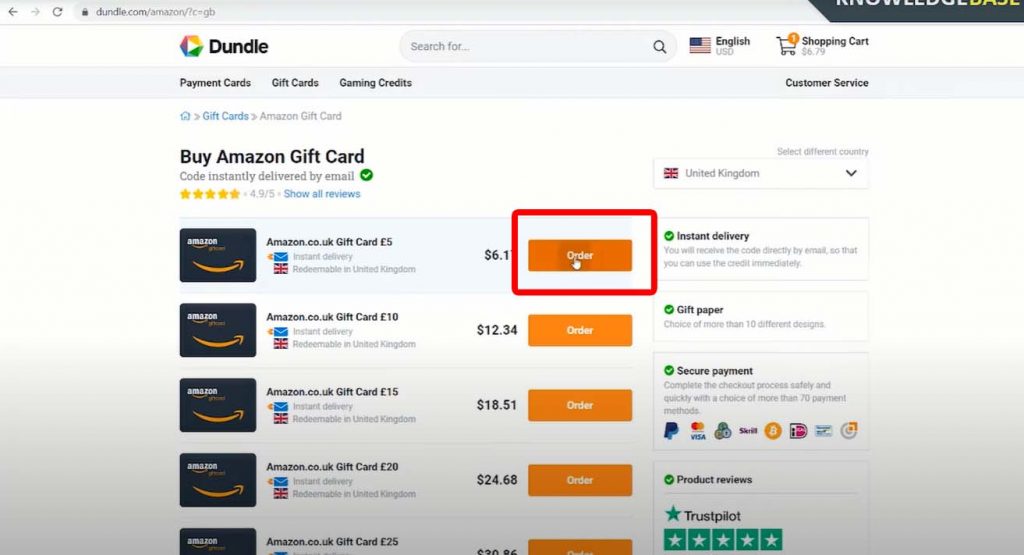 The "Shopping Cart" is located at the top right section of the website.
Now click on the "Shopping Cart" to see the product you just added to the cart.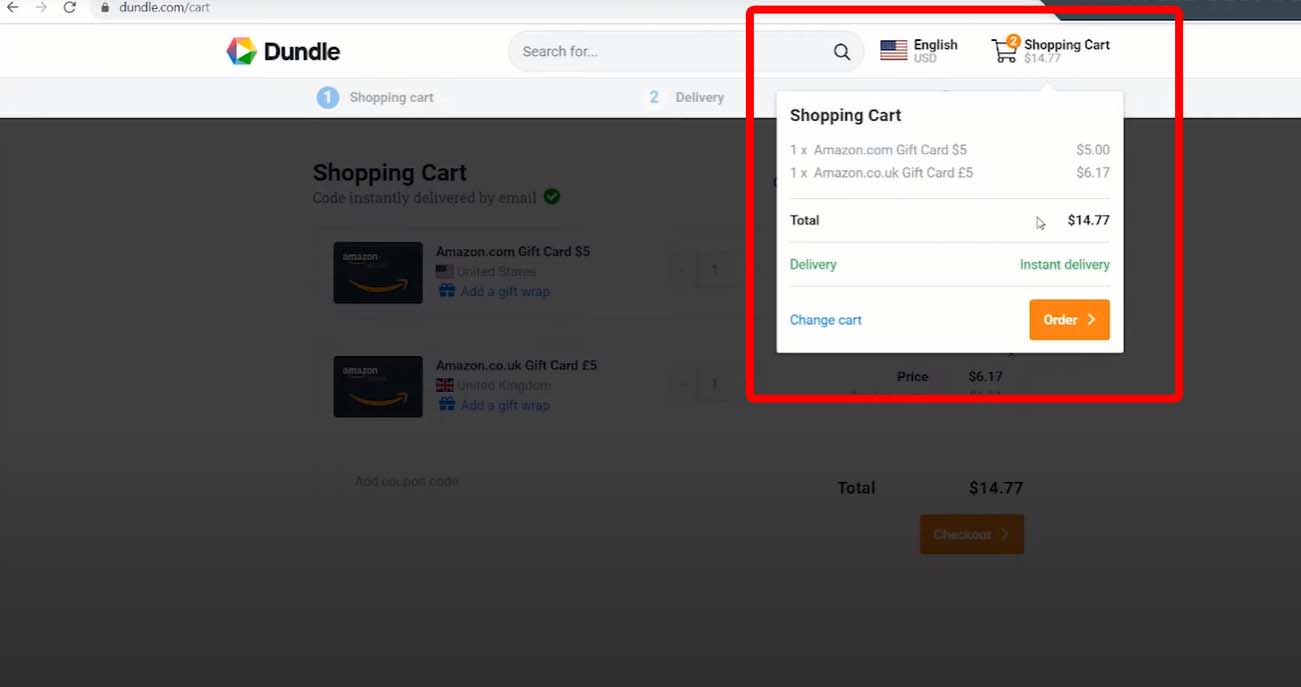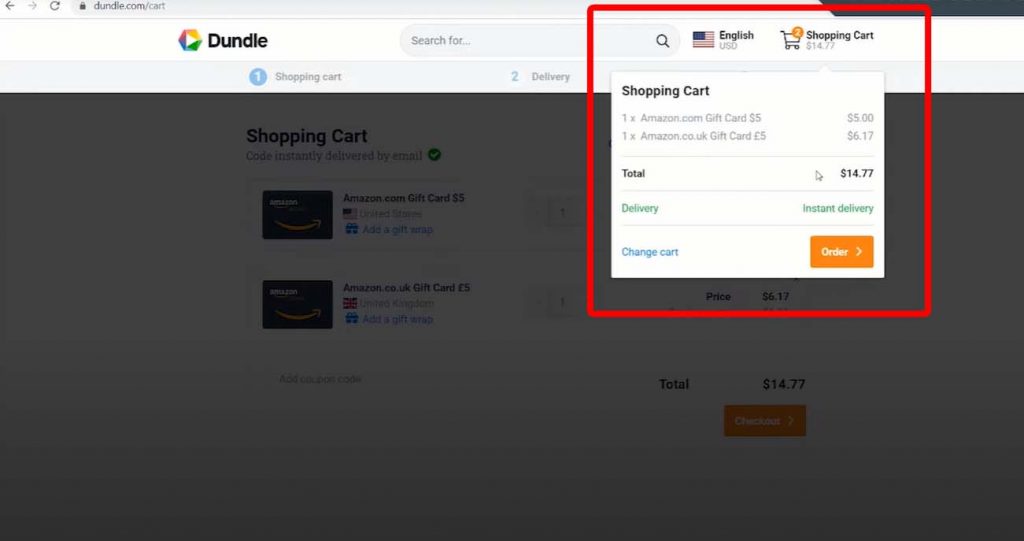 Step #6: Click on Checkout
Before you checkout, you will notice that this platform added some "Service costs."
Moreover, since this website is the only one you can use to purchase Amazon gift cards, we need to pay the charges.
So click on "Checkout" to continue.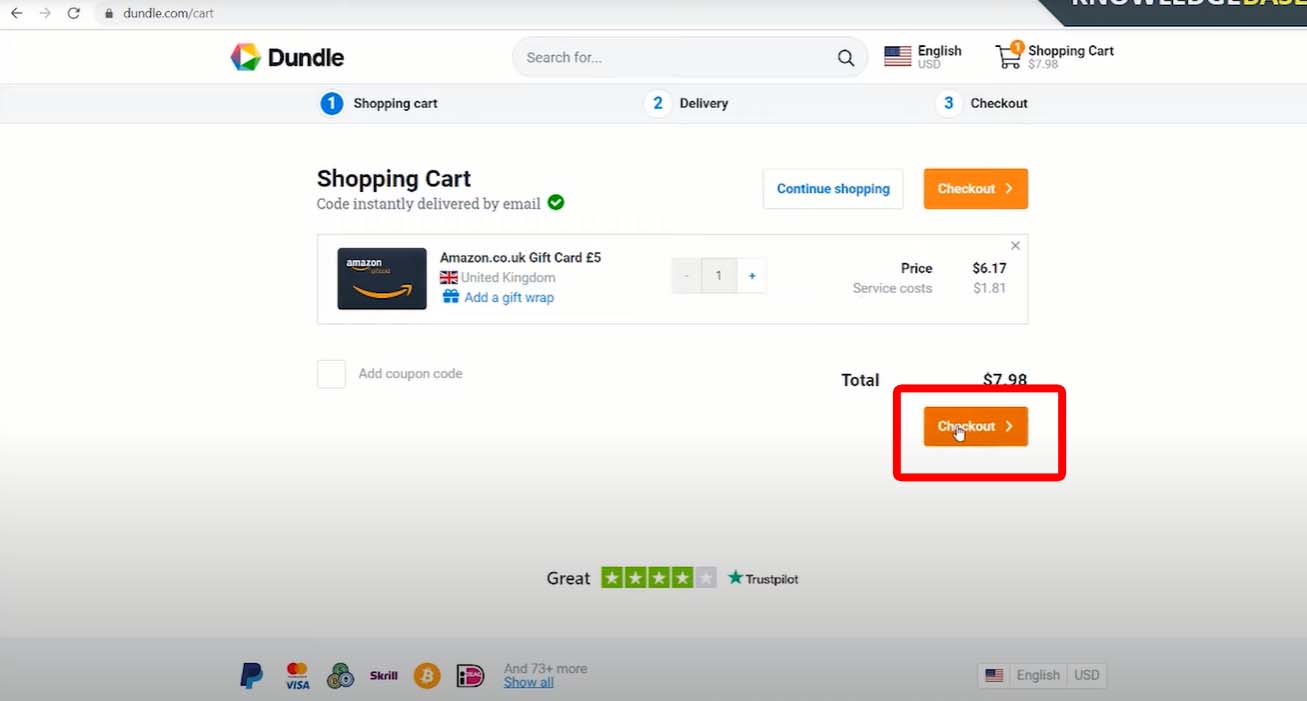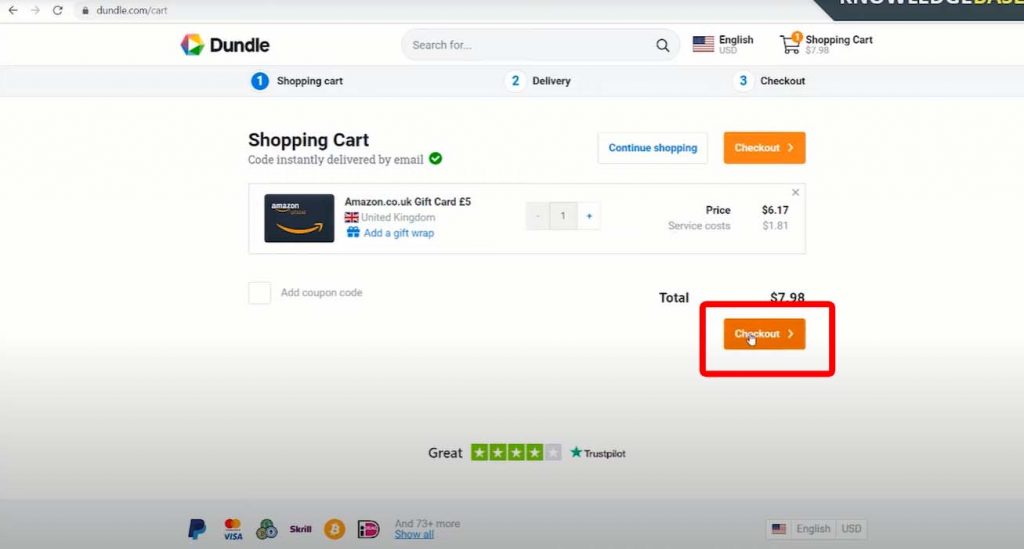 Step #7: Choose the email address where your order will be delivered to
Now choose your favourite email address to where you want your order to be sent and click on "checkout."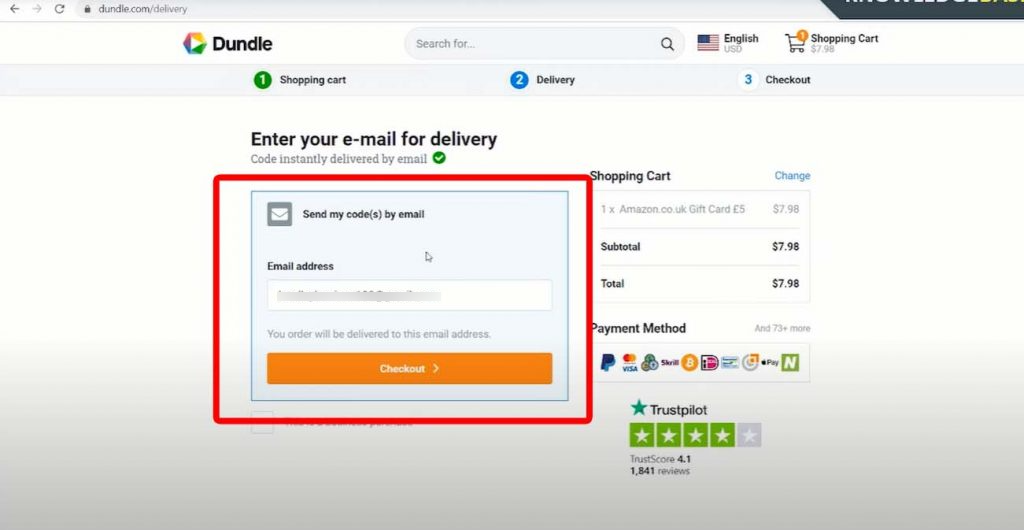 Step #8: Choose a payment method
Here you can choose from the various payment methods the option that you wish to use for your payment.
You can choose PayPal as your payment method. Moreover, you will notice that paying with PayPal attracts some fees.
Now click on "checkout" and pay with PayPal – by logging into your PayPal account and confirming the order you placed.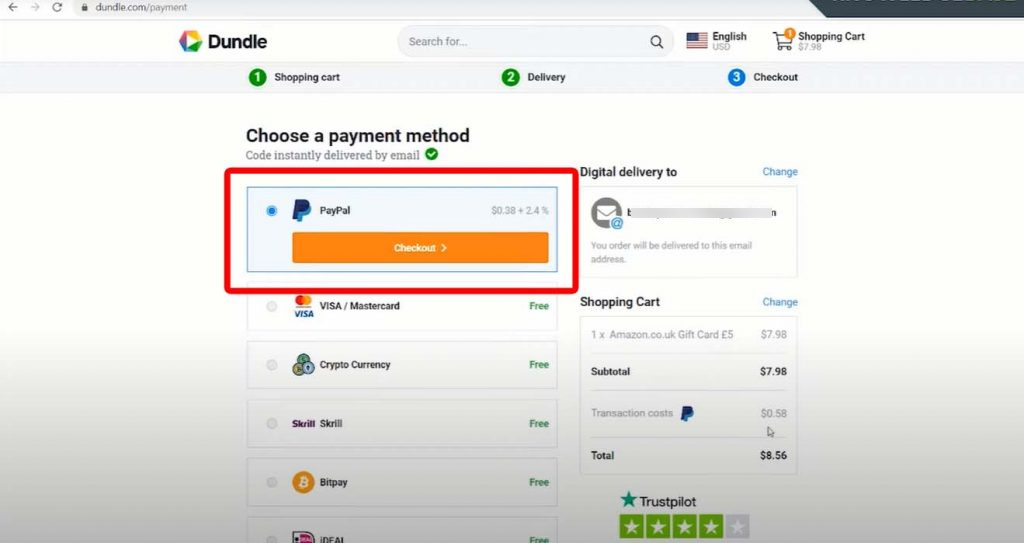 Step #9: Thank you for your order
On this page, you will see a message showing that your order has been processed and that you will receive an email to collect your product.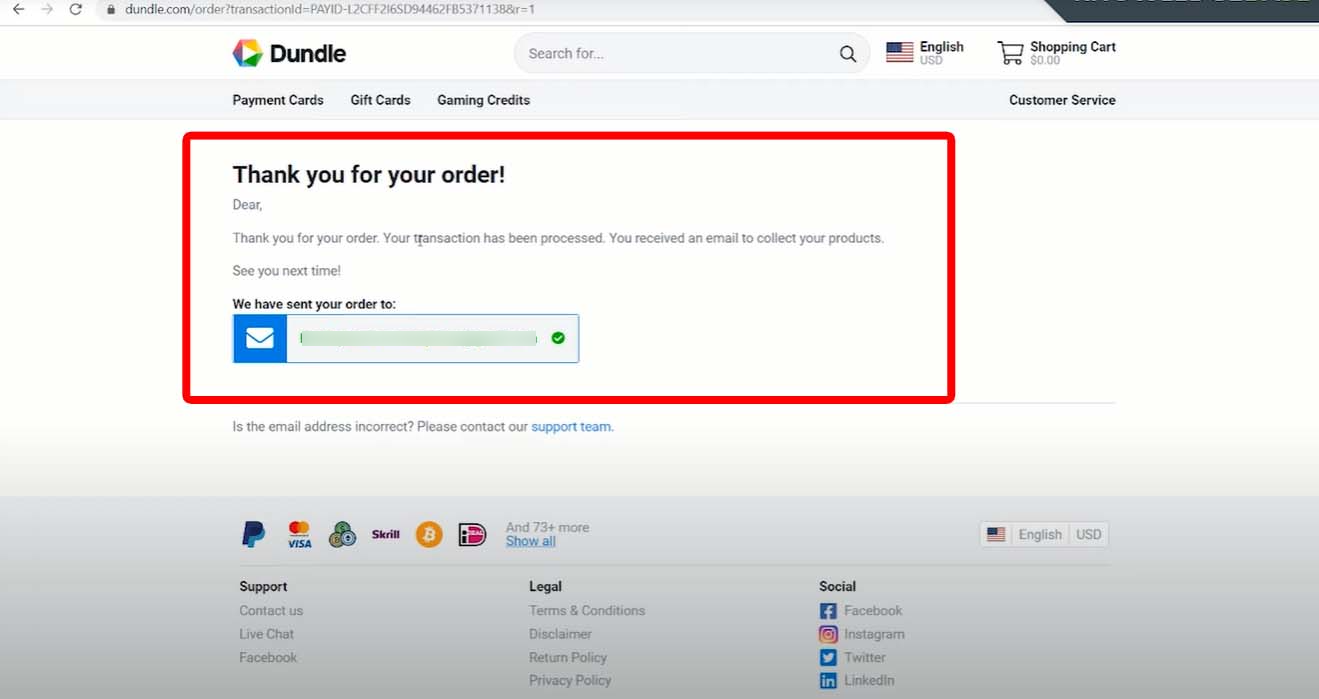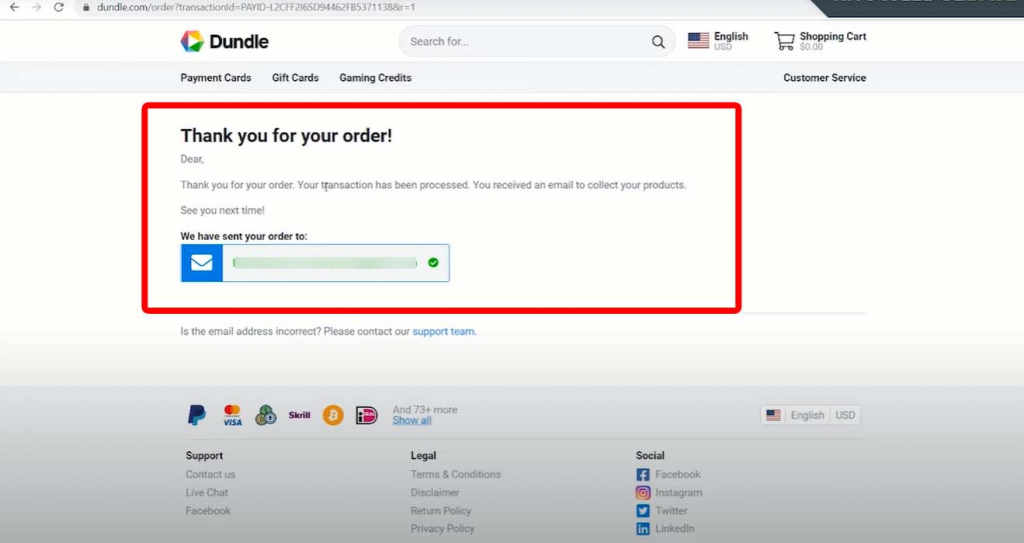 Step #10: Check your email address to collect your ordered product
In your email, you can follow the link to access the Amazon gift card you ordered from dundle.com.
You can use this gift card to pay for things on Amazon.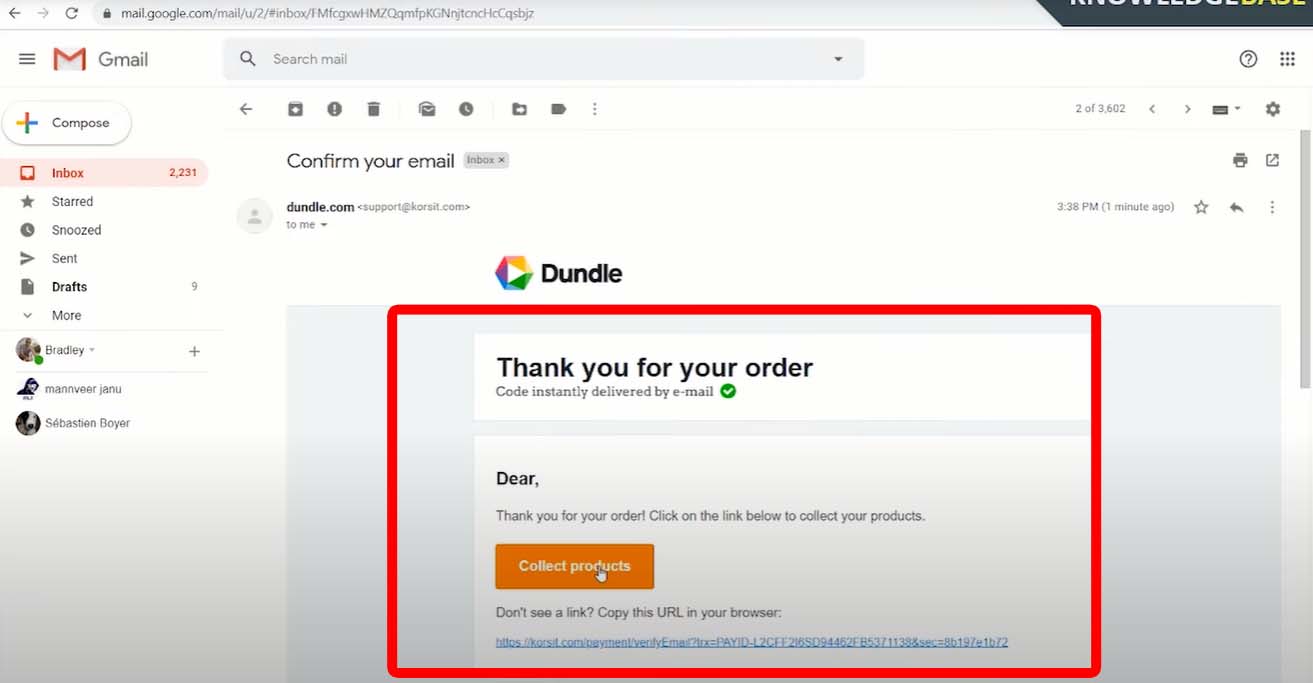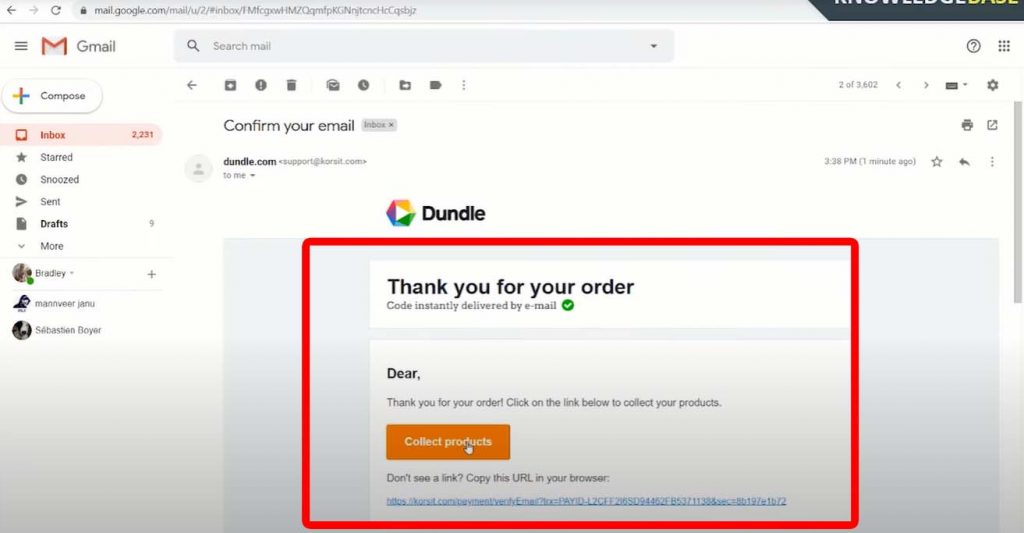 Can you transfer money from Amazon to PayPal?
From research, we discovered that it is impossible to transfer from your Amazon to PayPal because the two companies are directly competing with each other.
Conclusion
This guide answered your question– can you use PayPal on Amazon? Also, we explained other things that you need to know concerning this topic.