Last Updated on 6 months by Komolafe Bamidele
It is no news that NFTs are taking over the financial market.
Everyone is getting involved in this raving business from small businesses and big businesses to famous celebrities around the world.
Also, normal individuals are not left out and everyone is joining the race to financial freedom this year.
It was recorded that over $15 billion was made in the NFT world last year and this figure is fast rising.
There is a lot of money to make via NFTs and there are other little projects which you can embark on.
What is an NFT & NFT Collectible Explained: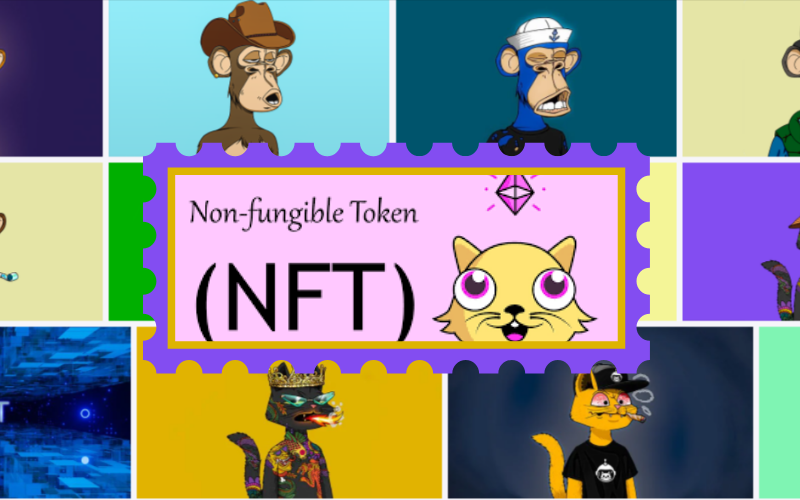 I'm pretty sure that you already know what NFTs are to be on this page.
But for those who don't, NFTs are basically digital assets that are special and unique and need to be assessed by a blockchain.
NFT means non-fungible token which means that it cannot be exchanged, it has to be bought and sold.
Most NFTs are in the form of videos, images, collectibles, and videos. The main reason why NFTs are so valuable is due to their level of uniqueness.
No two users can be owners of the same NFT at the same time and its ownership is unalterable.
How Do NFTs Work?
NFTs are created by a process known as minting. In order to Mint NFTs, you need to create smart contracts making use of cryptocurrency in your possession.
Smart contracts are various little software codes that allow the blockchain to store your information in a very simple and efficient way.
These contracts are the best ways you can maintain ownership and prevent fraud in the NFT community.
Who Can Create an NFT?
You may be thinking you have to be some sort of certification or be a special person to create an NFT.
However, the truth is that anyone can mint an NFT. All you need is the small amount of money needed for your smart contracts.
The new NFT creation platforms make it even easier to create all the NFTs you want as they have given you the tools to make it easier.
It doesn't matter whether you're a musician or an artist or just a normal person you can create and own your NFT just by making use of the minting tools which you can easily get on all NFT platforms.
Why Do NFTs Have Value & Some Worth Millions?
The concept of NFTs often gets confusing.
I'm sure you're wondering why someone would pay so much for something that they can watch, copy or download free of charge.
The answer is quite evident, the need to own a project.
It's not enough to be able to look at a video or picture, there's also a need to own a piece of art.
It's like owning an intellectual property as you are the only one who is allowed to make use of your artwork in any way you see fit.
Owning an NFT gives you total right to the usage of the token and this is the reason why it is worth so much.
NFTs are quite scarce and this is the reason why they are in very high demand these days from everyone.
Investors, Gamers, collectors, are all looking to cup the next big NFTs and strengthen their catalog.
Anyone can basically turn their work into an NFT and put it on sale but here is a list of some of the NFT sales which are worth millions in recent times:
– A cartoon Gif of Nyan cat sold for over £365,000 in late February.
– Jack Dorsey of Twitter also sold an NFT of his first tweet for over $2.5 million
– The Borussia Dortmund footballer Erling Braut Haaland also made an nft sale of over £500,000
How to Mint & Flip NFT to Make Money Online:
NFTS has gotten much more popular and lucrative from the second half of last year until now.
It had garnered a whopping sum of over $1billion as opposed to the $60 million it averaged in the first half of 2021.
At the moment the NFT space is worth multi-billions and different tokens are being traded every day.
You should definitely get acquainted with the NFT project and how to create your own wealth. The first step in owning an NFT is minting.
To Mint an NFT means to buy the said NFT as soon as it is released before it gets into the second market space.
This is the best way to buy because these NFT collections are released at really low prices and you can even get them for free sometimes.
However, some NFTs are not so easy to Mint because there is very limited supply and very high demand.
Most NFT platforms have opted for whitelists in order to give their earlier customers a better chance at minting when the collection is ready for minting.
You would need to join the platform's discord group in order to know the criteria put in place before you're considered eligible.
When you succeed in minting the NFTs you can then move them into various retail markets like open-sea and register your token where you can then list it for a higher price than you got it for.
Summary
You buy NFTs cheap or create it yourself and sell it high on NFTs store….
What Are the Best NFTs Games: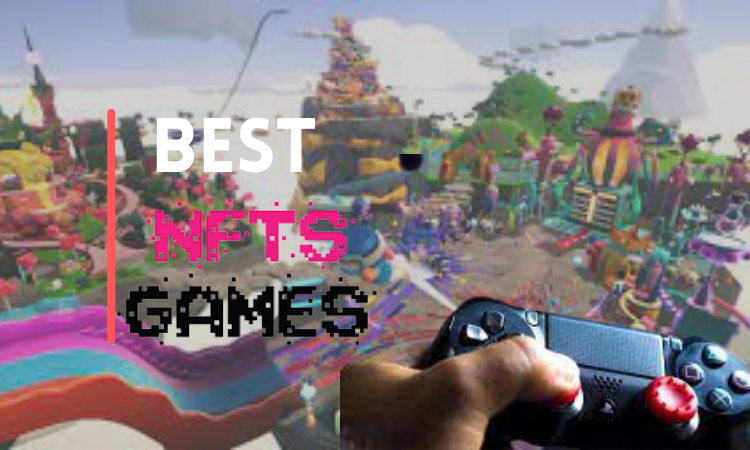 NFT games are much fun and you get to make trades of in-game characters and other items with other players of the games too.
You can also earn rewards when you complete certain objectives, cool right?
Some of the Best NFTs Games Available are:
The Sandbox:
This is widely considered the best NFT gaming platform if you love virtual reality and the metaverse.
This game is a unique game where you can play various games, own your lands and even build your own game within.
This game gives you the ability to basically control the virtual world either as an artist, a collector, or a basic gamer that just has fun in the metaverse as you travel all around the world in the various games present.
The sandbox was created on the Ethereum network and it also owns its cryptocurrency called sand.
Illuvium:
Illuvium is a catching world adventure game where you can earn wonderful rewards.
This game is built on the Ethereum network and now you can take part in the NFT owning process.
All transactions are instant, zero extra fees, peer-to-peer minting, and other things are freely given to you while enjoying the game.
You should definitely check this one out.
Idle Cyber:
This is an NFT game which is a battle game, they also provide you with hero collections that you can earn while playing the game.
This game is built on BSC and has a lot of potentials and you can earn, stake, and also trade your NFT collections in order to earn some profits.
There are a lot of investors already in this project and it is never too late to become one of them.
Battle of Guardians ( BOG):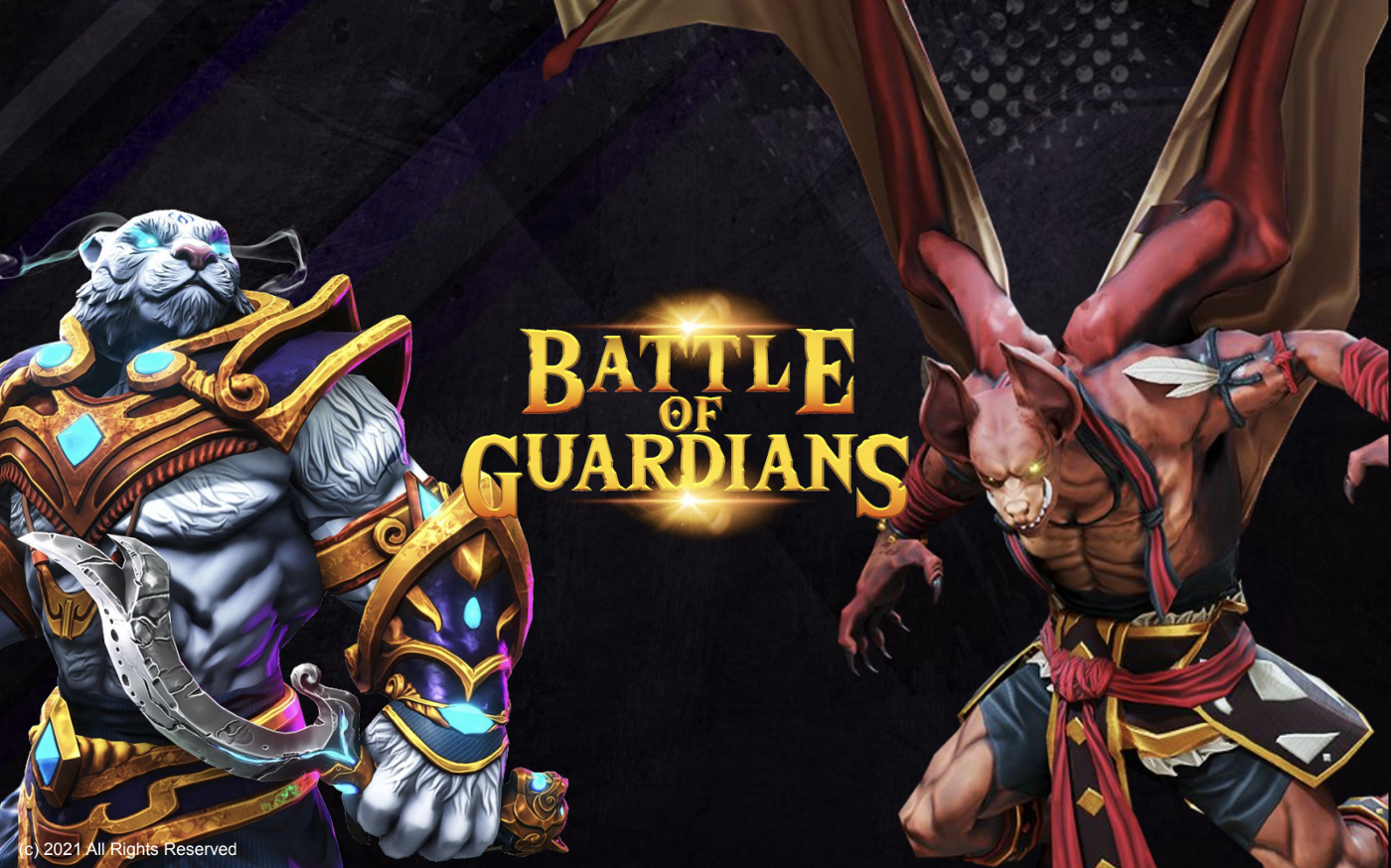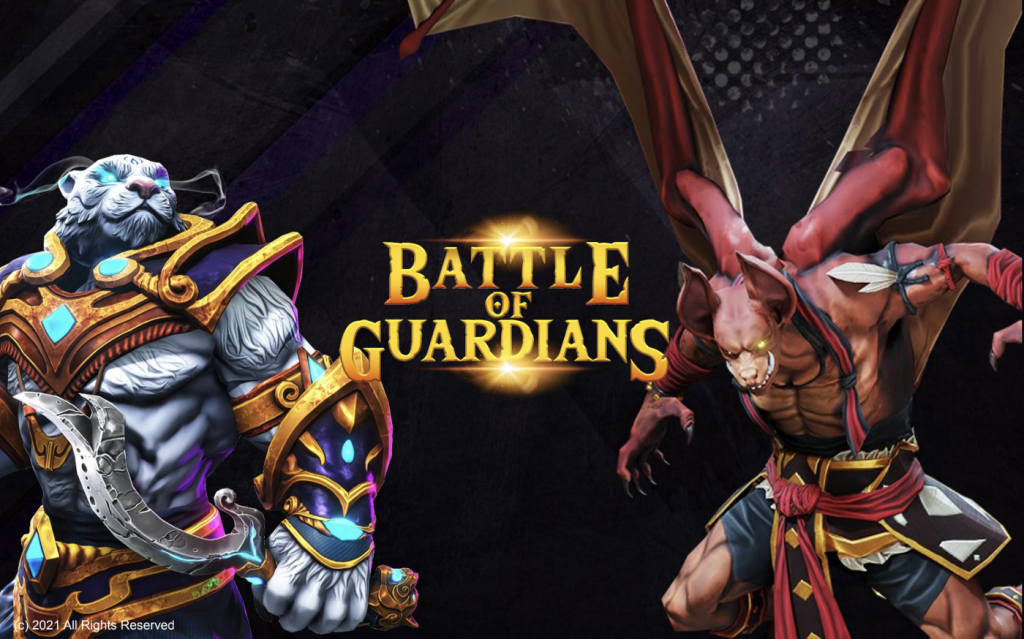 This is another wonderful game that is dedicated to making sure that a secure gaming economy is built.
Also, they are invested in making sure that the long-term potential of the metaverse and NFTs, in general, are secured.
The BOG creates a wonderful gaming experience as you are provided with very good graphics, unique NFTs just for you, and various ways through which you can earn mouth-watering profits.
There is quite a lot of potential in the NFT gaming market and BOG is making sure you get the best by utilizing these potentials to the best.
Axie Infinity: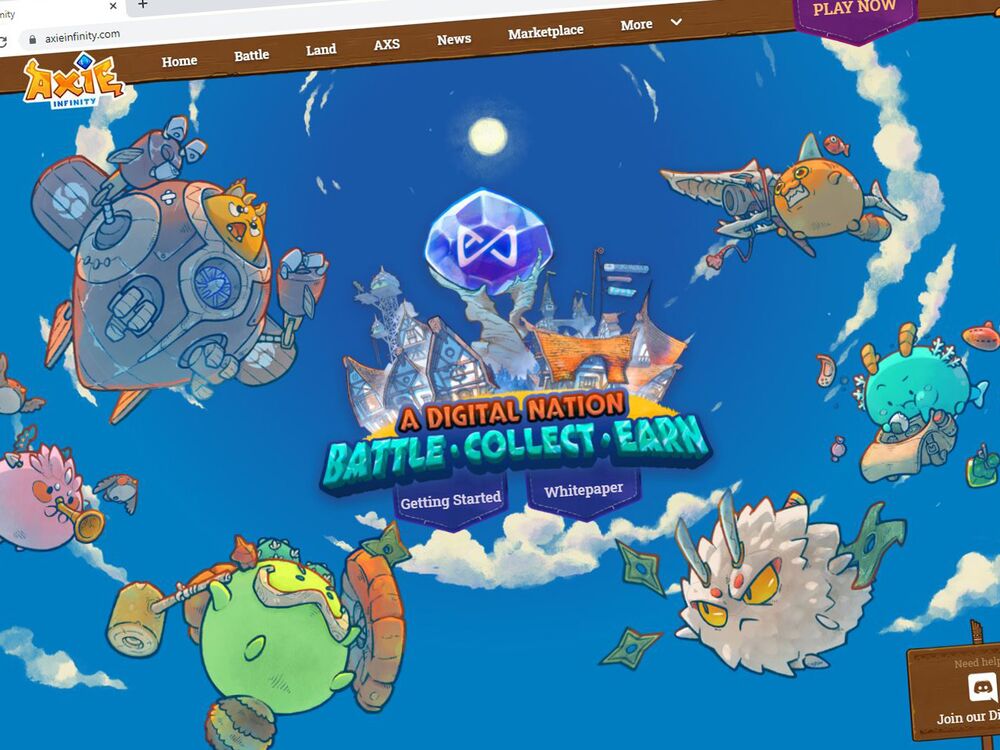 The Axie infinity is the best NFTs game for you if you are a Pokémon lover.
This platform is also very well designed and its user experience is top-notch.
It is one of the best NFTs games in terms of sales as they recorded over $700 million in sales this year.
This game is available on a number of operating systems including ios and android.
This game is created with the hope of making sure a virtual economy where you can invest, spend, and also save your money without having to run to the bank every time is created.
What is a DAO and How Does It Relate to NFTs?
A DAO is very important to the world of NFTs, A DAO is an artificial intelligence that is created to ensure transparency and also invite individuals into the NFT community.
It isn't controlled by anyone as it is completely decentralized.
This is mind-blowing because it is quite innovative and it allows everyone to take part in the growth of the NFT community.
DAOs are basically the reason why you can own your NFT collections and they are quite important in the network of NFTs.
How to Setup Metamask Crypto Wallet (Metamask Chrome Extension):
Before you can create your first NFT or carry out any activity associated with the cryptocurrency market in general you would need to install a cryptocurrency wallet.
One which is efficient and compatible with the function you are looking to carry out.
By doing this, you are able to keep any assets you buy safely. One of the most efficient cryptocurrency wallets is metamask.
Metamask also gives you the chance to connect with other platforms which are Ethereum based.
To successfully open your metamask account, follow the instructions written below :
Step #1 -Firstly, you have to download the metamask app on whichever device you choose to make use of.
Step #2 – Click the get started button on the top right corner and you'll be taken to another page and shown two options.
Step #3 – On the new page you'll see the create a wallet option and after you pick that a disclaimer comes up. Agree to the disclaimer and proceed to create your password.
Step #4 Make sure you store your password safely. You are then provided with a secret recovery phrase consisting of 12 words that were chosen randomly.
It is used to import your wallet into a new device in case you lose your current device.
Who are the Biggest NFT Collectors?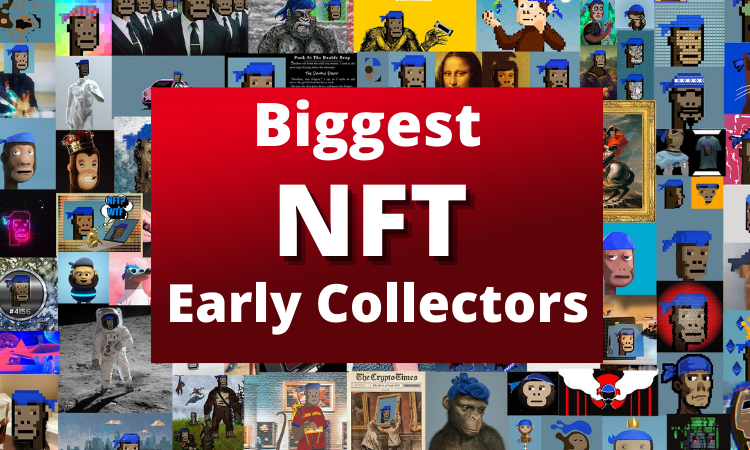 As we know by now, there are thousands of NFT collectors in the NFT community but we are going to be focusing on just five today:
Whaleshark:
This is a popular British Nft collector who also doubles as a bitcoin investor.
Whaleshark was said to have invested in bitcoin quite early and even before it became popular all over the world in 2012.
Also, he invested in Ethereum as early as 2015.
The first time he took a step into the NFT community was in early 2019 when he started creating his own NFT collection and he is said to own over 200 thousand NFTs.
Whaleshark owns an NFT archive which is worth an estimate of $50 million.
Pablos Rodriguez-Fraile: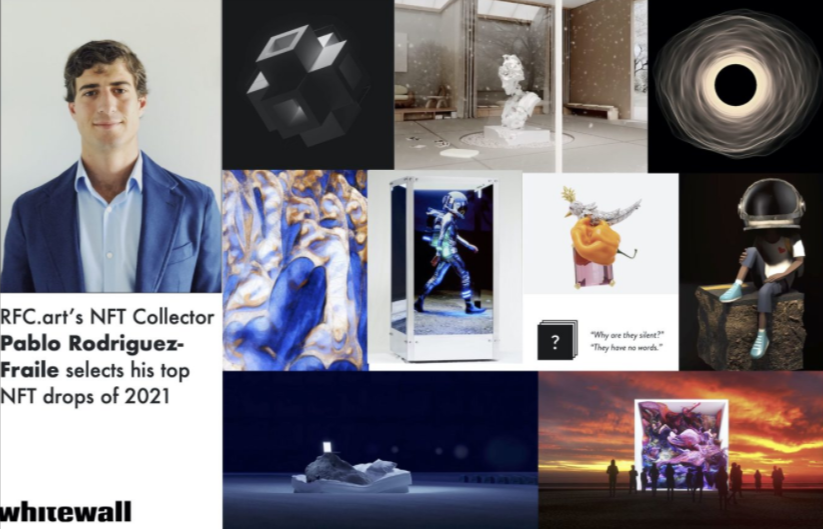 Pablo is quite a household name if you are familiar with the history of NFT collections.
He started his journey back in 2017 and only began to buy NFTs last year.
His collection contains over 3000 NFTs and he makes so much through the NFT community.
He has a lot of rich NFTS which were bought from some of the best artists in the NFT business such as Beeple, Pak amongst others.
Justin Sun:
Justin Sun is an inspirational figure in the world of NFTs.
He is a young cryptocurrency investor and has been in the world of cryptocurrency for quite a number of years now.
He also founded the crypto platform TRON.
Justin Sun bought two physical paintings of art both worth $25 million and has registered them into the blockchain network thereby claiming ownership forever.
Eric young:
Eric Young is a crypto investor who bought his first bitcoin as far back as 2015.
He became invested in the concept of NFTs when he saw Picasso's bull which was created by the digital artist Trevor Jones.
He began to search for the best NFTs he could find and from then until now, he has been involved in the purchase of over 400 NFTs.
He sold an NFT for about $1.5 million sometime in 2021.
Metakovan:
Vignesh Sundaresan or Metakovan as he has popularly known as is the one who purchased the art "Every day's: the first 5000 days of Beeple ".
He is a crypto investor and also a programmer. He is the CEO of BitAccess, a company that mainly specializes in the blockchain.
How To Get Started with Buying (Minting) NFT and Sell NFTs for a Profit?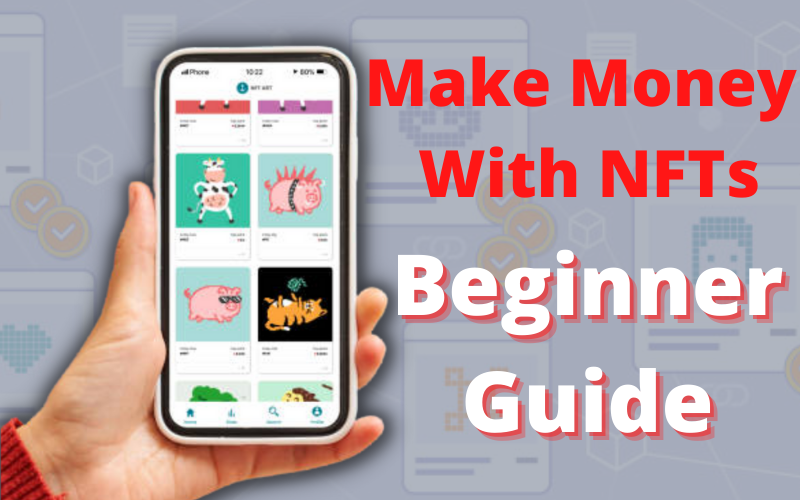 Once you are acquainted with the basics of the NFT community you wouldn't have much trouble with purchasing NFTs.
You can basically get them online through various secondary markets, A good example is opensea.
Opensea is arguably the biggest NFT market right now and you can basically find any type of NFTs and other collectibles you need right there.
You then have to offer your bids and hope you make the best bid so you are the one who gets the NFT.
Also, you can skip the bidding if you're able to meet their buy price which often does not cost much more than the bid price.
How to Find Great Deals on Rare NFTs to Flip:
If you intend to get it on the secondary market, You would need to follow a few steps:
Step 1:
You can search through the top-selling NFTs which are shown on the trending tab or you can search the name of the collection you are looking to purchase from the search bar.
Step 2:
Once you find a compelling project you'd love to get invested in, click items and then click buy now.
Then click on the set price and choose low to high.
This feature shows you all the affordable NFTs that are available for you.
Step 3:
This part is quite tactical as it requires you to look for NFTs that are undervalued.
There are NFTs that are priced lower than their counterparts and you should know that they're definitely going to increase in price quite soon.
it's better to buy it before its price appreciates.
Step 4:
select the particular NFT you intend to flip and select it, then click on properties.
That shows you everything you need to know about your NFTs and how rare it is.
The value of your NFT is dependent on how rare it is. So the rarer your NFT, the higher its value.
Step 5:
Don't forget to check if the project has enough liquidity. Go to the Activity tab and click on listing and sales to compare how often people are buying the NFT.
Ordinarily, a transaction should happen every 2 minutes or less.
Best ways to find great NFT Projects Early Before it Takes Off:
Discovering and cashing in on NFT projects early on can increase your profits and also save you some money.
Here are some of the ways you can find these
NFT Projects: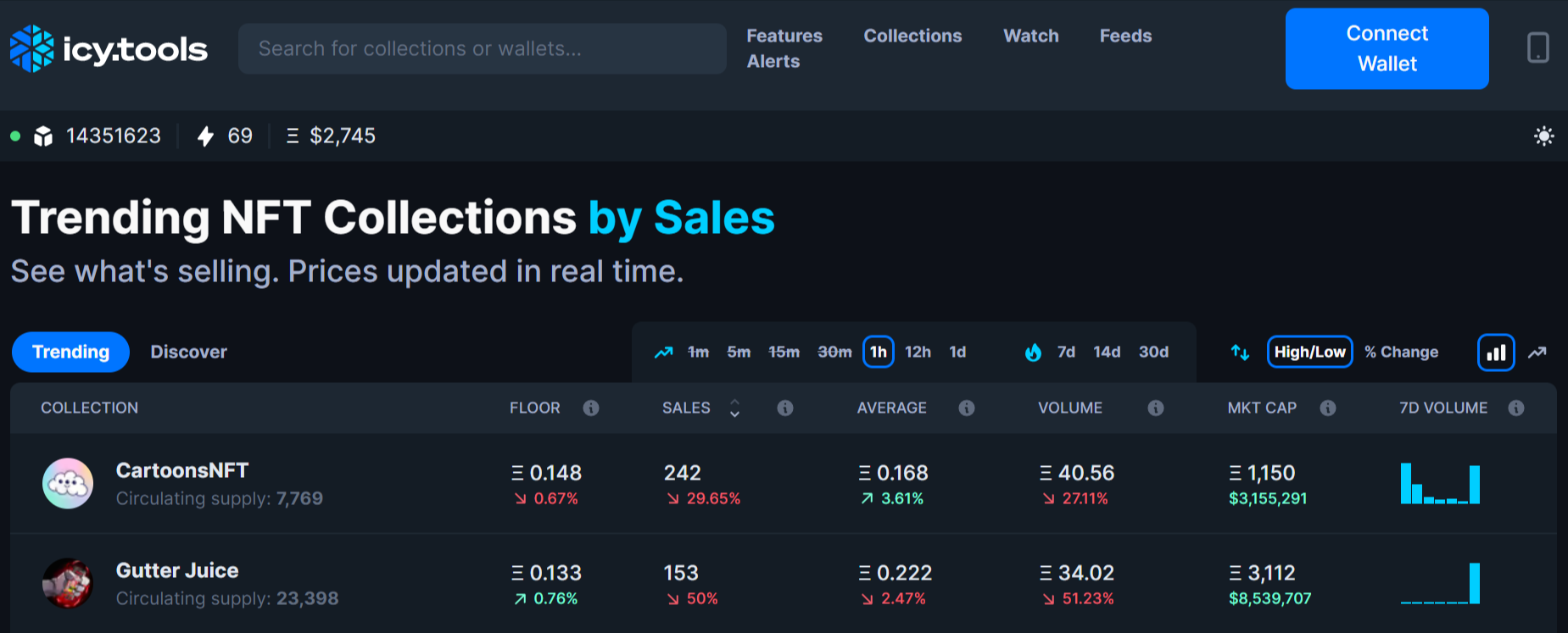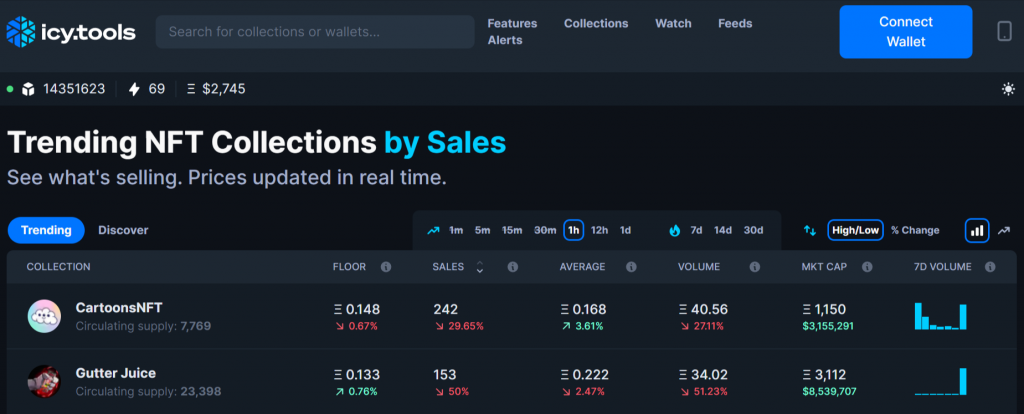 Making use of Minting monitors: These monitors ensure that you are alerted as soon as a new NFT is launched into the market.
This puts you earlier than 90% of the market and increases your chances too.
Platforms like icy.tools and whatsminting.live help you track all NFT minting that is happening across the world.
However, you are advised to do your research on the NFTs before you go on to Mint.
Making Use of Crypto Launchpads:
Crypto launchpads are means by which new project developers connect with their audiences at the early stage.
They are a very useful and efficient means of discovering great NFT projects.
There are different launchpads though and they're all wonderful.
If you want to stand a chance at discovering NFTs with potential you should definitely try crypto launchpads.
Making enquiries using NFT Aggregators:
NFT platforms often contact various aggregation sites like rarity tools, howrare.is and also NFTcalendar.io.
They compile various data and give you a better understanding of the price of various NFTs and also what to expect from the market at a particular time.
Recommended Course to Learn More About NFTs:
NFTs can be a little confusing and that's why I compiled the 5 best courses to help you broaden your knowledge on NFTs.
The best of them out there on the internet.
The Complete NFT Web Development Course – Zero to Expert: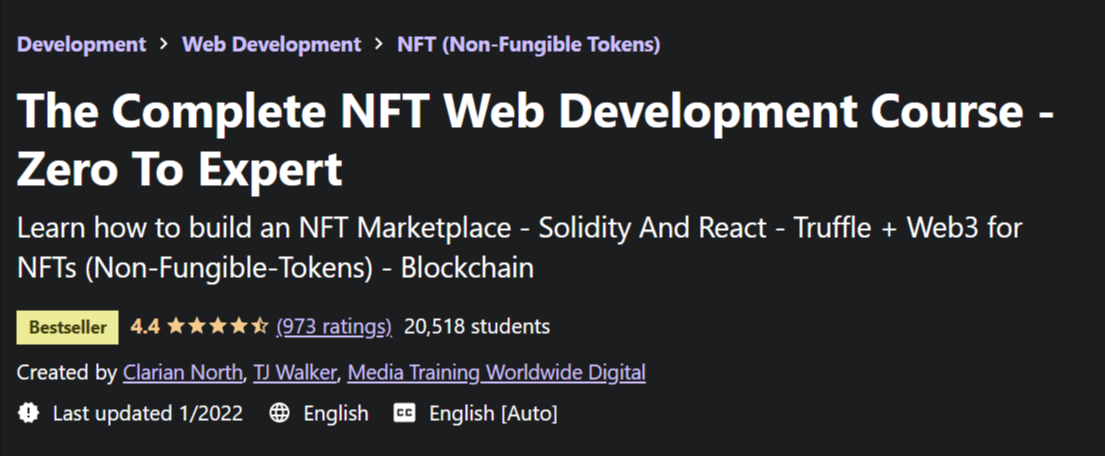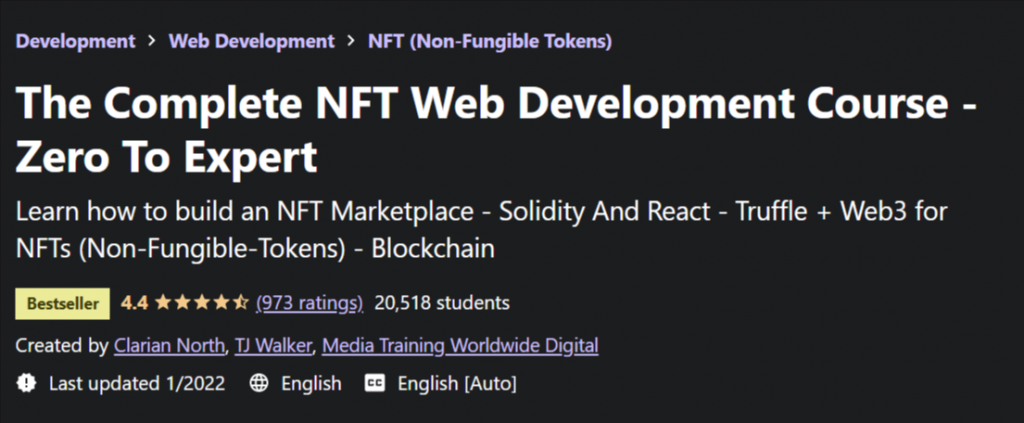 As the name suggests, this course shoots your knowledge of NFTs up to the moon.
If you want to become an absolute expert in the world of NFTs, this is definitely the course for you.
This course teaches you everything including how to create your own NFT marketplace, how cool is that
This course is quite technical so you need to make sure you devote a lot of your time to it in order to get the best results.
You get two instructors on this course, clarian North and TJ walker.
Clarian has around $64,000 students on udemy and TJ walker has over 1.3 million students on udemy.
It is safe to say you are in the hands of the best instructors you can find.
At the end of the training, you must have learned how to develop samples of an effective NFT marketplace at the very least.
You also learn how to create professional apps and NFTs using various tools.
This is rated the best NFT course by quite a lot of people.
NFT Fundamentals (Buy, Create, and Sell NFTs):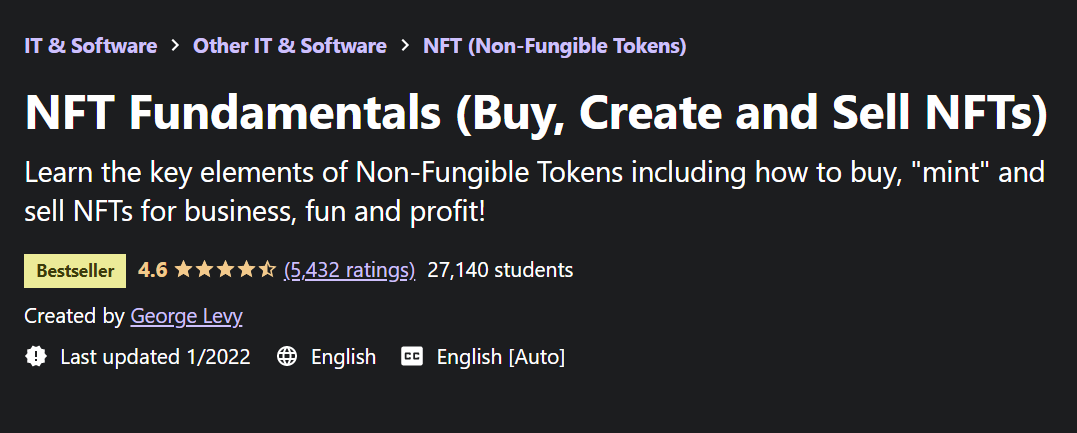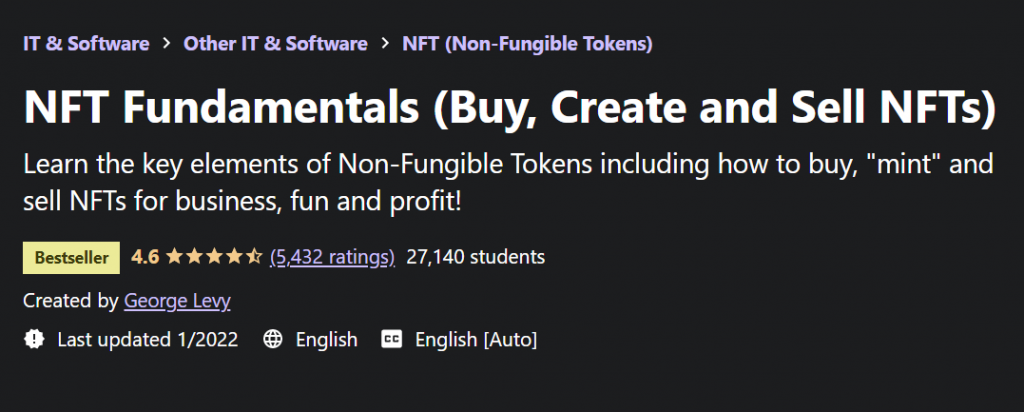 This course talks about the basics of NFTs and things ordinary people wouldn't even know about them.
You learn what an NFT is, the best way to create an NFT, and the best way to sell NFTs for profits on this course.
You are also provided with an instructor, George levy. George levy is a verified blockchain expert who has over 120,000 students on udemy.
He basically teaches people everything about the blockchain and all its functions.
You can be rest assured that he's going to teach you everything you need to know about the world of NFTs.
When you finish the course, you would have gained immense knowledge of NFTs and their functions.
Also, you would have known the best platforms to use when you want to purchase NFTs and also the best when you want to sell.
You begin this course as a beginner and end it as a professional. On top of everything, you'll be given a brief introduction to the NFT's history, the basics of NFT blockchain, and many important aspects.
NFT Crypto Master Class: Buy, Sell, and Create NFTs: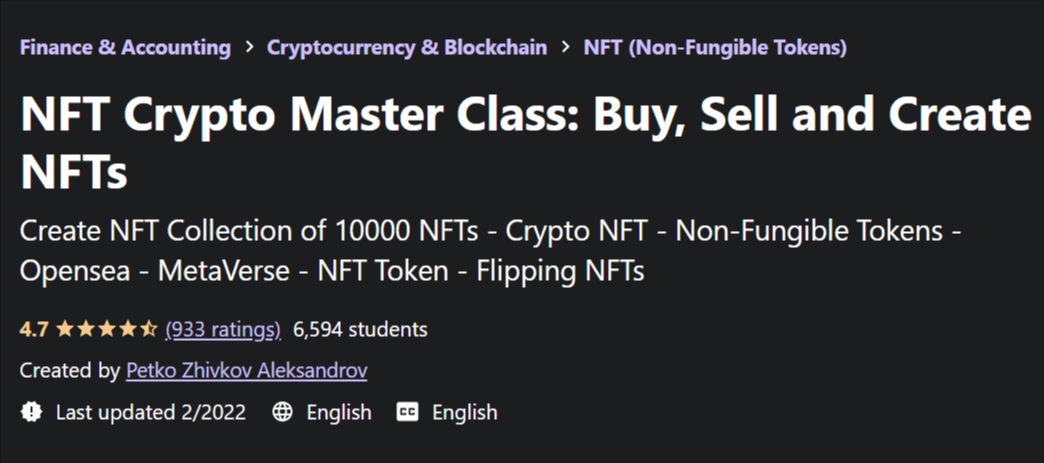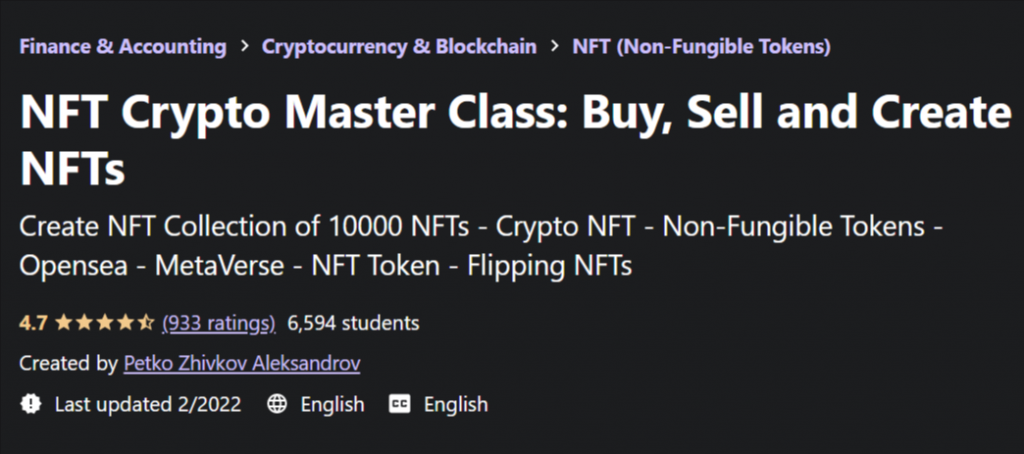 This course teaches you about the relevance of NFTs in the cryptocurrency world.
Everything you need to know. Your instructor is none other than petko Alexandrov, he is a professional trader and a successful investor.
He is literally the best you can trust to carefully teach you about NFTs.
He has over 45,000 students on udemy and he is highly rated.
During the course of teaching you will learn what an NFT is and its importance in the world of cryptocurrency, how to create, buy and sell NFTs, and the best platforms for NFT transactions amongst numerous other things
The Complete NFT Course – Learn Everything about NFTs: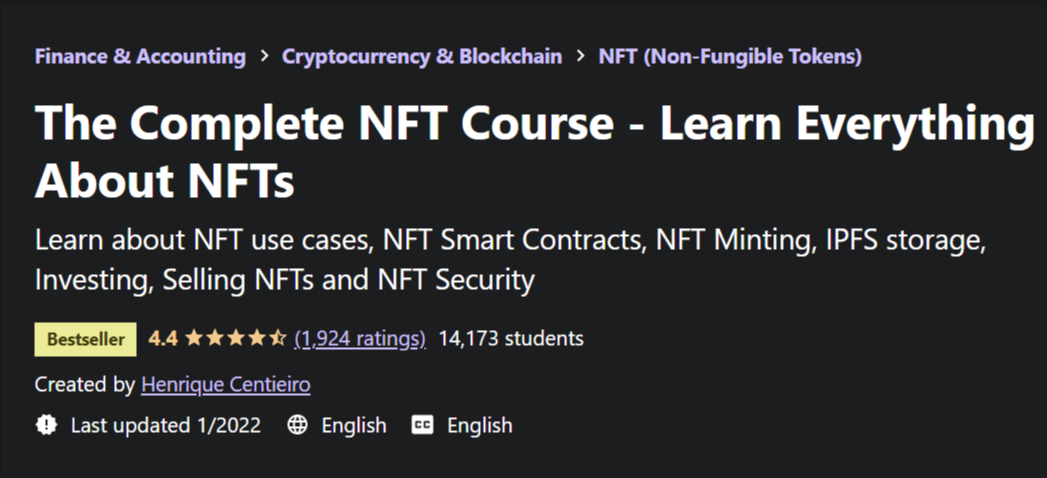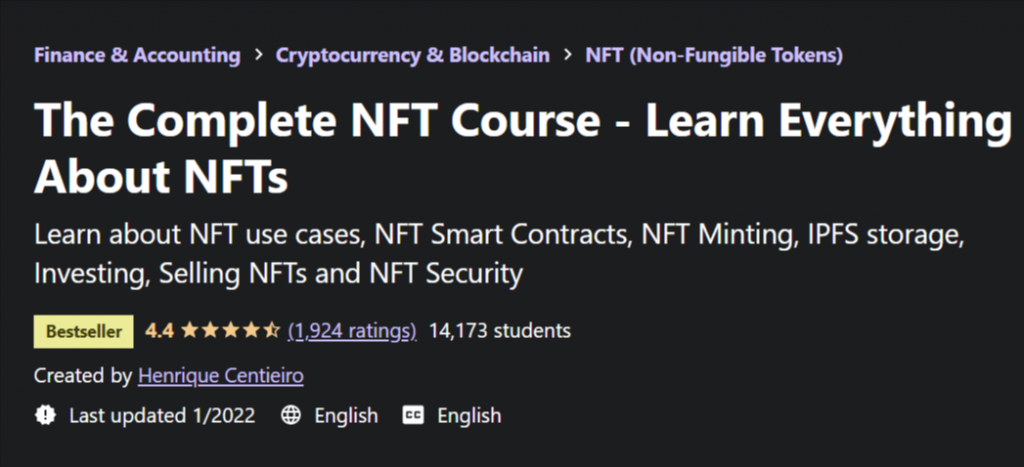 This course is also another NFT course that is known for taking its students to an expert level.
Your instructor on this course is Henrique centieiro. He's a professional in the concept of blockchain and also an author with 2 best-selling books on the blockchain.
He's highly educated on NFTs and anything that has to do with the blockchain in general.
You'll learn the introduction to blockchain, the reason why blockchain is needed in the crypto community, introduction to NFTs, what exactly NFTs are, and also how to Mint an NFT project just to name a few.
If you are a digital artist, an Nft collector, or anyone who just wants to gain more knowledge on the NFT community, this course is definitely for you.
NFT Artist Masterclass: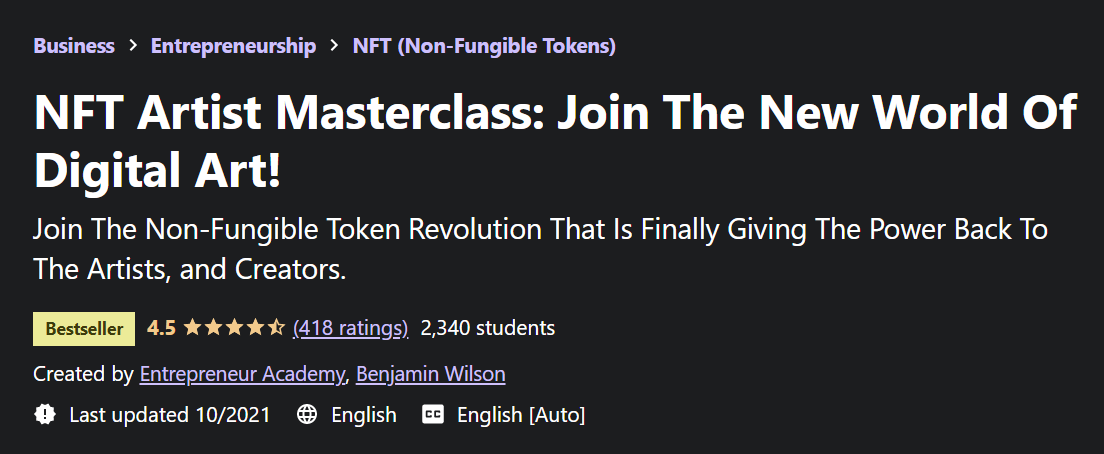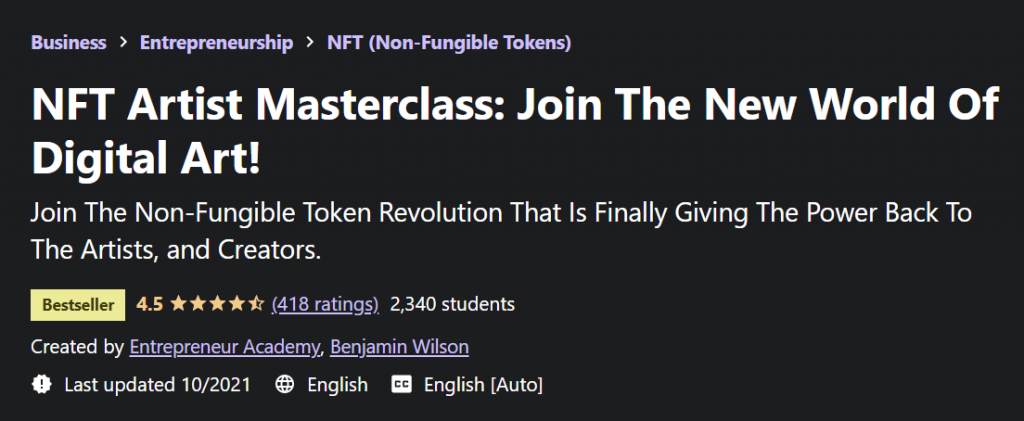 Join The New World of Digital Art: This is also a very efficient course that teaches you everything you need to know about NFTs.
Your instructors are Benjamin Wilson and the entrepreneur academy.
They both combine to have a whopping 260,000 students on udemy and you are definitely going to get the best out of this platform.
This course is very different from the average courses you see because they explain deeply the concept of NFTs and liken them to digital works of art.
You learn about what NFTs are, how to create one, best places to put your artworks on sale among other things.
This course is less than 6 months old and has already gathered over 10,000 students and you can join in to get optimal knowledge on the world of NFTs.
Conclusion:
There are millions of dollars to be made in the NFT community and it is very important for you to start now before it is too late.
As we already established, you don't have to be an artist or a videographer to create an NFT and you also don't need to be a celebrity to sell your NFT.
It is best for you to begin your journey in the world of NFTs today.