Last Updated on 6 months by Komolafe Bamidele
People Per Hour or as it is commonly referred to PPH is an online marketplace for freelance jobs similar to Fiverr which people sell services per hour.
You set your price, create the hourlies you'd like to offer and you get to work.
If you run a business or you're a freelancer, PPH is really something you can benefit from.
I have tried other freelance sites out there, but I have to say PPH is one of my favourite ones. Fiverr is pretty awesome as well.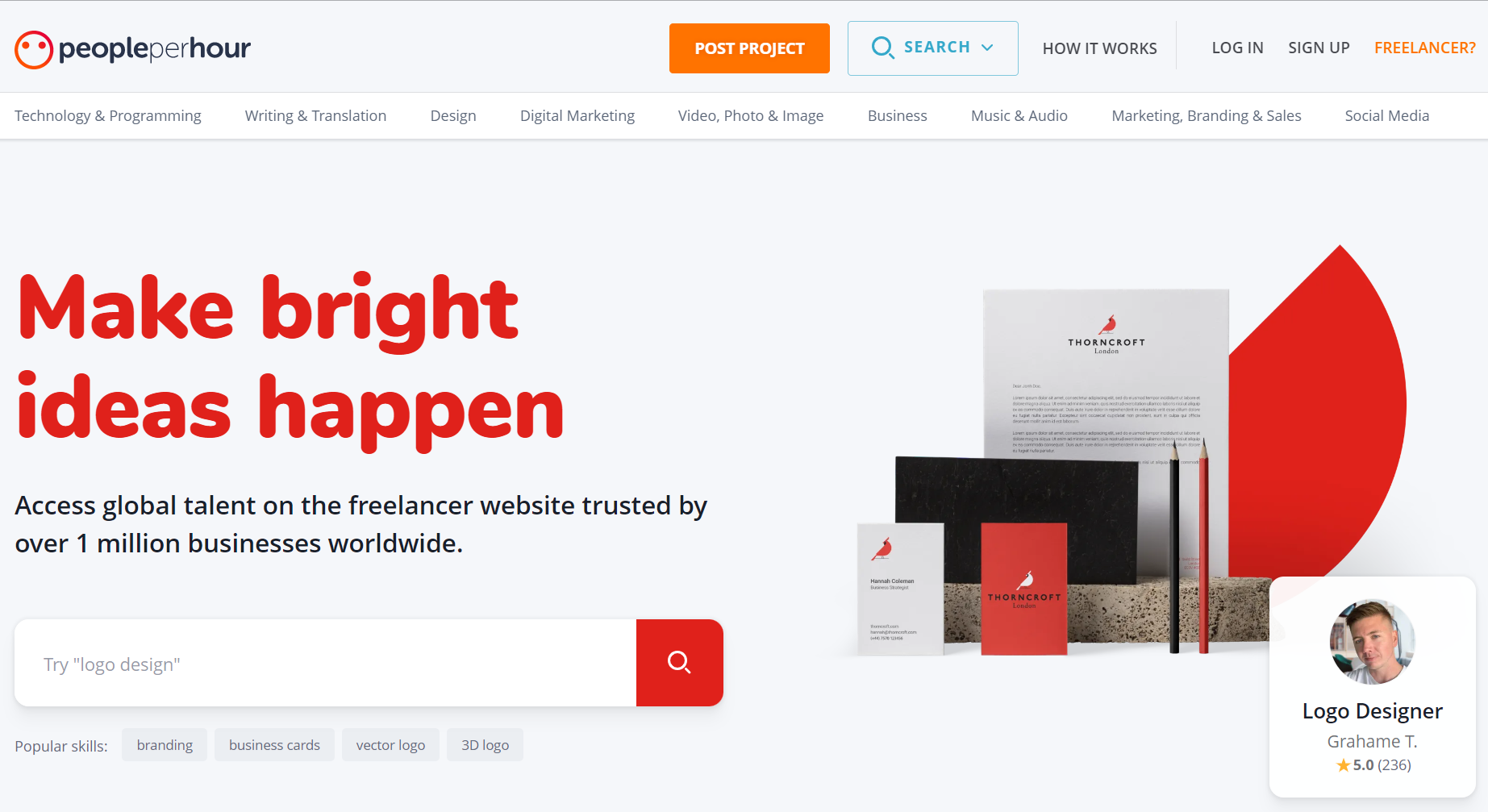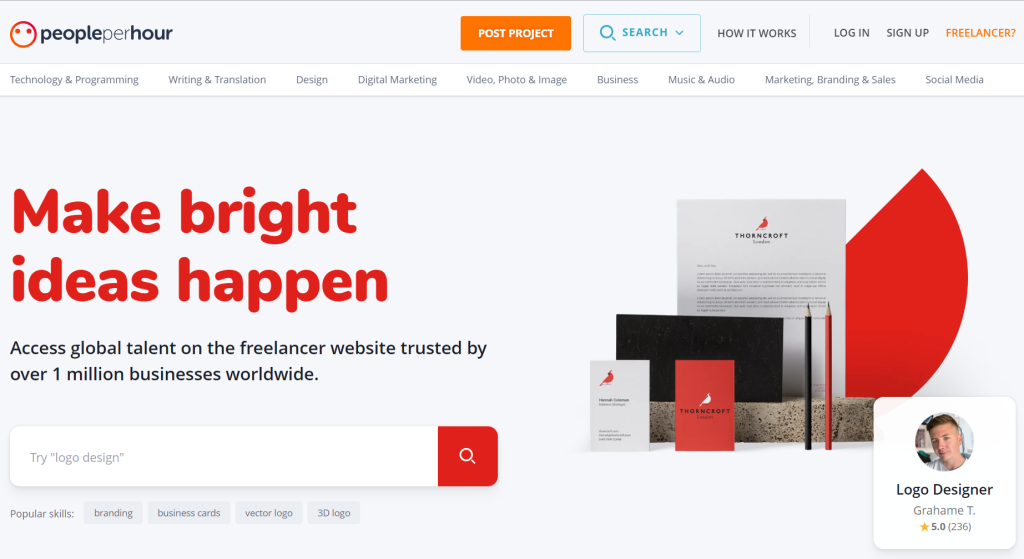 People Per Hour is the UK-based best freelance website that enables users to earn money online by advertising freelance opportunities for both Buyers and Sellers.
Buyers are those people who are in need of Freelancing services and they usually post jobs there to get them done.
Sellers are workers who offer their services or freelance Jobs in exchange for some income.
Success Come with alot of hard work and proper research, I mean you offering what services your clients need,

in one of my articles I have highlighted the top trends niches and services that can make you tons of dollars within a month.

Imagine you earning $2k per monthly, oh I got you you think it's not possible just go through this article about how to build your freelance skills career to earning robust income every month ending
Sellers can directly apply for the jobs that buyers have posted or Buyers can contact them directly.
The company was founded in 2007 and they have offices and London and New York.
Top 3 Freelancing Website Comparison
I have been a member of People Per Hour for a while now, and whilst it isn't my biggest earner, I try to check in every few days to apply for jobs and update the hourlies I offer
Speaking of Fiverr.
Fiverr can sometimes come across as plain silly and unprofessional meanwhile on PPH the environment has a much more serious and professional tone.
Depending on my mood, I find PPH is a much better place to make real business happen. One of the best ways to get your first customers is to pay to have your service featured.
Whenever I launch a new hourlie [GIG] I also feature it as it will be displayed on the PPH marketplace and 98% of the time, I always get work;
which covers the price to get it featured and hopefully something
How To Start Freelance Jobs on PPH?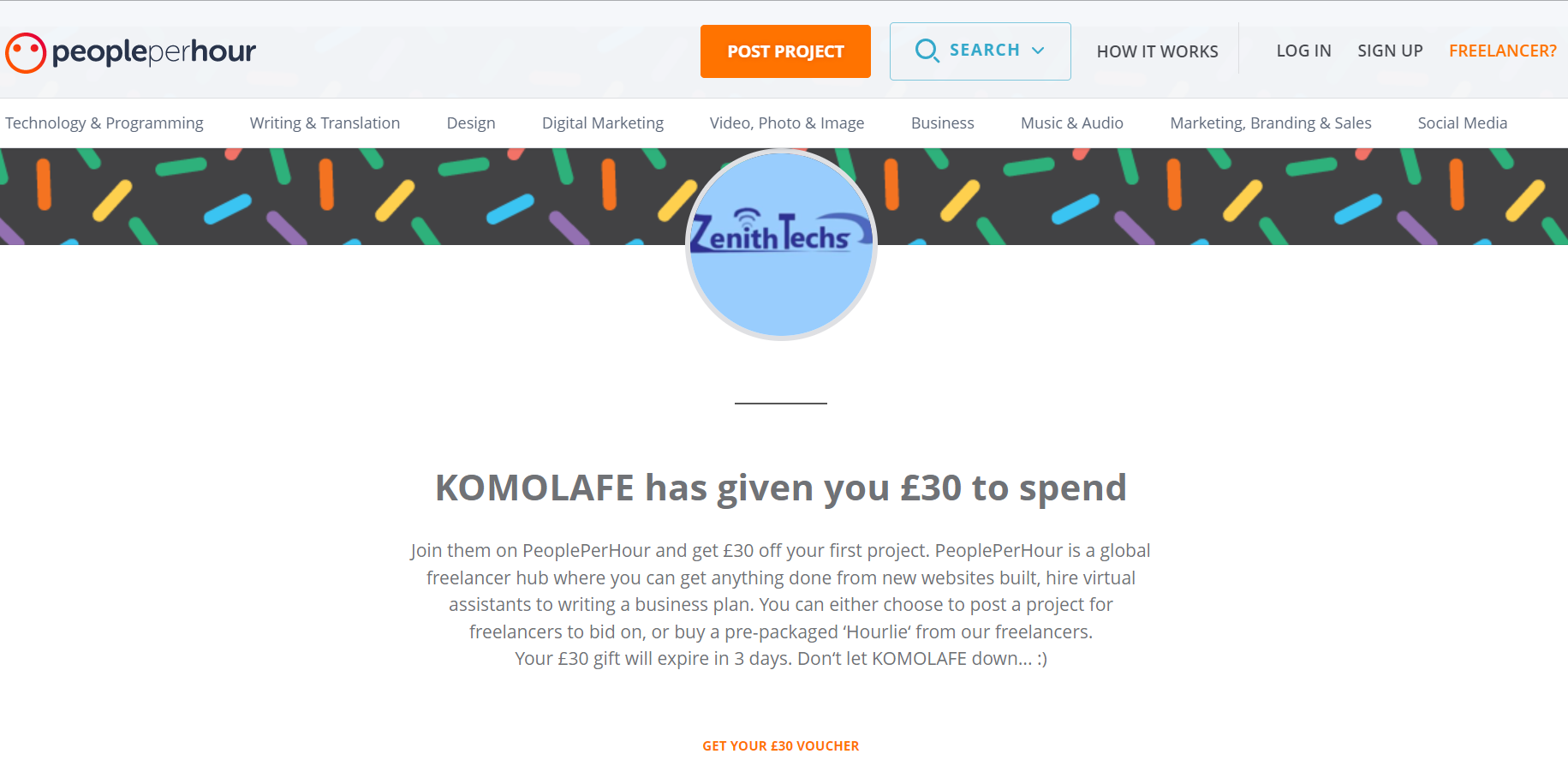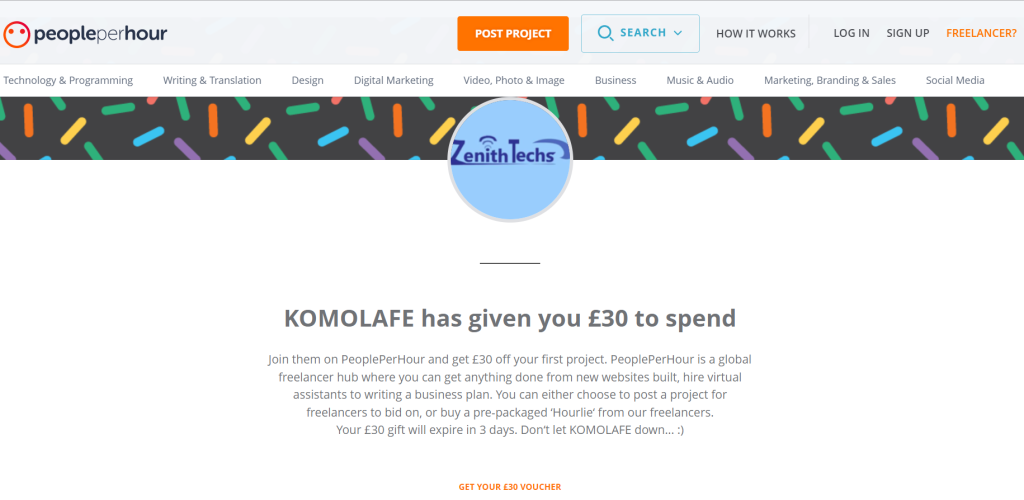 Signup for a Seller account on PeoplePerHour from HERE
You will be given y £30 to spend on PPH freelancer hub where you can get anything done from new websites built, hire virtual assistants to writing a business plan.

You can either choose to post a Job for freelancers to bid on, or buy a pre-packaged 'Hourlie' from our freelancers.


Your £30 gift will expire in 3 days.
GET YOUR £30 VOUCHER NOW
Since we are only interested in the Seller part
Then set up your profile, decide on what you want to offer and get to work. The seller has put these 3 Elements into consideration
Create An Outstanding Profile
Creating a profile means Building your profile to such an extent that the Buyers can find you easily and offer you a job.
Now, this is not as easy as it sounds. To build a profile you need to fill it up with all the information that you can possibly gather related to your freelance career.
You actually have to impress the Buyers enough so they feel comfortable in offering you a job.
To build your profile you need to Fill out your complete profile, add photos and share your previous work experiences.
PeoplePerHour has a ranking algorithm in place which ranks your profile and the better the rank is, the more chance that buyers will come to your profile and end up offering you a job.
Now as you earn on different projects, your rank will improve thus exposing you to more opportunities.
Write Direct Proposals To Buyers Project
PPH also allows the Sellers to send direct proposals to Buyers on a job that is listed.
To do that you need to search for relevant freelance jobs on a daily basis and start sending proposals to the ones you think you can complete easily.
Now there's a limit to the number of proposals that you can send, you can send only 15 proposals in a month.
That means that you have to be very careful about who you are sending a proposal to Try to pick the easiest jobs at the start and create great proposals to minimize the chances of rejection.
Understand how Hourlies Works
Hourlies are the jobs you post – You include information about yourself which is relevant, set a price, and then publish your hourly.
Members can search for the jobs they need to complete and browse through hourlies, purchasing which one they need
What are you good at?
Creative content creator?
Social Media Marketing?
Tutorial or Coaching?
Graphic design?
Academic research works?
Website design?
Facebook fan page?
making a logo?
writing some articles?
Whatever you can offer, offer it.
There are a lot of niches available in the freelancing marketplace
It's the best opinion you conduct research in the marketplace and sees what you can Offer! Or learn more from other Freelancers.
People Per Hour Payment Method
PeoplePerHour pays the sellers through Paypal or Bank Account Payoneer card To withdraw your earnings, you have to go to the Payment section and use the Withdraw Funds link.
You can choose the money to be transferred to either your Paypal or your Bank account or Payoneer Mastercard.
You can read more on how to apply for the universe Payoneer MasterCard and got it shipped to you for free
PeoplePerHour takes 1 working day to process the payment
People Per Hour Seller And Buyer Fees
People Per Hour have two payment tiers like that of Fiverr and other Freelancing websites They will charge 15% + VAT of the selling price until you start to earn £175 a month,
then anything over that £175 will be charged at 3.5%.
Do you want to extend your freelance earnings source then read the top-paying freelance website you must register to get paid online instantly.
You can start selling your skills in various Freelancing marketplaces and get cool money for making use of them.
So if you want to do some freelance jobs for huge money online this is a really good place to start.
Thanks For Reading The Post, Kindly drop your Comment or Question below We Surly Reply to Every Single Question
If you like this Article Kindly Share it, Sharing our posts will encourage us to do more and provide more creative content
You like this Article Kindly Share it , Sharing our posts will encourage us to do more and provide more creative content