Last Updated on 1 second by Komolafe Bamidele
Virtual cards' popularity in the corporate sector is only expected to grow in the coming years.
Payments may be made swiftly and securely with no need to handle actual money or cards thanks to virtual cards.
The proliferation of virtual cards makes it difficult to predict which provider will provide the best services for your needs.
 Before we get into this article, which profiles 25 virtual credit card companies and startups, let's define what virtual cards are.
What are Virtual Cards?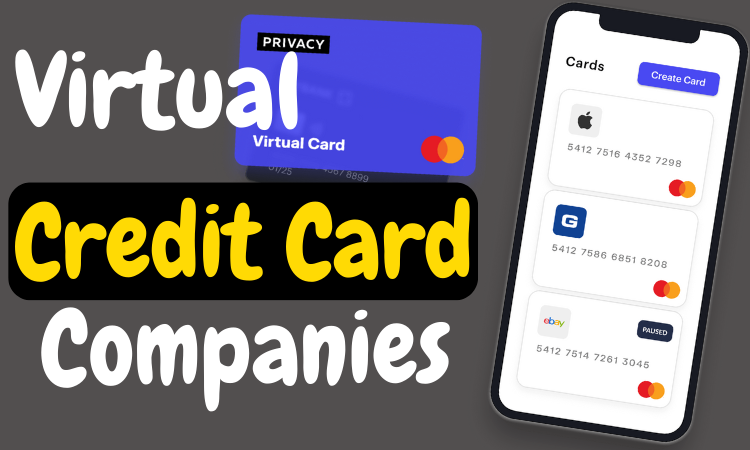 Virtual cards can be used to make payments online or using contactless technologies.
These cards are frequently given out for a single transaction. These cards may be used for contactless payment methods like Apple Pay as well as online and mobile transactions.
When you use a virtual card, you'll have more control over where and how your money is spent.
They enable payment without revealing private financial information.
Additionally, by establishing precise spending caps and expiration dates for each digital card, you may improve your financial flexibility.
Let's examine the top providers of virtual cards for online shopping.
1. Ramp.
Ramp offers unrestricted access to both digital and physical cards, in addition to streamlined administration and approvals, and seamless accounting linkages.
 Unlimited 1.5% cash back is included with the cards. With Ramp, you can limit your spending in advance.
Features
Not requiring a personal guarantee or credit check.
It imposes limitations on both ongoing use and individual transactions.
One dashboard for real-time reporting and analysis.
It has first-rate service and support for customers.
2. Emburse.
Emburse is a financial services provider that issues both digital and plastic credit cards. The authorization and approval processes are role-based. 
This service ensures each customer is who they say they are before a transaction is processed.
Features
It provides instantaneous analysis and reporting.
Emburse is a mobile receipt service.
Both Apple Pay and Android Pay may be used with it.
The program can classify costs mechanically.
3. DivvyPay Virtual Credit Card Companies.
Creating a virtual card using Divvy is easy. The system enables you to personalize a subscription card for each of your business's partners. 
Then, you may decide how much money will be on the card.
With the card's monthly automatic limit reset, you never have to worry about paying late fees for making purchases.
Features
Each vendor has its special card number.
Take charge of your recurrent bills.
Real-time account alerts.
Monitor spending as it happens.
4. Airtm.
To make electronic payments, you can use the Airtm platform.
You may use the actual exchange rate while sending money online. Your digital card may be loaded with money at this site.
Features
There is no minimum balance requirement.
Allows you to shop online in any currency you choose.
It provides cryptocurrency-reloadable cards.
Suits over 800 financial institutions for fund transfers.
5. Advcash.
Online purchases are made simply with the help of Advcash. 
You may send money to people who already have Visa cards, email addresses, or other accounts.
Features
You can add several currencies to use in the same account.
Instantaneous and trouble-free currency exchanges are possible on this platform.
Accepts major payment cards.
6. Card.com Virtual Credit Card Companies
If you want a virtual credit card to use for your online shopping, Card.com is a good place to start.
Credit checks are not required, and there are no additional costs associated with using the platform.
If you care about design, you will be thrilled to get a personalized electronic card from Card.com.
Features
Send and receive funds from any country.
Communicate easily with your American financial institution.
There aren't any covert charges.
Don't worry about having your credit checked.
7. Open.money
You may also obtain a virtual credit or debit card issued via Open.money, which is an excellent platform. 
Open's virtual card gives you the convenience of centralizing the management of all your paid memberships in one place.
The cards help you stick to your monthly spending plan by letting you limit your spending and keep track of your purchases in real time.
Features
Create personalized labels to facilitate accounting.
Allows you to limit your spending.
Monitor your expenditure as it happens.
8. PST.net
PST.NET is a service that facilitates the processing of American banks' virtual payment cards. 
The firm's services can be utilized by either individuals or businesses.
You may use the digital card at any online merchant that accepts MasterCard.
Features
Enrollment without interrogatory forms and conversations.
American bank-issued VISA and Mastercard credit cards with unique BINs.
Card distribution is boundless and instantaneous.
9. Neteller
The Virtual Card service offered by Neteller facilitates digital money management for use in online purchasing and other electronic banking operations. 
Neteller is a virtual card service that allows you to buy and sell bitcoins.
Neteller Features.
Instant, hassle-free deposits and withdrawals
Pay only with your NETELLER credentials
Earn loyalty points and be rewarded
10. Wallester Virtual Credit Card Companies
You may purchase online with confidence with Wallester.
It's a top virtual credit card because each card number is exclusive to a certain vendor.
 With this company, cancelling a membership is as easy as clicking a button.
Features
Instantaneous card production in any quantity.
There are no costs associated with using the card.
Complete transaction tracking through in-depth reporting and analysis.
11. American Express Go
American Express Go is one of the virtual credit card options that may be used in the United States. 
It makes it possible for your freelancers, contractors, and recruits to receive payments through mobile devices flexibly and speedily.
Features
You may easily create your virtual card.
It makes it easier for you to keep track of every transaction.
Spending may be managed thanks to this service.
12. Payhawk Virtual Credit Card Companies
When it comes to credit card processing for companies, Payhawk is hard to beat. 
Managers can keep tabs on spending and see where their money is going in real time with this card thanks to its seamless integration with Payhawk's software.
Features
Syncs in real-time, automatically, with accounting programs.
Allows you to limit your spending.
Spending on recurring items and withdrawals from ATMs may be managed instantly.
Easy administration of several cards at once.
13. Privacy.com
When it comes to safe online purchases, Privacy.com is unrivalled thanks to its virtual debit and credit cards and helpful extras. 
However, Privacy.com's virtual card application is limited to residents of the United States. 
Depending on how quickly your application is processed, you might receive a virtual card within 24 hours.
Features
Make as many as 60 cards a month.
Expert Account Managers Available.
Cards that can only be used at a certain merchant.
Allows you to limit your spending.
14. Payoneer
If you have a Payoneer account, you can benefit greatly from the company's virtual card service. 
It's easy to be approved for and facilitates rapid online purchases.
Purchasing a subscription using one of these cards is a convenient option.
Features
It's simple to use.
Approved at any merchant that takes MasterCard.
Open a Payoneer account at no cost.
15. Netspend
Netspend provides an alternative to traditional prepaid card services.
Text messages are used by this specific card processor to communicate transaction changes.
With this temporary service, you may check your credit card balance whenever you want and from any location.
Features
With this temporary credit card service, you may access your balance whenever and wherever you are.
Easily generate a temporary card number.
This quick virtual debit card provider protects your card even if it is used.
Netspend cards function anywhere.
16. Wise
You can easily keep track of your spending and withdraw cash from any ATM in the world with your Wise virtual credit card. 
The virtual card lets you spend online with current currency rates.
It's perfect for avoiding fraud because the card may be frozen after each use. Wise's virtual card is UK Financial Conduct Authority-approved.
Features
Accessible for personal or professional use.
Enables you to safely buy things online.
AES-256 encryption is available.
Support for Chrome, Firefox, Safari, and Microsoft Edge browser add-ons
17. US Unlocked
The most notable feature of this digital prepaid card is its ability to be used at several US merchants regardless of the user's physical location. 
To make one-time purchases from a wide variety of US businesses, all you had to do was join up for their service, load the card with $50, and pay a nominal charge.
Features
U.S.A. shipping and billing address provided
Set spending restrictions.
Access only-US websites
Links up with shipping companies
18. IronVest Virtual Credit Card Companies.
IronVest is a virtual private network service that safeguards your financial transactions, personal information, and passwords.
You may complete your purchase using your mobile device, computer, or tablet browser.
Each time you make a transaction, IronVest might create a fresh credit card number.
Features
All devices can safely sync with it.
This service can prohibit secret data collecting and more.
The online form may be completed in a single tap.
It can encrypt passwords.
19. Walmart MoneyCard
Walmart MoneyCard is an all-inclusive digital financial solution that can satisfy all of your banking requirements.
Walmart MoneyCard accepts quick deposits from virtually any bank in the United States. 
With this money, buying things online is quite simple.
Features
Fund from any available account.
Get 2% back on your savings.
Create a virtual family debit card account with room for four more users.
20. LeoPay Virtual Credit Card Companies
LeoPay is an international payment system that provides customers with International Bank Account Numbers (IBANs) in a variety of currencies within minutes of creating an account.
The Leo Visa card is virtual, making it simple to use for purchases and cash withdrawals from any location.
Features
Obtain IBANs for more than 10 different currencies.
There are two Visa gift cards available.
Rapid feedback.
The website and mobile app are available at all hours.
21. EzzoCard
EzzoCard is a service that might be useful for those who shop or pay for things online and are concerned about maintaining their privacy. 
Obtaining the digital card that you choose from the website is a simple process.
Features
You may safely make anonymous internet purchases.
Simple steps to apply.
No need for a checking account or credit check.
There are four different card varieties.
22. Bento
Bento is a service that provides virtual cards and makes it easy to monitor and manage the amount of money that your company spends.
With the assistance of this service, you will be able to generate and link a virtual card to your account.
Features
Your account will safely save your credit card data.
It's useful for keeping track of both digital and actual cards.
Once a virtual card is issued, it may be used immediately.
23. EcoPayz
With EcoPayz, consumers have access to a unified virtual payment system that enables them to make international monetary transactions from a single, secure location on the web.
EcoPayz's virtual card makes it simple and convenient to make purchases from merchants, partners, and online retailers while protecting your financial data.
Features
Transfer funds to and from any country.
Control your finances from a centralized hub.
Simple to set up; no need for a bank account or credit check.
Strong safety measures are in place.
24. ePayService
With the assistance of ePayService, you won't need to worry about the security of your online transactions. 
This is one of the greatest virtual credit card suppliers accessible for managing your online transactions, so you should consider using it.
Features
Your electronic card may be shared with others immediately.
The company accepts US Dollars, British Pounds, and Euros.
Your free Debit card number and information can be protected.
This USA prepaid credit card allows you to set your spending limits when buying online.
25. Blur
The additional degree of security that virtual credit cards, like those issued by Blur,
offer for both online and in-person banking transactions is one reason for their widespread use.
You may easily generate new credit card numbers to protect yourself against identity theft and other forms of fraud.
Features
Facilitating quick and simple financial dealings.
Each payment should result in a fresh VCC number.
Universally used on any gadget.
Passwords are encrypted.
Conclusion
Alongside the rise of digital payment methods and the demand for enhanced safety in monetary transactions,
the use of virtual credit cards as a practical and versatile alternate payment method has increased in popularity.
Not only is it tremendously helpful, but it also has a high level of reliability and safety.
You are free to shop online from any location on the planet so long as you have the appropriate virtual credit card.
Using a virtual card might save you time and effort in a variety of different ways.