Last Updated on 2 months by Komolafe Bamidele
Homeownership comes with various responsibilities, including protecting your property and belongings.
One crucial aspect of this protection is having homeowners insurance.
But what about the specific features of your home, such as a pool? Does homeowners insurance cover pool damage?
This article will explore the ins and outs of homeowners insurance pool damage coverage and provide insights to help you make informed decisions regarding your insurance policy.
What Is Homeowners Insurance For A Pool?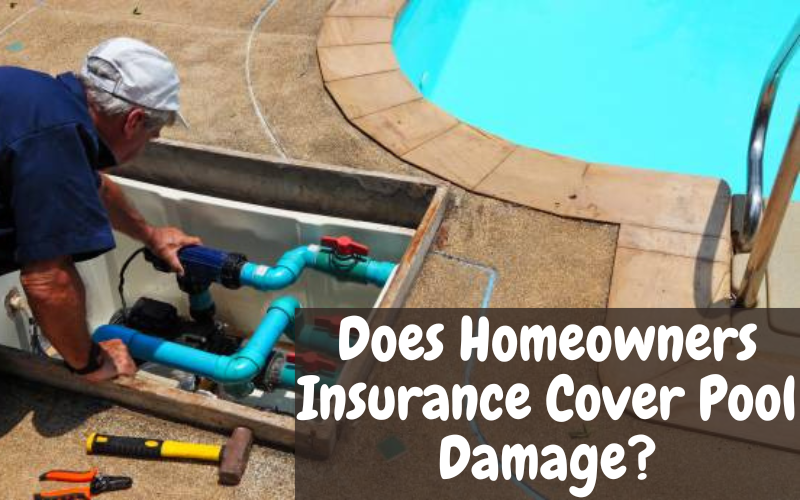 Most standard homeowner's insurance policies cover pools. Your homeowner's insurance policy's dwelling coverage should extend to protect your pool. 
This implies that your insurance may pay to fix or replace your pool if it is destroyed by a covered risk such as a fire or high winds.
Some policies automatically cover pools; others may need special endorsements or higher premiums.
Insurance costs are influenced by several variables, including the pool's worth, design, safety features, location, and climate.
Knowing your pool coverage's terms, restrictions, and limitations requires reviewing your policy and talking with your insurance provider.
Regular upkeep and safety precautions are needed to keep costs low and protections in place.
How Does A Swimming Pool Injury Lawsuit Work?
The injured party should file a lawsuit against the irresponsible party who caused the swimming pool accident.
Establishing negligence on the side of the pool owner or another party and a failure to take reasonable precautions to prevent injury is essential.
For example, you may be able to establish that the pool owner failed to take reasonable precautions to ensure the safety of those using the pool.
Homeowners, government agencies, waterparks, hotels, and even the makers of faulty pool items might all share responsibility for an incident involving a swimming pool.
It is recommended that anyone injured in a pool accident seek the advice of an experienced personal injury attorney
who can assist them in filing a claim for damages to cover medical bills, lost wages, property damage, pain and suffering, and other losses.
Does Homeowners Insurance Cover Pool Damage, Or Should You Stop Paying?
Your insurer will pay for damage to your pool that results from specific hazards covered by your homeowners' insurance policy.
Insurance policies often include hazards like fire, falling items, vandalism, and even natural calamities like hurricanes.
Your home's insurance policy may contribute toward repairing your pool if any of these things happen, up to the policy's limitations.
Your homeowner's policy should help pay for repairs or replacements if, for instance, a tree falls on your pool during a storm and destroys the building or equipment.
The extent of coverage is subject to the policy's limitations and any deductibles that may apply.
It's worth noting that standard homeowner's insurance policies don't pay for damage that gradually occurs due to neglect or ageing.
How Much Does Homeowners Insurance Cost With A Pool
The average annual cost of insurance for a home with a swimming pool is $2,635.
However, the cost of house insurance with a pool varies widely from policy to policy.
When calculating your premium, insurance companies consider the policy's coverage limits, your home's location, and the frequency with which claims are submitted in the area.
Insurance companies have a higher risk of lawsuits when pools are present because of the danger they pose, especially to youngsters.
Factors such as pool size and design affect the total cost of pool insurance. The premiums can go up if the pools cost more money.
There are a few pool characteristics that affect your premiums. A diving board, for instance, may raise your premiums because of the increased dangers it presents.
A similar increase in risk and rates might occur if your pool is neglected and turns into an eyesore.
If you own a pool, you may need to boost your liability insurance to at least $500,000 to protect yourself against potential lawsuits.
This hike is necessary to offset the cost of addressing the hazards and accidents in and around the pool.
How Long After An Injury Can You Sue For Swimming Pool Accident Claims
You should know there is a time restriction on submitting a claim for damages after being injured in a swimming pool.
Typically, you have three years from the date of the occurrence to file such a claim.
You have three years from the date of the accident to file a lawsuit and demand payment for any damages you suffered due to it.
It's important to remember that every claim is different, and deadlines may change depending on factors, including the nature of the accident and the state in which the claim is filed.
 To ensure you fully grasp the applicable time restriction in your particular case, meeting with a personal injury lawyer or seeking legal counsel immediately after the occurrence is highly recommended.
Does Homeowners Insurance Cover In-Ground Pool Collapse?
Homeowner's insurance seldom covers pool collapse.
Homeowners insurance covers roof collapse but not swimming pool collapse.
If your pool collapses due to structural failure, age, wear and tear, or incorrect installation, your homeowner's insurance may not cover repairs or replacement.
This information is based on homeowners insurance plans.
Review your insurance policy or consult your provider to determine your pool collapse coverage.
Does Homeowners Insurance For Ground Pool Repair?
Your home insurance policy may change depending on the materials used in your backyard pool.
Above-ground pools may be considered personal property or other structures in the event of damage, as opposed to in-ground pools, typically covered as part of your home coverage or other buildings' coverage.
You should check with your insurance provider to see whether the limitations on your property would pay to fix or replace your above-ground pool if it is damaged.
Does The Homeowner's Insurance Pool Have No Fence Repair?
In most cases, house insurance policies will not cover a pool without a fence surrounding it to avoid unintentional drownings.
Failure to erect a pool fence may result in the denial of responsibility claims if someone is injured or drowns in the pool, as insurance companies need such a fence as a condition of coverage.
Additionally, many localities have their own fence regulations, making possessing a pool without one unlawful.
Since pool fences are mandated rather than voluntary safety measures, they are unlikely to reduce your homeowner's insurance premiums.
Conclusion
In conclusion, Fire and wind damage to pools are usually covered by homeowners insurance.
Degradation from neglect or ageing may not be covered. Check your policy's terms and conditions.
Pool collapse and repair coverage vary by kind, and homeowners insurance usually includes a pool fence to avoid accidents.
 To assure coverage and reduce dangers, follow local rules and maintain regularly.