Last Updated on 6 months by Komolafe Bamidele
Limited Liability Companies ( LLCs) are business platforms in the United States that shield their owners from liabilities, debts, or any personal responsibility.
Limited liability companies combine the characteristic of a corporation with that of a sole proprietorship or partnership.
If you're a small business owner who wants to register your businesses then you need to read this zenbusiness LLC Formation review.
Zenbusiness LLC Company History: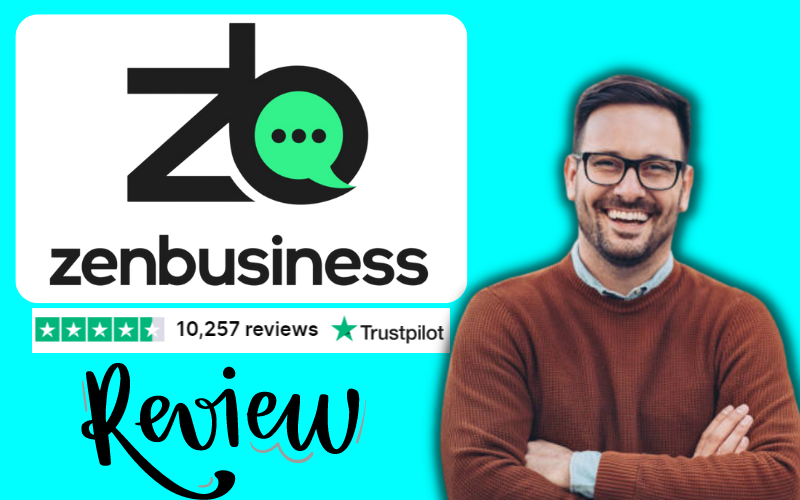 ZenBusiness is a company that was founded to help all types of entrepreneurs start, grow and maintain all types of businesses.
This LLC company was created in 2015 by a smart group of entrepreneurs who faced the struggles of opening a business alone. Many people still face such struggles today.
ZenBusiness helps facilitate the formation process of small businesses for all aspiring founders.
I have used ZenBusiness to create an LLC for our business and I have carried out an extensive analysis of all the features of this platform in this zenbusiness LLC Formation review
if you're in hurry to Launch With ZenBusiness which includes $0 Start an LLC Business & $0 LC Formation then Click Here
Who Should Form LLC?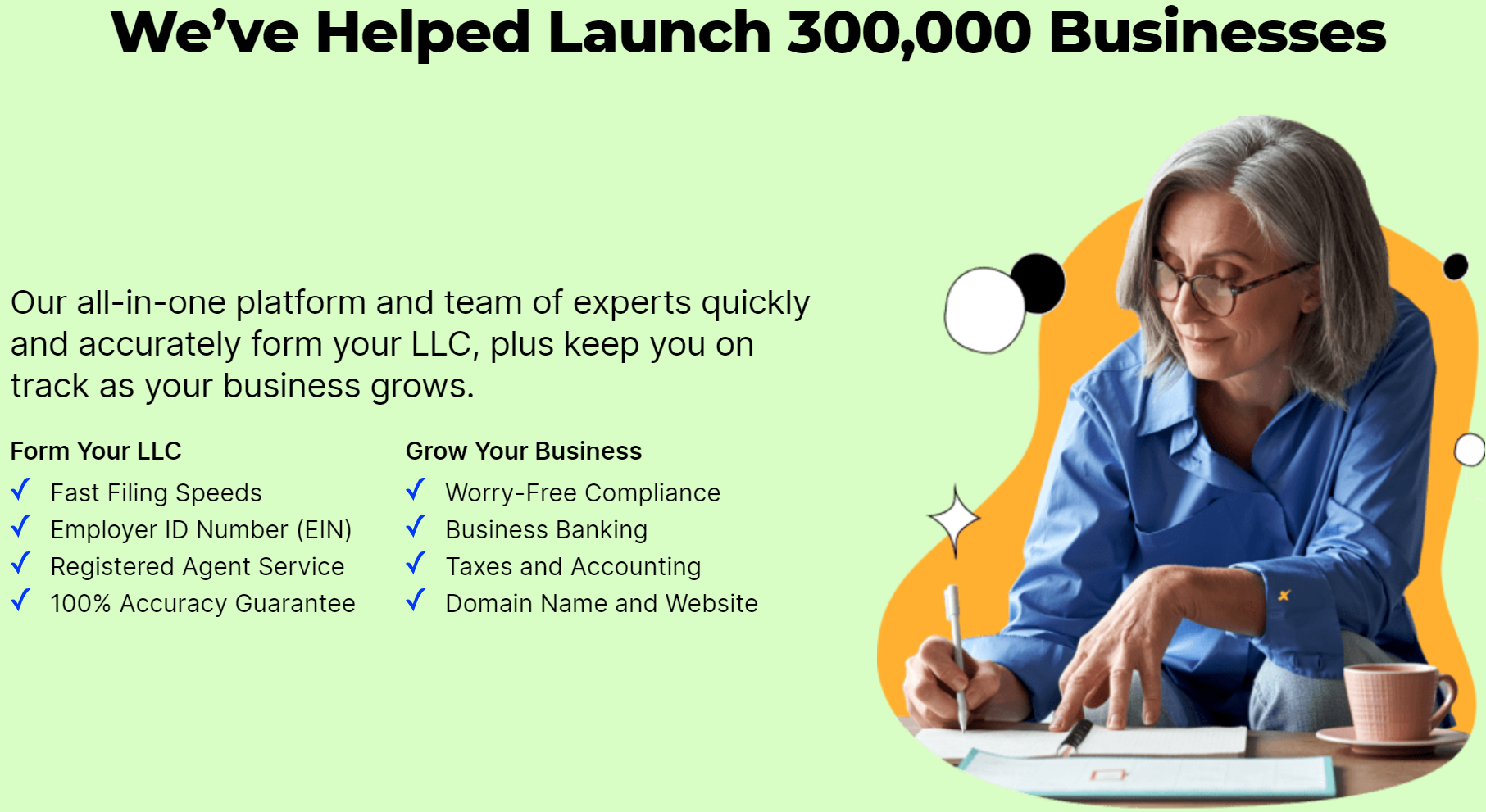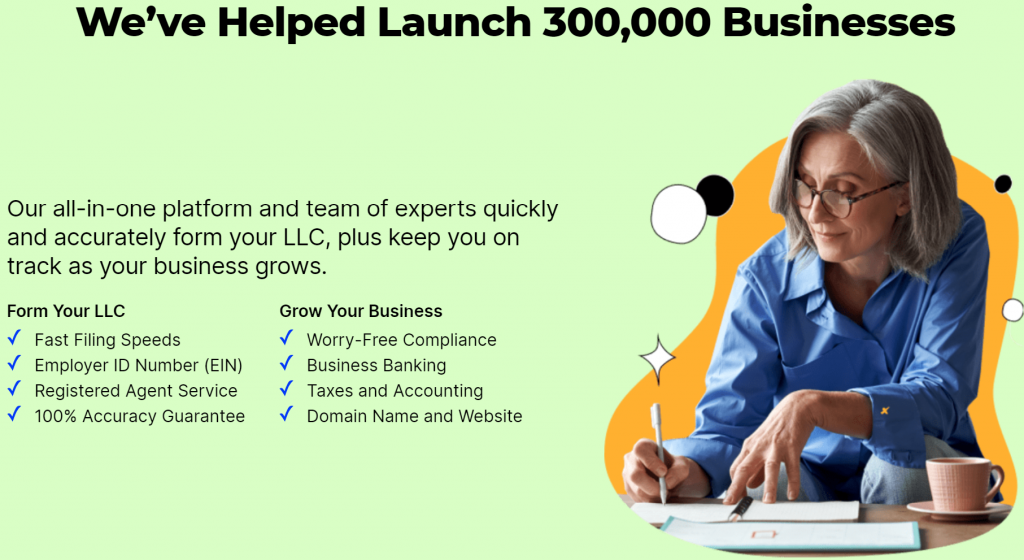 If you own any type of business whether a partnership or sole proprietorship, or you want create stripe Account from unsupported countries you should look into setting it up within an LLC.
This will give you similar legal protection to that of a corporation while enabling you to grow your company as a small business and make all the decisions.
Zenbusiness Features:
1. Cost Value – 4.5/5:
ZenBusiness takes care of small business owners by creating LLC packages that are easy to afford.
Also, they add super helpful products like a business website, annual reports service, and custom operating agreement template.
All these are very important for your business and can take your business to the next level.
2. Customer Service -5/5:
This is the best feature by a mile of this platform. They arguably have the best staff in the world.
They offer state-specific help that is very easy to understand.
Also, entrepreneurs are excited about the quality of support they received from customer support when they were setting up their businesses. This can be seen in the numerous reviews online.
If you are a new business owner, this is very helpful. If you already need professional customer service and expert opinions you should make use of ZenBusiness.
3. Ease of Use -4/5:
Well, this feature is not perfect due to the complexity of its user experience when it gets to the checkout process.
They make use of a chatbot to explain the LLC-building journey to customers.
This takes longer than normal filling a few pages of information because you have to send so many messages on the chatbot.
They should consider just having a checkout process that involves inputting a few pages of information and picking an LLC feature they think is best for them.
All the details you need should be made available to you and this way, you need to wait for a chatbot to send you more information about features and pricing before you know about it.
4. Included Features -5/5:
ZenBusiness provides a very worry-free compliance guarantee and this brings more business owners to build their LLCs.
Here are a few additional features that make ZenBusiness a very good option:
They provide filing report alerts annually.
Documents are submitted on your behalf and this saves you all the stress. You only have to cover the costs of the state filing fees.
They cover the cost you need to regain good standing if your company fails to meet a state requirement or a deadline.
You are provided with a business website, business email address, and domain privacy.
All of these are features that are added to the ZenBusiness Premium package.
They are very important tools to help you take your business to the next level and increase visibility and also protect your privacy.
Zenbusiness LLC Cost & Pricing: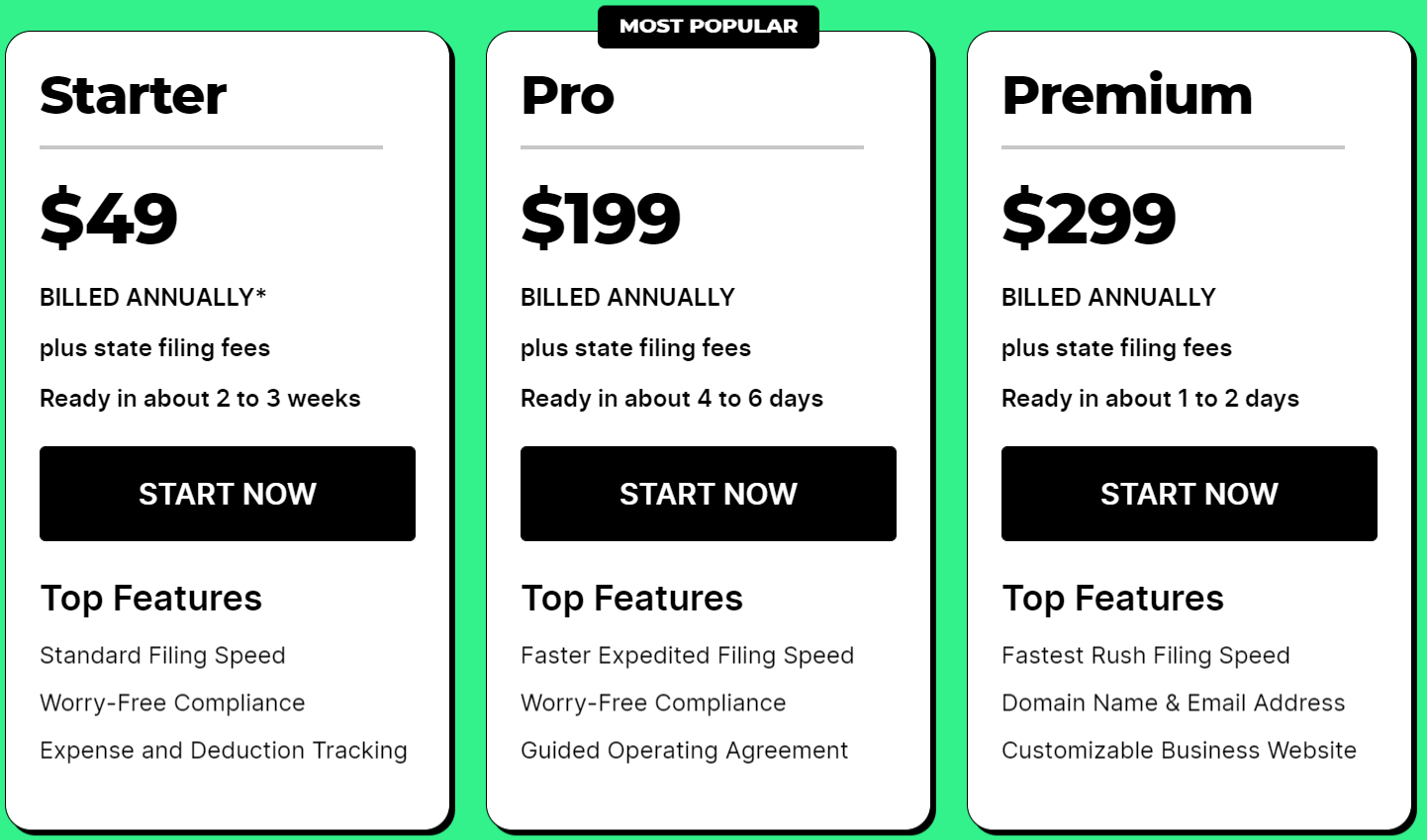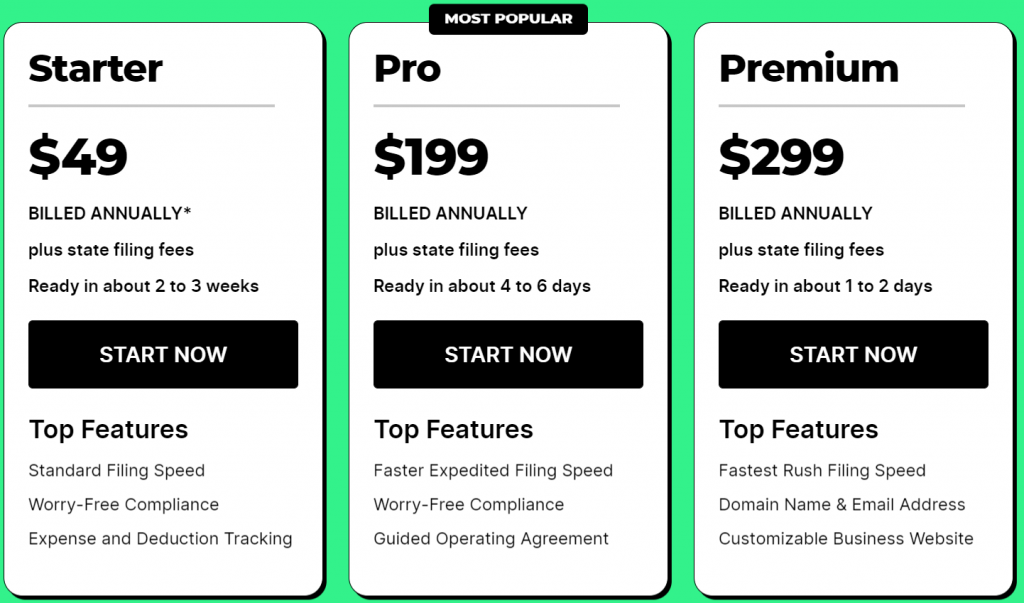 ZenBusiness offers multiple LLC plans: The starter plan, the Pro plan, and the Premium plan.
This is common among business formation services and I have reviewed each plan and their total pricing below:
1. ZenBusiness Starter Plan: $49 + State Fees:
This plan offers you the basic LLC services for a small stipend at $49 without the state fees of course.
This is very good pricing as other competitors of ZenBusiness charge an extra $25 or even $50 than what ZenBusiness does just to help set up your company.
ZenBusiness Starter Plan Features:
Filing Articles of Organization.
You get unlimited searches to check for name availability.
Customer support is available either on the phone or through email.
There is an online dashboard that helps you see all important paperwork and documents for your limited liability company.
Free accounting consultation.
Free automatic expense tracking.
Free tax deduction tagging.
2. ZenBusiness Pro Plan: $199 + State Fees:
All the services available to people using the starter plan are available in the ZenBusiness pro plan and even more.
ZenBusiness Pro Plan Features:
Here are some extra features that the Pro plan offers:
Custom operating agreement template.
Expedited Filing Speed – business formation documents completed and posted on the dashboard within a week.
3. ZenBusiness Premium: $299 + State Fees:
ZenBusiness premium plan covers all of the features listed on both plans and some additional ones.
ZenBusiness Premium Features:
Rush Filing Speed: Your documents are completed and posted within a few days.
Online tools (business domain name, email, business website).
ZenBusiness Registered Agent Cost:
ZenBusiness gives a very good deal when it comes to registered agent services.
You can get their services free for the first year of an LLC formation and after that, you are charged $119 annually.
However, if you only require the services of only registered agents you will get charged $99 per year.
ZenBusiness LLC Pros:
ZenBusiness offers brilliant worry-free compliance services and this is available in all plans.
You enjoy free tracking and tax deduction tagging. This helps you to save money.
There are so many good customer reviews about ZenBusiness.
You are entitled to a complete accuracy guarantee.
Zenbusiness LLC Cons:
If you are looking for more personalized customer support, ZenBusiness does not offer that and you would need to check for other alternatives.
You have to pay extra fees for EIN, a registered agent service, and other essential features on the platform.
Zenbusiness LLC Trustpilot Testimonials Review: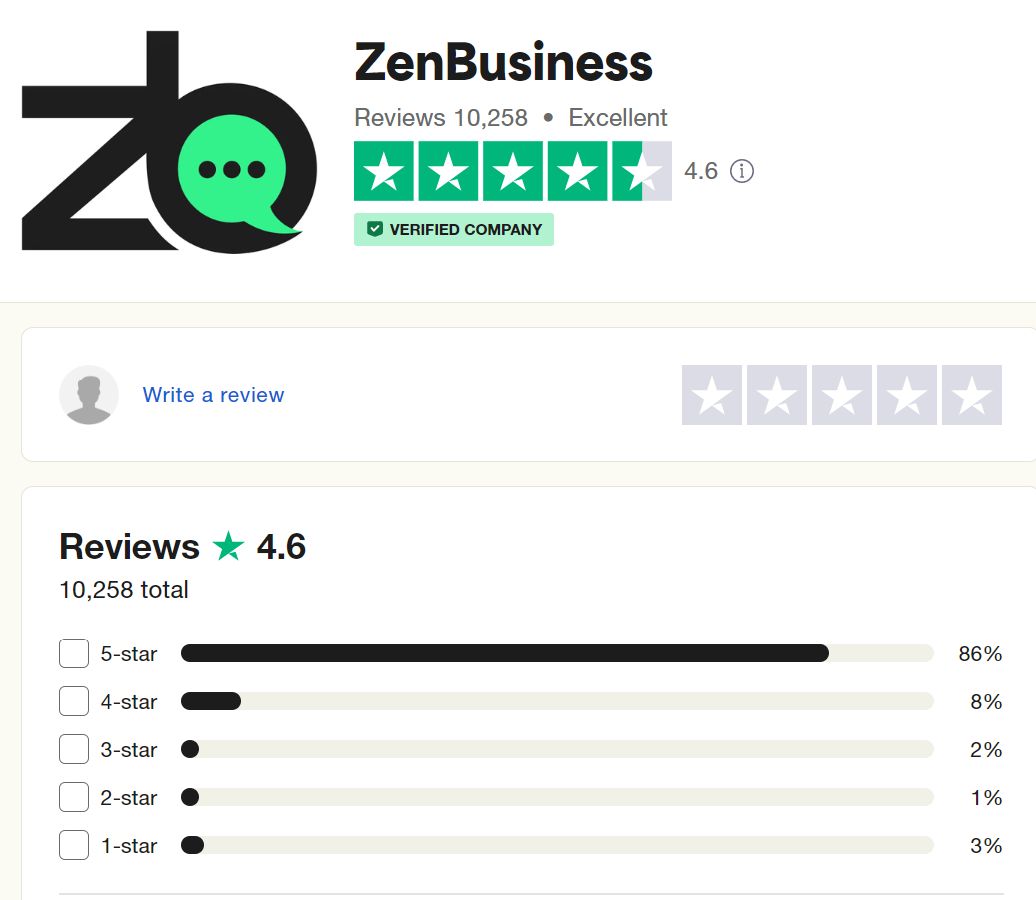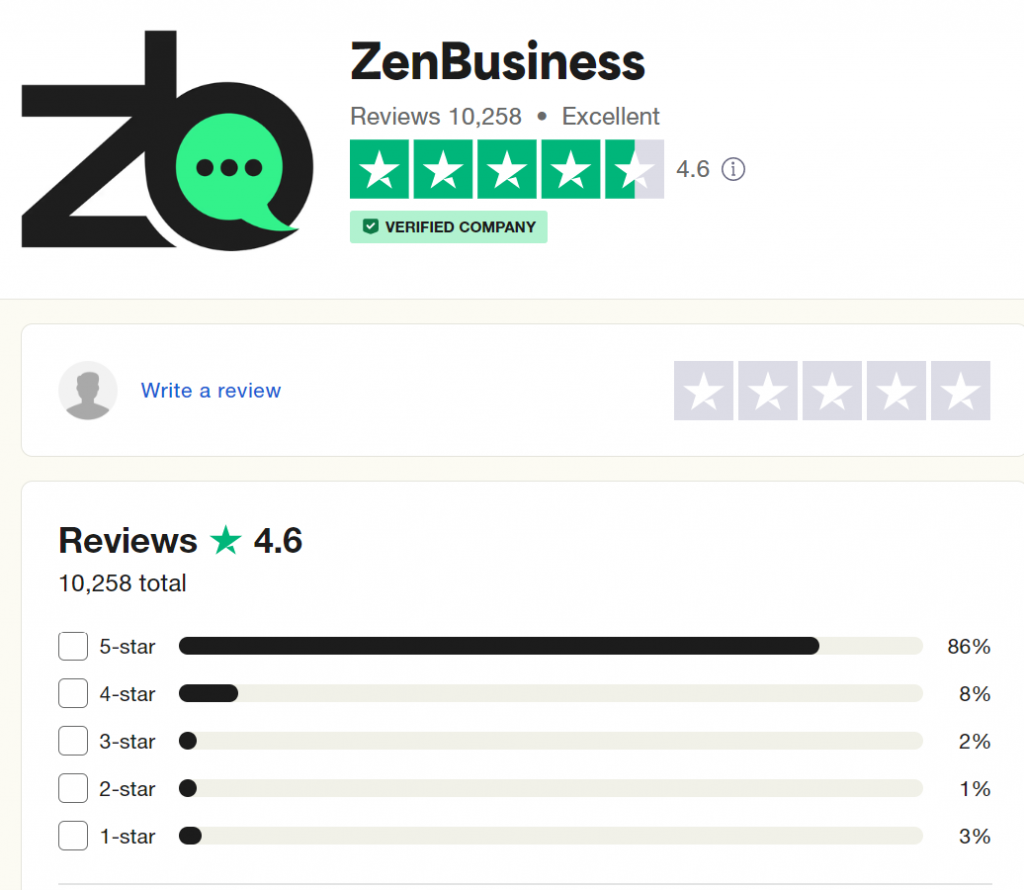 1. Fred (5/5):
I encountered superb customer service and customer experience. I made a mistake on my end and the rep I worked with was the absolute best. He Made sure everything was worked out very promptly. Very pleased with my experience and will continue to use ZenBusiness in the future.
2. Martha (4/5):
I had quite a good experience with ZenBusiness, the team is very nice and they made sure all my questions were answered. Also, they made me feel very comfortable with the decisions I made.
They also made sure I got everything I needed, it was top-notch. The only reason why I didn't give them a perfect score is that the state filing fees combined with their fees are quite a lot.
It was, however, a wonderful experience and I look forward to working with them again.
3. Jane (5/5):
Very professional customer service. They are very helpful and answer all the questions asked. They make the process a lot easier.
4. Micheal (5/5):
They are very educational and explained a very confusing process to me with ease. I called for some help and they helped me sort out my issues and explained it all to me in less than 30 minutes.
They're perfect.
5. Judith (4.5/5):
The total service was very amazing, Starting a business has been difficult for me for some years now and when I reached out to ZenBusiness I wasn't sure what to expect.
I thought it was going to be a very difficult task but to my surprise, she explained it all perfectly and made sure I understood every single thing she said.
This is nice of them and they are very thoughtful for helping all their users in this way.
Zenbusiness FAQ
Can you get a business email with Zenbusiness? 
Yes, ZenBusiness gives you a single email inbox which is the same as your domain name and also provides  5 GB of storage for free. 
Is Zenbusiness worth it for any entrepreneur looking for an LLC formation service? 
ZenBusiness is ideal for any entrepreneur looking for an easy way to register a company.
How can I start an LLC in California? 
To register a business in California you need to deal with the California secretary of state to get a business license so you can have all your paperwork tidy.
The good news is Zenbusiness will do all the work for you 
Do you need a private virtual address for an LLC?
To register your business, you will need to get a physical street address. This could also be a virtual address that is located somewhere physically. 
It can also be where your business is located.
Conclusion:
ZenBusiness provides lots of stress-free LLC formation at a very cheap price and it also offers some very helpful features too.
The formation process is completely online and it is quick and easy as you are already provided with everything you need.
ZenBusiness accesses all your details online before your business formation and this ensures that there are no problems in the future.