Last Updated on 6 months by Komolafe Bamidele
If you've ever wanted to use a WPForms Best Form Builder For WordPress plugin on your website, you're in luck. We have partnered up with WPForms to run a competition to win WPForms WordPress Pro Plugins.
This giveaway allows you to win a WPForm plan worth up to $199.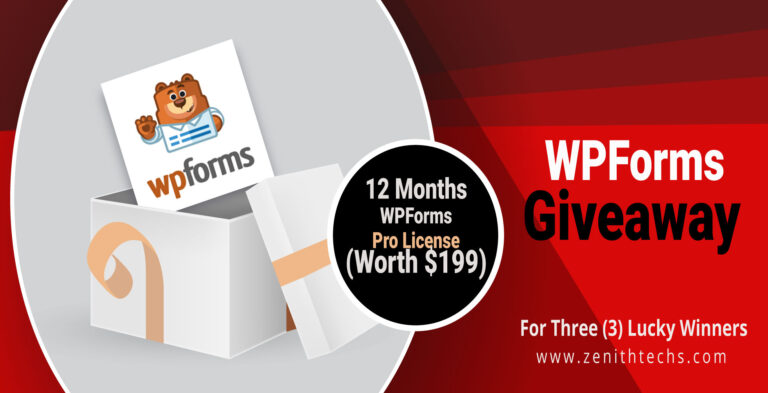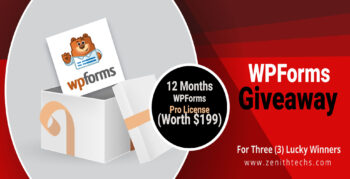 This means you get to access to templates that will help you create forms like surveys and polls,, form landing pages, offline forms, and conversational form.
You also get to create forms for up to 5 different sites. Sounds great, doesn't it?
All you have to do is be among one of our 3 lucky winners to get access to this amazing price.
How To Win 12 Months WPForms Pro License.

The steps to winning your 12 months WPForms Pro License is pretty easy. All you have to do is type in your email address and then share the competition with friends on social media.
This will give you more entries and increases your chances of being among the lucky three.
When sharing the competition on your social media pages include the hashtags #WPFormsGiveaway and #Zenithtechs to increase your chances of being selected.
If you don't include the hashtag in your posts, you might not end up with the prize.
At the end of the giveaway, 3 lucky winners will be selected based on the rules and regulations of the game.
The competition will be run for 3weeks which gives you enough time to share and to reach out to as many people as you can.
Note: Winners of this competition will have to acknowledge that they have received the license after the end of the competition.
What is WPForms Best Form Builder For WordPress ?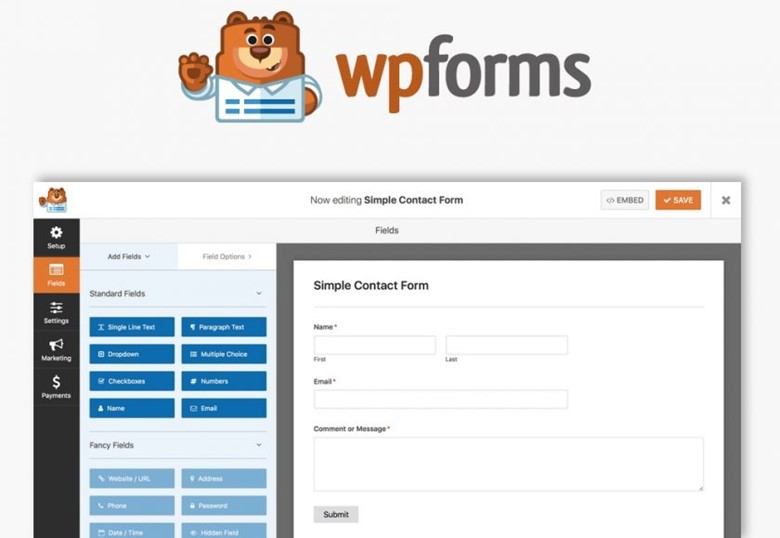 WPForms is a WordPress form plugin that's perfect for bloggers, business owners, developers, and basically everyone who owns a website and looking to create a form they can easily track.
RELATED; How To Easily Set Up Google Analytics Stats Dashboards On WordPress
The forms created by the plugin are very user-friendly and will increase your chances of getting subscribers by 100%. Another great thing is that you won't need to be a developer or have coding skills to use the plugin.
It is so easy that all you need to do is press a few buttons and your plugin will be live on your blog in no time.
WPForms Features

As said earlier, WPForms allows you to create forms on your WordPress site but unlike other types of form builder plugins, it offers you many options to choose from.
This plugin comes with the following features
Unlimited Forms: WPForms allows you to create as many forms as you need. This feature is available on all of its plans so you can go ahead and create your forms without worrying about a limit.
Form Templates: You also get a large number of form templates that will help you customize your form to suit your audience.
Spam Protection: Spam can be very problematic and you don't want anyone spamming your forms. WPForms offers spam protection feature that keeps your forms in check at all times.
Drag & Drop Form Builder: This feature helps you to create forms with ease. With the drag & drop form builder, all you need to do is select the form that you think would be best for your site with a few clicks.
Instant Notifications: WPForms instant notification feature notifies you of any activity on your forms the minute it happens. This helps you and your team respond quickly to any leads.
File Uploads: With WPForms, users can upload their files and media during form submissions.
Paypal Addon: WPForms integrates the Paypal Addon in your forms. This helps if you plan on collecting payments and donations from your users.
Stripe Addon: If for one reason or the other, your users are unable to use the Paypal Addon to make payment, they could always try out the Stripe Addon and make payment with ease.
Email Marketing Software Addon: if you use email marketing software to communicate with your users, you can easily integrate the software with WPForms. WPForms allows you to integrate email marketing software like Mailchimp, Campaign Monitor, GetResponse, Active Campaign, and Aweber.
Geolocation Data: This feature allows you to track the demographics of your users.
Zapier Addon: Zapier allows you to integrate web applications. On WPForms, you can connect with over 500+ web apps using Zapier.
Post Submission Addon: This feature allows users to submit guest blog posts and any other content along with the form.
Survey and Polls Addon: With this feature, you can create surveys and polls forms.
Signature Addon: This feature makes your form look more professional. It allows users to sign on your online forms with their touchscreen or mouse.
Other features you would get access to while using WPForms include:
Form Landing Pages
Conversational Forms
Form Abandonment
User Registration
Offline Forms
Type of Forms To Create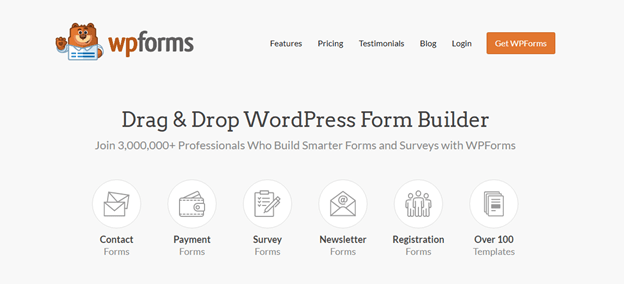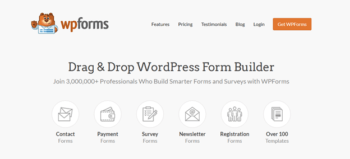 While using WPForms, you will find 100+ form templates to use to create whatever form you want to put on your site. Whether you're creating a survey & poll form or conversational form, you can surely find the right template for it.
Below are some of the most popular form templates you can find on the plugin.
Content Entry Form
Request A Quote Form
Emergency Contact Form
Equipment Checkout Form
Event Planner Form
Online Event Registration Form
User Registration Form
Cancellation Survey Form
Simple Contact Form
Conference Registration Form
Family Reunion Registration Form
Church Membership Form
Basic Mortgage Application Form
Prayer Request Form
Travel Request Form
WPForms Free Trial

Unfortunately, WPForms best form builder For wordpress does not offer a free trial, so if you want to use any of the features, you would have to sign up for one of its pricing plans.
WPForms Pro Pricing


WPForms Pro is one of the best pricing plans offers by the software to users. This plan offers you access to most of WPForms features. If you're a blogger, business owner or developer and you want to get the best out of your website, you might want to consider going for this plan. At $199 per year, you will get the following WPForms Pro features:
Newsletter Forms
File Uploads
Form Templates
Unlimited Forms
Spam Protection
PayPal
Stripe
Form Landing Pages
Conversational Forms
Surveys and Polls
Form Abandonment
Geolocation
Zapier
Signatures
User Registration
Post Submissions
Offline Forms
Form Permissions
Bonus Form Templates
5 Sites
Priority Support
How to Create Your First form With WPForms

WPForms main marketing strategy is based on how easy it is to create forms with their plugin. Well, after creating your first form, you can decide how easy it is to do so.
To create a new form, you will have to first download and install the plugin on your site.
First, head to WPForms and create your account.
To download and install the plugin on your site, you can do so either from your WordPress admin dashboard or straight off from WPForms official website.
After downloading, you will have to install the plugin on your site and activate it.
Once activated, you move on to the next step. To use the WPForms on your site, you will have to verify your WPForms license key. This license will be verified yearly or based on your pricing plans especially if you want to receive new updates and plugin support.
Once you add the license key provided to you by WPForms, you can go ahead and install and activate WPForms addons.
WPForms offers you a lot of addons and you would need to install and activate all of them or just the ones you really need.
To Add a New Form

To create a form, click on the WPForms tab on the menu side of your WordPress admin dashboard.

On the Form
Overview page, you can go ahead and click on the Add
New button

You will be taken to the Setup page, where you can add the form name (e.g contact us), then you can select the type of template you want to create.

Next, you can edit what you want to be in the form and remove what you don't want.

After that, you can set form notifications to send out automatic emails to users when they submit the forms.

When done, you can go ahead and click on "Confirmation" for the form to be displayed on your site.
With that, you can quickly create any form that you want with WPForms drag & drop form builder.
Wrapping Up WPForms Best Form Builder For WordPress Giveaway

Now, you've seen the amazing things WPForms can do for you and how it makes it easy for you to track your users and gain more readers.
If you want all its amazing features for free, quickly drop your email address and start sharing on social media with the hashtags #WPFormsGiveaway and #Zenithtechs and if you're lucky, you will end up as one of the lucky 3 winners.
Note, This WPForms Giveaway is just for 3 winners, everyone can't win the competition. But we are giving exclusive offers to Receive 50% OFF at Checkout on WPForms Only For Zenith Techs readers.