Last Updated on 6 months by Komolafe Bamidele
Do you know that you can own your eCommerce store without paying any developer?
In this digital age, you can get a lot of free information online and harness it in anything you intend to achieve.
As regards owning a business online, creating an eCommerce store is one of the ways to have a successful online store that will be automated when visitors are making use of your website.
Meanwhile, by using WordPress CMS, we will show you how to start your own e-Commerce store in just 1 hour.
Also, we will detail the processes that are involved.
What You'll Need to Build an eCommerce Store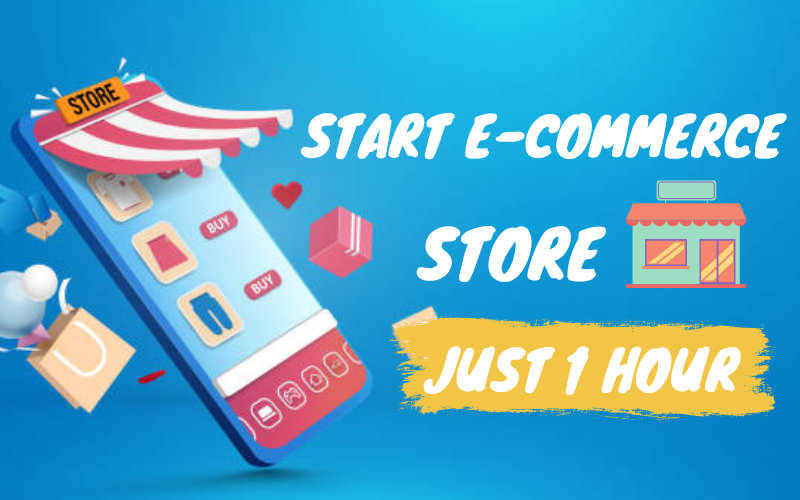 As regards building your eCommerce store, below are the basic requirements that you need before proceeding with other things.
Domain and Hosting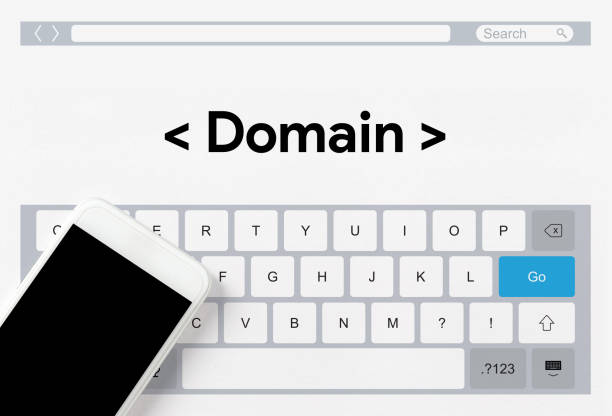 Regarding selecting a domain name, you should be aware that both the domain name you select and the firm you employ to host all of your website files will play a role in determining how successful your online store will be.
In this situation, we advise you to buy your domain name from NameCheap.
 However, as we are taking into account cost and other aspects, we suggest that you utilize Hostinger for your hosting.
Even though BlueHost is one of the most well-known hosting providers, they come highly recommended for those who frequently blogs on their websites.
Due to the plugins and files required for an efficient online store, BlueHost is not a good choice for eCommerce websites.
Make sure your domain name is brief and simple for people to remember.
Instead of using mywebsitedomainname.com, shorten your preferred name to something like abcname.com.
Additionally, we advise Hostinger due to their nearly 100% uptime. 
As a result, if you host your eCommerce store with them, customers will always be able to access your website.
WordPress and WordPress Theme


WordPress is a popular content management system used to create and manage websites.
It is free and open-source software released under the GPL.
WordPress has a widespread and active community that contributes code, documentation, and support.
It is used by millions of web developers worldwide. This outstanding cm is available on a variety of platforms, including desktop and mobile devices.
WordPress is a self-hosted solution meaning you can run it on your server.
It has a variety of features to make content management easy, including a built-in blog editor, scheduling capabilities, and a variety of plugins to add extra features.
WordPress themes are great for creating a well-rounded website. They come with all the necessary features and functions to make your website look professional. 
The theme design is important, and when you choose the right theme, you can create a website that looks great and is easy to use.
In the case of creating an eCommerce store, your theme will help in engaging your visitors.
In as much as themes ranges in price and quality, we will show you how you can use a free theme to create a fantastic eCommerce store within an hour.
At the time of writing, WordPress powers over 40% of all websites on the internet.
WooCommerce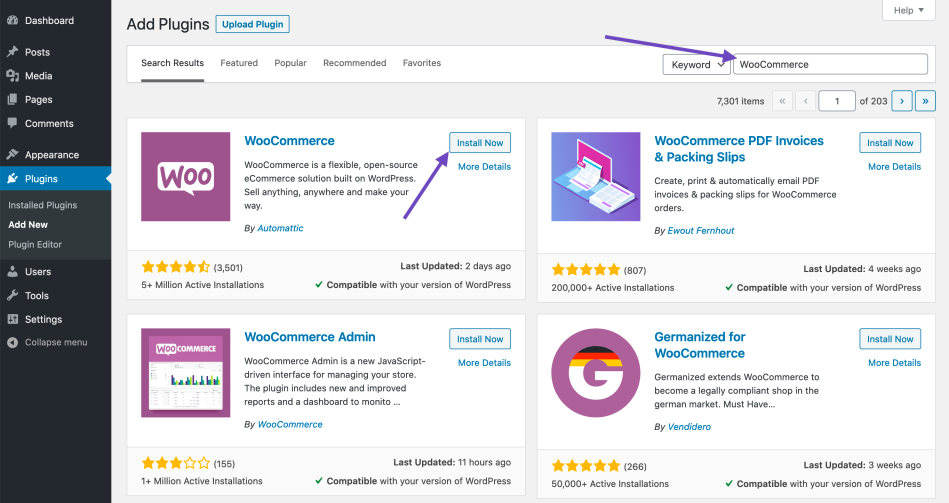 WooCommerce is a plugin that helps you turn your WordPress website into an online store.
By using WooCommerce, you can sell physical and digital products, as well as services.
One of the main reasons why a good number of people love using WooCommerce for their online store is because of its flexibility, its wide range of features, and its ease of use. 
WooCommerce is a great choice for both small and large businesses alike.
Installing WordPress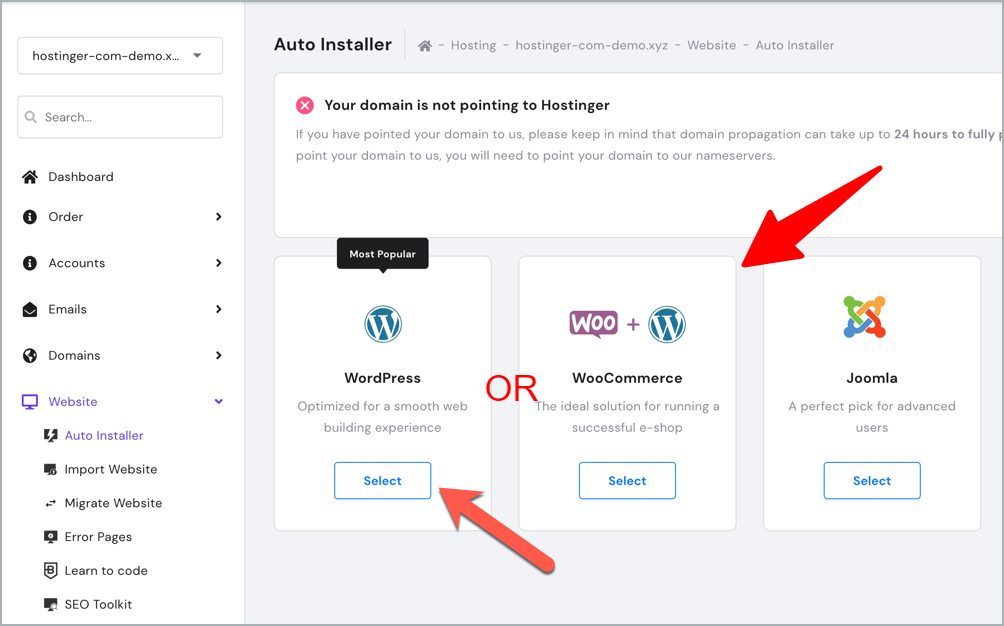 By downloading the WordPress software (.zip) and manually uploading it to your preferred web hosting provider, WordPress software may be installed straight in your cPanel (Hostinger – Recommended).
Additionally, it is an extremely time-consuming operation, thus learning how to upload files to your cPanel FTP is a prerequisite.
Without solid FTP expertise, your installation procedure will likely run into difficulties.
However, there is a quicker method of installing WordPress that just needs a few clicks from your computer.
To easily install WordPress, simply follow the steps listed below.
Login to your cPanel with the information that your enlisted web hosting organization shipped off to you.
Upon your hosting plan, your cPanel login URL can be https://yourwebsite.com/cpanel, which is customary among WordPress hostings.
The following is how your cPanel seems to be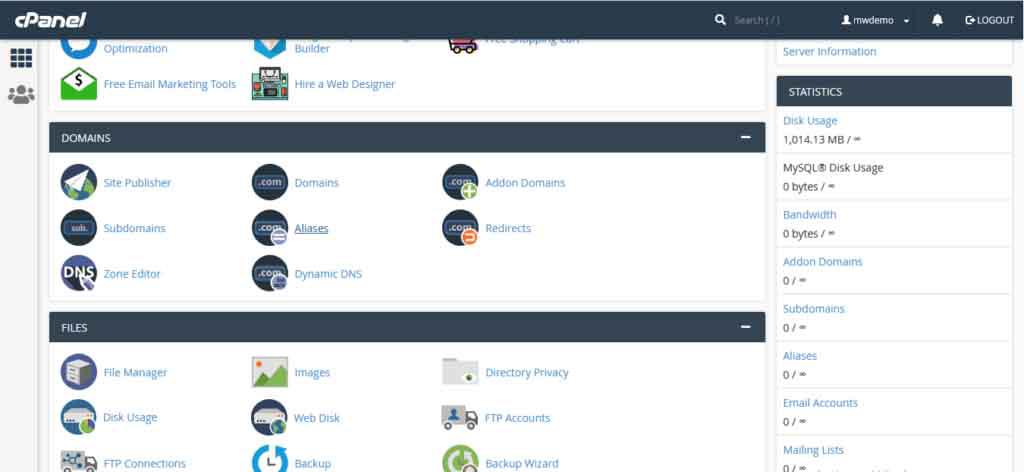 Scroll until you get to the section labelled "software." Inside the SOFTWARE section, you'll see other applications you can install in your purchased web hosting package.
Click on Softaculous Apps Installer to continue. See the image below.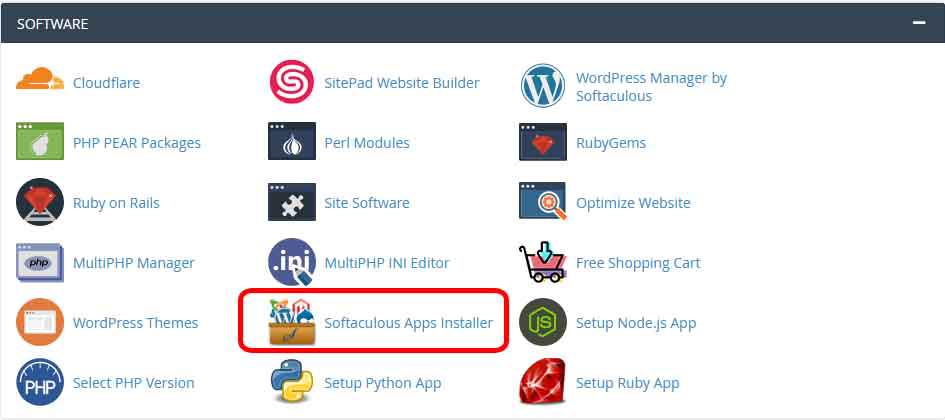 Step 3: Tap on the WordPress Tab
After clicking on "Softaculous Apps Installer," you will be taken to another page where you can see other apps that you can install in your cPanel.
If you hover over any app, you will see "Install, demo & overview."
Then, click on WordPress (do not click on Install; there is a reason for this).

Step 4: Install WordPress
Inside this page, you will see some navigation like Overview, Features, screenshots, etc.
Below the install button, you'll see the space required to install WordPress on your cPanel.
Now click on Install Now.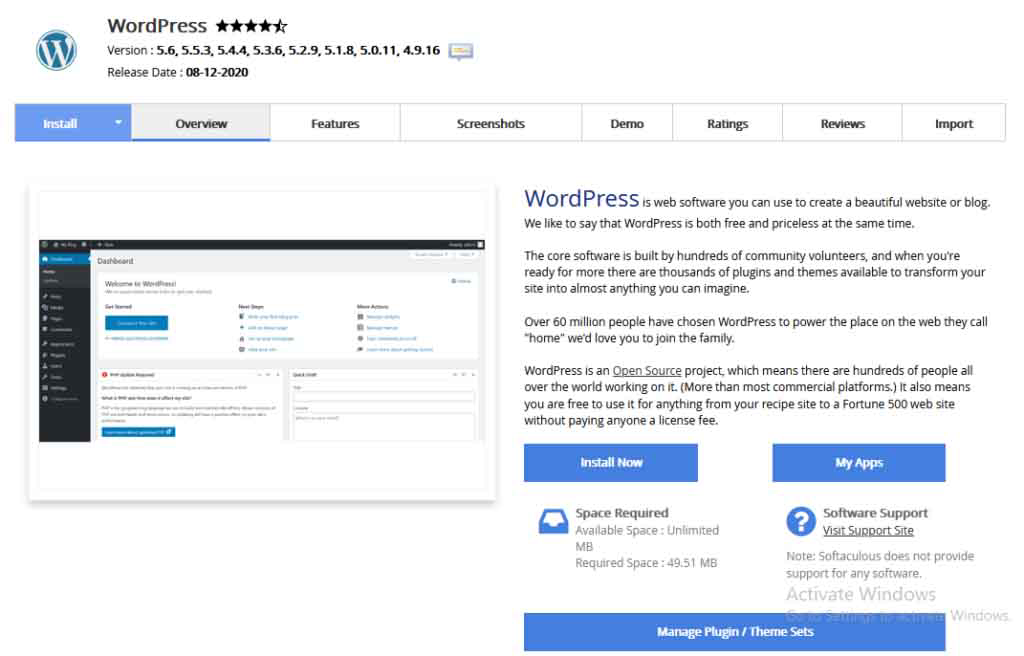 Access your WordPress Dashboard
After a successful installation, you will be provided with a link that you will use to access your WordPress login page.
For example, if your website URL is https://mycustomdomain.com, you can access your WordPress login page with https://mycustomdomain.com/wp-admin
Next, use your username or email address and your password to log in. The username and password are what you used during WordPress installation.
Installing a WordPress Theme (Astra)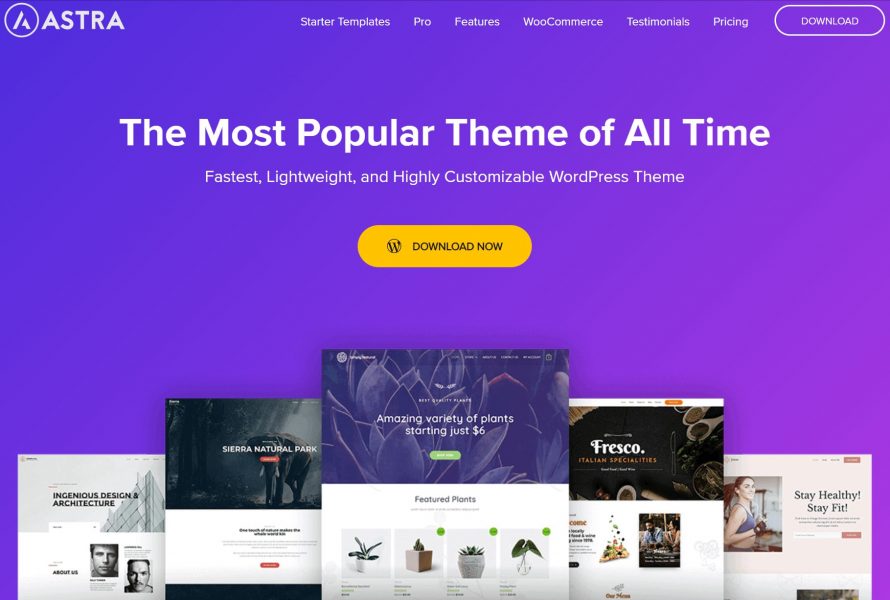 The fact that the Astra theme is a free WordPress theme is one of the reasons why we suggest it. 
You may utilize it without paying theme developers if you're opening an online store.
Additionally, you may do so right from your WordPress dashboard.
The procedures for installing the Astra WordPress theme are shown below:
Login to your WordPress Dashboard.
Go to Appearance > Themes > Add New
Search for – Astra
Install Astra
Activate it
The graphic below provides virtual documentation that will walk you through every stage of installing the Astra theme, as well as instructions on how to complete each step.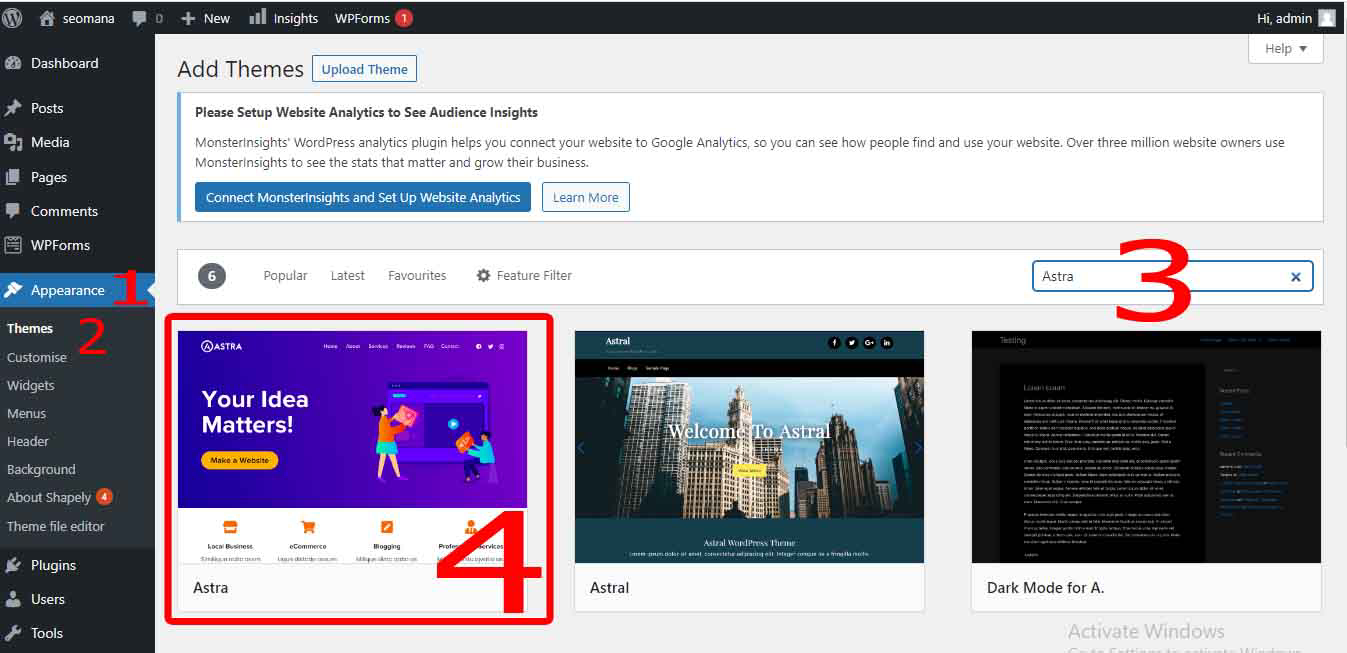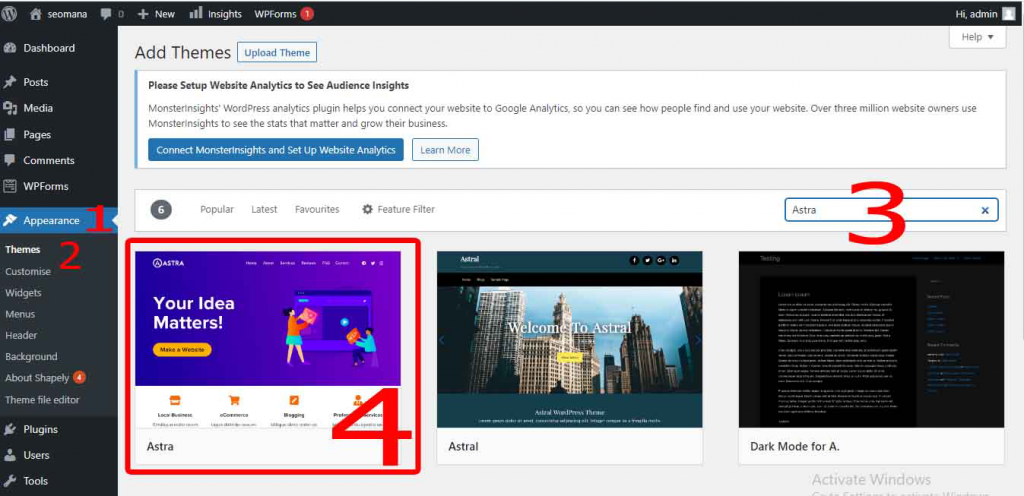 If you don't have enough funds to purchase premium plugins, you can start with free plugins that have the great features that you need.
Installing WooCommerce and Necessary Plugins
At this stage, you need to install WooCommerce Plugin.
You can do this by going to WordPress Dashboard > Plugin > Add New > Install WooCommerce plugin and then setting it up.
There are quite a good number of WordPress plugins that will enable you to have a fantastic eCommerce store.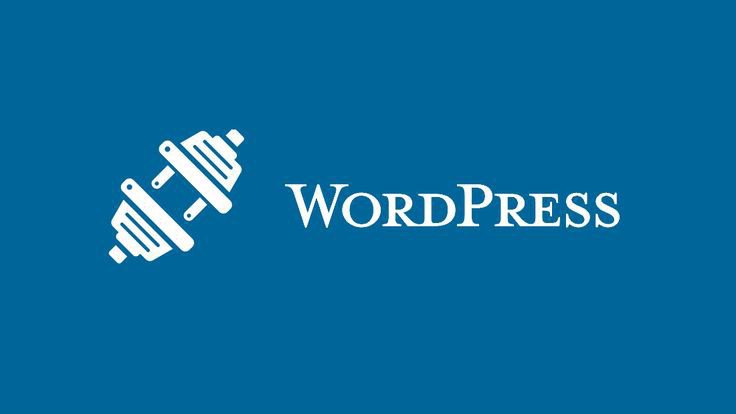 Some of them are:
Others include but are not limited to Constant Contact, SeedProd, WP Mail SMTP, AffiliateWP, WooFunnels, WPForms, Uncanny Automator, LiveChat, Advanced Coupons, etc.
Another Method of Creating a WooCommerce Store
You can use any of these starter templates in alternative to the Astra theme
PlantShop (free template)
Electric Scooter
Inessa Perfume
eGrow Plants
Setting up Your Online Store With WooCommerce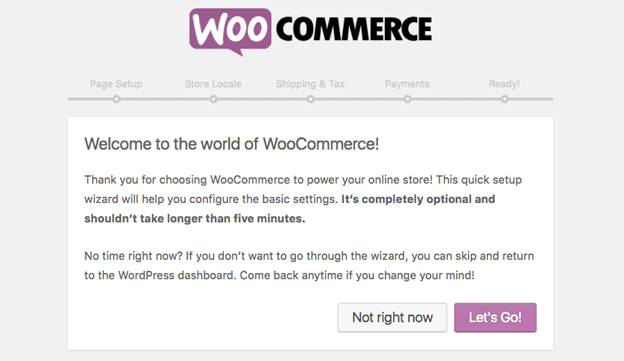 Add Shipping
When creating an online store, shipping is one of the first things to consider; if you are not selling a digital product that can be delivered through the internet.
Depending on the product you intend to sell in your eCommerce store, shipping can be a bit complicated, so it's important to do your research before you start setting up your store. 
There are a few different shipping options, and each has its own set of pros and cons.
You'll need to decide which shipping option is right for you and your business.
Taxes
Tax is one of the things to consider when setting up an online store.
Some of the most common taxes that online stores may be subject to are sales tax, value-added tax, and goods and services tax.
Moreover, you should be aware that each country has its own set of tax laws, so it is important to do your research to see which taxes apply to your store.
Payments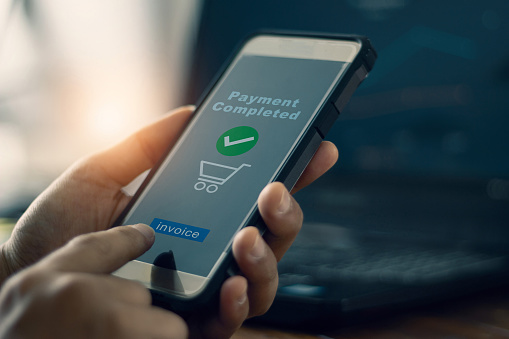 Payments are essential to any successful online store. Many people make the mistake of assuming that PayPal or credit card payments are the only way to go, but this is not the case.
Today, there are several other payment methods available that can be used to make your store more successful. 
Perhaps, the most common payment methods are through PayPal and credit cards, but there are others, such as direct debit and bank transfers.
We recommend that you include various payment options to ensure that your users don't have any difficulty when making payments.
Adding Products
As regards adding products, you will need to decide what products you want to sell.
Hereunder, you can either create your products or source them from a wholesaler. Perhaps, if you are sourcing products from a wholesaler, be sure to find one that offers drop shipping. 
Dropshipping is a type of inventory management system where you never have to hold any inventory.
Testing your Store
Before you can start selling products on your website, you will need to test your store to make sure it is working properly.
There are a few different ways to test your store: by using a "sandbox" account, using a "live" account, or by using a "test" account.
A sandbox account is an account that is used to test transactions without actually using real money.
A live account is an account that is used to process transactions with real money.
Either way, we recommend that you test your eCommerce store to ensure that everything is up and running.
Promoting your Online Store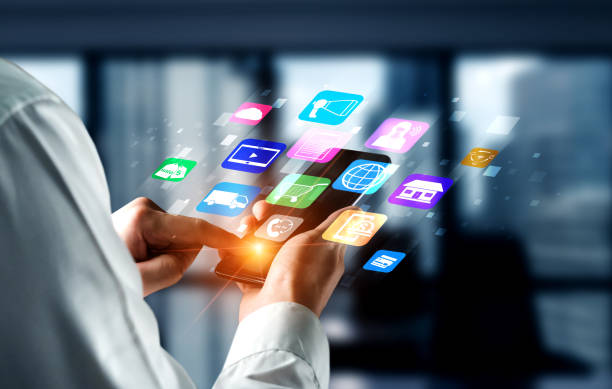 SEO
Search engine optimization (SEO) is the process of making your website appear first in a search engine when someone types in a particular keyword. 
By optimizing your website, you can attract qualified leads, increase website traffic, and boost your online store's visibility.
Content Marketing
Content marketing is creating and distributing valuable, relevant, and consistent content to attract and retain a clearly defined audience — and, ultimately, to drive profitable customer action.
Perhaps, your content should represent the product you are selling.
Email Marketing
Email marketing is a valuable way to reach your customers and keep them coming back.
By sending out interesting and relevant offers, you can keep them coming back, and eventually convert them into buyers.
PPC Advertising
PPC advertising allows you to place ads on search engines and other websites and only pay when someone clicks on your ad.
Through this, you can reach potential customers who are looking for your products and services.
Social Media Marketing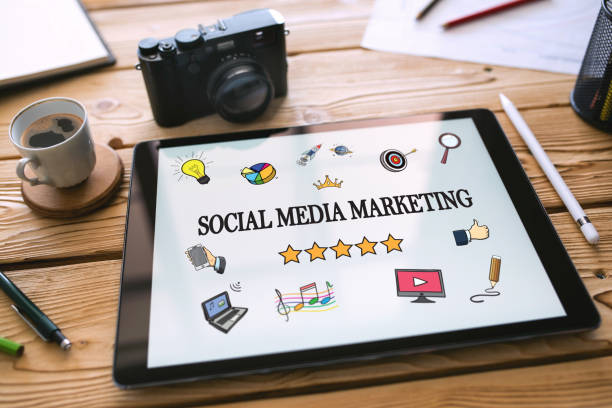 You can use social media marketing to increase traffic to your online store. For example, you can post about new products, offer discounts, or promote your store on social media sites. 
Furthermore, you can use social media marketing to create customer relationships.
Conclusion
You can agree with us that if you diligently follow this detailed guide, you can start your own e-Commerce store in just 1 hour.
Use the comment section to give us feedback if any.