How to Earn $75 every Month by using Facebook Research App project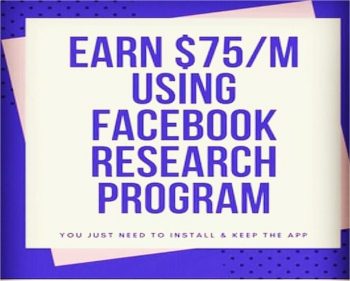 Facebook Research App give rewards for just keep Android apps installed in your Smartphone. The company that is operating this project is Applause. Applause is a global leader in crowd testing, feedback and research. Exclusive research project being conducted by Applause Inc.
Participants in this study have the opportunity to earn as much as they want each month with no work required! Facebook Research App give rewards for just keep it install in your mobile. It run in your phone Background. And the best part of it is that you don't need any money to start, it is totally free.
Related Posts
SAVE PHOTOS, VIDEOS AND TEXTS FROM INSTAGRAM AND FACEBOOK WITH AN ANDROID APPS.
The research app will be generating statistics about how participants use their phone and mobile apps to improve the user experience.
Requirement for Eligibility to Participate for Facebook Research
Android Smartphone with Android 6.0 or above version or Apple mobile with iOS version of 8.0 or above
A verified Paypal account to get payment. (you proceed the registration and Open Verified Nigeria PayPal here ) Nigerian refer this link to create PayPal account that can send and receive from abroad here
Invitation is highly required to join this research app. (We will invite you for this app)
NB: Ordinarily, USA and India residents are the only eligible participants of this Facebook research project. So if you are not legal resident of this two countries you need a VPN to run it. but there's a trick to participate by changing your VPN to United States- New York
Go to playstore and install Turbo VPN unlimited
After installation, open it, click on agree, click on No Thanks. Click on the globe🌏 icon on the upper right corner
Click on free
Then click on United States– New York to be connected
After connecting it, open the invitation mail they sent to you and read it carefully. Click on the highlighted *here* to sign up.
Facebook Research Apps Earning breakdown
This research project is handle by uTest i.e. Applause, its giving you $10 per month for each month you are active in the program
You will be paid $10 per month for each referral that signs up for the project through your invitation within 30 days of you joining the program, for every month they participate
Facebook Research app pay $20 bonus per month for every five referrals that were also active in the program (e.g., if you have 10 referrals that were active in a given month, you will earn a $40 bonus that month; if you have 15, you will earn $60, and Monthly Payout is $5
Steps to Join Facebook Research App
Step #1 Fill out the fill to get invited
This app program is only by Invitation so filled out the Form to get invited then wait for few hours to get invitation mail from Facebook Research Apps
Step #2 Follow Up Received Email from Facebook Research app
After got 1st mail click on link given in mail and register using your paypal email ID. If yet to register on PayPal account then use your same email id while making id on PayPal and Register later with thesame Email address.
Step #3 Complete the Registration
After successfully registered, On next page you will get app download link with your unique code to install app. You will also get 2nd mail also instantly with same details.
Then proceed to download facebook research app
Note that If you are not from India or USA you have to connected you VPN to this two countries otherwise you won't able to install the app.
step #4. Download the Facebook Research Apps
Download facebook research app and give all necessary permission to app to keep running in background. Keep checking daily app should be active. In My mobile its show in notification, In other mobiles its show key icon in notification bar.
Step #5 Special Instruction for Mobile user
Turn on Autostart for app.Goto setting -> Permissions -> Autostart -> turn on AutoStart for Facebook research
Goto setting ->Choose apps -> Facebook Research -> No restrictions
Keep checking daily app is showing a notification and active.
Successfully Installed
Within 6 hour you will get 3rd mail about to update payment details and refer friends. And refer friends
Step #6 installation comfirmed
Now again wait for 48 to 72 hour for 4rd mail. In 4rd mail you get app installation confirm mail Installation Confirm, After 4rd mail come just keep app installed and you will get payment of $5 on 15th of every month. (You must 25 day old user to get 1st payment)
Refer friends to earn more.
Follow this procedure to Refer you own friends.
Step #1 Research Application Link
To Refer friend click on link Refer a Friend Here
Step #2. Input you and referral details
Enter your name and your email id and then friends details.
Step #3. Encourage your friends to register.
Your friend will get Invite mail instantly and ask him to register and download app.
Recent Post
CREATE AND MONETIZED ANDROID APPS ON GOOGLE ADMOB ACCOUNTS
Thanks For Reading The Post, Kindly drop your Comment or Question below We Surly Reply Every Single Question
You like this Article Kindly Share it , Sharing our posts will encourage us to do more and provide more creative content
Sharing our posts will encourage us to do more and provide more creative content
I am C.e.o of zenithtechs.com, I update My Audience daily with the latest information and tutorials to spice and increase your ICT and technical know-how Contact Me directly via my social media platforms below