Last Updated on 6 months by Komolafe Bamidele
If you haven't heard of GrooveFunnels then it is probably because you are new to the online marketing world or you're just living in denial.
GrooveFunnels has been making waves online for quite some time, with many marketers citing it as the best alternative to ClickFunnels.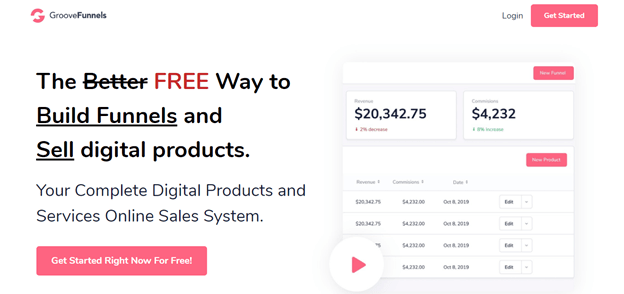 GrooveFunnels entices new users with a lifetime offer and many tools for building the best marketing landing pages on the net. Probably this is why it is one of the most hyped marketing tools for businesses on the planet.
But is GrooveFunnels being overhyped or is it just as good as they say it is?
Well, you will learn everything there is to know about GrooveFunnels in this review
What is GrooveFunnels?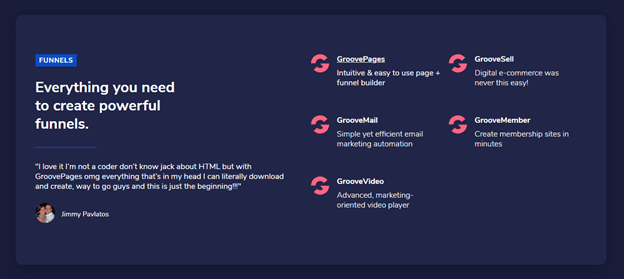 GrooveFunnels is the brainchild of GrooveDigital intended as an easy to use all-in-one software service to help you build landing pages, sales funnels, and marketing systems for selling products online.
The service offers a wide variety of marketing tools with the popular ones for affiliate marketers being GroovePages (landing page builder), GrooveMail (email service provider), and GrooveSell (the shopping cart).
The entire software is managed by GrooveDigital. The company's products include world-class funnels that are easy to use even for the non-tech savvy, software to help you build and customize your pages, and several services aimed at easing online processes in marketing.
[content-egg module=Youtube template=responsive_embed]
Groove Digital is headed by Mike Filsaime (CEO), John Cornetta (President), Matt Serralta (COO), Matt Naus (CTO), Donna Fox (CMO), Joe Jablonski (VP Business Development), Anuroop Pillalamarri (Director of Technology), and Finn Tessier-Lavigne (VP of Technology).
GrooveFunnels Pros

Lifetime Access
Easy to Use
SEO-Friendly
Works without WordPress
Constantly updated with new features
Could be used to build websites
GrooveFunnels Cons

Too many tools make it complex for beginners to use
Requires learning curve
GrooveFunnels Features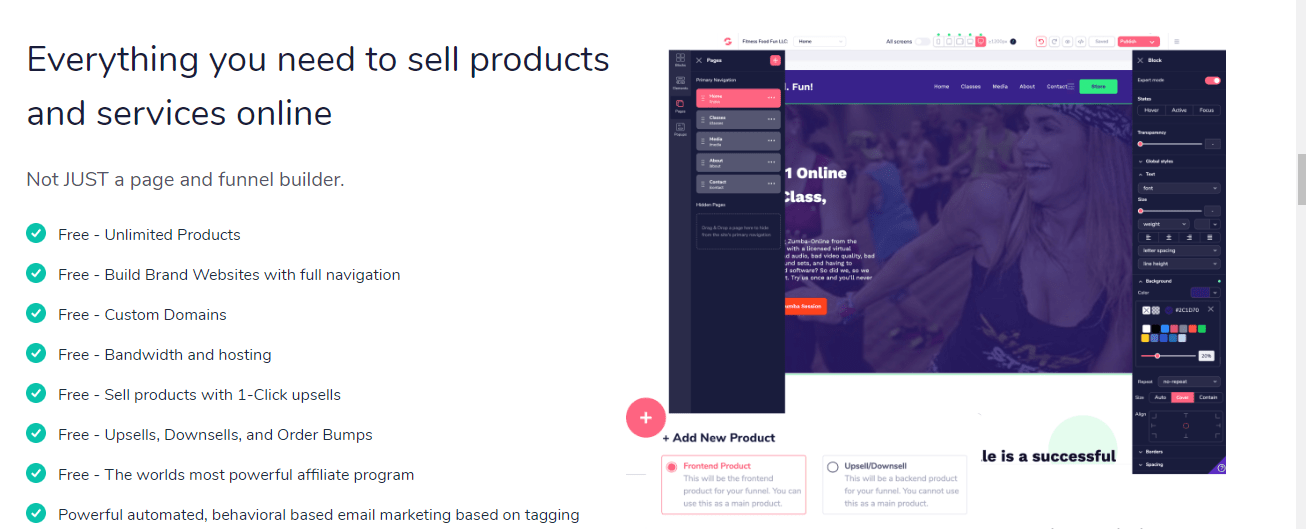 In this section, we are going to explore all GrooveFunnels features and anything extra it has to offer.
GroovePages

GroovePages is the main offering from GrooveFunnels. It is an intuitive page and funnel builder that will help you create landing pages and websites.
With this feature, you can perform many actions including selling unlimited products, creating actionable checkout points, building a well-optimized brand website, and boosting sales with simple 1-click upsells.
With GroovePages, you get pre-built themes and templates that will help you create your website or landing pages faster. You can customize the template to suit your brand by adding your logo, text, and uploading your images.
GrooveSell

GrooveSell is another important tool from GrooveFunnels. It is a sales and affiliate marketing tool that enables you to set up a shopping cart platform just like Shopify and SumCart.
Consider the platform as your online store where you can sell your digital products, offer your digital services and online courses.
This feature is best suitable for the following professionals
Coaches
Passion projects experts
Course creators
Thought leaders
Influencers
Speakers
Authors
GrooveSell also offers a way to create your own affiliate program. This way, you can generate new leads faster.
You can track your affiliate links and leads with detailed analytics and reporting.
Groove Affiliate

If you're not too sure about the affiliate marketing perk that comes with the GrooveSell feature, you can always try the Groove Affiliate marketing tool.
This tool is important for businesses and online marketers looking to create a team of affiliate marketers.
This tool will help you manage your affiliate program and marketers effectively. With it, you can track the conversion rate of links and make payments to your marketers directly from your dashboard.
If you've used JvZoo or ClickBank in the past, then you should easily grasp the concepts of this tool and be able to make the best of out it for your brand.
GrooveMail

If you're looking to connect to your customers via email, then GrooveMail is just what you need.
This tool can handle all your email marketing needs including voice and text SMS broadcasting and sequence automation.
With this tool, you should be able to import your email list into your campaigns, customize and create colorful email messages, and track your conversion rate and leads to help with better email marketing habits.
Considering that email marketing is one of the best ways to gain new customers and keep existing customers loyal, this tool should come handy to businesses and online marketers.
GrooveMember

If you want users to sign in a member on your site, then this tool will help you get that done. The tool helps to manage membership content on your site. It acts as an online course platform where you can host your courses.
You can also host your virtual summits with this feature. Depending on your needs and that of your site, you can make use of the free version or go for the premium version.
This is one of the features from GrooveFunnels that is still in development. In the future, it is expected that it will enable you to create landing pages or websites using a simple drag and drop website builder.
It is also expected to allow for gamification options and certification options.
GrooveVideo

GrooveVideo is similar to Vimeo and Wista, in the essence that it enables you to turn any video into a marketing tool. The entire process can be automated and you can easily optimize videos, share on social media, and generate leads.
GrooveWebinars

With GrooveWebinars, you can host your own webinars. This platform makes it easier for you to track your views, optimize your replays, and set tags.
GrooveBlog

GrooveBlog is similar to Google Blogger and WordPress. With this tool, you should be able to publish helpful content that will get you the right rankings on Google.
GrooveFunnels also integrates well with WordPress. This will allow you to create and publish content on WordPress.
GrooveDesk

With this tool, you can set up your own customer support helpdesk. This is especially important for marketers using GrooveMember to set up a membership site.
GrooveCalender

This feature is directly targeted at coaches, consultants, freelancers, or just about anyone aiming to track their appointments.
This tool also integrates with GrooveMail to enable you to send automation emails to customers that book appointments via email.
GrooveSurvey

Surveys are one of the best ways to get insight as to how effective your content has been and how to improve your service. With this service, you can create professional surveys on your site and integrate these surveys into GrooveMail
GrooveQuiz

This tool is similar to GrooveSurvey, but rather than creating surveys, you can use this tool to create quizzes and polls for your website.
GrooveKart

This is a marketing platform quite similar to Shopify. It is a cheaper alternative to Shopify and best of all, it comes with many of the features you can find on Shopify.
Other Groove Products and Services
There are several other products and services from Groove that online marketers and businesses will find useful. These include
GrooveKon
GroovePay
GrooveFest
GrooveWorkshops
GrooveAcademy
GrooveMarketplace
Is GrooveFunnels Right For You?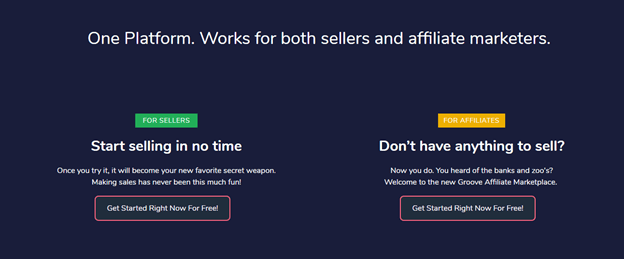 GrooveFunnels is an all-in-one marketing tool, perfect for online marketers, content creators, business, or individuals with products or services to sell, and those looking to run a membership site.
It would also help those looking to build funnels, lead generation websites, and landing pages.
GrooveFunnels Pricing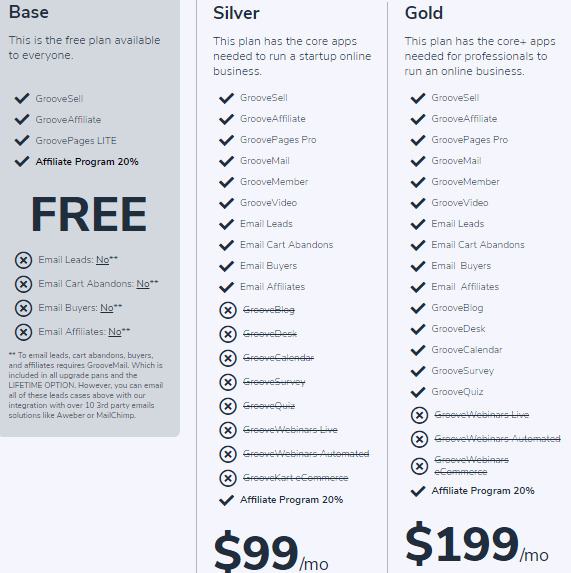 GrooveFunnels offers three pricing plans including a free plan for users. There is not much to enjoy from the free plan so serious businesses and marketers should look towards the paid plans to get the best out of the service.
The most affordable plan is the GrooveFunnels Silver which starts at $99 per month. This is the starter plan and it gives you access to the most important features the service has to offer. If you want more, then you have to go to GrooveFunnels Gold.
This costs $199 per month. However, if you want access to the best GrooveFunnels has to offer then you have to go for GrooveFunnels Platinum.
Get GrooveFunnels Lifetime Access Now
GrooveFunnels Affiliate
You can earn from GrooveFunnels not just by using its tool to market your products or services, but also by joining its affiliate program.
You can earn up to 40% in commission for eligible conversions. GrooveFunnels affiliate is available to users once they sign up for a free GrooveSell account.
Does GrooveFunnels Really Work?
Yes, it does. GrooveFunnels has been gaining a lot of attention not just because of its affordability but also because it offers tools that convert.
Once you sign up, you get access to a ton of tools that would help you market your products and services and boost your revenue.
Wrapping Up GrooveFunnels Review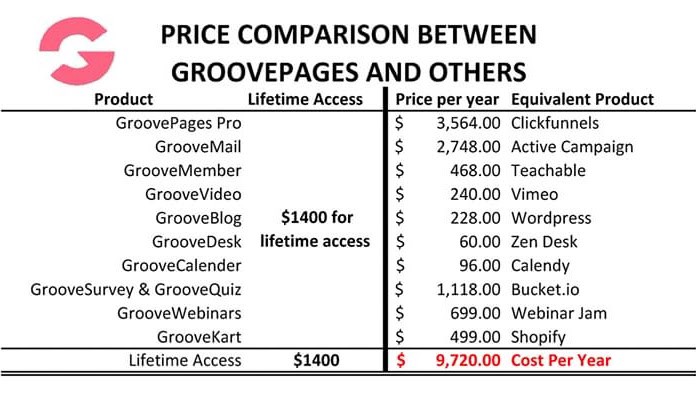 GrooveFunnels is fast becoming a favorite for online marketers looking for better options to ClickFunnels and other marketing tools.
Aside from its impressive features, there is also a lifetime access plan that allows you to make a one-time payment for all GrooveFunnels features.
If you're an online marketer, business owner, or you are looking to sell products online, you can sign up for GrooveFunnels to enjoy the best service.