Last Updated on 6 months by Komolafe Bamidele
There are lots of tools like Scroll Depth Tracking that tell you the number of people visiting your site and reading your posts at a certain period of time. These tools help you track your active readers, their location, the popular landing pages, and the type of referral, which are quite important metrics.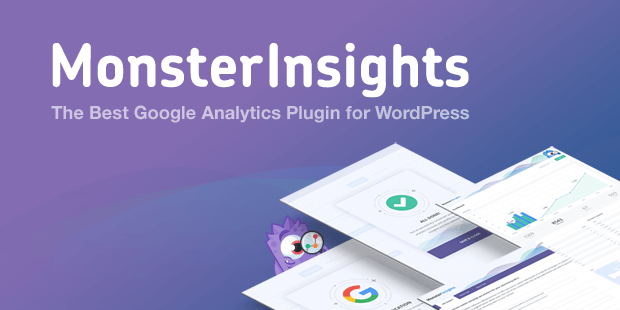 While getting a lot of readers is rewarding, you might want to know how these readers scroll through and read your content. This is why you need to switch to scroll depth tracking to find out just how well your content engages your readers.
In this article, we're going to show you How To Add Scroll Depth Tracking Google Analytics in WordPress Using Monster Insights Plugin
What is Scroll Depth Tracking?
Scroll depth tracking helps you learn more about your audience which makes it easier for you to optimize your pages for more conversions.
While other tracking tools tell you how long the reader was on your site, scroll depth tracking tells you how well the reader read this content. It tells you if the reader simply scrolled through or read the article completely.
This tool will be helpful to a lot of site owners, including brand sites, affiliate marketers and individuals who sell their products on their sites.
Normally, you will get a lot of tracking information by adding your site to Google Analytics.
Google Analytics is one of the best tracking tools on the internet. It beats most other WordPress tracking tools not only because it has better features but also because it is owned by Google.
If your site relies on Search Engine Optimization (SEO) as a source of traffic, then you're most likely getting more than 70% of your traffic from Google Search Engine.
This makes the Google Analytics tool more accurate and reliable. Unfortunately, you can't get the scroll depth tracking feature with standard Google Analytics.
At this point, we have to turn to MonsterInsights.
MonsterInsights – Google Analytics Plugin for WordPress
If you own a WordPress site, then you should have heard of or used MonsterInsights. MonsterInsights is a plugin for Google Analytics and while there are many Google Analytics plugins for WordPress, MonsterInsights remains the best.
With over 2 million active installs, it remains one of the must-have plugins in a WordPress site. There are many features that make MonsterInsights really awesome.
First, it is quite easy to install and enable the advanced Google Analytics tracking features without having to hire a developer. Once installed, you can easily read through the instructions and start monitoring your site's performance.
Another reason why we love this plugin is that it allows you to track a lot of your website's metrics. With MonsterInsights plugin, you can track important metrics like
Forms Tracking
Files Downloads
eCommerce Tracking
Affiliate Links
Audience Tracking
Focus Keyword Tracking
Content Tracking
Scroll Depth Tracking
There is a lot more you can do with this plugin. You also get to monitor your analytics reports inside your WordPress dashboard through its Google Analytics Dashboard for WordPress.
When it comes to scroll depth tracking you get to
Know the exact percentage of users who are scrolling to 25%, 50%, 75% or 100% of your content.
Track user engagement
Measure real user engagement with your content
Modify your content to engage your audience
Find and analyze engaging posts of your site
How To Add Scroll Depth Tracking Google Analytics in WordPress Using Monster Insights Plugin
To enable scroll depth tracking within the WordPress dashboard, simply follow the steps below.
Before you start, you should know that the scroll depth tracking feature is only available on MonsterIsights premium. You'll have to upgrade from the free version to the premium version if you want to use this feature.
To begin, you'll need to download, install and activate MonsterInsights Plugin on your website. The process is quite simple.
If you've already installed the plugin on your site, you'll need to update it to the latest version because the scroll depth tracking feature is only available on the new version, MosnterInsights version 7.6.0 update.
When done, the scroll depth tracking feature will be automatically enabled on your site. This is the default setting, however, you should check it out to ensure that it is enabled.
Simply go to your WordPress admin dashboard, click Insights » Settings » Engagement.
If it is enabled, you should see exactly what is in the picture below, if not, then you can enable it yourself.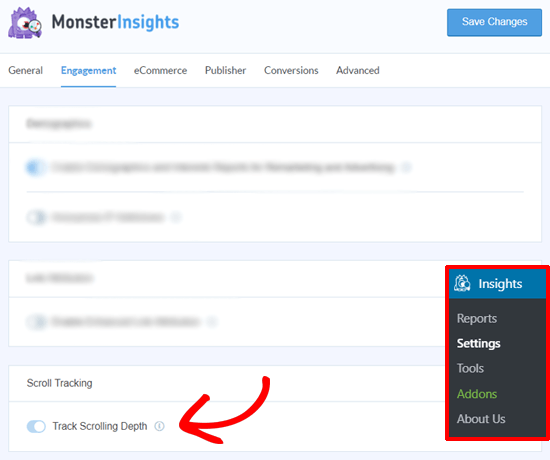 Once, you're done with that, you can move on to tracking user scrolling through the plugin.
How To Track User Scrolling Using MonsterInsights
When a visitor lands on a page of your website, MonsterInsights registers that visitor and triggers events in Google Analytics based on how the visitor scrolls down the page of your website.
The plugin measures how far the visitor scrolls down the page and sends a Google Analytics event for each visitor that comes to your site. The results are measured in 25%, 50%, 75%, and 100% scroll points in your Google Analytics account.
You can check the user scrolling statistics directly from your WordPress admin dashboard by simply clicking Insights » Reports » Publishers.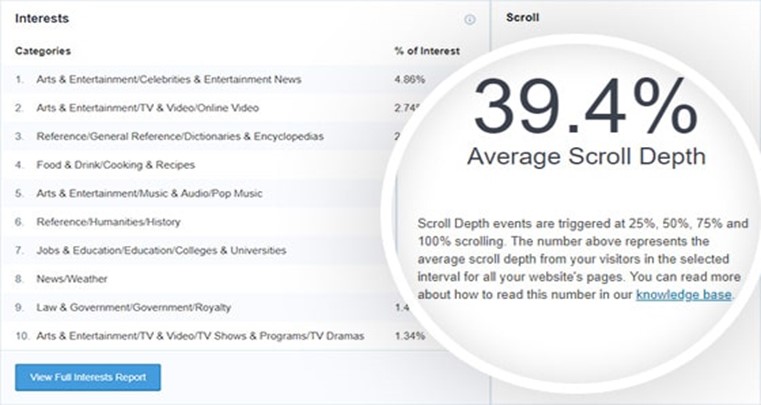 You'll find the average scroll depth percentage for all the pages on your website. This metric helps you to understand how your visitors are interacting with your content. By carefully analyzing the results, you can make your content more engaging.
The results also help you to find the best places to add call-to-action buttons, opt-in forms, ads, lead magnets, etc.
Find Detailed Scroll Tracking Results in Google Analytics
To see more stats on scroll tracking, you'll have to check your Google Analytics account. To check your scroll tracking stats in your Google Analytics accounts, you'll have to log into your account.
Once logged in, you can view your scroll tracking stats by clicking Behavior » Events » Overview on your Analytics dashboard.
Click on "Scroll Depth" in the report to get a more detailed report

When done, you will be taken to the Event action data page. You'll find the "Event Label" as shown in the picture. Click on it to see the total events triggered for each percentage of scrolling.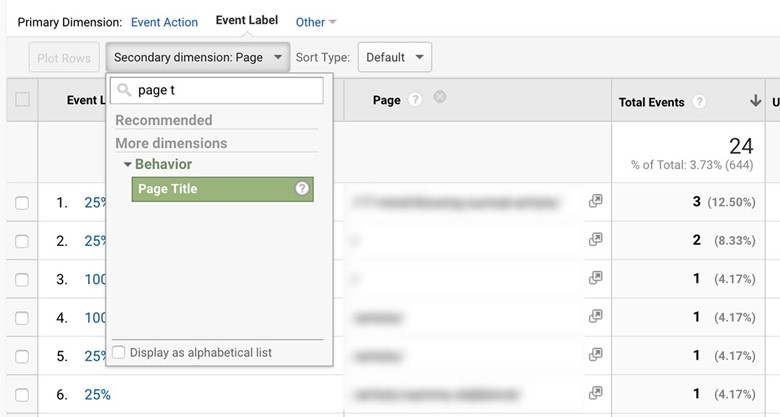 This usually shows you a compiled data of scroll tracking for your site's pages. To see data for user scroll on individual pages, you'll have to add secondary dimensions.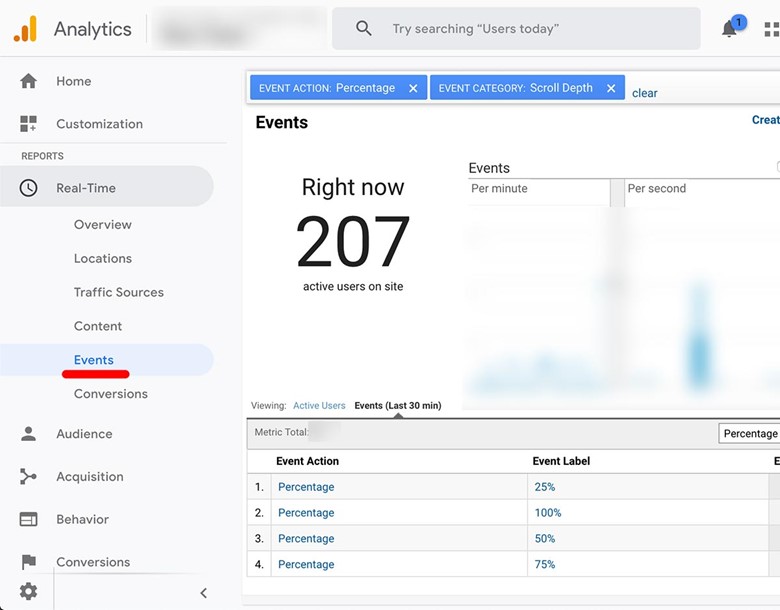 The plugin also allows you to view real-time scrolling data in your Google Analytics account. Simply go to Real-Time >> Events in your Google Analytics dashboard and you'll see real-time scrolling data within the last 30 minutes.
Upgrade to MonsterInsights Premium
To get to use this scroll depth tracking feature, you'll have to opt for MonsterInsights Premium. The free version allows you to make use of some features of the plugin for free, but you'll have to buy a plan to make use of all the advanced features.

MonsterInsights Premium consists of three plans – Agency, Pro and Plus pricing plans.
Its plans are quite pricey, however, you will find the features of its plans very useful depending on the niche of your site.
Related Post
The MonsterInsights Plus plan is mostly for small publishers and businesses. Some of its features include
Analytics Dashboard
Dashboard Widget
Page Insights
Date Range History
Real-Time Report
Publishers Report
Search Console
Universal Tracking
EU Compliance
Engagement Tracking
Scroll Depth Tracking
This plan is the most affordable of all MonsterInsights Premiums plans, however, it comes with a lot of restrictions. First you wouldn't be able to use all the features the plugin has to offer (you can only use the features within the plan you paid for).
Another restriction is that you can get metrics and tracking data for only one site. Other plans allow you to get data for as many as five to twenty sites.
The good news is that, you'll still be able to use the scroll depth tracking feature. The feature is available for all MonsterInsights premium plans.
Do you wish to enjoy all the features available on MonsterInsights, then click upgrade to monsterinsights premium lifetime membership. It's is a great idea to grow your business
Wrapping Up Scroll Depth Tracking Google Analytics Rewiew
MonsterInsights' scroll depth tracking feature is a really great tool for web owners. It will help with making more engaging content that will generate leads and drive sales.
No matter your site's monetization strategy, you should be able to gain more by simply installing and using the plugin.
hope you don't miss our Marketing Posts
While it's premium plans are pricey, the value you get is definitely worth it. With its tracking tools and metrics, it will be easy for you to target your audience and get conversions.
The MonsterInsights plugin is easy to set up and won't require the need to hire a developer. If you're having any problems with installing or using the tool, you can tell us your problem by using the comment box below.