Last Updated on 6 months by Komolafe Bamidele
Cryptocurrency continues to remain one of the hottest topics for investors and individuals seeking places to invest and make high returns. As cryptocurrencies like Bitcoin and Ethereum continue to dominate the market distribution, it has become increasingly frustrating for many who live in countries or regions where buying cryptocurrencies are either restricted or inaccessible.
This is where Coincola comes in, Coincola is one the best cryptocurrency exchange website that offers both a coin-to-coin pair trading exchange and a peer-to-peer 'over the counter (OTC) trading platform.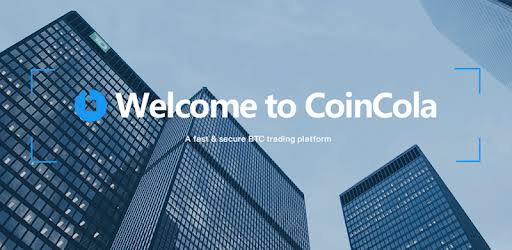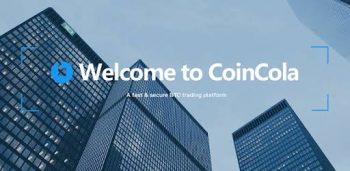 The Hong Kong-based firm which was first launched in March 2017 is already gaining a reputation within the industry as it attracts several potential customers with its amazing features. One of the main things that keep users returning to the platform to trade, is the fact that it's easy to use compared to other trading platforms.
Coincola enables individuals irrespective of their location or country to trade their national currency for Bitcoin. This exchange is made possible through the platform's trading system which enables users to post ads with the intent to trade or buy cryptocurrency.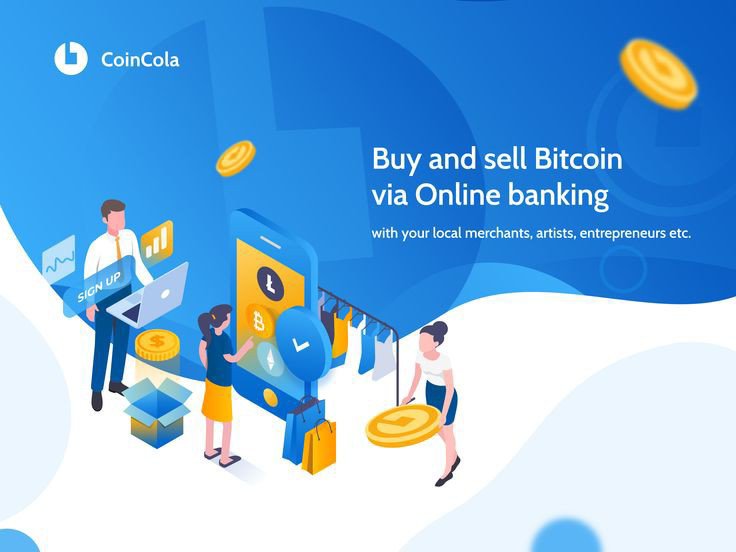 The users have to state the payment approaches and the market rate for selling or buying cryptocurrency.
Although Bitcoin is one of the most popular and most traded cryptocurrencies, Coincola allows users to purchase other cryptocurrencies like Ethereum, Dash, Litecoin, and Tether.
Coincola allows users to purchase cryptocurrencies with fiat (dollar, yen, pound, etc) which means users can trade on the platform irrespective of their countries and currency.
All purchases are placed in your Coincola wallet with such amazing features, it is easy to see why the firm quickly became a powerhouse in Asia. Today, the firm has expanded its tentacles to other nations and continents of the world to provide trustworthy trading services for all individuals and create a financially borderless world.
Is Coincola.com A Safe Trading & Exchange Platform?
When trying out a new platform that deals with trading and involves the exchange of currencies, it is expected that you consider the security of such a platform first.
Coincola boasts of one of the safest cryptocurrency exchange platforms as it integrates several security features into its platform to ensure safe and hassle-free trading for its users.
Among these security features are its bank-grade encryption, SSL technology, cold storage, and KYC/AML regulations.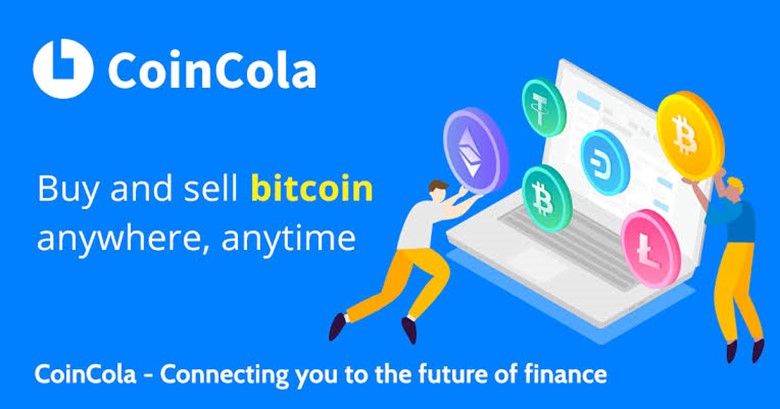 However, these features are to ensure that the platform doesn't get hacked and the personal information or assets of users within the sites aren't compromised.
For those who are wondering if it is safe to sell to buyers or buy from sellers on the platform with the concern of authenticity and legit trading in mind, it is worthy to note that Coincola provides a solution to that. Coincola provides an escrow or trade service for every trade to defend the buyers. This reduces the likelihood of being scammed while trading on the platform.
Features of Coincola International Best Cryptocurrency Exchange
Individual Trading
Coincola allows users to trade directly with other users on the platform. This is one of the features that set it apart from other cryptocurrency trading platforms.
Free Registration
Coincola allows individuals to sign up for free with no hidden fees or charges. You can either register by email or by phone on the website. Immediately you register, you will automatically be granted access to a free internet Coinbase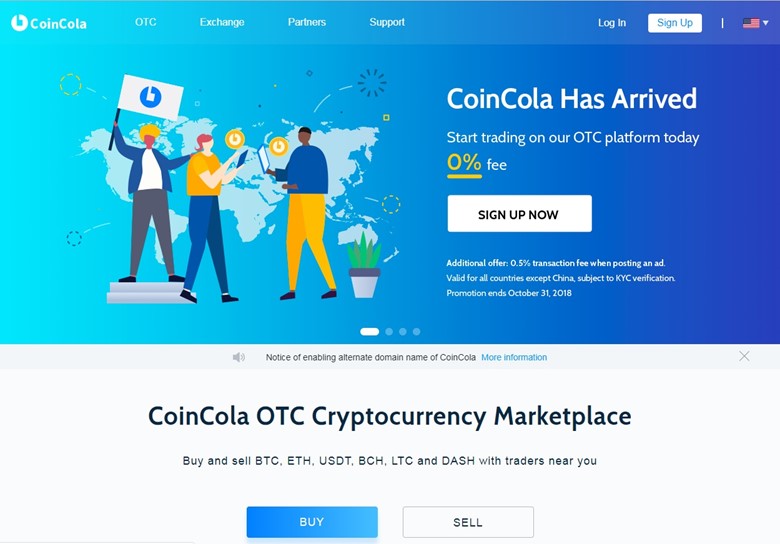 Easy Trading Options
Coincola offers both over-the-the counter (OTC) and cryptocurrency exchange sections that can be shared in the same wallet. This allows its users to easily trade on both sections. You can also switch between the two sections with just the click of a tab.
The OTC and coin-to-coin pair trading platform allows you to use your local fiat currency regardless of your country or region to buy and sell cryptocurrency.
Security
The security aspect of the platform has already been dealt with in this article. Coincola is one of the trading platforms that take security quite seriously. The platform as of October 2018 facilitates over 100,000 transactions every month which makes security a very important issue. According to the Coincola website, it employees the services of professional security personnel with over 10 years of experience in the security area. They also make use of the most advanced technology and security systems already listed above.
Multiple Cryptocurrency Support
One of the reasons why Coincola quickly rose to become a powerhouse in cryptocurrency exchange in Asia is since it supports multiple cryptocurrencies. This is something you can't find in some exchange platform that focuses solely on the buying and selling of Bitcoin. As stated above, Coincola supports a growing list of coins including the popular coins thereby providing users with a lot of options to trade from.
Easy To Use Platform
One of the problems most newbie traders face with exchange platforms is the user interface. These users who are not yet accustomed to the process are left bewildered as some exchange platforms are quite complicated and do not take the ease of use of the platform seriously.
Coincola solves this problem by providing an easy to use platform whether you're an experienced trader or newcomer. The platform also has a mobile app that makes it easier for users to connect to the platform anytime and anywhere.
Low Fees
Coincola charging system is one of the most transparent and most affordable among exchange platforms. Buying and Selling on the OTC section are completely free, however, you would have to pay a fee whenever you want to post an advertisement or complete a trade. Still, Coincola has one of the lowest transaction fees on the market.
You can also deposit to your Coincola wallet at no additional cost.
Reward System
Coincola rewards its users through its referral program and affiliate partnership scheme. The process involves the users inviting another individual to sign up through the referral link. The user only gets rewarded every time a referred user completes a trade. There is no limit to how many referrals you can get which means the more referrals you make, the more you earn.
The features listed above make Coincola one of the best cryptocurrency exchange platforms to try.
How To Buy Cryptocurrency On Coincola App
Coincola has both a website and an app where users can buy and sell cryptocurrency. Below, you will find a guide with instructions on how to purchase cryptocurrency on the platform.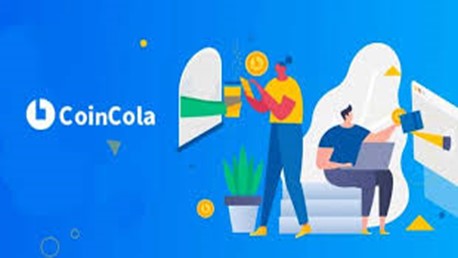 How To Buy Cryptocurrency On The Coincola Website (OTC)
There are two ways to buy cryptocurrency on the Coincola website using the OTC section.
The first Method For Coincola Website (OTC) Sign Up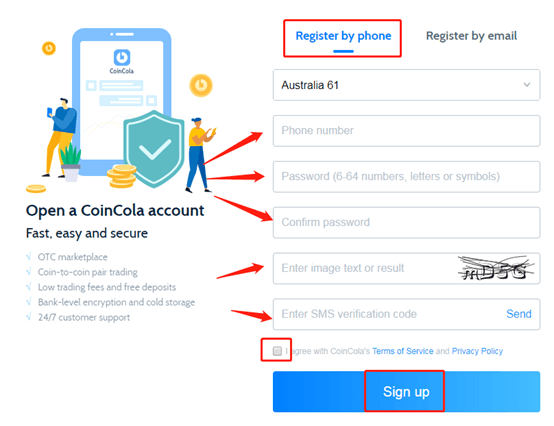 Step 1: Create a free account on the Coincola website. After registering successfully, log into your account and click "Buy BTC" (BTC will be used as the cryptocurrency in this guide). Then click the OTC section.
Step 2: After confirming the cryptocurrency you wish to purchase, select the price and amount you want to buy. Check them again to confirm and then click "Buy BTC".
Step 3: After confirming the amount and number of BTC you wish to purchase, click "Buy Now" and confirm your order.
Step 4: Take note of the seller's preferred payment method and pay only according to the seller's request.
Step 5: Click the "Mark as Paid" button to complete your payment. There is a 15-minute countdown attached to this button that will automatically cancel your order immediately after the countdown is over. You must click the "Mark as Paid" button before this countdown is over.
Step 6: The seller will then confirm payment and release the coins. The coins will be transferred to the buyer's account. The buyer can view the coins by clicking "Wallet"
The second Method For Coincola Website (OTC) Sign Up
The second method involves posting an advertisement and waiting for the seller to place the order.
Step 1: Follow Step 1 of the first method.
Step 2: Click on the "Advertise" button. You will be shown a page with the advertising rules. Ensure you strictly adhere to the rules to prevent your advertisement from being cancelled.
Step 3: Navigate to the "Online Buy" button. You will be taken to a page where you will be required to fill in information like the location and currency. Once you fill in the information, the system will automatically generate the price.
Step 4: Fill in the minimum and maximum transaction limit and the trade time limit.
Step 5: Select your preferred payment method and the terms of trade. You can also leave a message for the sellers to better explain the terms you want them to comply with.
Step 6: After completing Step 5, check for any omissions in the entire advert and make corrections. Once completed and crosschecked, click the "Post" to post a buying advertisement.
Coincola Transaction Fees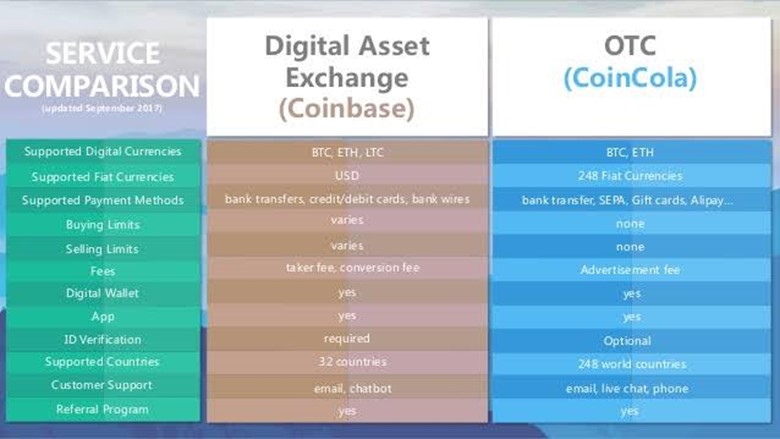 Coincola charges a fee of 0.7% of the transaction amount as an OTC trading fee after the order is completed. The trading fee is only for advertisers.
It charges a trading fee of 0.2% of the exchange amount when using the exchange section.
Coincola has several fees when it comes to withdrawals. These fees are dependent on the cryptocurrency that is withdrawn.
Other actions like deposits and transfers have no fees attached to them.
hope you don't miss our Gift Cards at Target Posts
Final Verdict on Coincola Bitcoin & Best Cryptocurrency Exchange Comparison & Reviews
Recently Bitcoin price hits six months high of $5000 about a $1k profit margin, which is a good signal for cryptocurrency traders to start buying and selling crypto with the best cryptocurrency exchange company. With this article, I hope you will make use of the coin cola company to save extra and hidden charges. Thanks for reading through this coin cola review.