Last Updated on 6 months by Komolafe Bamidele
A transcription job is one of the highest-paid online jobs at the moment even though it has been around for a long time.
You don't need much experience before you take any of the available transcription jobs on any platform including freelance platforms like Fiverr, Upwork, and more.
What is Transcription? Or Who is a Transcriptionist?


A transcriptionist is an individual that transcribes recorded dictation, like essays, press releases, official speech, and medical terminology, into written form.
The job entails listening to audio recordings and typing out what is heard, maybe in a word processing program or using a stenotype machine.
Requirements Skill & Tools to Become a Professional Transcriptionist
Laptop or desktop computer.
You need a headset or earpiece.
Fast internet connection.
Transcription skills.
Excellent listening abilities.
Multitasking abilities.
Typing at very high speed and accuracy, it may be 65 to 75 words per minute.
Excellent command of English or another language.
Awareness of Microsoft Word or related software.
Skills in editing, grammar checking, and proofreading.
How Can a Transcriptionist Make Per Hour?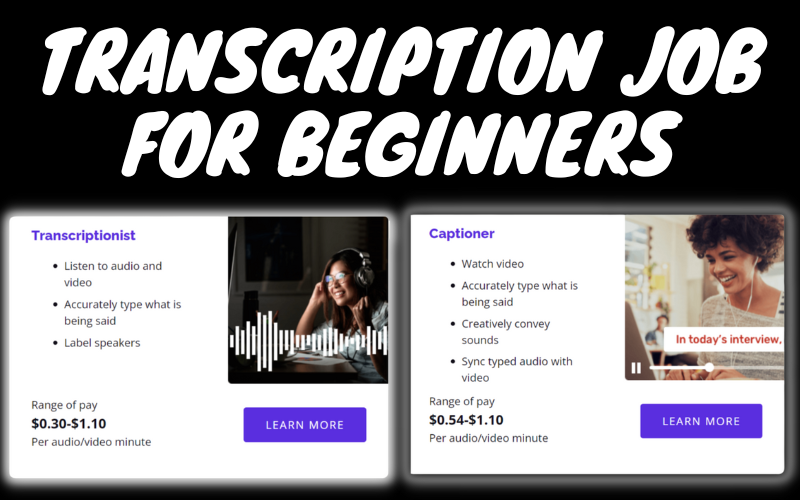 An average transcriptionist makes between $20 to $100 per hour, it all depends on the platform he or she is working on.
Aside from that, you can set how much you will be earning per hour on some of the available freelance websites like Fiverr, Upwork and others.
Are Transcriptionist Jobs Worth it?
Yes, as a transcriptionist you can make between $20 to $100 per hour working from home.
Based on how much you earn per hour, a transcriptionist job is worth it and you don't need a University degree before you can qualify to become a transcriptionist.
All you need is your skills and the little tools that are needed to do the job perfectly and effectively.
7 Best Transcription Job Websites
1. Rev Transcription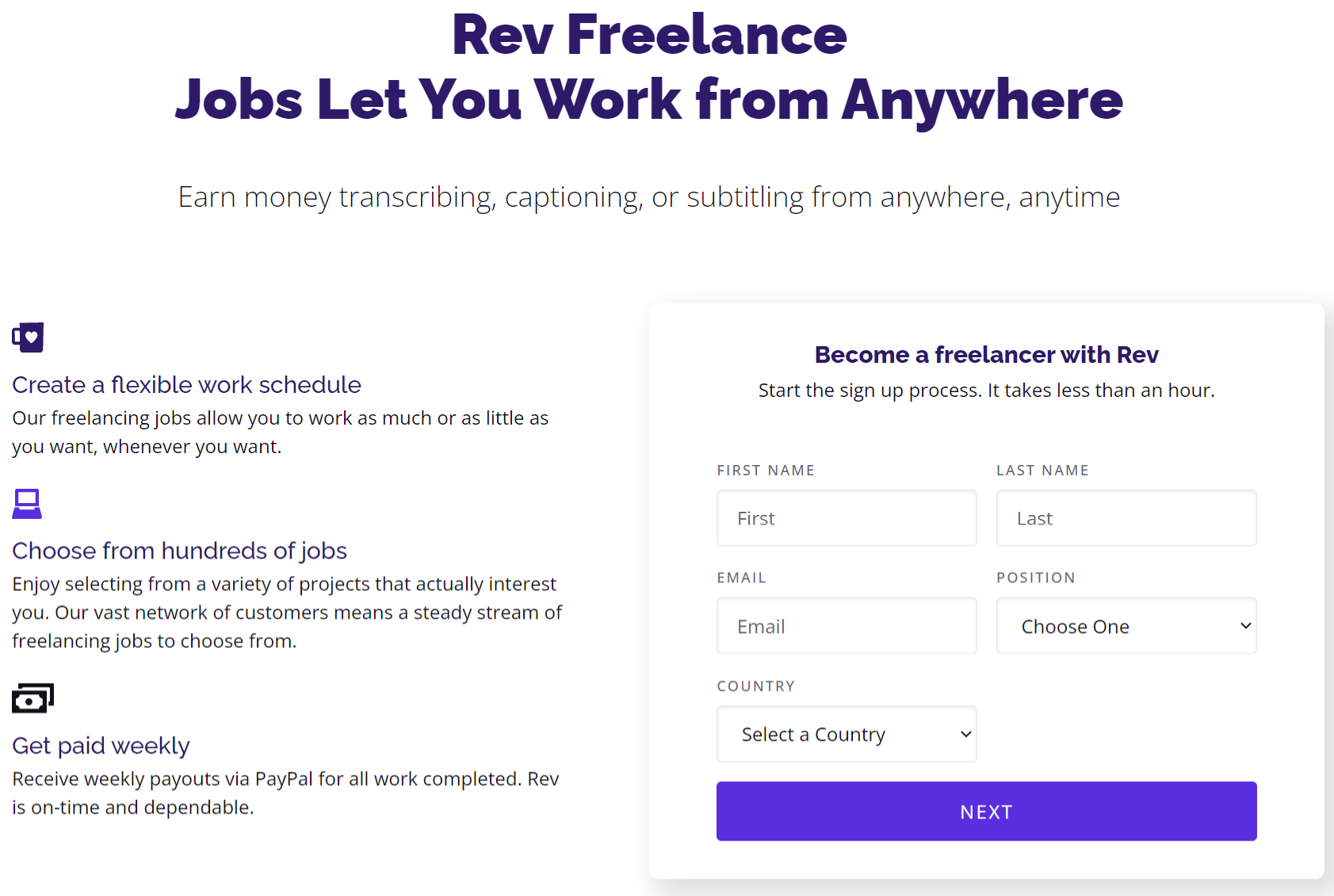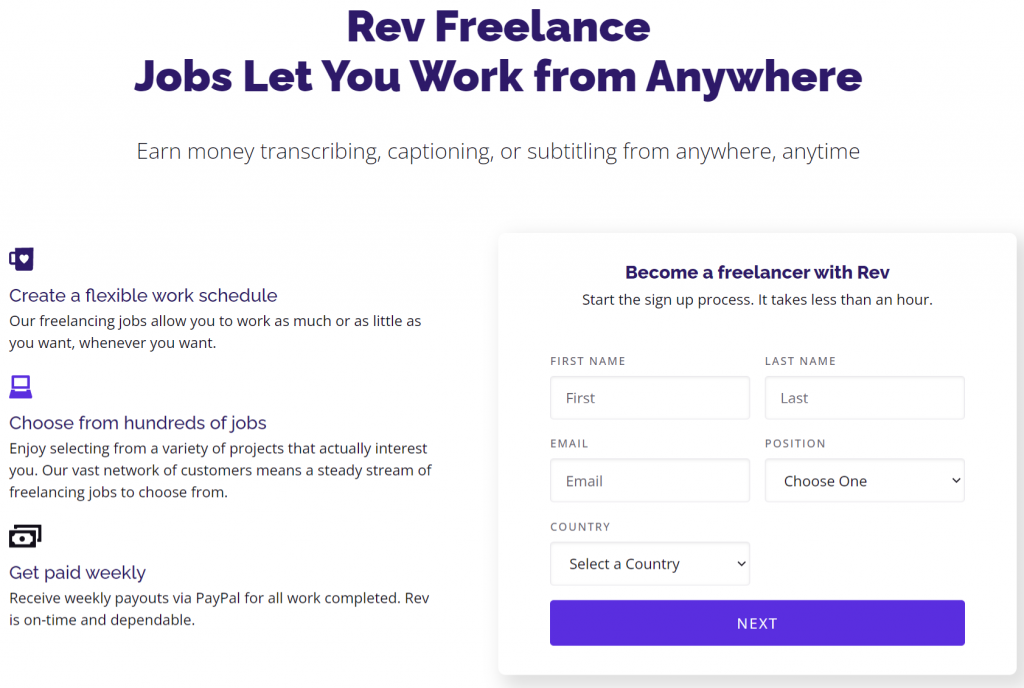 Rev was established in 2009, over the years, this company has been providing transcription, translation, and captioning services to several companies in the world including PBS and Comcast.
Rev has been the recipient of PC Mag's Editor's Choice Award for transcribing audio and video files featured on sites like TechCrunch and The Wall Street Journal.
Audio and video transcription is among the best and most popular work-at-home jobs.
At the moment, Rev has 4 available positions for freelancers, which are…
Transcriptionist: Converting English audio into a written document.
Captioner: Transcribe English and add captions to the video.
Subtitler: Translate words on the screen and add subtitles to the video.
Translator: Translation for purposes other than video subtitles.
Rev pays translators are paid $0.05 to $0.07 per word.
You can SIGN UP TO BE A REV FREELANCER!
Rev.com Features
Timestamp
Verbatim
Call Recorder
Voice Recorder App
Standard and Rush Delivery
File Encryption: MP3, MP4, WMV, AIF, M4A, MOV, AVI, VOB, AMR, WMA, OGG, AAC, and WAV Support.
Rev.com Pros
You will be able to work with another company's website because you will be able to create your schedule with Rev.
Good pay if you're fluent in many languages.
Rev does not give you assigned specific jobs, but they allow you to pick and choose projects among those that are available.
Rev.com Cons
Over the years, and currently, there are a significant number of complaints about poor support.
At the moment, Rev is not strict on qualifications, but even if you perform better and get hired after doing a grammar and transcription test, they will pay you based on your speed and accuracy.
Rev work is not consistent, so make sure you don't depend on Rev as your only income.
2. GoTranscript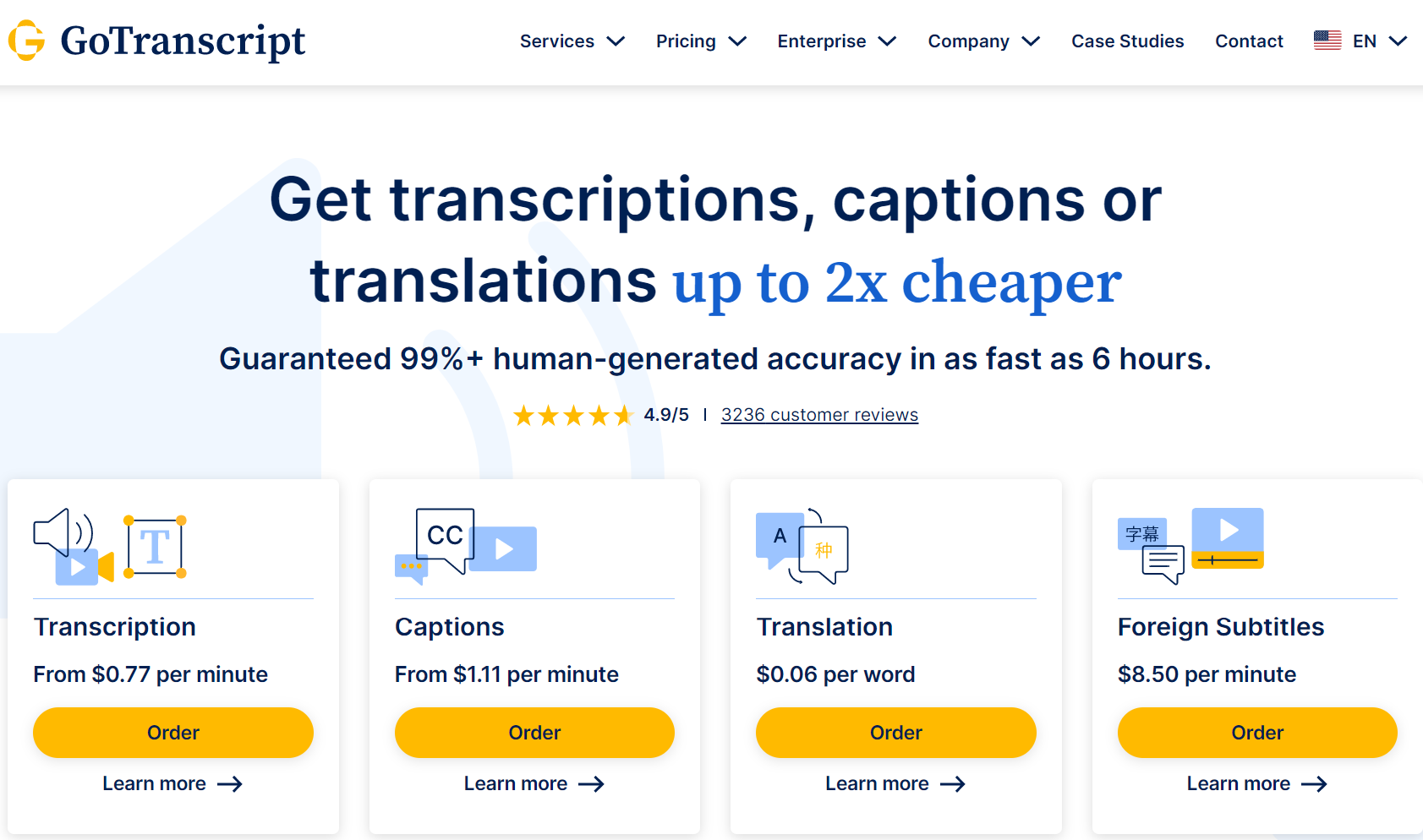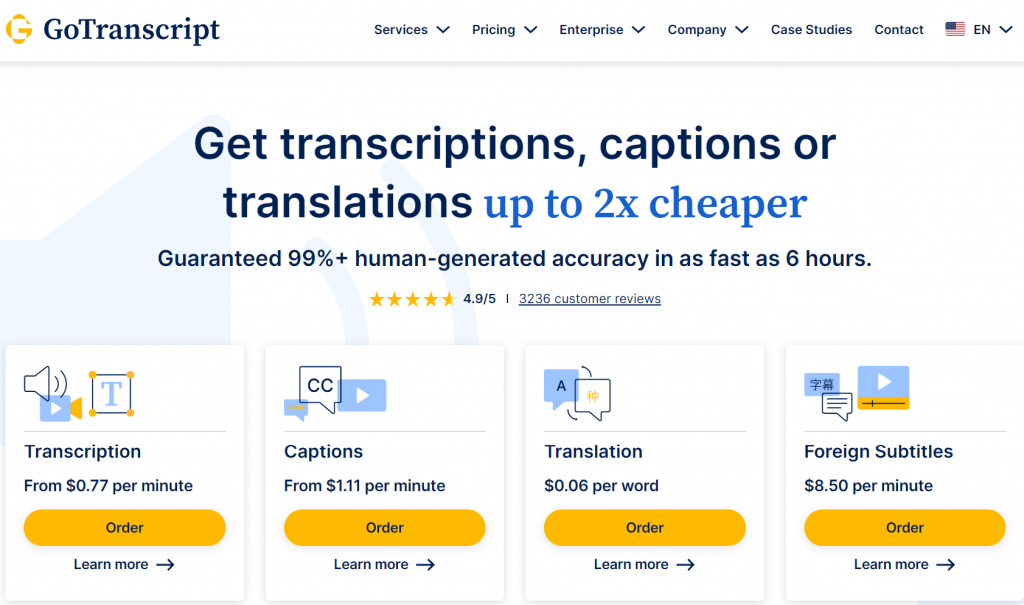 GoTranscript is also one of the best transcription platforms where you earn money from home transcribing audio to text.
GoTranscript is a web-based transcription and translation company that allows freelance transcription jobs to do transcription jobs from home.
All you need is a computer and an internet connection
If you're a skilled transcriptionist who wants to work as much or as little as you want, or whenever you want flexible hours of your time to get weekly.
GoTranscript Pros
GoTranscript pays every week with no charges or extra fees for transactions in case you make use of PayPal.
GoTranscript is a legitimate source of income for freelance and full-time workers.
At the moment, GoTranscript has no major requirements or eligibility criteria.
In case you don't pass the GoTranscript test, you can try again in just a few weeks.
GoTranscript comes with an AI-powered transcription tool that does the basic level transcription for you making your job even easier.
GoTranscript Cons
Most of the videos and audio on GoTranscriptn are low quality which means you have to make greater efforts to get the work done and put in more time.
If your average score is low, you may get fired from the job.
After long hours of work, the payment can be quite low. So you can't work as a transcriber on GoTranscript as a full-time job because the income is very low so you need to take the job as a side hustle.
3. Scribie Audio/Video Transcription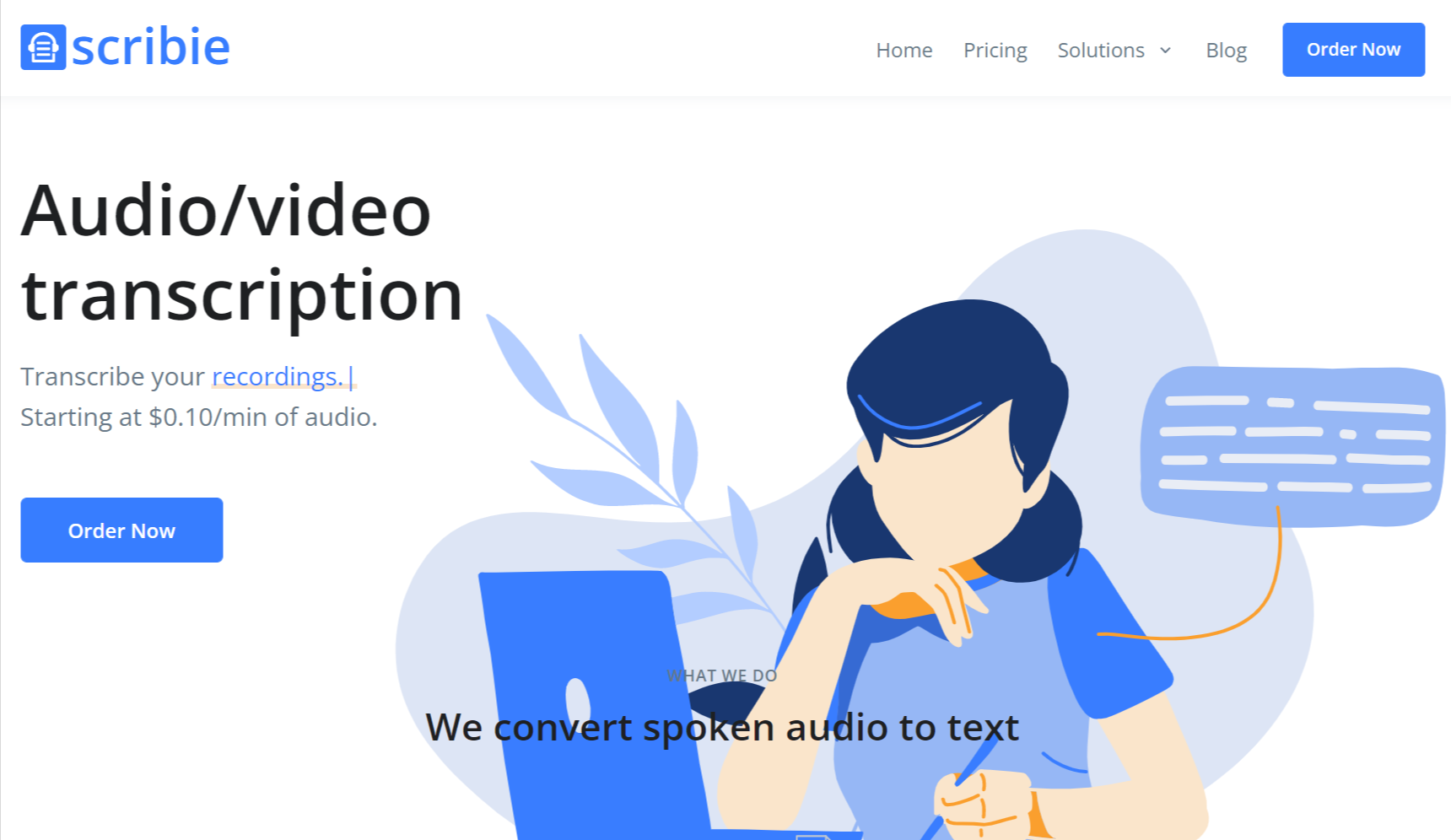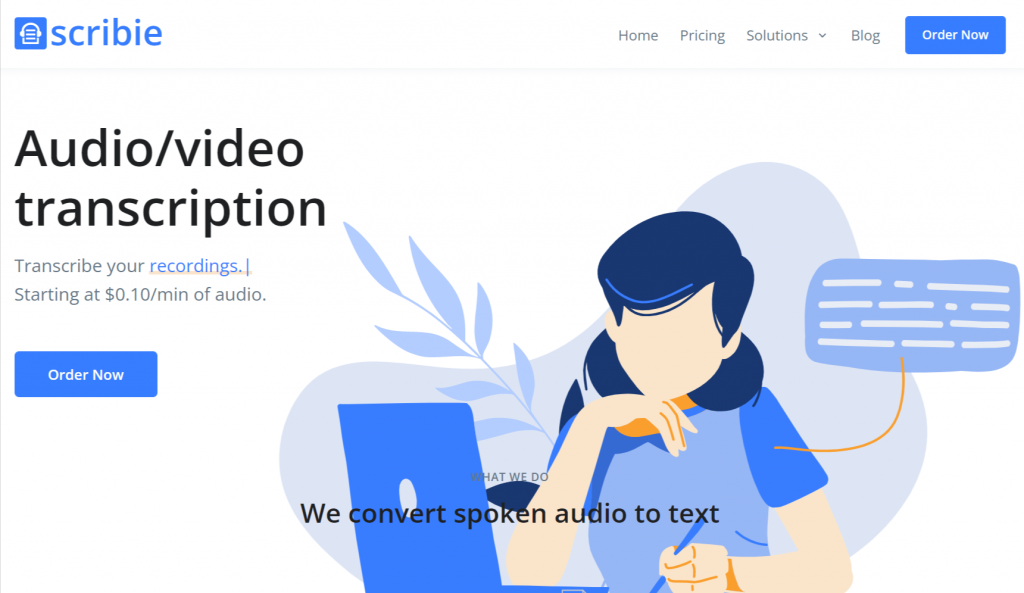 Scribie is also one of the best transcription sites that pay anyone that is ready to convert audio to text.
Anyone can sign up. All users need to take a test that involves doing audio-to-text transcription, and they are scored based on their accuracy.
Scribie was established in 2008. The company has headquarters in the San Francisco Bay Area, and they are known for providing jobs to thousands of individuals worldwide.
Before you begin to work with Scribie, you need to complete an application, and then follow several steps with the goal being to get certified.
Immediately after you are certified, you will be able to log in and start selecting files to transcribe.
Several assignments are available on Scribie. The main ones are as follows:
Transcription.
Transcription and Reviews.
Transcription, Reviews, and Proofreading.
Transcription, Reviews, Proofreading, and Quality Check
Scribie Pros
Scribie has over 33,126 home-based freelancers.
Scribie has paid out about $2,371,738 to transcribers to date.
A solid 4-star rating with the Trustpilot review platform.
Scribie is free to join the service.
Solid earning potential of up to $1000 per month according to the site (results may vary).
Scribie Cons
You need to pass a transcription test to start with the platform.
No accreditation or rating with the Better Business Bureau.
You need PayPal to get paid with Scribie.
Only available in countries that have PayPal.
4. Fiverr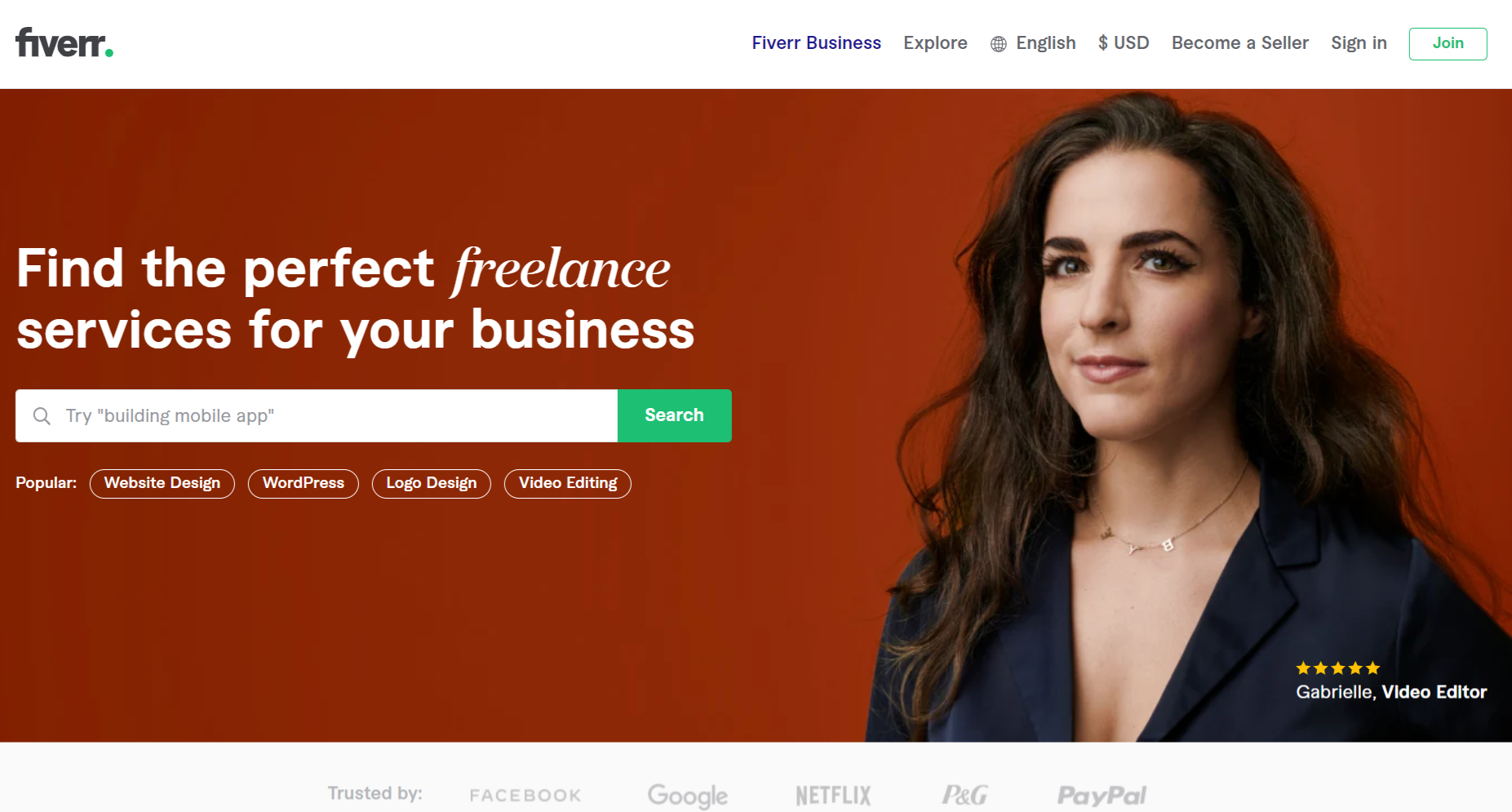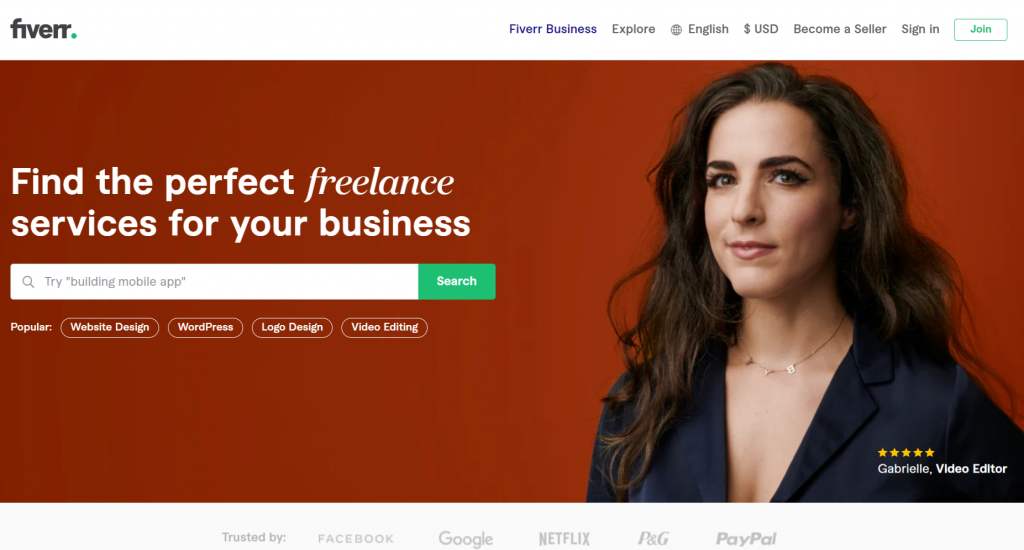 Fiverr is one of the most popular freelance websites on the internet at the moment, Fiverr offers several projects including website designing, SEO, and digital marketing, including transcribing.
If you are a professional transcriber, then you can sign up on Fiverr and create a transcribing gig.
Fiverr Pros
Access to millions of people that need the service of a transcriber
Fast and easy payment
Popular payment method
You will be able to pick how much to earn per hour
Fiverr Cons
Very competitive freelance platform especially for beginners
Series of requirements before you can get a job
Deduction of 20% commission for all the jobs you complete
5. Upwork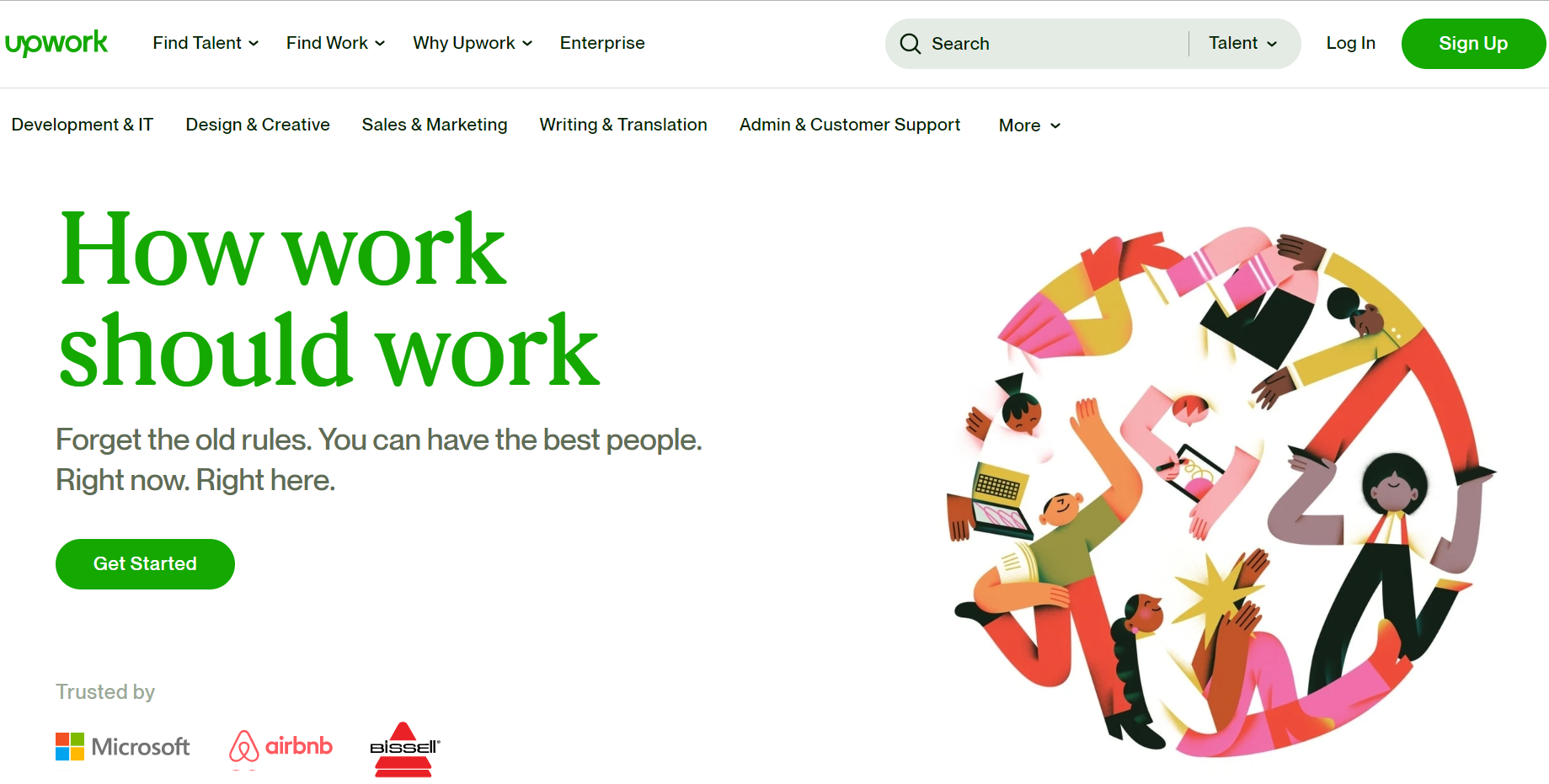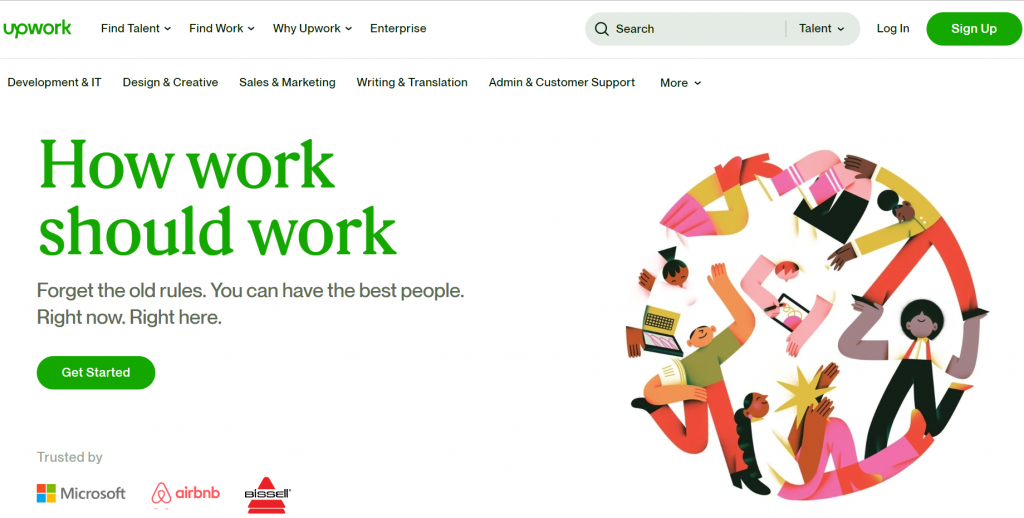 Upwork is one of the best freelance platforms at the moment, Upwork offers numerous jobs including website social media marketing, video editing, copywriting, content writing, designing, SEO, and digital marketing, including transcribing.
If you are a professional transcriber, then you can sign up on Upwork and create a transcribing gig.
Upwork Pros
Access to millions of business owners that need the service of transcribers
Latitude to set your schedule
Freedom to work from anywhere
Flexibility to cater to caregiving or personal health needs
Easy to use
Upwork Cons
You have to learn to be your own best advocate
You are responsible for every aspect of the business
You don't receive employee benefits
Your earnings may fluctuate
You could feel isolated at work.
6. SpeakWrite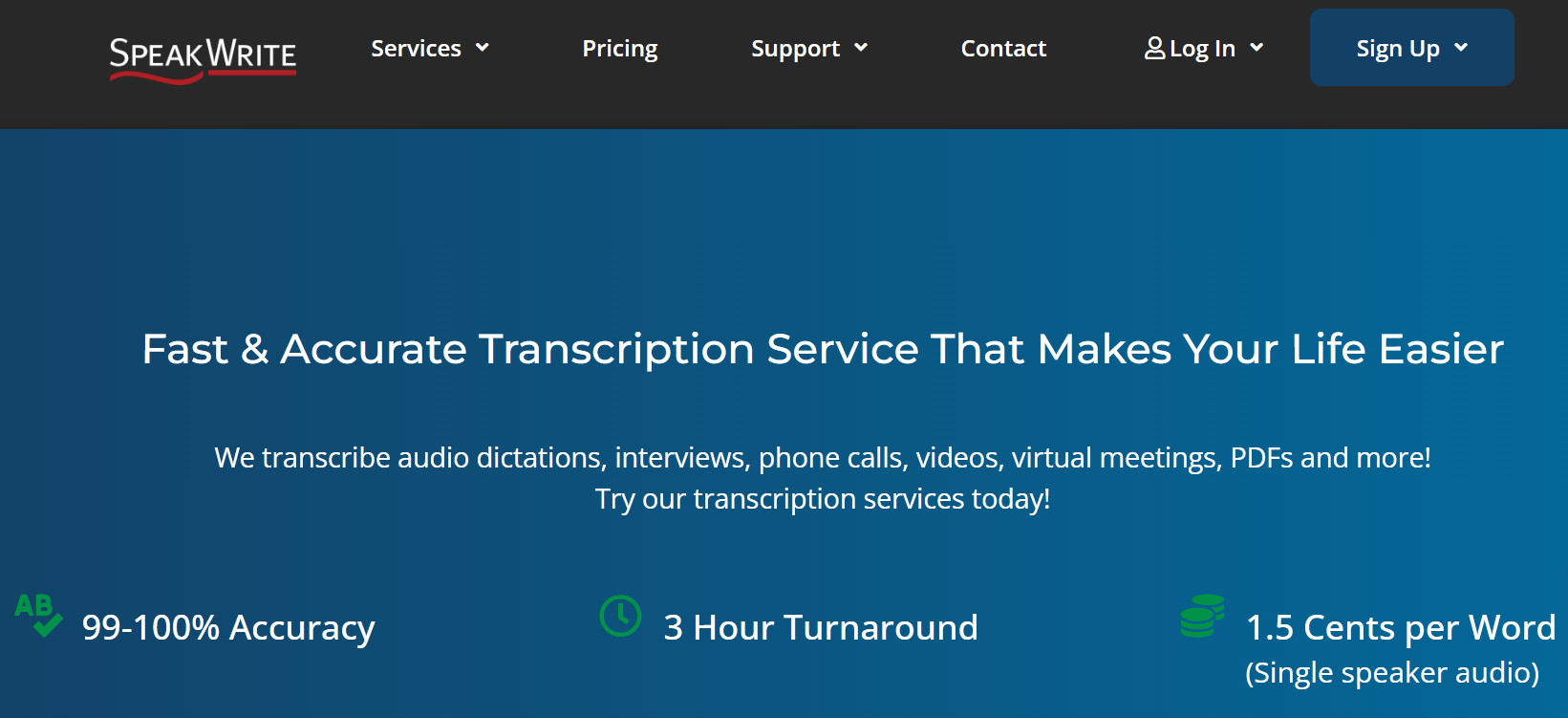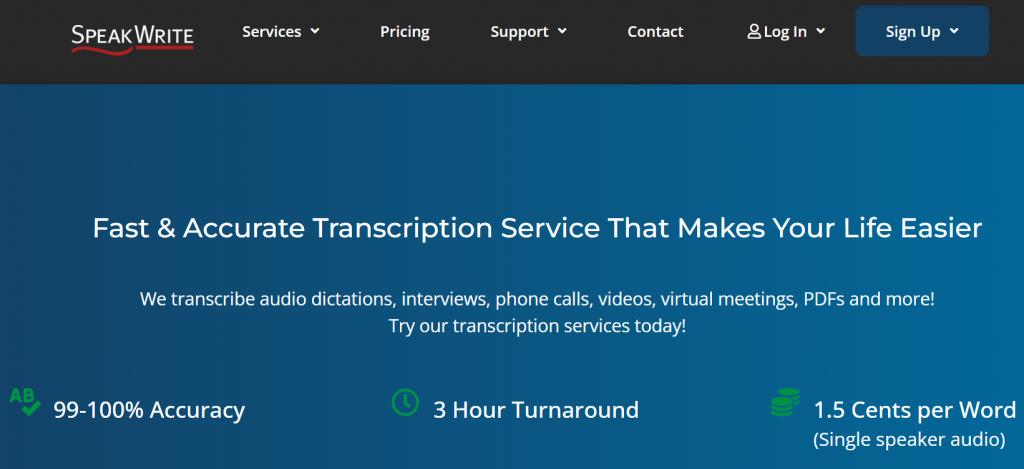 SpeakWrite currently pays $0.005 – $0.006 per word and allows direct deposit or check.
All users will be able to get their payment twice per month.
There are numerous transcribing jobs that are available on SpeakWrite, but you'll need previous transcribing experience.
Speak Write Pros
SpeakWrite is legitimate and has been around for over 20 years.
Less competition for transcription work.
Flexible work schedules
Speak Write Cons
This job isn't for beginners.
It is only available for those in Canada or the US.
Not available for applicants using Mac
7. Speechpad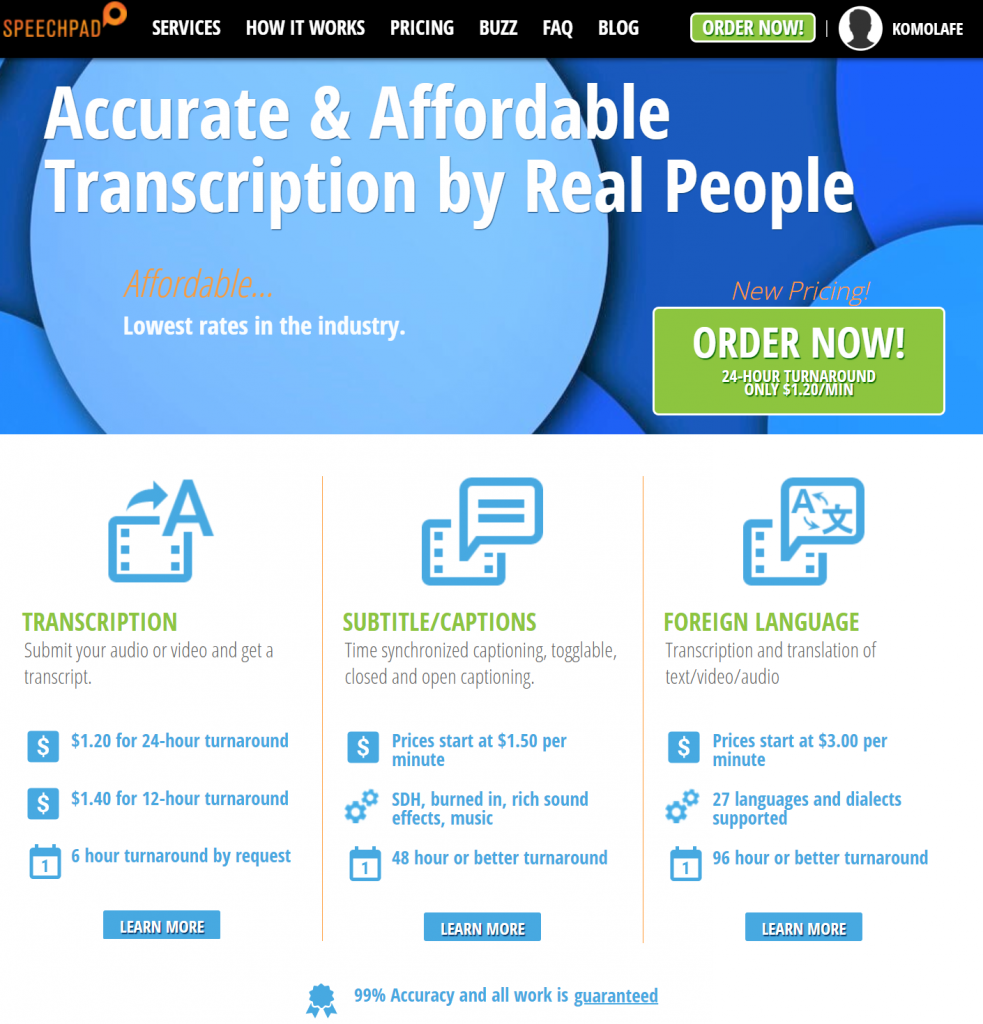 Speechpad is also among the best transcribing platforms today. You will be able to earn as much as $0.25 – $2.50 per audio minute.
Get your payment twice a week with the Paypal payment method.
You don't need to be a University graduate before you can become a transcriber on Speechpad. All you need to do is to pass their typing test.
It is completely free to sign up, and you need to pass a transcription and a grammar test. You will have a rating, and the rating impacts what jobs you will be eligible for.
Currently, there is no minimum job you can do on Speechpad, you'll be able to choose the specific jobs that you want to take.
Speechpad Pros
Good starting job for transcription newbies
No payment processing fees
Flexible scheduling
Bonuses available for high-rated jobs
Pays with PayPal two times per week
No lengthy application process
Speechpad Cons
Approvals can take up to a week
Low-paying jobs to start
Not BBB accredited
The rating system has some flaws
So-so pay
Lack of level-one jobs
In Conclusion
Now you know the best transcribing platform for beginners as of 2023.
It is very important to meet the requirements before you begin to sign up on any transcribing or freelance platform because they all have requirements.