Last Updated on 2 months by Komolafe Bamidele
Do you know that the voice-over generator has been an integral part of productivity & efficiency tools to leverage your business today?
For instance, a lot of podcasts, games, animations, training videos, etc. Used voice-over AI generators to create dynamic speech sounds that entertain listeners.
With lots of voice-over generators available online today, creators and developers don't need to stress much about adding different speeches or accents to their projects.
Let's examine animation, for instance, imagine when all the characters are using the same speech!
It will not be engaging at all and such videos will not sell as viewers are likely going to dislike them.
Although creating these voiceovers online is not free as those AI websites bill users who use their software for their projects.
But considering recording your voice-over and changing the intonation, it's very tedious as a lot of technical skill will be required.
Not just the technical aspect that will be required, the cost of the production will be much, and you will end up spending a couple of hours during the recording process.
We have tried to compare those amazing voices that were generated by AI with those that humans created with their natural voices but the difference is very clear.
Moreover, using an AI voice-over generator is quite better than stressing yourself trying to create a dynamic voice-over with a human natural voice.
Save yourself all the "hmm" "ehmm" "you know" etc.
What to Look for When Choosing the Right Voice Over Tools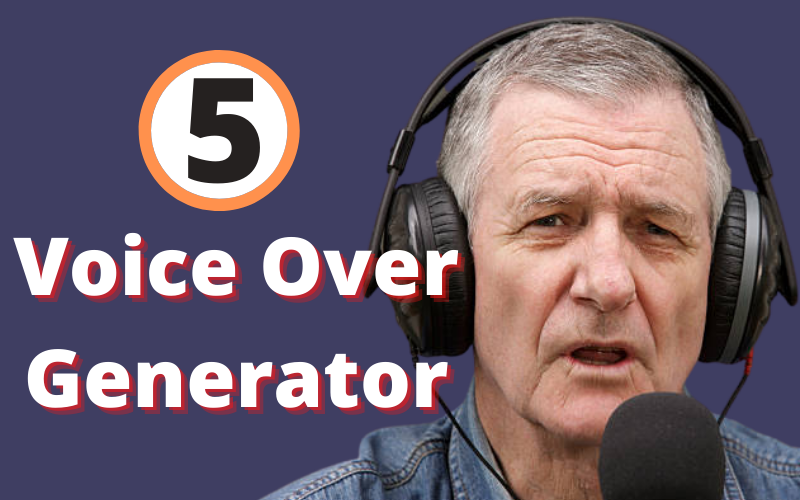 Since these voice-over generators are AI tools, there are certain things that every user must consider before choosing the right voice-over tool that he desires.
Below are some of them:
#1. Human-like voice
While this voice-over generator tool has several voices that you can choose from, the category that contains human voices has lots of selections.
Although this feature is not available in all the voice-over generators available online.
So search for those that have human-like voices that you can easily implement in your projects.
#2. Lifetime Access
Although most of the websites that offer these voice tools are paid websites, you should search to find out the website that offers lifetime access to its subscribers.
#3. A Voice that Supports YouTube Monetization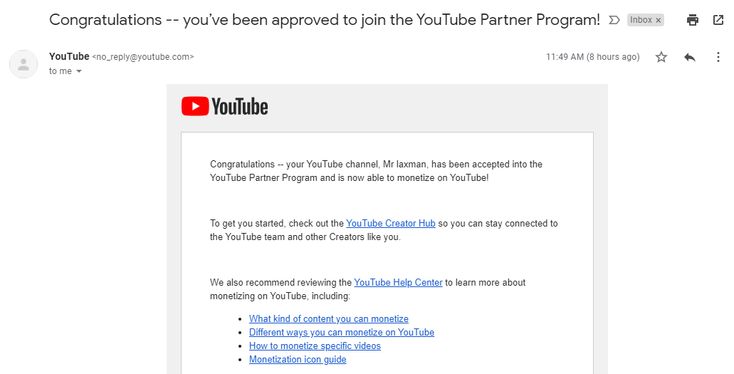 If you are a YouTuber, try going for voices that are in compliance with YouTube terms of service.
You have to put all this into consideration before proceeding to make payment for these services from the AI websites.
#4. AI With a Male and Female Voice Over
Even if you're a man, there may be a scenario where you may need a female character in your project. Always check for AI with both male and female voices over.
#5. Check out the AI Previous Projects
A lot of these voice-over tools have been in existence for some time. This means that several people must have used them in some of the previous projects.
Always take time to go through those previous works to see the live performance of the AI you are about to subscribe for.
Top 5 Best Text to Speech AI Voice Software
Below are the top best 5 texts to speech AI voice software you should consider for your next project;
1. Murf.ai Voice Generator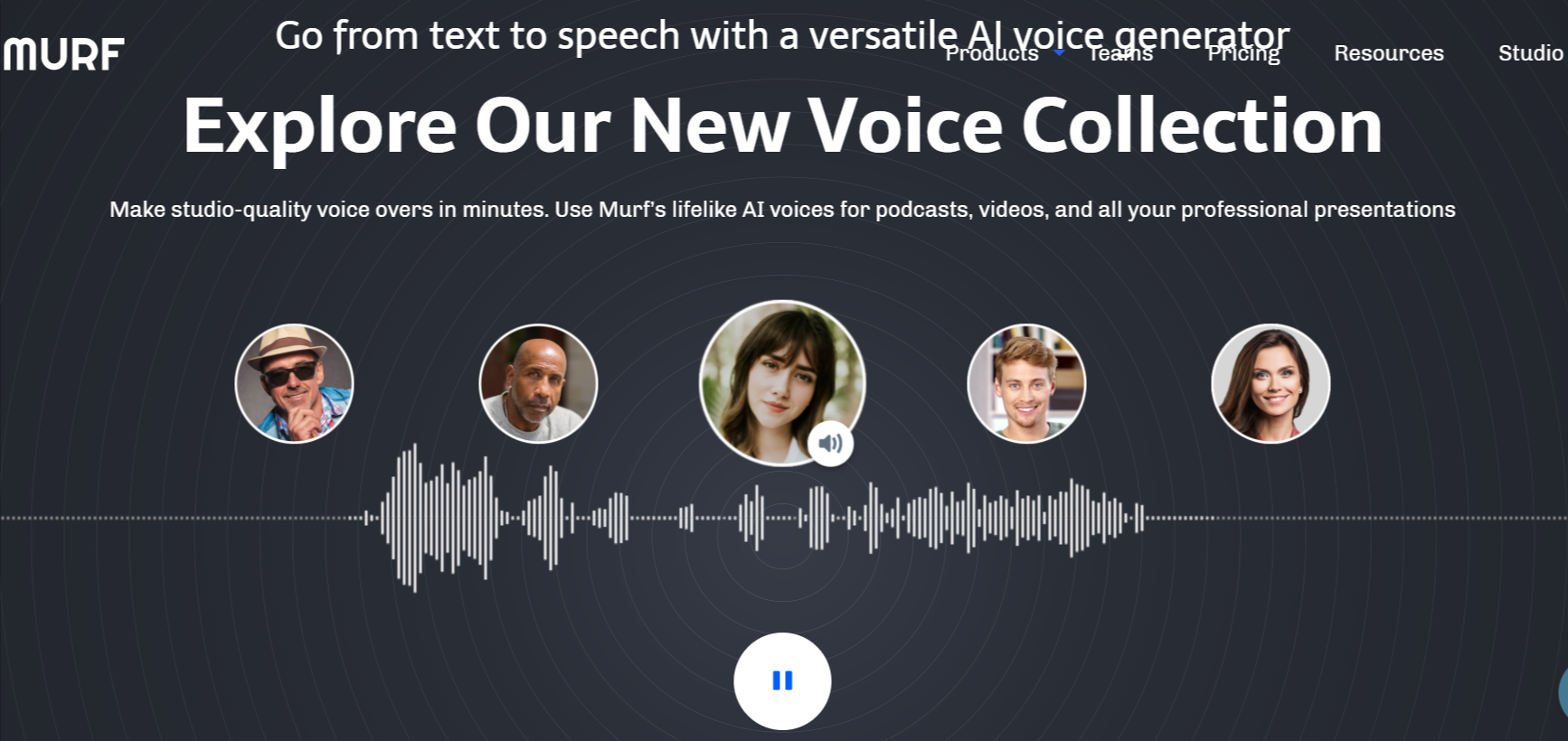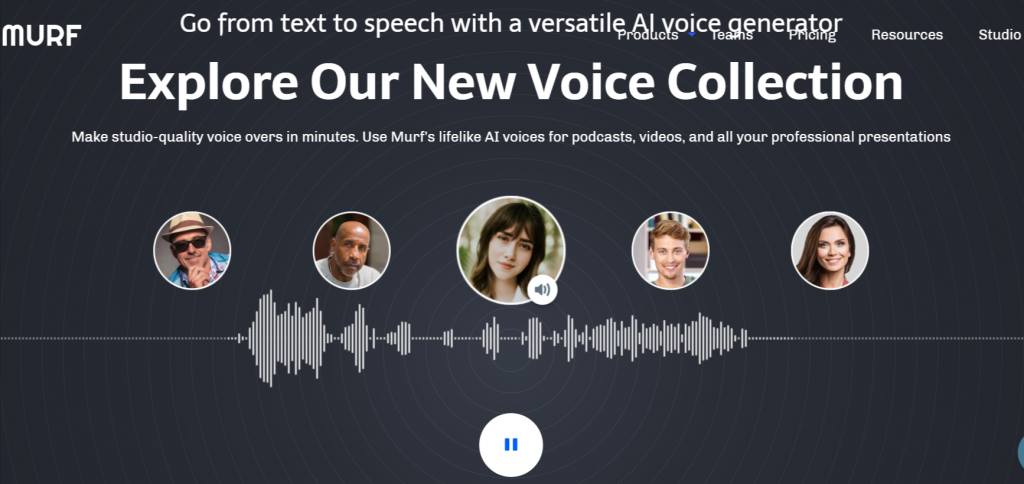 Murf.ai is an amazing voice-over generator AI software that utilizes voice synthesis technology while mixing and generating awesome speeches to its users.
Murf.ai has several features that enable users to complete several tasks such as presentation, gaming, etc.
Murf.ai Key Features
Murf.ai has an advanced comprehensive AI voice-over studio which also has a virtual video editor.
With such amazing features, users have a wide range of options to select their favorite voice-over artist.
Moreover, Murf.ai has a sweet user interface that is very easy to navigate.
Some key features of this platform are:
Voice Selections; – Murf.ai has over 120 filtered voices which are also available in more than 10 languages.
This is to ensure that users are fully satisfied in whatever project they wish to use the platform for.
Read this Murf.Ai Review
Full Customization; – With the tools in this platform, users can have the freedom to fully control and customize their projects.
For instance, adjusting your voice over speed, pitch, and pronunciation is quite easy with Murf.ai.
Grammar Assistant; – With this amazing platform, even if your grammar has some mistakes, their AI will automatically adjust it for you.
This feature is quite outstanding when compared to other voice-over generators out there.
Voice Changer; – This tool will change your voice automatically to suit your desired project.
This is how it works: if you record some session of your project with your natural voice, the Murf.ai tool will change your voice to the desired voice you wish to have it spoken with.
Murf.Ai Demo
Murf.ai Pricing
While this platform is amazing, its pricing is quite affordable.
Below are the three pricing plans that you should expect when using this platform for your projects:
Basic – This plan starts from $13 per month
Pro – This has more features than basic and it cost only $26 per month
Enterprise – This is for companies and it costs $83 per month.
Murf.ai Pros
Their AI voice over a generator is very good for videos (YouTube Monetized)
They have an advanced voice over studio
They support full HD video export even with their least plans
You will have full customization for your voice over projects
They have assorted voice-overs in diverse languages
Murf AI Cons
Murf.ai don't have all the popular languages in the world
Their voice over the library is limited when compared to other AI voice-over generators out there.

2. Descript – All-in-one Audio & Video Editing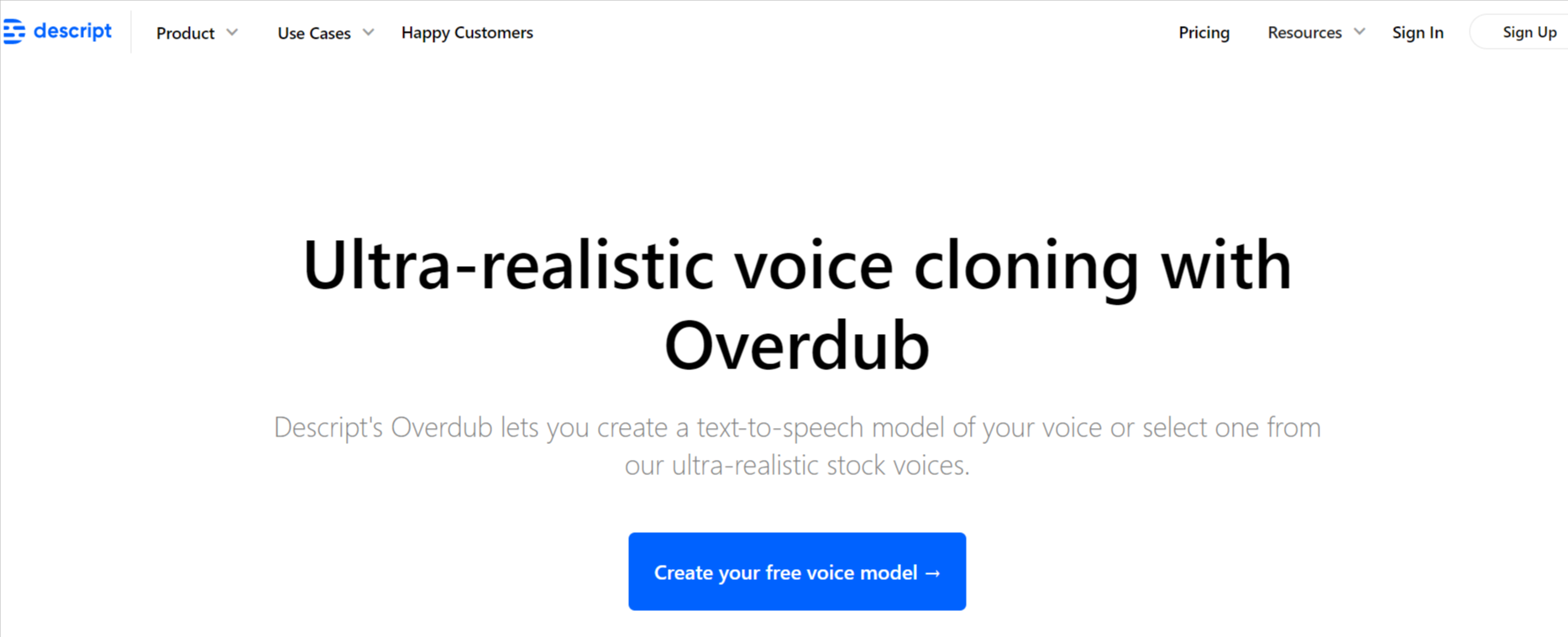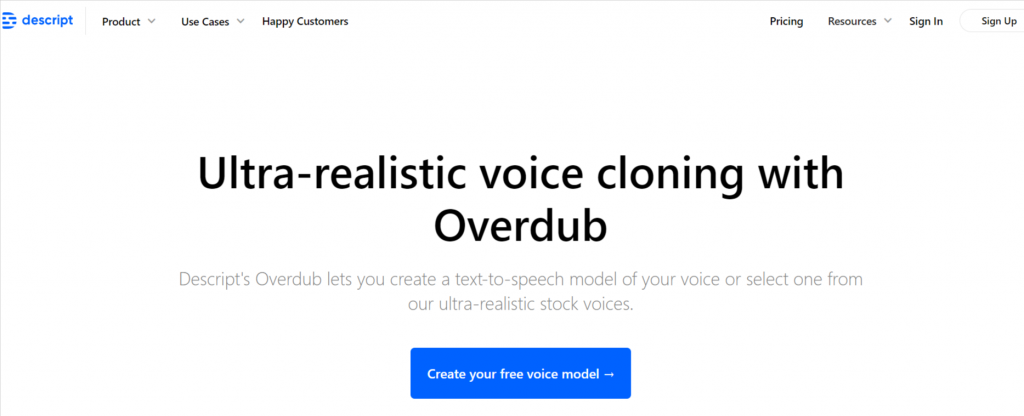 Descript is an amazing platform that has both audio and video features. Some of the features that Descript has are screen recording, full multitrack editing, etc.
With their podcast tool, users can record, edit, mix, transcribe audio, etc. in a single place.
This platform has both the desktop app and software that is integrated into their website.
So users can either edit their project from their browser or install the stand-alone desktop application.
While recording a new voice-over project with this app, Descript has filler ward removal which will automatically remove background noise from your recording.
Descript comes with advanced features that allow users to work as a group by using a web link that this platform will generate for each project.
This allows users to comment and edit the group work remotely.
Key Descript Features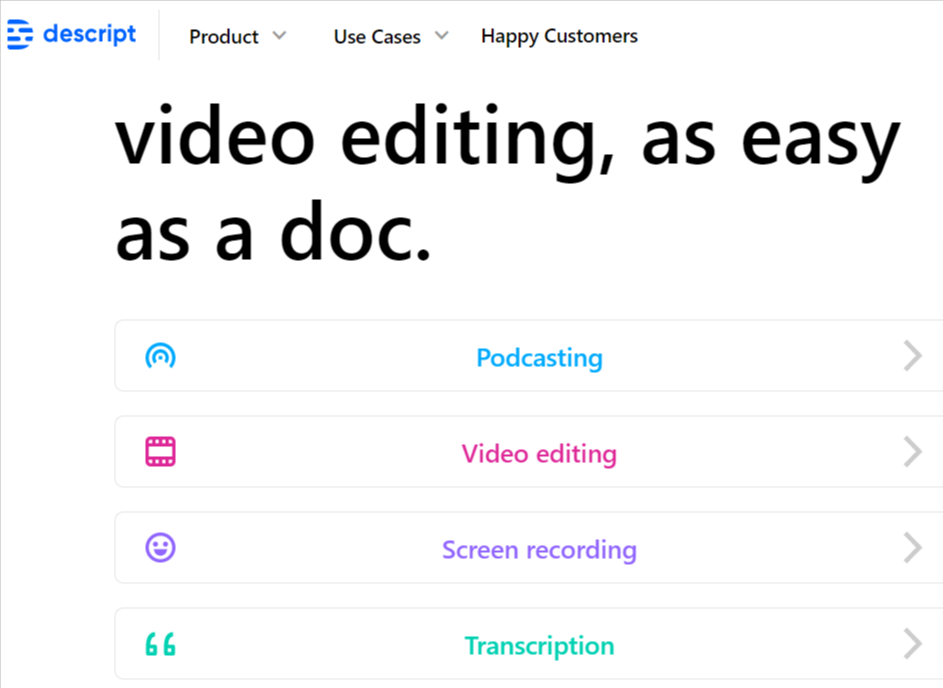 Screen recording features – One of the core features that set Descript outstanding is the ability to screen record directly from your project environment. It has an integrated interactive tutorial project for its users.
Descript Editing tools; Regardless of your knowledge of the platform, you can easily utilize all the available tools in Descript through their tutorial project.
Moreover, this platform requires every user to download their software before they can be able to utilize the features that are available for them.
While you may wish to try their screen recording, the shortcut for this is Ctrl + Shift + 2. With this shortcut, users can start and stop screen recording with ease.
Descript Pricing
Descript offers amazing affordable plans for its users. They include:
Creator plan – $12 per month
Pro plan – $24 per month
Descript Pros
It is affordable
Users can try their free version
The platform is very easy to use
With their tutorial videos, you don't need any special assistant
Descript Cons
Some features like overdub are only available in their Pro plan
The platform is only limited to English

3. Specheloo Text into Speech


Speechelo is an AI-based software that helps users to transform or convert their text content to audio files.
All the projects on this platform are quite secured as they are cloud-based.
This platform is very great as they have human-like voices that users can implement in their projects.
Speechelo has an easy-to-use user interface that allows users to navigate while working on their various projects.
Specheloo Text into Speech Key features
Voice Generation – Even with their cheapest plan, you can input up to 700 words,
The AI tool in this platform will automatically generate speech voices depending on the desired voice you chose. With their Pro plan, you can type unlimited text while working on your project.
Languages – Speechelo supports over 20 languages of which you can select your favorite voices from their voice list category.
This platform has high-tech AI that discerns what a user intends to do even before doing it.
For instance, while editing YouTube videos, you don't need to hire any professional for your work.
Speechelo Pricing
Standard plan – $100 (with their special offer, you'll pay only $47)
Pro plan – the same with Standard plan but you'll pay 3 months straight
Payment is a one-time payment. No monthly payments
Speechelo Pros
Each plan gives you over 30 different voices
They have male and female voices for every plan
With their AI tools, your viewers will be impressed
You can easily create a video in diverse languages
The platform is easy to use
Speechelo Cons
Your video size will be limited when using this platform
Only their Pro version supports editing of large video

4. Wellsaidlabs Text to Speech


Wellsaidlabs is another text-to-speech converter that allows its users to convert their text to speech in real-time.
With the advanced AI tools in this platform, you can be more effective with your team remotely.
It allows everyone in your team to make edits while working on the project, create voiceovers and even update the content in real-time.
Wellsaidlabs Key features
You will use the right voice – From their voice category list, you'll be able to select the right voice that matches your project.
Easy production – With the AI tool in this platform, users can easily finish their productions even before their estimated time.
Wellsaidlabs Pricing
Maker – $49 per month
Creative – $99 per month
Producer – $199 per month
Custom – You can negotiate prices here
Wellsaidlabs Pros
You can build your voice avatars for your branded content
You can integrate it with your already existing production tool
Wellsaidlabs Cons
Their lower pricing plans are limited in several functions

5. Play.ht: AI Voice Generator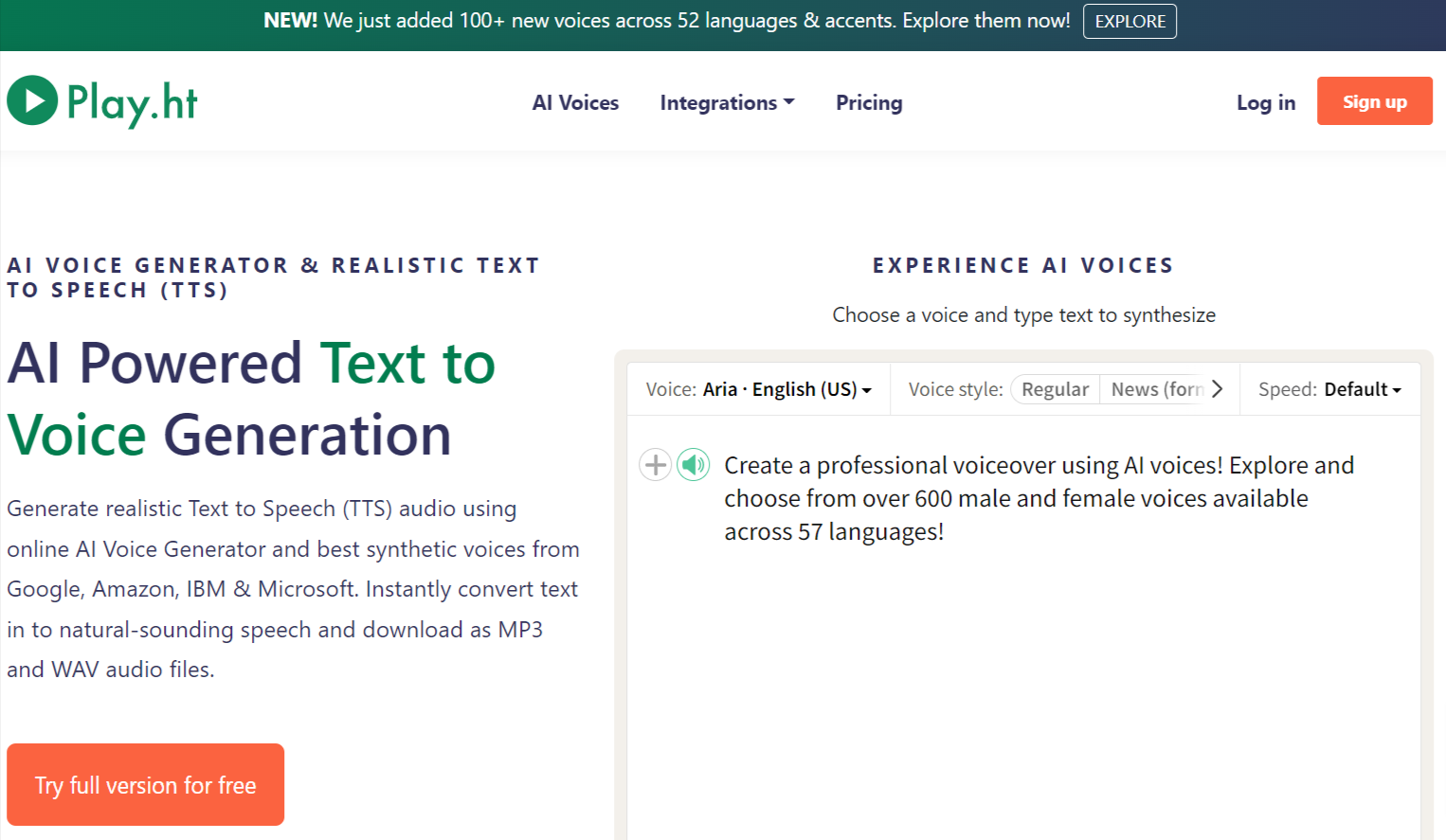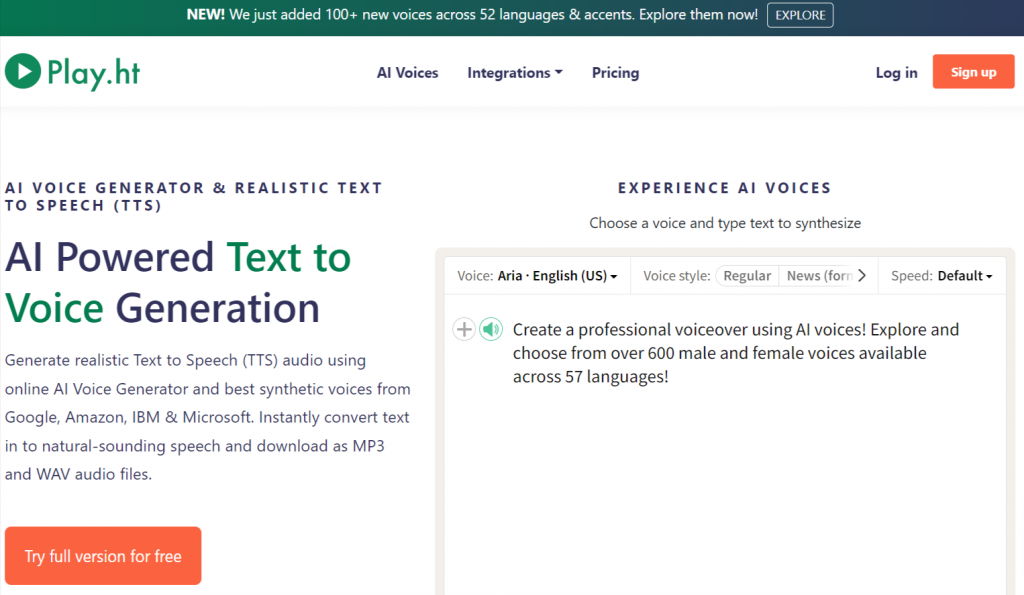 Play.ht is another web-based voice-over generator AI tool that you can use to convert text to speech.
One of the amazing features of this platform is that they have an amazing easy-to-use user interface.
While you are a novice, you can comfortably handle projects with this platform.
They have over 500 AI voices which are available in more than 60 popular languages of the world.
If you don't have money for their Pro version, you can still create amazing projects with their free version. Although the free version is quite limited.
Play.ht Key features
You can customize every speech pronunciation
Experimenting with different speeches is very possible
You can preview every voice style while working on your project
Play.ht Pricing
Free version – $0 forever
Personal – $19 per month
Professional – $39 per month
Growth – $99 per month
Business – $199 per month
Play.ht Pros
You can export audio files in diverse formats
They have a text-to-speech API
You can integrate it in your WordPress site using their plugin
Play.ht Cons
Most of the voices that were created using other languages that are not English were not perfect for human hearing
They don't have a built-in video editor.

What is The Most Realistic Voice Generator?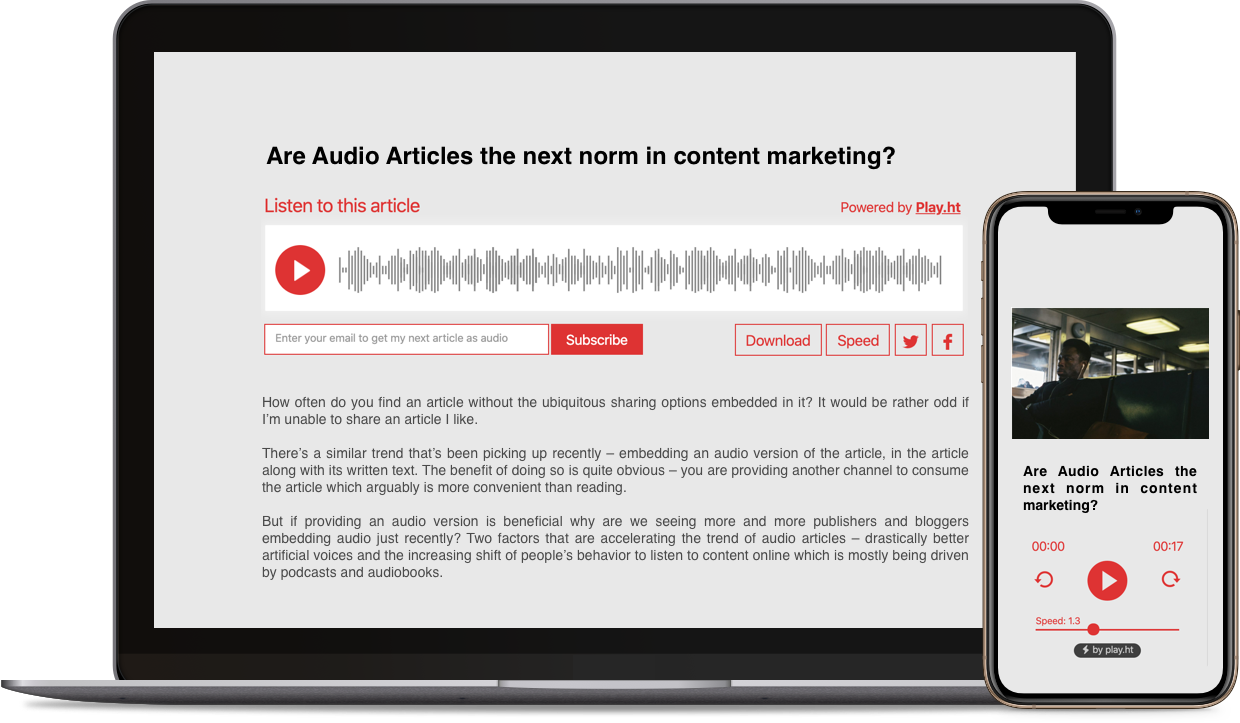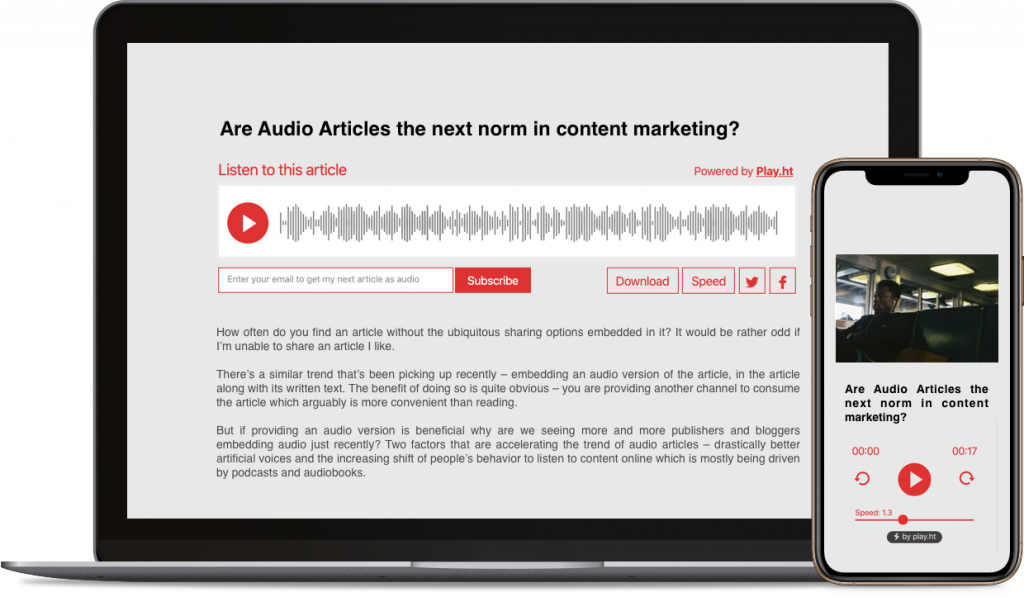 From our research, we found Play.ht to be the most realistic voice-over generator ever.
This AI tool has several features that suit whatever you intend to do with it. Do you know that Play.ht uses voices from top companies in the world?
For instance, they have voices from Google, Microsoft, IBM, Amazon, etc. Play.ht has lots of features that are not found in most other voice-over generators available on the internet today.
With Play.ht, users can enjoy their free trial version even with registering an account with them.
Moreover, to get the full version, you need to create an account with them.
This will allow you to create assorted audio files and also to have control over the speed of the audio file as its progresses.
Another feature we detected in Play.ht is that after a successful registration with the website, up to 100 free words will be automatically credited to your account.
Play.ht is not just an ordinary AI tool. Also, they have a cloud service that helps store users' audio files more securely.
Also, users can import audio files in some formats such as MP3, WAV, etc.
While you're in their pro version, you will be given a widget that can be embedded in your websites and blogs.
Conclusion
We detailed the top 5 best most realistic voice-over generator platforms that you can use in handling your future projects.
All the voice-over generators are really awesome, but we personally use Murf.ai across our faceless youtube channels.