Last Updated on 6 months by Komolafe Bamidele
If you're looking for the best Google Analytics plugin for your WordPress site, continue reading.
There are numerous Google Analytics plugins for WordPress but only a few of them could make for the best options.
Google Analytics is a very important tool for every web owner, it provides users data that could help you grow your site and boost sales.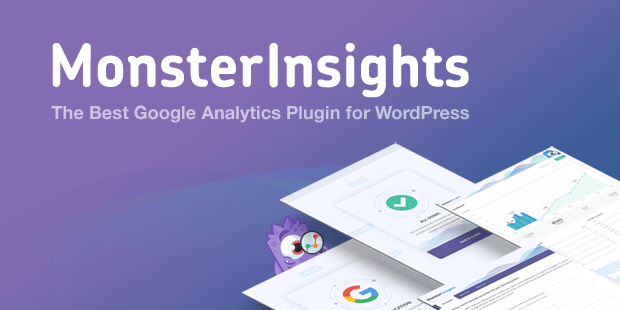 While the Google Analytics tool is very efficient, it could be overwhelming for web owners to read through and understand all the information displayed on the site. This is where Google Analytics plugins come in.
These plugins not only help to provide more accurate metrics but also make analyzing data easier. Additionally, these plugins are easier to install than the Google Analytics plugin.
However, not just any Google Analytics plugin can provide all the features above.
For a Google Analytics plugin for WordPress to be considered the best, it would have the following features.
Easy to Install and Use
Allow users data tracking
Provide an easy way to access Google Analytics dashboard
Provide accurate analytics data
Allow tracking for numerous metrics
Of all the Google Analytics Plugins for WordPress that exits, MonsterInsights is the only plugin that meets the criteria.
What is MonsterInsights?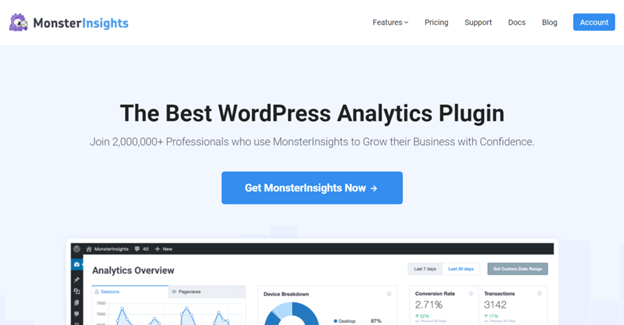 MonsterInsights is arguably the best Google Analytics Plugin for WordPress. Through the plugin, you can set up Google Analytics easily and track many metrics including file download tracking, ads tracking, forms tracking, and affiliate link tracking.
MonsterInsights offers tons of features to users which is why it is one of the most popular Google Analytics plugins with more than 2 million users all over the world.
MonsterInsights Features and Addons
There are tons of MonsterInsights features that allow users to track more metrics and determine the right steps to take to boost engagement and sales on their website.
Below are just some of the top MonsterInsights features
MonsterInsights Pricing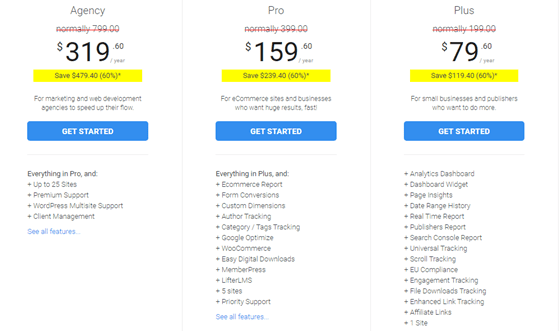 MonsterInsights offers three pricing plans each providing access to several features. Overall, the Pro plan is best for users looking for the best results.
Its Plus plan, however, is a more economical option for small businesses and publishers looking to keep their readers engaged and make more sales.
You really need to Track detailed customers' interactions with your extensive Marketing efforts with Google Analytics. Get into train in google analytics skillsfuture
How To Use MonsterInsights On Your WordPress Site.
To use MonsterInsights on your WordPress site, you would have to first sign up for Google Analytics, then download and install the MonsterInsights plugin on your site.
How to Setup Google Analytics

Google Analytics is by far the best tool for data tracking. This is not just because it is free, but because it provides very accurate data To sign up for Google Analytics: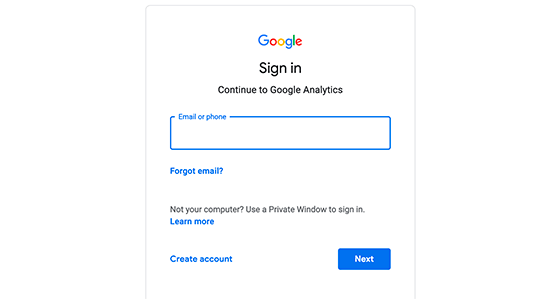 Visit Google Analytics and sign up via your Google (Gmail) account. If you don't have one, then you can go ahead and create an account.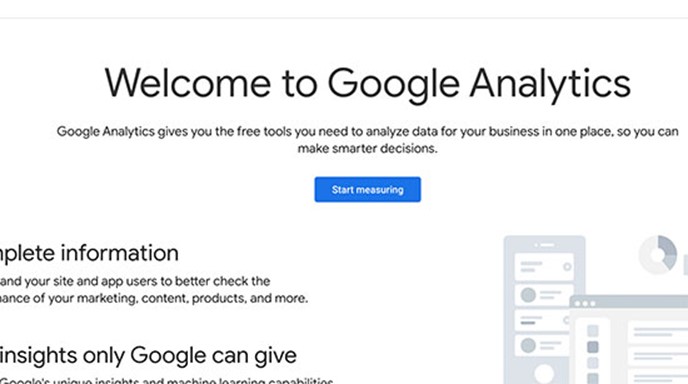 After you've signed in via your Google account, you will be taken to the Google Analytics signup page. Here you will be asked to choose an account name. You can choose the name of your website as your account name.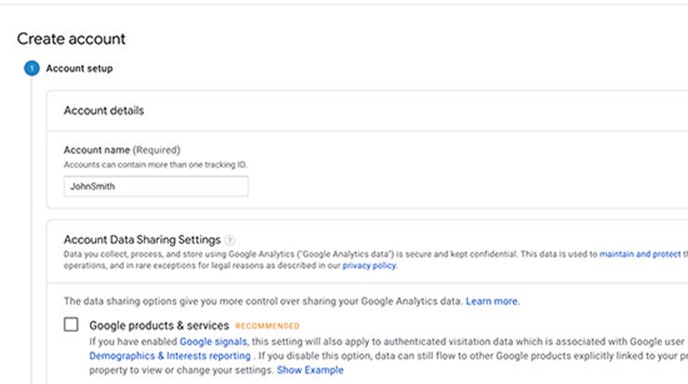 On the next page, choose Website.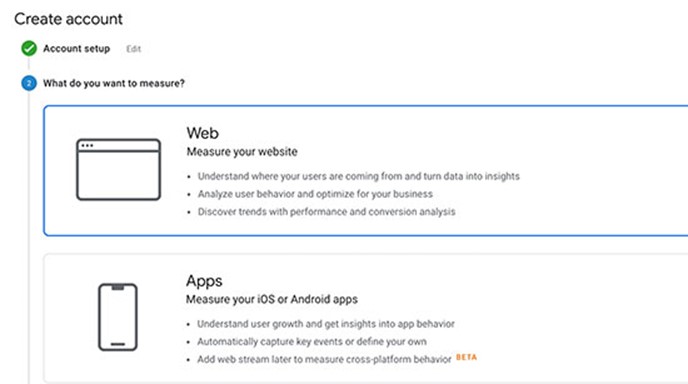 Next, enter the details of your website including its name, URL, country, and time zone. When done, agree to the Google Analytics terms and service.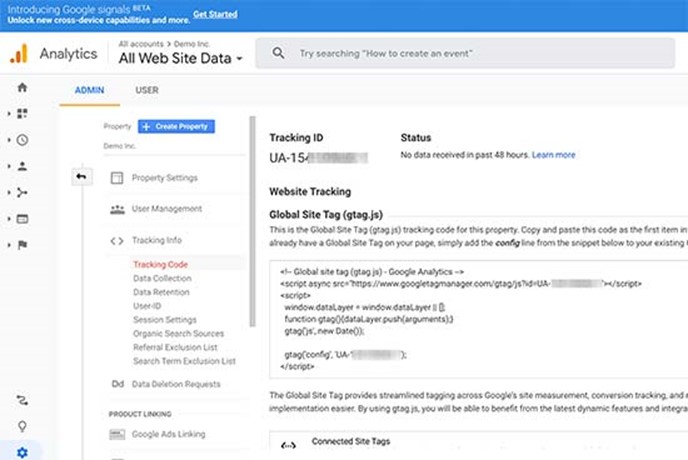 After that, you will be presented with your Google Analytics tracking code.
How to Setup MonsterInsights In Your WordPress Site
First, you would have to install and activate the MonsterInsights plugin on your WordPress site.
Once activated, the plugin will add a new tab labeled "Insights" to your WordPress admin.
Click on the tab to bring the MonsterInsights setup wizard.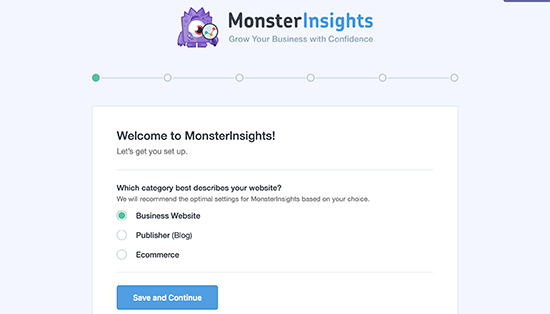 On the setup page, you will be asked to choose a category for your website.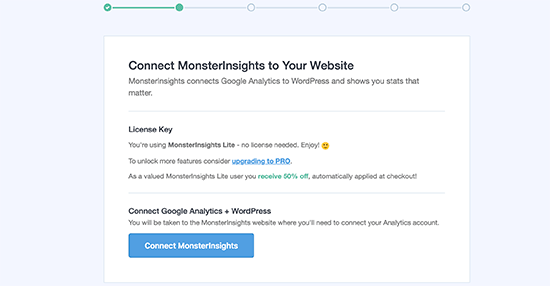 Next, you will have to connect the MonsterInsights plugin to your Google Analytics account.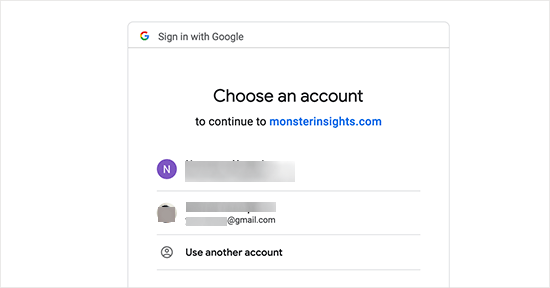 A page will pop up asking you to choose the Google Account connected to your Google Analytics account.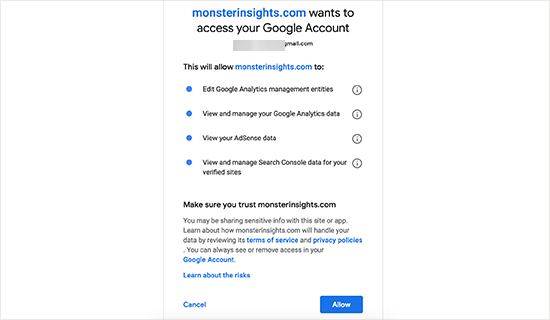 Once signed in, click to allow MonsterInsights access your Google Analytics account.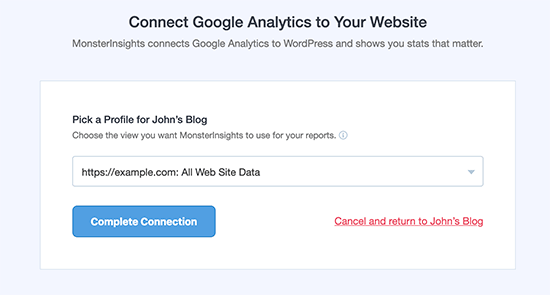 Lastly, choose your website as the profile you want to track and click on the "Complete
Connection" button to allow MonsterInsights to install Google Analytics on your website.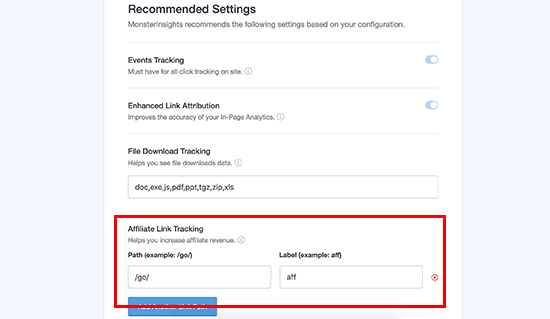 Next, you will have to choose the settings you want for your website. MonsterInsights has some recommended settings as its default settings which could work well for most websites. Check through the recommended settings and make changes where need be.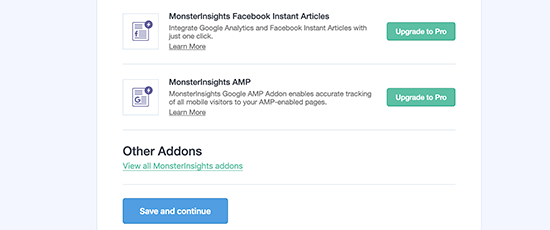 On the next page, you will be shown several add-ons (only available to Pro subscribers), and then, you can choose to install WPForms, the best WordPress Contact Form Plugin.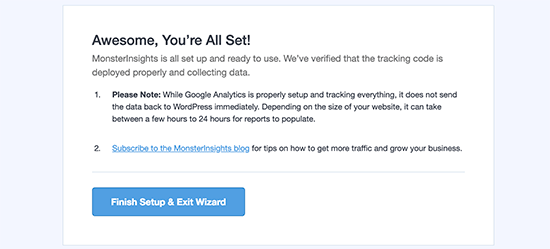 The last thing is to click on "Finish Setup & Exit Wizard"
With that, you have successfully installed MonsterInsights on your site and you can start tracking your readers' metrics.
MonsterInsights also allows you to view your Google Analytics reports straight from your WordPress dashboard. This saves you the time of having to log into your Google Analytics account in a separate tab.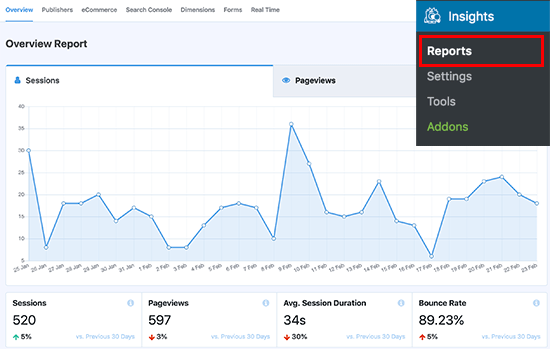 To view your Google Analytics reports in your WordPress dashboard click on Insights >> Reports.
Wrapping Up Best Google analytics Plugin For WordPress

MonsterInsights is notably the best Google Analytics plugin for WordPress. Though it charges some insanely high prices that may put off many blog owners, its services are worth it for those who want to gain more from their WordPress sites.